This Ginger Citrus Pie is so luscious, so creamy, so rich, and so over-the-t0p delicious!  Serve this at a festive occasion, for an afternoon pick-me-up, or a dessert after a casual dinner.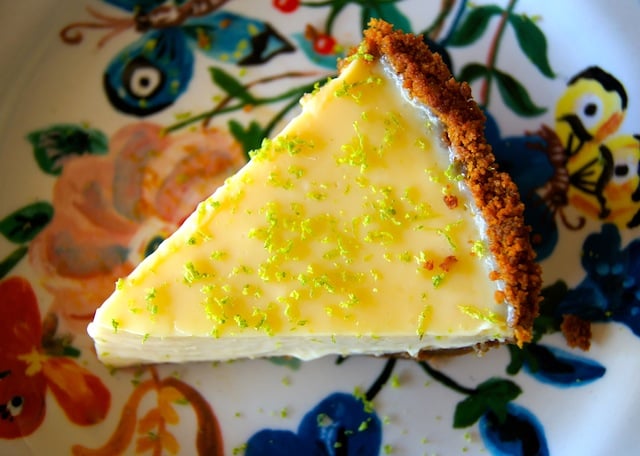 I guess you could say my mom is a creature of habit in the restaurant department.
At the moment, if she and my dad are out for dinner, I know exactly where they are and what my mom is ordering.  (My dad changes it up a bit.)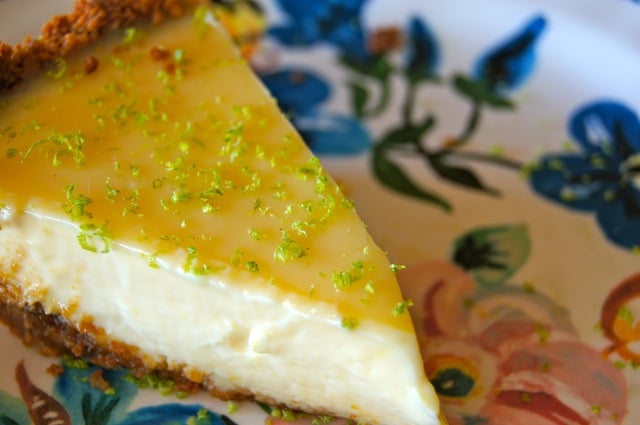 Even though my mom is a true chocoholic, at her current restaurant of choice, she chooses the Key Lime pie — every time.
She loves citrus flavors and pies that are "as smooth silk," as she would say.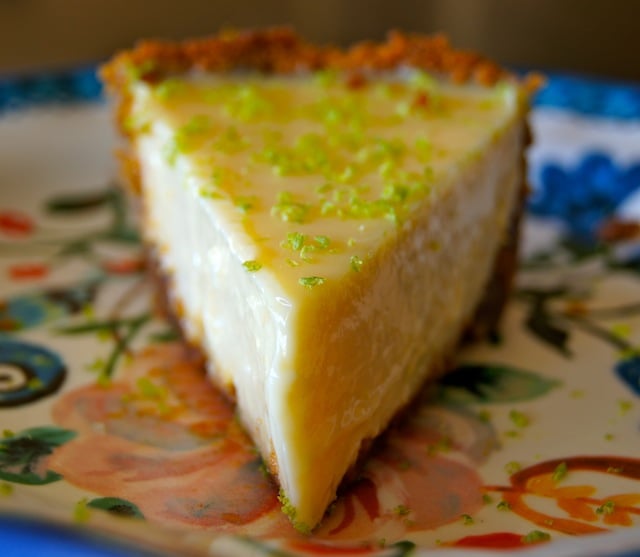 So with a Ruby Grapefruit, Key Limes from Melissa's Produce, and my mom in mind, this is pie came to be.
I brought her a few slices as soon as it was ready, and by that evening she called to see if there was more. So I know this pie is super delicious and "as smooth as silk."  (I'm bringing her the rest of the pie today.)
Enjoy!
Melissa's Produce sent me Key Limes for recipe testing.  This is not a sponsored post and as always, all opinions are my own.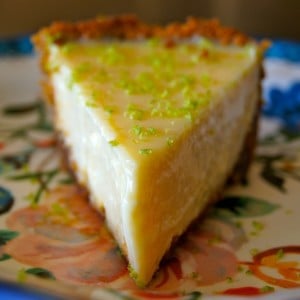 Ginger-Citrus Pie Recipe
Please note that in addition to the prep time and cooking time, the pie should chill in the refrigerator for at least 2 hours after it has cooled to room temperature, and before it's served.
Ingredients
For the crust
4 ½

dozen Ginger Snaps

regular or gluten-free

½

cup

1 stick unsalted butter, melted
For the filling
½

cup

fresh lime juice

Key limes are a lovely choice

½

cup

fresh Ruby grapefruit juice

2

teaspoons

fresh ginger pulp

2

14-ounce cans sweetened condensed milk

¼

cup

crème fraîche

2

whole eggs

About 1 tablespoon fresh lime zest
Instructions
Adjust a rack to the center of the oven and preheat it to 375 degrees F.
For the crust
Add the the Ginger Snaps to a food processor fitted with the blade attachment. Blend until you have very fine crumbs. Pour this into a mixing bowl and stir in the melted butter.

Firmly press crumb mixture into the bottom and along the sides of a 9-inch pie dish.

Bake in the preheated 375 degree F oven until it's just beginning to brown a bit, about 10 minutes.

Reduce the oven temperature to 325 degrees F, and let the crust cool completely at room temperature.
For the filling
In a medium-sized mixing bowl, whisk the lime juice, grapefruit juice and ginger together. Then whisk in the sweetened condensed milk and crème fraîche. Once that's smooth, add the eggs and continue to whisk until the mixture is completely smooth.

Pour the filling into the cooled pie crust and place it in the preheated 325 degree F oven.

Bake for 30 minutes. (It should still be able to jiggle -- mostly in the center, and the edges will have solidified a bit more.)

Let the pie cool completely, and then place it in the refrigerator for at least 2 hours before serving.
Recipe Notes
Gluten-free Ginger Snaps are showing up all over the place in the last few months. At the moment you can find them at Trader Joe's and Gelson's Markets for sure. If you're not close to one of those stores, you can order them here.
Save
Save