This Ultimate Stuffed Artichoke Recipe is out of this world. Serve it for a scrumptious vegetarian first or main course. It's great for sharing too, and is one of my favorite artichoke recipes ever!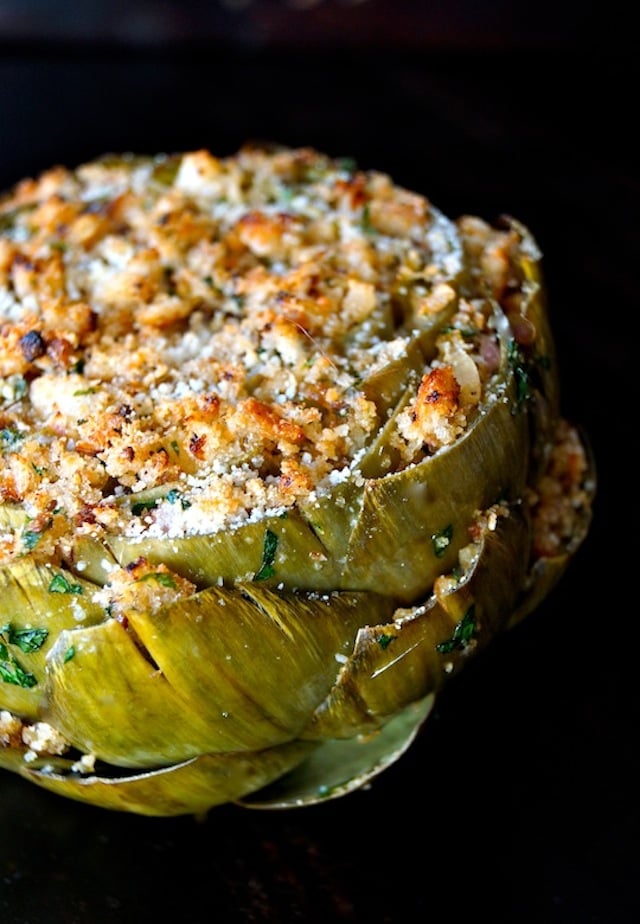 You know that restaurant you'd frequent with your friends when you were in high school?
Ours was Vittorio, and a group of us would go after school, during school (don't tell my parents!), on the weekends, and we'd pick up take-out if we wanted to hang out at home.
All of us would order the greasy, herbed garlic rolls — all of us except for Aimée, that is. Why? Well, because Vittorio had one of the best artichoke recipes of all time on their menu — the garlicky-lemony, stuffed artichoke!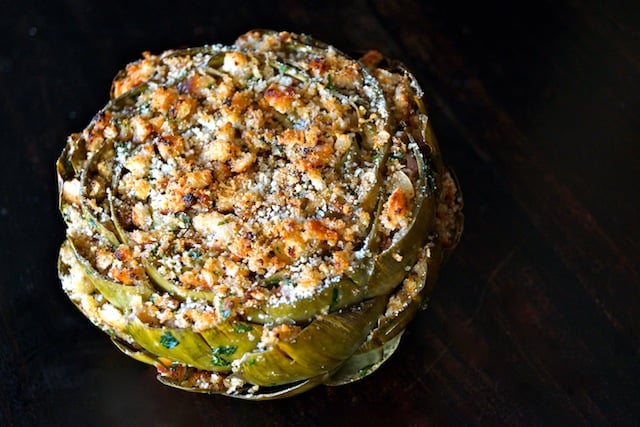 Stuffed artichokes are one of Aimée's favorite things eat, and she truly adored this one. So much so, that she often reminisces about it and is always yearning for one.
After many years (no, I'm not telling how many), Vittorio is still open!
It doesn't matter much to Aimée though, because the stuffed artichoke recipe disappeared from the menu when we were in college.
Aimée has been asking me to try to make her stuffed artichokes for years.
I've made a lot of artichoke recipes, but not one like this.
At long last, with notes from her, my memory of them, and the artichoke inspiration I got from my trip to Baroda Farms with Frieda's, here it is!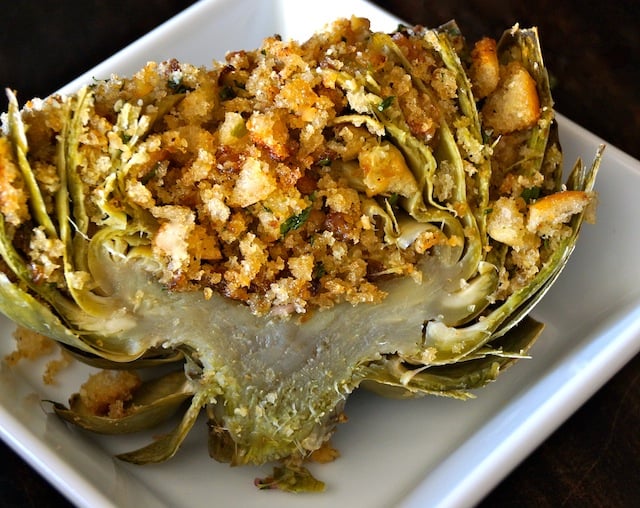 The Ultimate Stuffed Artichoke
I think it's really delicious — maybe the best stuffed artichoke ever, but Aimée will have to be the the judge as to whether or not it's a good replica of the one she dreams about.
Let me just whet your appetite . . . .
Butter, garlic, shallots, lemon, bread and herbs!
How does that sound, all mixed together, between succulent, tender artichoke leaves?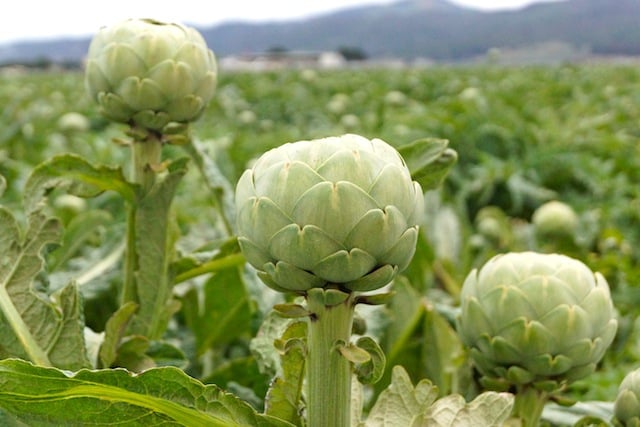 These are Lyon artichokes in one of the fields at Baroda Farms. (You can use any variety for this recipe.)
Recipe Tip!

There will be a lot of stuffing, and it might seem like too much. It's not! You want to fill the artichoke to maximum capacity. Not only in the center, but between each leaf.
And whatever you do, don't miss the Sangria field. You can check it out here.
If you're in the mood for a more simple artichoke preparation, here's How to Grill Artichokes.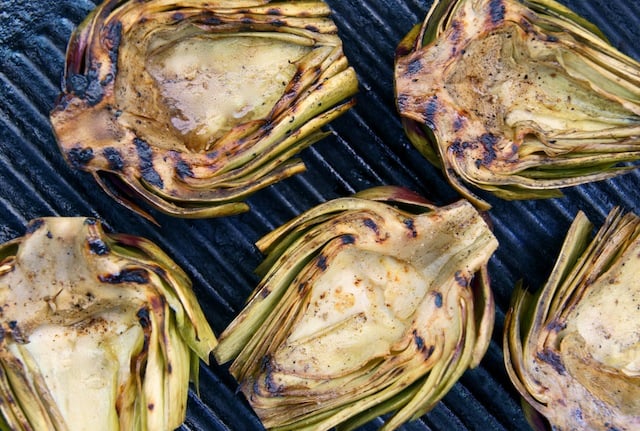 I have no idea why it took me so long to make Aimée her stuffed artichokes, but I'm so happy I did, and I'm hoping this becomes one of your favorite artichoke recipes of all time too!
Enjoy every last leaf!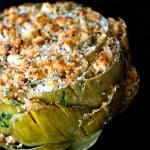 The Ultimate Stuffed Artichoke Recipe
This Ultimate Stuffed Artichoke Recipe is packed with incredible, aromatic flavors and is out of this world. Serve it for a scrumptious vegetarian first or main course. And it's great for sharing too!
*Serves about 6 as a starter, & 2 to 4 as a main course.

Keyword:
appetizers for sharing, stuffed artichokes
Ingredients
2

(approximately 1-pound)

artichokes,

washed and dried (Lyons if possible)

juice of 3 lemons,

divided (about 1/2 cup)

1/2

cup plus 3 tablespoons

unsalted butter

6

tablespoons

shallots,

finely chopped

3

tablespoons

garlic,

minced

1/3

cup

dry white wine

3 1/4

cups

fresh breadcrumbs

1/3

cup

Italian parsley,

washed and dried, finely chopped

2

tablespoons

Parmesan cheese,

finely grated

sea salt and freshly ground black pepper
Instructions
Fill a steamer pot with a few inches of water, and place a steamer basket on top. Cover the pot and bring the water to a boil. Turn the heat to low and let it simmer.

Use a Chef's knife to cut off about 1-inch from the top of each artichoke, and enough off of the bottom to form a nice base. Remove any especially tough outer leaves and discard them. Then use kitchen scissors to cut off the sharp tips of the leaves.

Using your hands, carefully pull the leaves away from the middle of the artichoke -- just enough so that you can see down to the choke. Now use a spoon to reach down and gently scrape away and discard all of the fuzz, to reveal a clean heart. (See above image.) This will take a bit of muscle, but must be done. Drizzle about 1 tablespoon of the lemon juice inside and over each one.

Place the artichokes, stem-end up, in the steamer basket, cover, and steam until they are almost as tender as you like them, about 15 minutes. (They'll finish cooking in the oven.) Check for doneness by pulling off an outer leaf — it should come off fairly easily. Set them aside to cool.

While the artichokes are steaming, preheat the oven to 375 degrees F.

Melt the butter in a large sauté pan over low-medium heat. Let it simmer until it begins to brown, about 3 minutes. Add the shallots and garlic and cook until soft, about 3 minutes. Pour in about 1/3 cup of lemon juice and the wine. Stir and let this simmer on low heat for about 4 minutes. Add the bread crumbs and parsley, stir to blend and remove from the heat. Season to taste with salt and pepper (

here's how

), and set aside to cool.

Place the artichokes, sitting on their bases, in a baking dish.

Use a spoon and/or your hands to carefully fill the center of each artichoke with the stuffing -- fill it to maximum capacity! (If you think there's too much stuffing, don't worry just pack it in.) Then fill all of the spaces between the leaves as much as possible. Sprinkle the top of each one with 1 tablespoon of the Parmesan.

Place the stuffed artichokes in the preheated 375 degree F oven and bake until the breadcrumbs are golden and the cheese has melted, 15 to 20 minutes.

I like serving these whole for sharing.

Cooking On The Weekends is a participant in the Amazon Services LLC Associates Program, an affiliate advertising program designed to provide a means for sites to earn advertising fees by advertising and linking to Amazon.com.