Ancho Chile Enchilada Sauce is the best red enchilada sauce recipe ever! It's just spicy enough, and it's full of warming spices that will have you licking your plate. And this Ancho chile sauce is so versatile — it can be added to all sorts of recipes!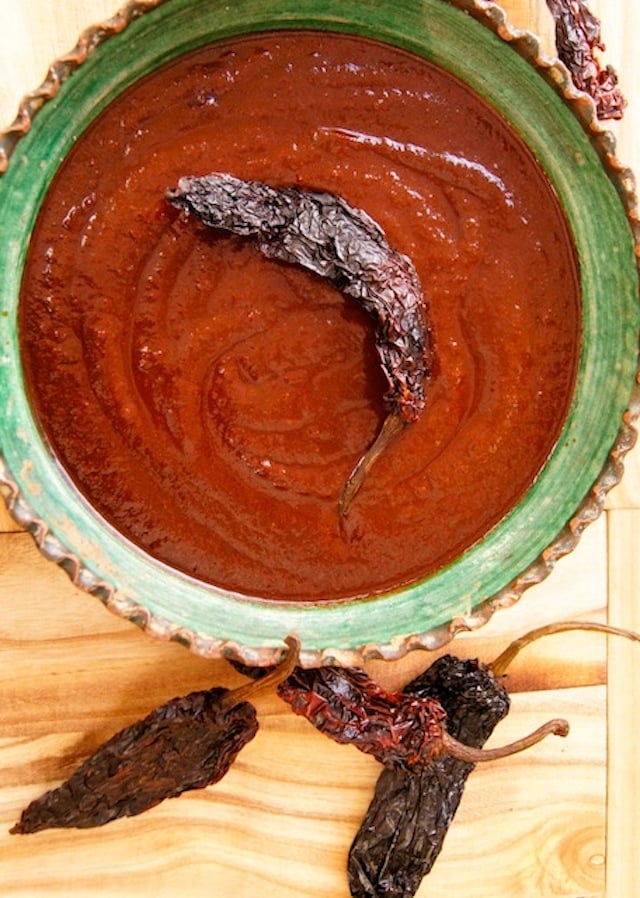 My favorite thing to do with leftovers is to crack an egg over them — over easy, please.  And that's what I suggest you do today with your Thanksgiving leftovers!
I know you've likely been cooking all week — and guess what?  — we're carrying on over here at Cooking On The Weekends!  That's just what we do. (And by "we," I mean me!)
Today we're heading in a totally different culinary direction — towards Latin American cuisine.
Yup, we're making Ancho Chile Enchilada Sauce.
It's a quick, easy and delicious red enchilada sauce recipe. Before I ever tried making a sauce like this, I thought it would take hours and be a somewhat difficult task.  I was very wrong.  It's simple, and as it turns out, it's also fun!
Its smoky, rich flavor enhances everything it's added to. I'm so happy I made a double batch of it because it's been so useful to have on hand.  I've added it to so many different dishes.
How to use Ancho Chile Sauce:
enchiladas (of course!)
omelets
stews
scrambled eggs
sandwiches
burritos
roasted vegetables
grilled chicken or steak
And the list goes on and on.
Next week I'll be using it is to make Roasted Ancho Chile Potatoes.  You will love them!
Isn't is gorgeous?
Oh, I have a great idea!  Since you probably are indeed still munching on your Thanksgiving leftovers, how about drizzling a bit of this Ancho chile sauce over some of the stuffing — inside a turkey sandwich? Sounds scrumptious to me.
Whatever you decide to drizzle this sauce over or in, I hope you enjoy every last drop!
Ancho Chile Enchilada Sauce
This enchilada sauce is just spicy enough, and it's full of warming spices that will have you licking your plate.
*Makes about 2 1/2 cups

Course:
Condiments, Sauces
Ingredients
4

ounces

Ancho chiles, dried

(about 5 large chiles)

water

1

cup

cooking liquid

reserved -- see recipe instructions

1

cup

vegetable stock

4

small

garlic cloves

peeled and smashed

1

teaspoon

ground cumin

1/2

teaspoon

ground oregano

1/2

teaspoon

ground cloves

1

tablespoon

granulated sugar

1

teaspoon

sea salt

freshly ground black pepper

1

tablespoon

olive oil
Instructions
Place the dried chiles in a medium-sized sauce pot and add enough water to cover them.

Bring the water to a boil and then cover the pot and remove it from the heat. Let the chiles hydrate in the hot water for about 20 minutes.

Remove 1 cup of the water from the pot and pour it a blender.

Then remove the chiles from the pot. Use your hands or a paring knife to gently remove the stems and seeds. Then add the chiles to blender.

Add the stock, garlic, spices, sugar, salt and pepper.

Purée until the sauce is completely smooth. This should take about 1 minute.

Pour the sauce into a storage container and stir in the olive oil. (The sauce should keep for at least 3 weeks in an airtight container in the refrigerator.)
Recipe Notes
If you don't have a blender, you can use a knife to finely chop the hydrated, dried chiles until they are as close to a purée as possible.

If you want more heat in your sauce, don't remove all of the seeds from the chiles.
Save
Save
Save