Crispy Fried Rice Recipe is essentially twice cooked rice with a kick of spicy and delicious flavors. It's a great snack, the perfect crunchy addition to salads, and it's fantastic in a stir-fry.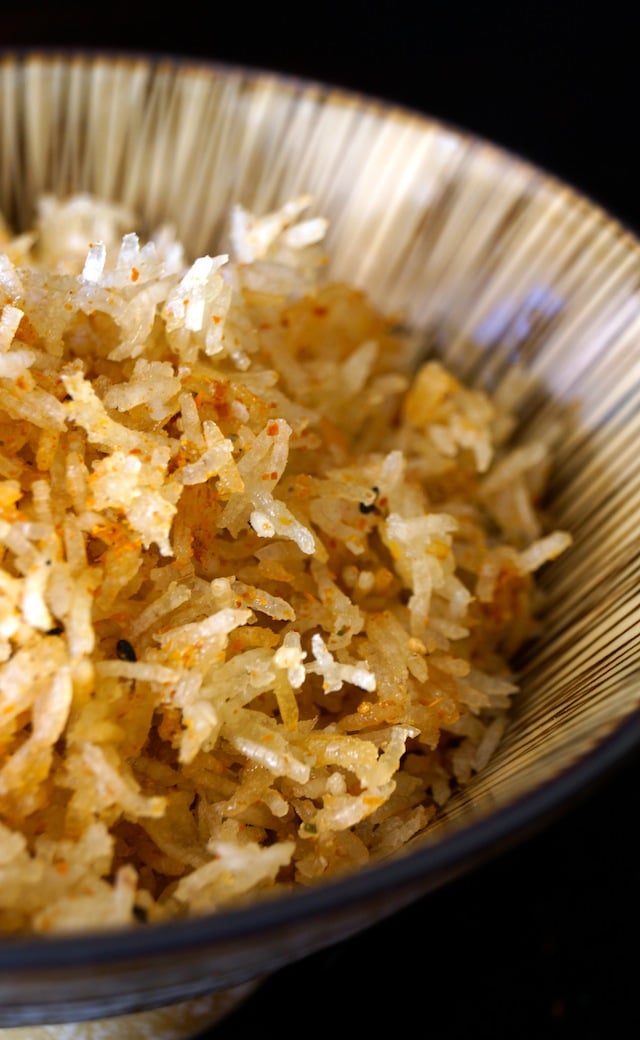 I was making a winter citrus salad the other day, and it had every element I wanted except for a crunch.
It was almost perfect.
I thought about different types of nuts and seeds and I just wasn't feeling it.
So I did something I'd never tried before, I made Spicy Crispy Fried Rice.
It was exactly as I'd hoped it would be -- slightly aerated and super crispy. I sprinkled it with some delicious spicy seasonings and then mixed it into my salad.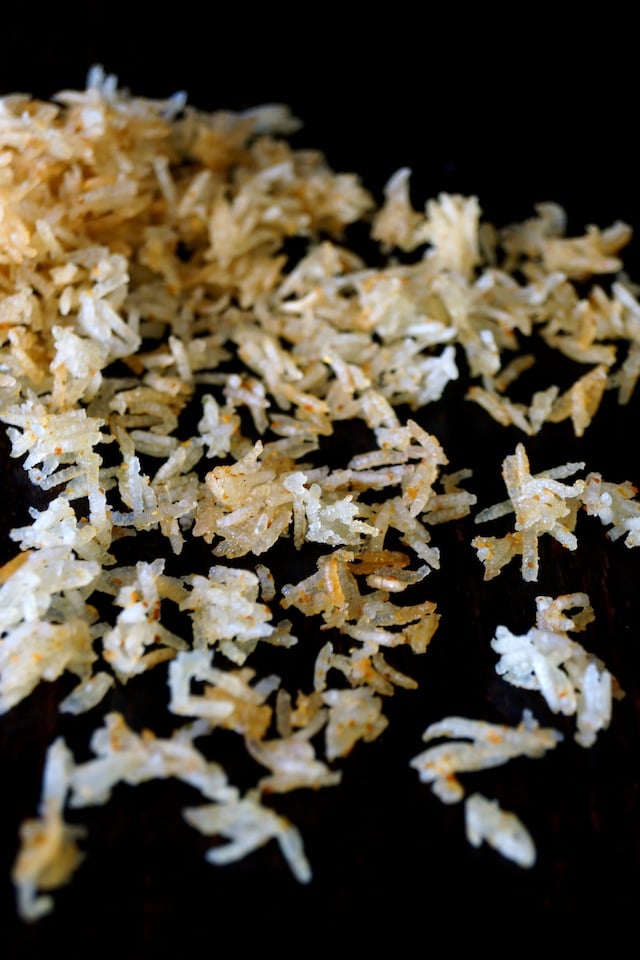 Then the salad it was perfect.
What is Spicy Crispy Fried Rice?
This recipe is likely not what you think of when you imagine a typical fried rice. This is my own twist on it.
Crispy Fried Rice is essentially twice cooked rice.
Rice is cooked is water, and then deep fried briefly.
The rice is then tossed with delicious spices.
Not only is it delicious in salads, but it's also a fantastic snack just to munch on, as you would spiced nuts. And it's an excellent garnish on almost anything.
The spicy crispy rice is mixed into this Winter Citrus Salad and it adds a delicious crunch.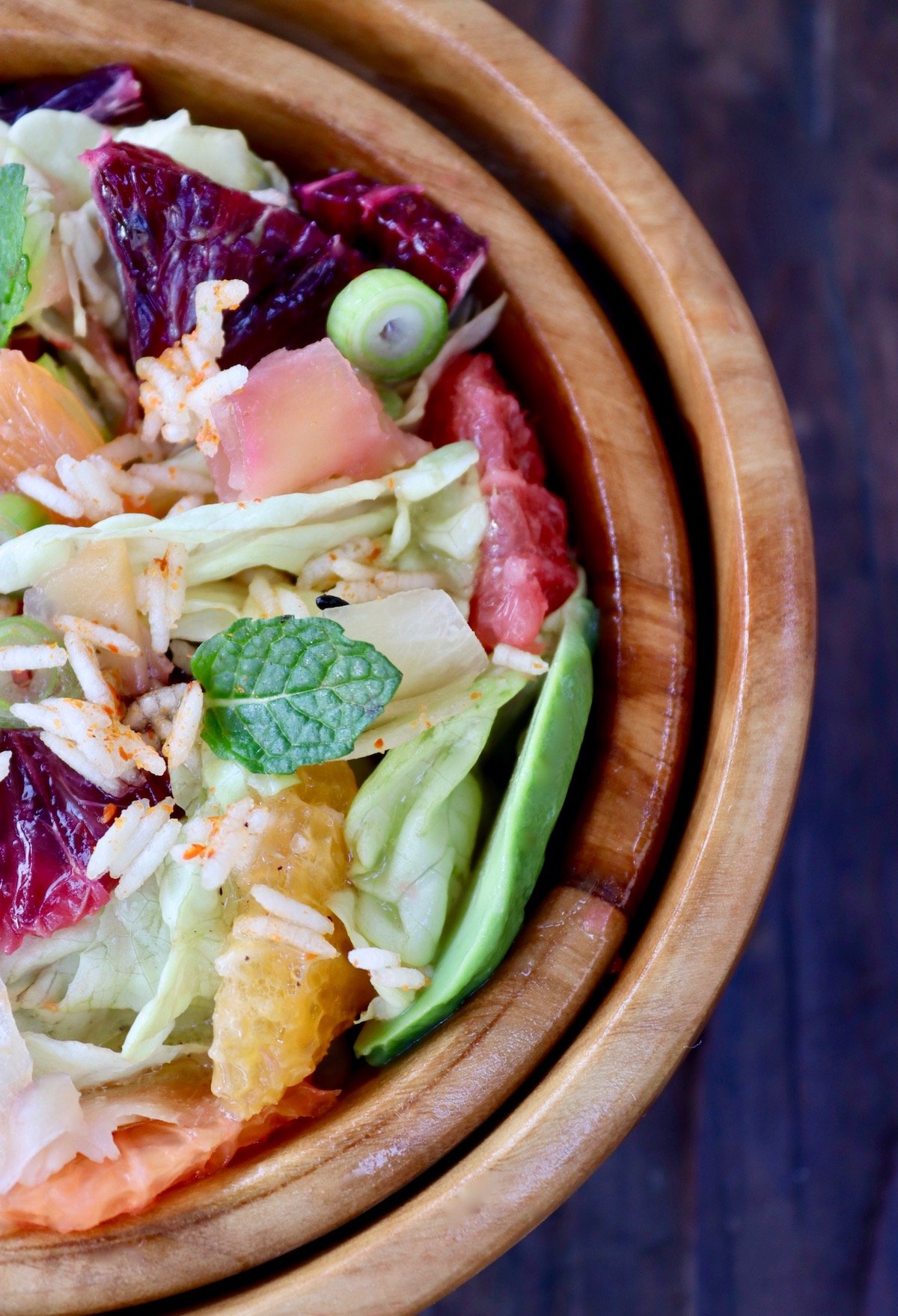 Recipe Tips
I use Basmati rice in this recipe. I find that I prefer it with longer grain rice, but you can you use any rice you like.
Use brown rice to add more of a nutty flavor.
Be sure to fry the rice in two or more batches. If you add too much at once, it won't get the crispy texture we're going for.
While grape seed oil is my first choice, there are other oils you can use.

Here's

a great article on the best oils to use for frying.
Add it to these recipes to kick them up a notch:
Enjoy the crispy fried rice however you decide to use it!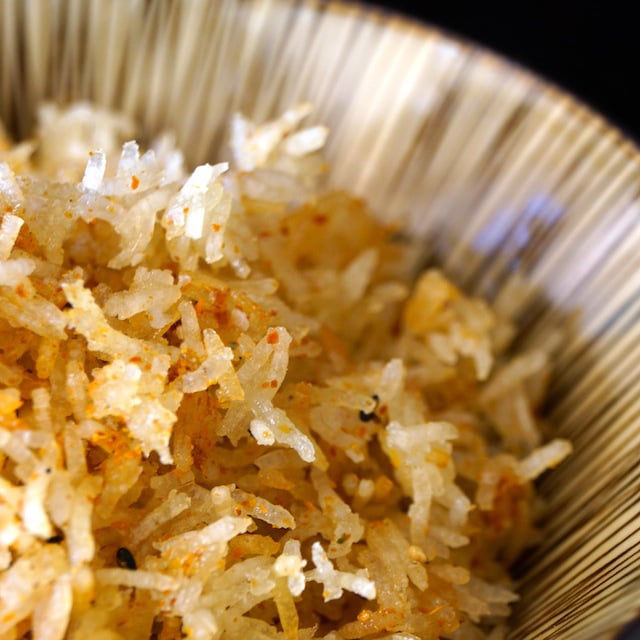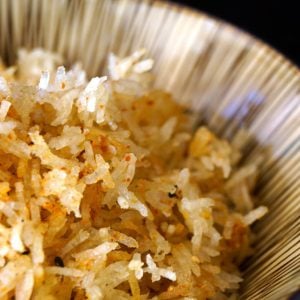 Spicy Crispy Fried Rice Recipe
This rice is lovely to snack on, is the perfect crunchy addition to salads, and is wonderful in a stir-fry. Makes 2 cups / 1 tablespoon per serving
Ingredients
grapeseed oil for deep frying

(amounts will vary -- see instruction no. 2, and notes)

2

cups

cooked rice

(I use Basmati, but any rice is okay), be sure it's room temperature, not cold before you begin the recipe

1

teaspoon

Togarashi

1

teaspoon

salt
Instructions
Line a baking sheet with a double layer of paper towels and set aside.

In a large, deep, heavy-bottomed saucepan, heat about 3-inches of the oil to 350°F. (Amounts will depend on the size of the pan you choose.)

In two batches, use a large spoon to gently place the cooked rice in the oil. Once the rice begins to look crisp and golden, after about 4 minutes or so, use a slotted spoon to remove the rice and place it on the towel-lined baking sheet. Let the oil come back up to 350°F before adding the second batch of rice.

Add the fried rice to a large mixing bowl and sprinkle it with the togarashi and salt. Toss to be sure the seasoning coats all of the rice.
NOTES
Calorie count is only an estimate.
NUTRITION
Have you tried this recipe?
I'd love to see it on Instagram! Tag me at @cookingontheweekends or leave a comment & rating below.
Cooking On The Weekends is a participant in the Amazon Services LLC Associates Program, an affiliate advertising program designed to provide a means for sites to earn advertising fees by advertising and linking to Amazon.com.