Poblano Rice Pilaf is a festival of Mexican flavors, and the perfect side dish to almost any meal with a Latin flair.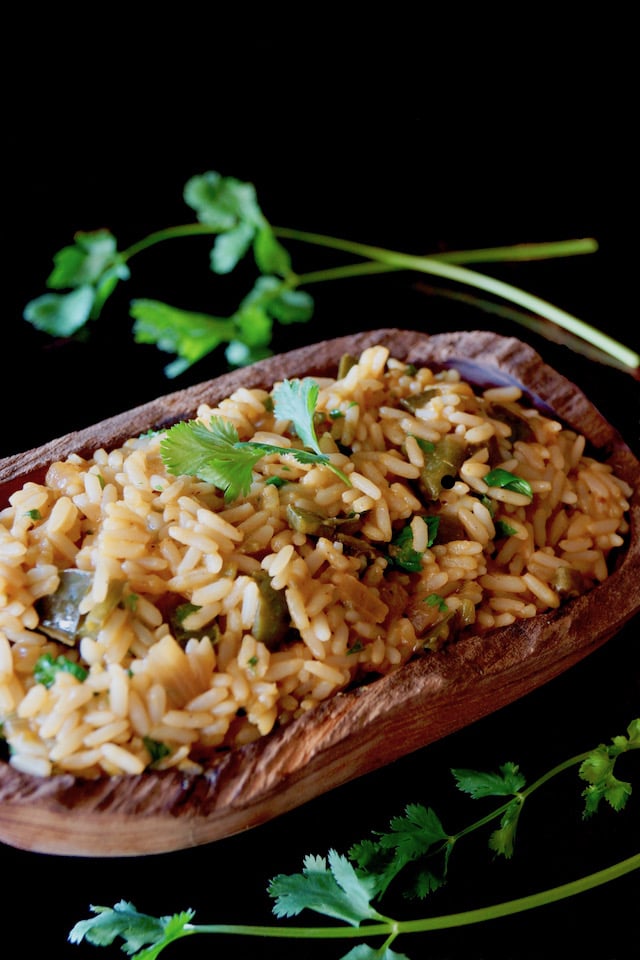 Have you tried my Achiote Marinated Chicken recipe?
This is the rice I usually serve with it — beneath those tender pieces of delicious chicken, to soak up the juices and add to the flavor. They were brilliant together!
What is Rice Pilaf?
Rice Pilaf is made by using a particular method of cooking rice.
The rice is cooked in broth or stock, and is first sautéed lightly in butter or oil, usually with finely chopped onions.
This method adds a delicious nutty flavor to Mexican Poblano Rice Pilaf.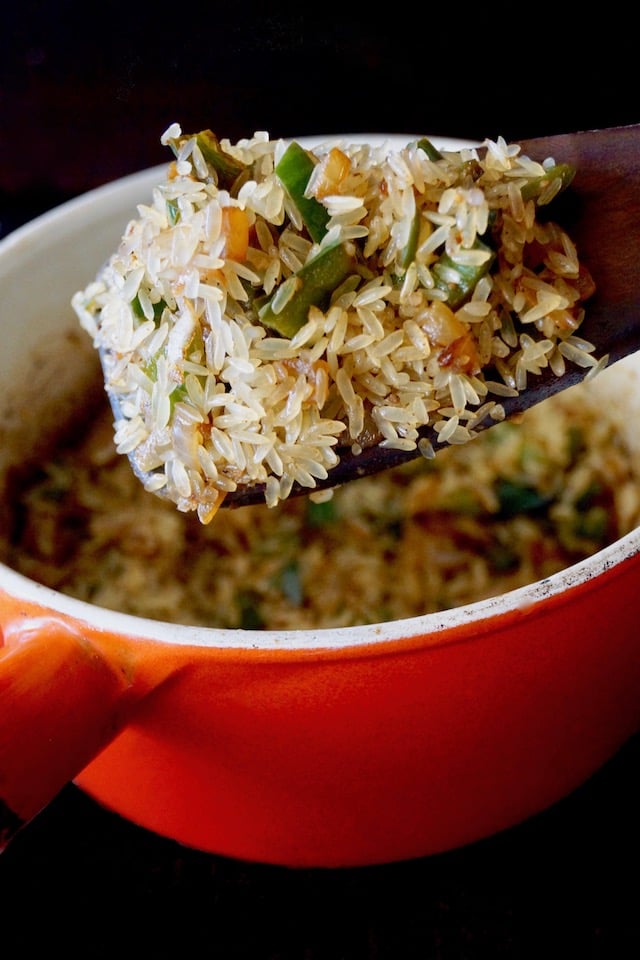 What are Poblano chiles?
Poblano chile peppers are usually mild.
They are more or less five inches long and three inches wide, and their "walls" are quite thick.
With a shape much like a triangle or heart, poblano chiles are somewhat earthy, rich and slightly acidic. Though when cooked, a delicious, subtle, smoky flavor comes out.
Poblanos are available year-round. So you can make Poblano Rice all year long. 😉
When they're dried they are called

Ancho chiles

.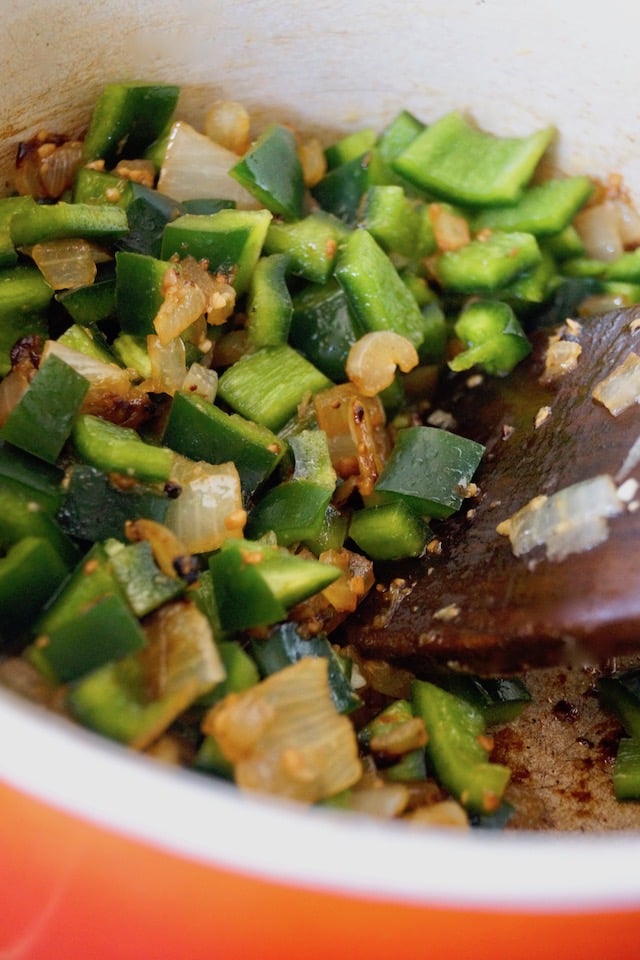 How hot are Poblano chiles?
Poblano chile peppers are typically mild, but can vary in flavor. Occasionally they are hot, so it's always important to taste a bit before using them in a recipe.
Like most chile peppers, different peppers from the same plant can vary in heat.
They're usually sold when green. They are more ripe when they're red, which usually results in more heat and flavor.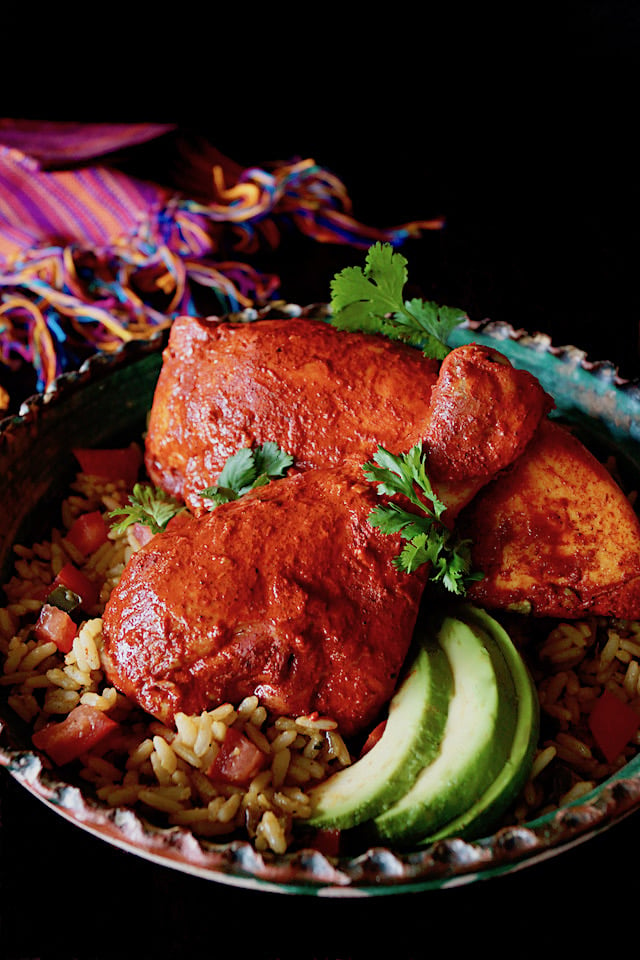 Poblano rice is scrumptious! Here it is with my Achiote Marinated Chicken.
What's in this recipe?
olive oil
onion
garlic
cumin
chicken or vegetable stock
poblano chiles
long grain rice
cilantro
lemon juice
salt, pepper
So much flavor!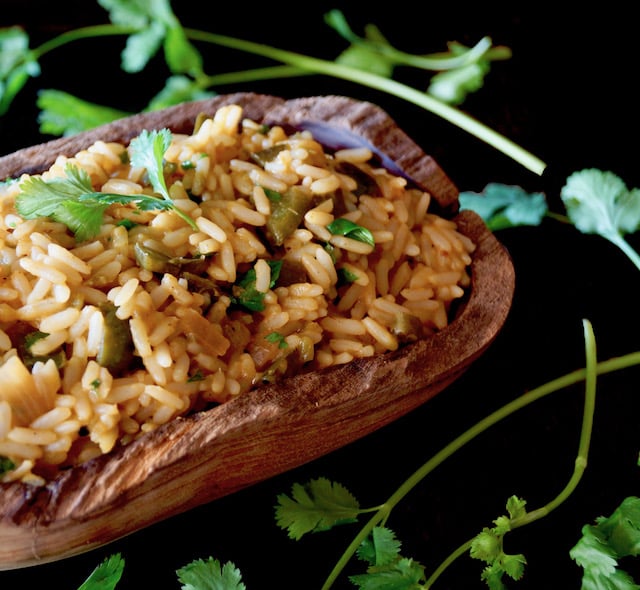 Tips and Substitutions

Some good substitutes for Poblano chiles are Hatch, Anaheim, or Bell. (You will only find fresh Hatch chiles during the summer.) Bell peppers will always be very mild, Anaheims could vary slightly but are usually mild, and Hatch range from mild to very hot, so try them first!
Not a cilantro fan? You can use about half the amount of fresh oregano instead, or just skip it.
This Mexican Poblano Rice Pilaf is a comfort food that's a wonderful base for chicken, meat, stews, you name it.
More Recipes Using Poblano Chiles
More Amazing Rice Recipes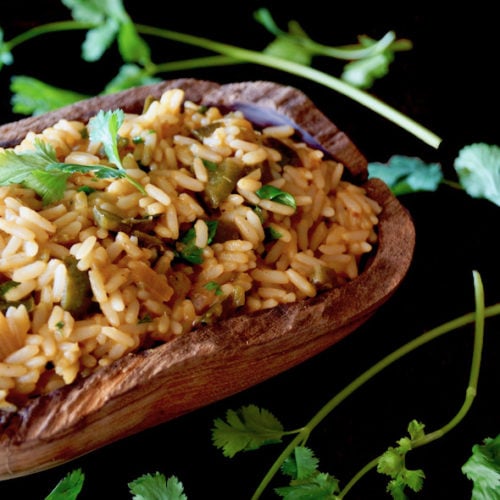 Poblano Rice Pilaf
Poblano Rice Pilaf is a festival of Mexican flavors, and the perfect side dish to almost any meal with a Mexican flair.
Ingredients
olive oil for the pan

¾

cup

yellow onion,

cut into small dice

2

teaspoons

garlic,

minced

1

cup

Poblano chile pepper,

washed and dried, cut into small dice

1

teaspoon

ground cumin

¾

teaspoon

salt

1

cup

long grain rice

2½

cups

chicken or vegetable stock, divided

⅓

cup

cilantro,

washed and dried, roughly chopped

1

tablespoon

fresh lemon juice

freshly ground black pepper
Instructions
Sauté the vegetables. Generously coat the bottom of a medium-sized pot with olive oil, and place it over medium-low heat. Add the onion and garlic and cook, stirring often, until soft, about 7 minutes. Add the Poblanos and cumin. Again, stirring often, cook until soft, about 4 minutes.

Blend some of the vegetables. Remove ¼ cup of this mixture from the pot, and add it to a blender along with 1 cup of the chicken stock. Blend until smooth, about 10 seconds. Set aside.

Sauté the rice and cook. Add the rice to the pot with the remaining onion-Poblano mixture, and stir to coat all of the grains — they should be shiny from the oil. If they're not, add a bit more oil. Sauté for a couple of minutes, and then pour in the blended poblano-onion-stock mixture, and the remaining stock. Turn the heat to high, and bring to a boil. Immediately reduce the heat to low, cover the pot, and gently simmer until all of the liquid has been absorbed and the rice is tender, about 20 minutes.

Add lemon juice and cliantro and season. Mix in the lemon juice and cilantro, and then season to taste with salt and pepper and serve. (Here's How to Season to Taste.)
NOTES
Nutritional information is only an estimate.
NUTRITION
Calories:
201
kcal
|
Carbohydrates:
44
g
|
Protein:
4
g
|
Fat:
1
g
|
Saturated Fat:
0.1
g
|
Polyunsaturated Fat:
0.1
g
|
Monounsaturated Fat:
0.2
g
|
Sodium:
1030
mg
|
Potassium:
188
mg
|
Fiber:
2
g
|
Sugar:
4
g
|
Vitamin A:
548
IU
|
Vitamin C:
34
mg
|
Calcium:
32
mg
|
Iron:
1
mg
Have you tried this recipe?
I'd love to see it on Instagram! Tag me at @cookingontheweekends or leave a comment & rating below.
Cooking On The Weekends is a participant in the Amazon Services LLC Associates Program, an affiliate advertising program designed to provide a means for sites to earn advertising fees by advertising and linking to Amazon.com.