Mexican Chicken Poblano Pasta bursts with delicious, subtly spicy Latin flavors. It's the perfect Mexican comfort food dish!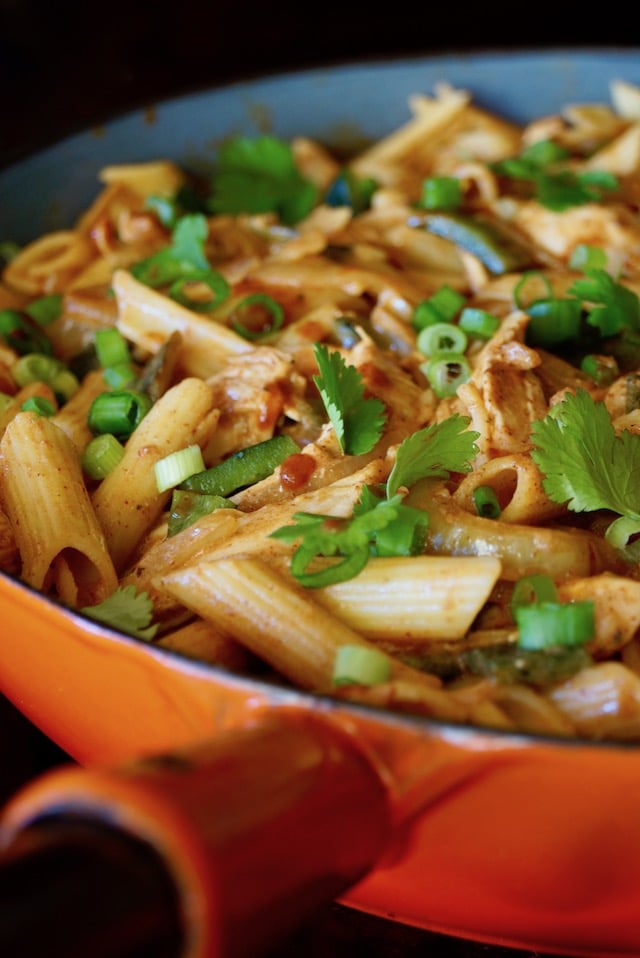 A Mexican comfort food dish made with pasta is every bit as satisfying as an Italian one.
In this recipe, pasta is mixed with shredded chicken, roasted peppers, and a most delicious homemade Ancho Chile Enchilada Sauce Recipe. (It's my favorite enchilada sauce!)
Imagine how awesome Chicken Poblano Pasta would be presented somewhere between the quintessential guacamole and salsa selections, as well as the tacos and nachos — for an awesome Mexican dinner party.
This pasta is super delicious — it's subtly spicy, creamy, hearty, and fresh — all at once!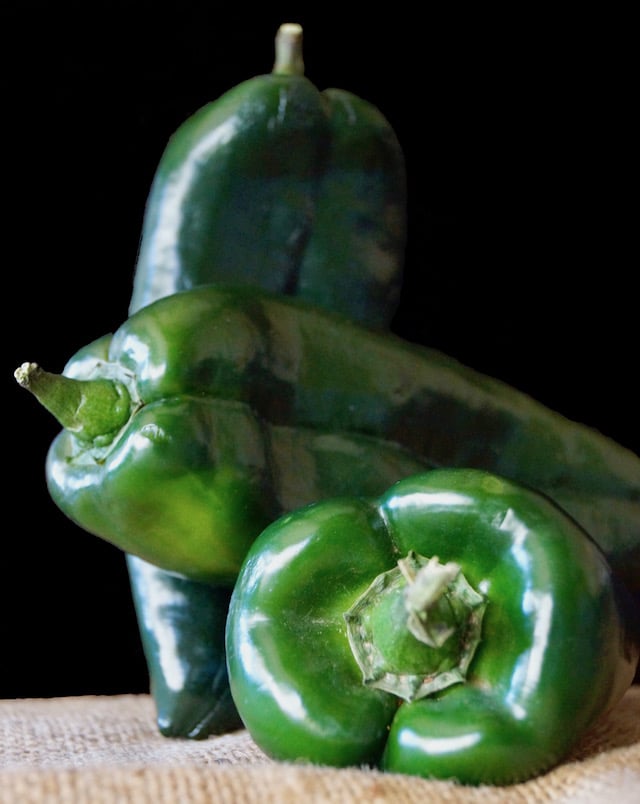 What are Poblano Chile Peppers?
Poblano peppers are not very hot peppers. They generally range from mild to medium and have a lovely subtle smoky flavor.
Poblano peppers got their name because they originated in the state of Puebla in central Mexico.
They have thick, dark-green skin and a wide base which tapers to a point.
In their dried form, poblanos are called ancho chile peppers.
Poblanos are most commonly used for chile rellenos.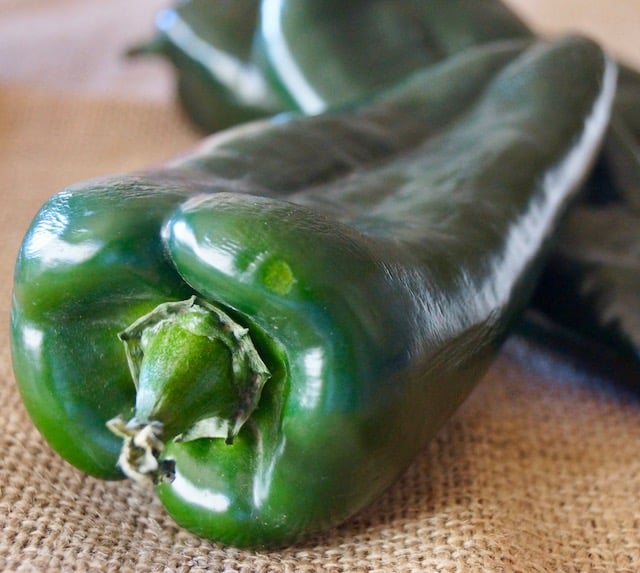 Recipe Tips
While I love making my own enchilada sauce, roasting my own peppers, and cooking the chicken, I get that life is busy and you might want to make this more quickly. You can! 🙂 Use your favorite canned or bottled enchilada sauce, jarred, roasted peppers, and a rotisserie chicken.
You can use any pasta you like. I use

gluten-free penne

, so my sweet gluten-free son can partake.
What to Serve with Chicken Poblano Pasta
Though really, this one pan dish can also stand on its own.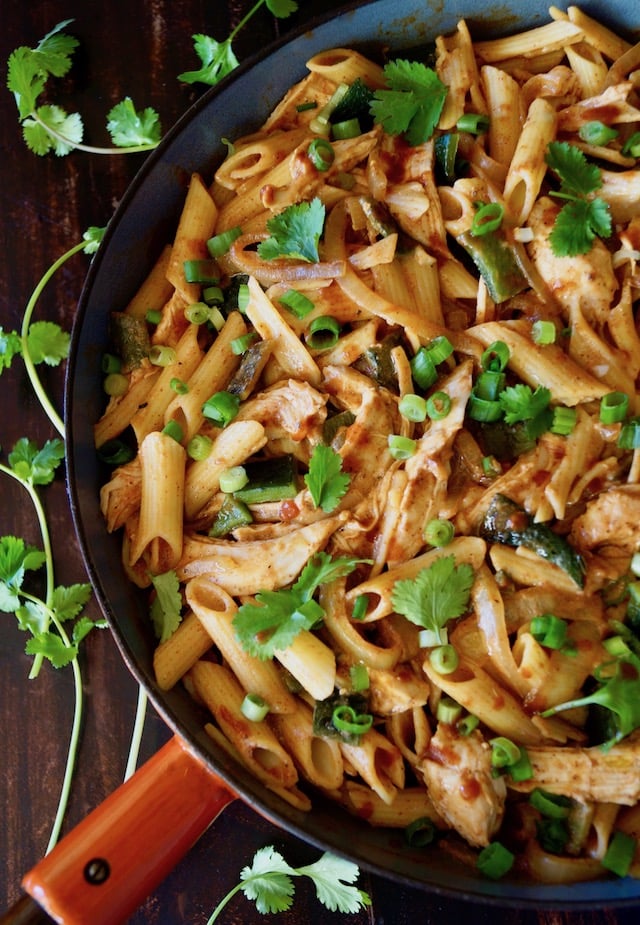 Mexican Chicken Poblano Pasta always draws a crowd and is a fantastic creative recipe for casual entertaining.
Whether or not you serve it for a casual gathering of friends, a Cinco de Mayo party, or just for a random weeknight dinner, I hope you enjoy every last bite of this delectable Mexican Chicken Pasta recipe!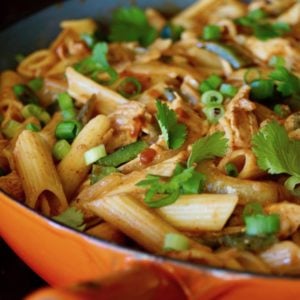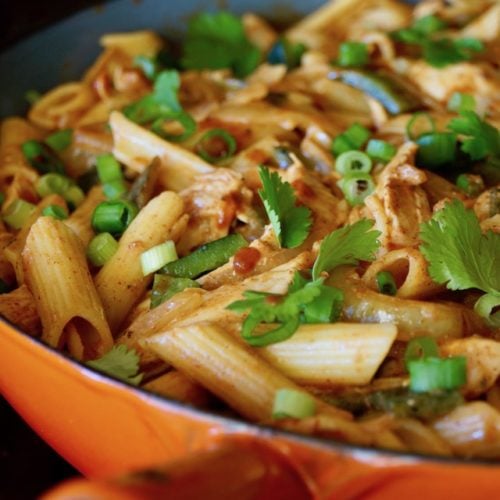 Mexican Chicken Poblano Pasta Recipe
Delicious and subtly spicy Latin flavors are intertwined with thick noodles, to create an amazing Mexican pasta recipe with chicken.

Please note that the prep time does not include making the enchilada sauce, which will add about 30 minutes.. (Here's the recipe.) You can make it as far as a week ahead. You can also use your favorite prepared enchilada sauce.

Ingredients
12

ounces

dry Penne pasta (or shape of your choice)

olive oil for the pan

2

medium-large (about 1/2-pound)

poblano peppers

1 1/4

pound (about 2)

chicken breasts,

boneless, skinless, cut into bite-sized pieces

1 1/2

cups

yellow onion,

thinly sliced

2

teaspoons

garlic,

minced

1 1/2

cups

Ancho Chile Enchilada Sauce (click here for the recipe),

or your favorite bottled variety

1/3

cup

crema Mexicana

1/2

cup

loosely packed cilantro,

washed and dried

4

scallions,

washed and dried, thinly sliced
Instructions
Cook the pasta in a large pot of boiling, salted water until just tender but still firm to bite. Reserve 1/2 cup of the cooking water and drain the pasta in a colander. Then put the pasta back into the pot with the reserved liquid and set aside.

Place the poblanos, one at a time, directly on top of a high flame on the stove. Use kitchen tongs to turn them as each side chars. Remove them from the burners, place them in a brown bag, and fold over the top to let them steam for 10 minutes. Take them out of the bag when they're cool enough to work with. Use your hands to peel off the skin and remove the stems. Use a paring knife to make a slit vertically down each pepper to open it. Remove the seeds and trim away the membranes from the inside. Cut them into bite-sized pieces and set aside. (You should have about 1 cup.)


Coat a large sauté pan with olive oil and place it over medium heat. Season both sides of the chicken breasts with salt and pepper and place them in the pan. Sauté just until they're cooked through, about 4 minutes per side. Remove them from the pan and set aside until they're cool enough to touch. Shred it into bite-sized pieces with your hands.

Add the onion and garlic, and cook, stirring often, over medium-high heat until soft and nicely caramelized, about 10 minutes.


Turn the heat to low and then add the roasted poblanos, enchilada sauce, crema Mexicana, shredded chicken, and the pasta (along with the liquid it's in) and gently mix everything together. Season to taste with salt and pepper. (Here's how.)


Garnish with the cilantro and scallions. Serve!

Notes
I love making my own sauce, but if you need to save time, use your favorite store-bought enchilada sauce.
It's pretty quick and easy (and I think tastier), to roast your own peppers, but again, if you need to save time, you can buy them (you would need about 1 cup).
Have you tried this recipe?
I'd love to see it on Instagram! Tag me at @cookingontheweekends or leave a comment & rating below.
Cooking On The Weekends is a participant in the Amazon Services LLC Associates Program, an affiliate advertising program designed to provide a means for sites to earn advertising fees by advertising and linking to Amazon.com.