Ancho Chile Enchilada Sauce is a super delicious red sauce recipe. On the mild side, this rich, smoky sauce is full of warming flavors that will have you licking your plate. This Ancho sauce was created for enchiladas, but it's incredibly versatile, and can be added to all sorts of dishes.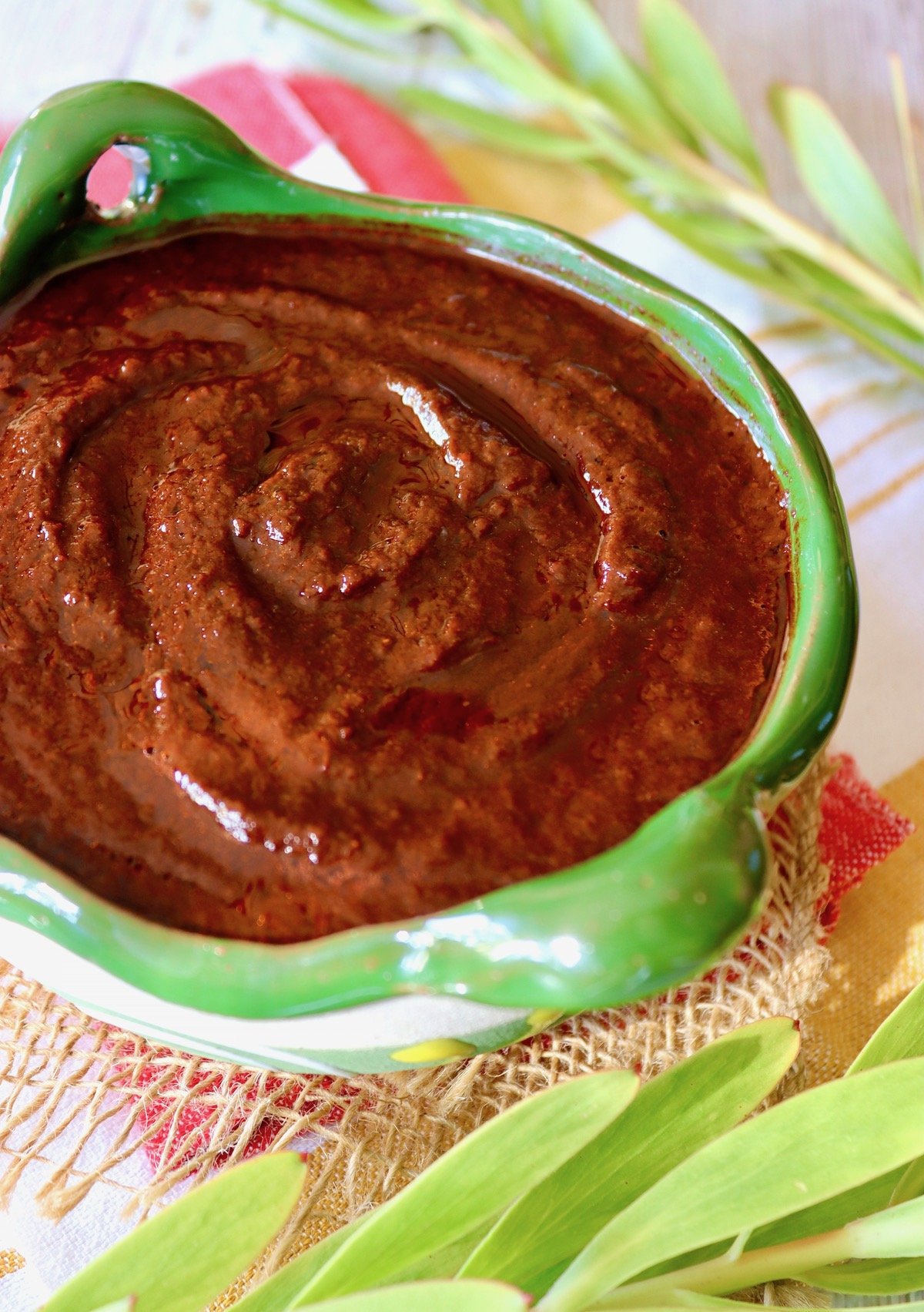 When I have this Ancho Sauce at the ready in the fridge, I find I use it almost daily. It's so delicious!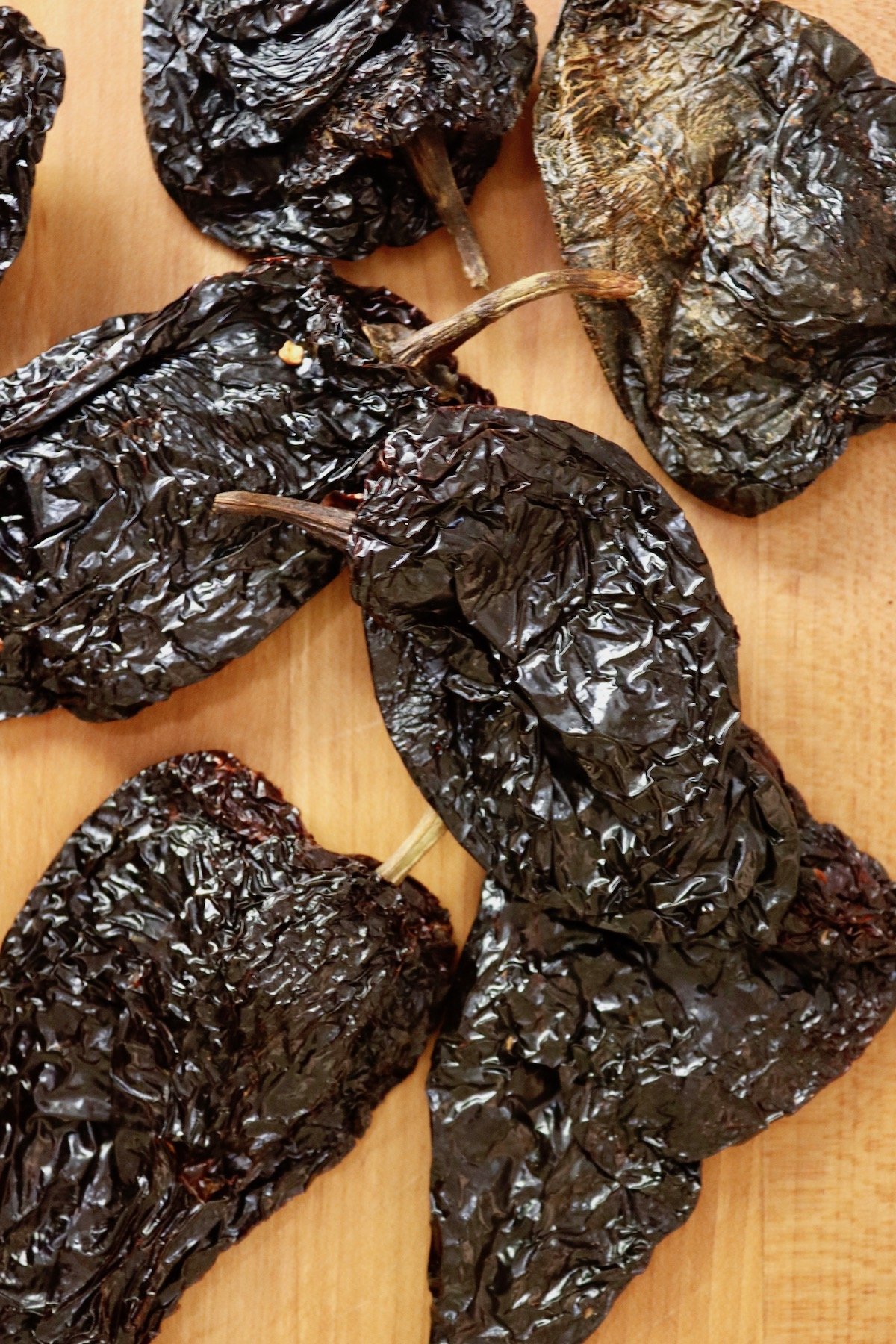 Above: Ancho chile peppers. They are dried poblano chiles.
What are Ancho Chiles?
Ancho chiles

are dried

Poblano chiles

that are harvested early. (Fully mature Poblanos are called Mulatos when they are dried.)

When a Poblano chile is fresh, it's dark green and shiny. They're usually mild in heat and have a rich flavor.
What does an Ancho chile taste like?
When poblanos are dried, and become Ancho chiles, they take on a smoky, deeper flavor. Many people describe the flavor as having hints of cherry, raisins and prunes. I agree, and along with the smokiness, it's fantastic.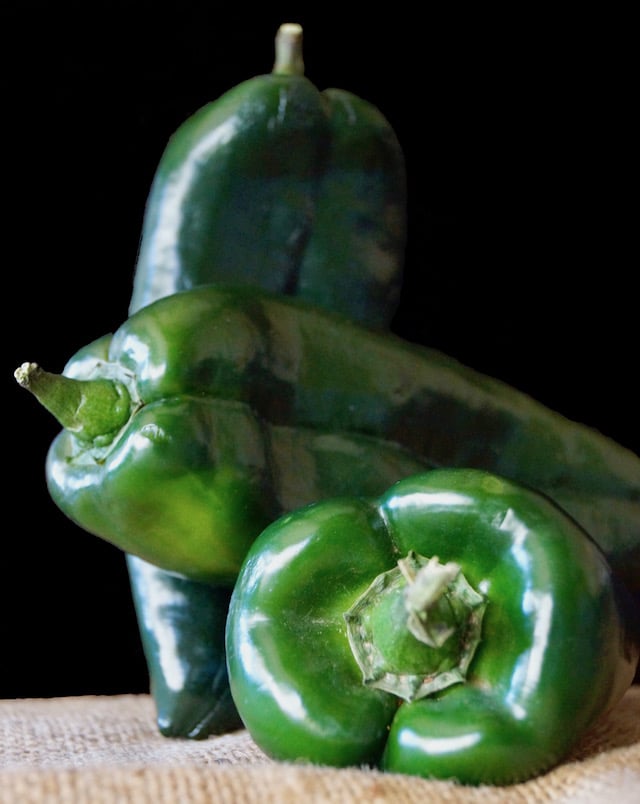 Above: Fresh Poblano chiles.
This sauce is easy and fun to make.
How to Make Ancho Sauce for Enchiladas
Hydrate the Ancho chiles in hot water.
Add some of the hydrating liquid to a blender.
After removing their seeds and stems, add the chilies to the blender.
Add stock, garlic, sugar, spices, salt and pepper, and blend until the mixture is smooth.
(More detailed instructions are below.)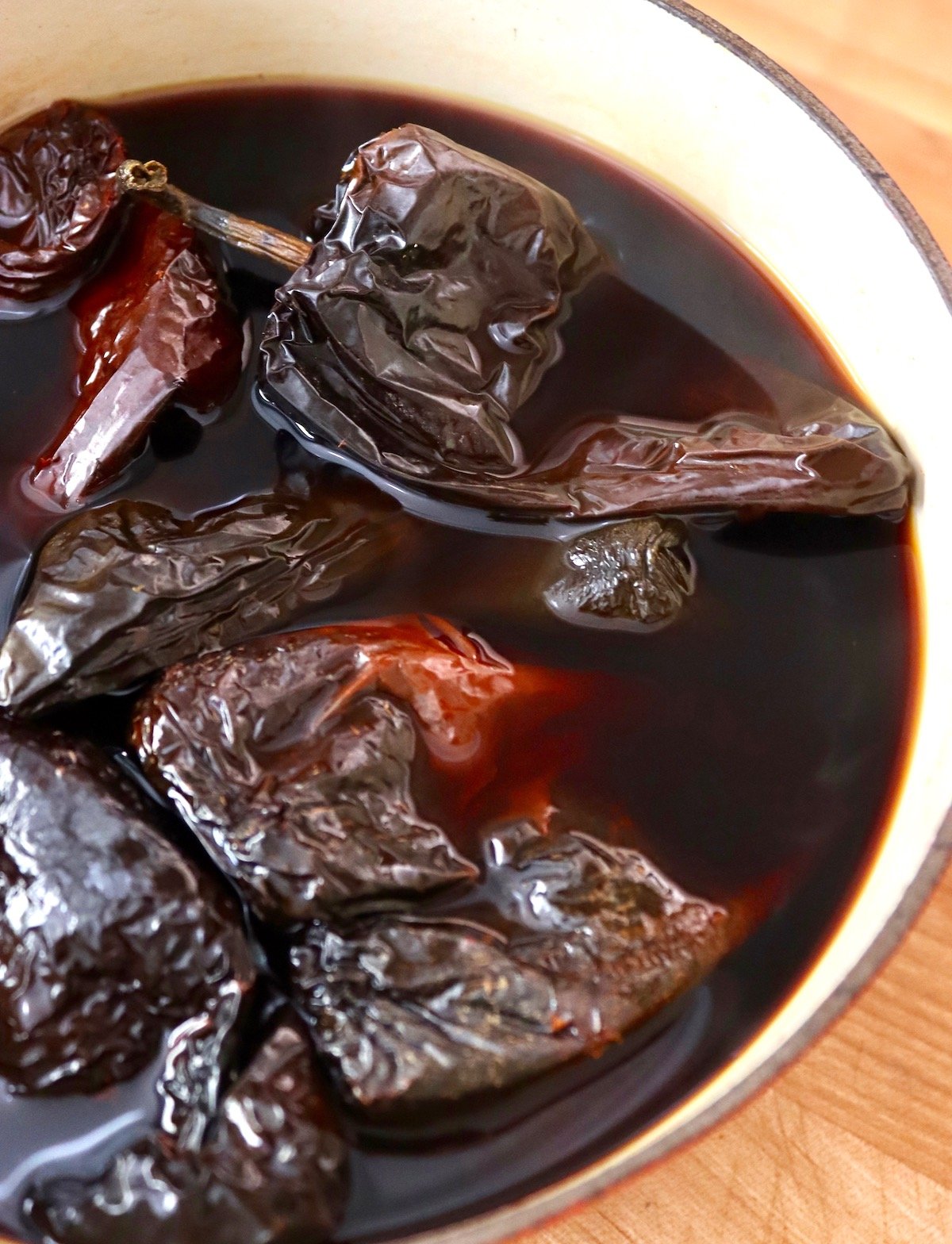 What is a substitute for Ancho Chiles?
Ancho chiles are fairly common, so they should be easy to find. Mexican markets will almost always have them, and you will likely see them in the produce sections of most larger grocery stores. If however, you can't find them, Guajillos and Mulatos are good substitutions.
Recipe Tips
Ancho chiles are low in heat. For a spicier sauce, add cayenne pepper

to taste

.
It's best to make Ancho sauce in a blender.

This is the one I have and love

. If you don't have a blender, you can use a food processor with the blade attachment. Whatever device you use, you want the sauce as smooth as possible.
If you don't have vegetable stock, double the amount of hydrating liquid you use.
Save any remaining hydrating liquid as you can use it as a stock in other recipes.
To slightly lighten the sauce, add about 1 cup of roughly chopped, fresh tomatoes before blending.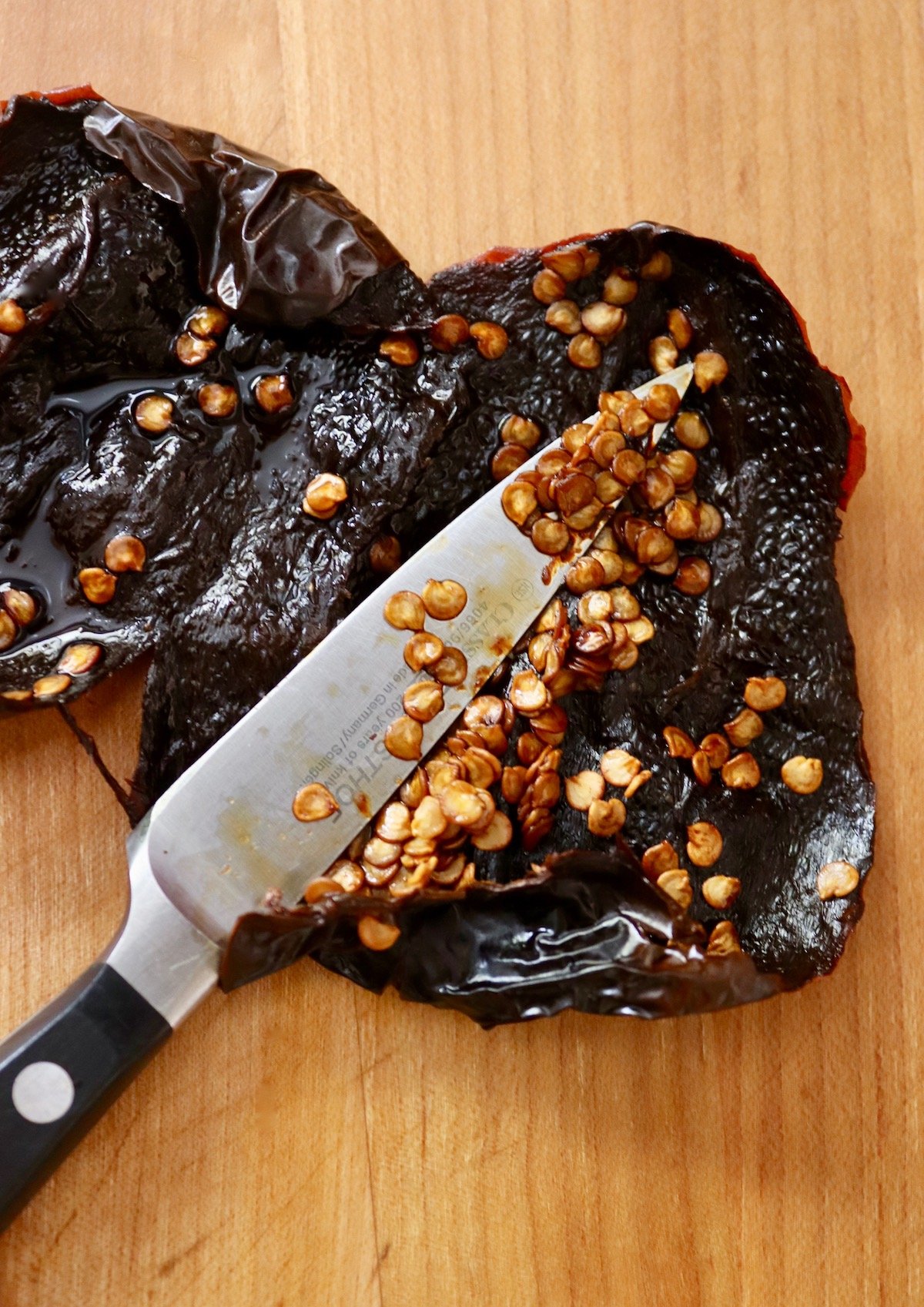 Uses for Ancho Sauce
This sauce can be added to so many different foods! Though there are certainly no rules as to where to use it, here are a bunch of delicious ideas.
Chilaquiles

. Chilaquiles are a traditional Mexican breakfast dish made with corn tortillas cut into quarters, fried, and then cooked

in salsa or sauce, and sprinkled with cheese.

Enchiladas (of course). Dredge the tortilla in the ancho sauce before rolling the enchiladas and then drizzle it over the top before baking. (See below image.)
Stews. Add a couple of tablespoons to a finished stew for a smoky, rich flavor.
Scrambled eggs. Drizzle the sauce on top, or mix some into the eggs about halfway through the cooking process.
Omelets. Just add a layer to the inside of the omelet before you fold it.
Sandwiches and burgers. Spread it on the bread. And you can mix it right into the meat when you're making burgers.
Burritos. Drizzle it into the filling ingredients before rolling.
Tacos. A spoonful or two on top enhances any taco.
Rice. Add some of the sauce to your cooking liquid for rice. It'll flavor every grain.

Pasta

. If you want to make a pasta dish with a Latin vibe, this is the answer. (See below example).
Roasted vegetables. Toss vegetables in the sauce and roast. It's especially tasty with potatoes. (See potato image below.)

Can you make it ahead?
Yes, this sauce will keep nicely in a tightly sealed container for about 3 weeks in the refrigerator.
You can freeze it heavy duty zip-lock bags for about two months. Lay the bags flat to freeze, and thaw to room temperature before using.
Below are recipes for enchiladas, pasta and potatoes with the Ancho sauce as the star ingredient.
The Best Vegetarian Enchilada Ever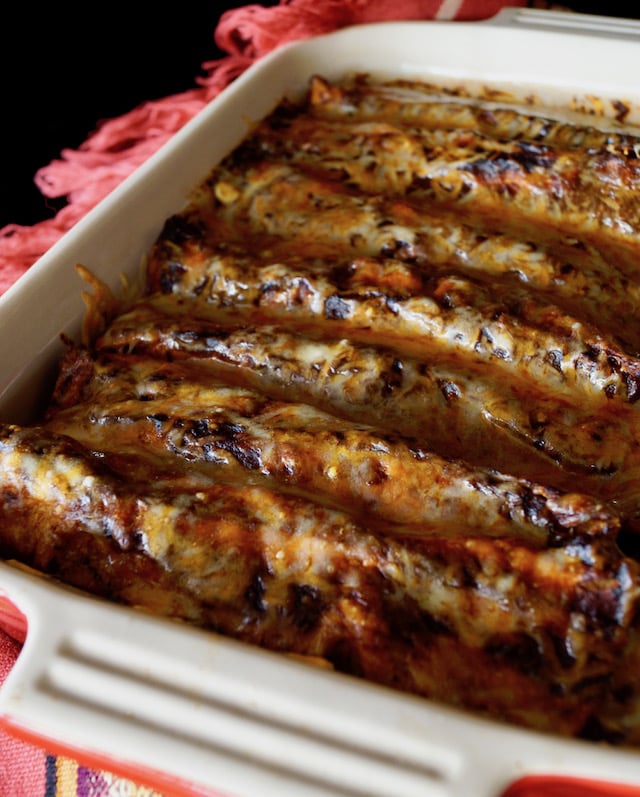 Whatever you decide to drizzle this sauce over or in, I hope you enjoy every last drop!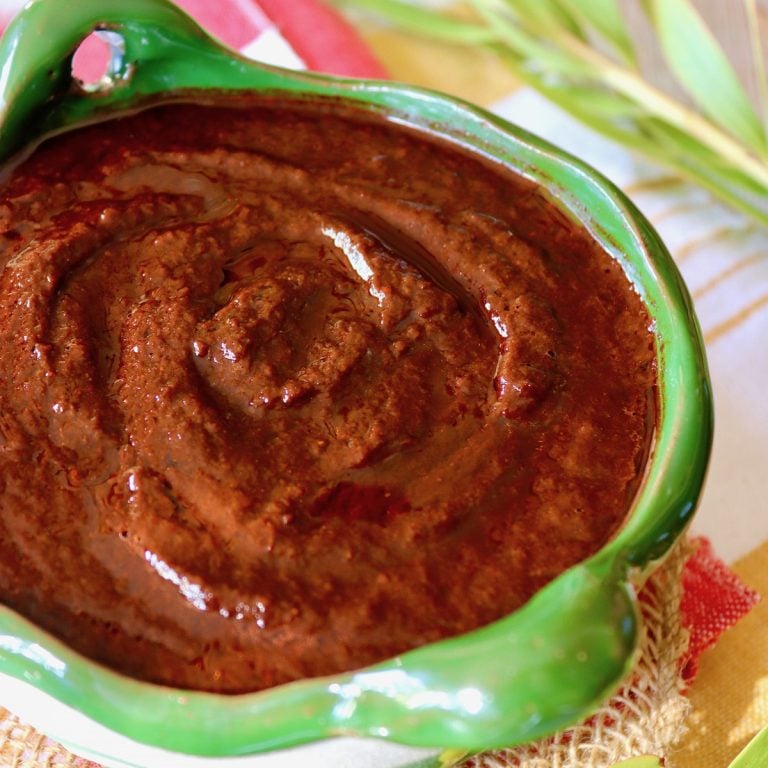 Ancho Chile Sauce Recipe
Ancho Enchilada Sauce is a super delicious red sauce recipe. It has just enough heat, and it's full of warming spices that will have you licking your plate. It was created for enchiladas, but it can be added to all sorts of dishes.*Makes about 3 cups
Ingredients
4

ounces

dried Ancho chiles

water

1

cup

ancho chile hydrating liquid,

reserved (see recipe instruction no. 2)

1

cup

vegetable stock

4

small

peeled and smashed garlic cloves (about 1 tablespoon)

1 to 2

tablespoons

granulated sugar*

1

teaspoon

ground cumin

½

teaspoon

ground oregano

1

teaspoon

salt

2

tablespoons

grapeseed or other neutral oil, like vegetable
Instructions
Hydrate dried peppers. Place the dried chiles in a medium-sized sauce pot and add just enough water to cover them. Bring the water to a boil, and then cover the pot and and turn off the heat. Let the chiles hydrate in the hot water until they're soft, at least 20 minutes.

Prep peppers. Remove the chiles from the pot. Use your hands or a paring knife to gently remove the stems and seeds. Add the hydrated chiles to the blender. (If you're very sensitive to the heat, I suggest wearing cooking gloves.)

Remove 1 cup of the hydrating liquid from the pot and pour it in the blender. (Do not throw out remaining liquid as you can use it as a stock in other recipes.)

Add remaining ingredients to blender and blend. Add the stock, sugar, garlic, spices, salt and pepper to the blender. Purée in the blender until the mixture is as smooth as possible. Season to taste with salt and sugar if necessary. (Here's how.)

Use or store. Stir in the oil and it's ready to use. Or, pour the sauce into a storage container with a tight sealing lid, and place in the refrigerator, where it should keep for at least 3 weeks.
NOTES
Calorie count is only an estimate.
NUTRITION
Have you tried this recipe?
I'd love to see it on Instagram! Tag me at @cookingontheweekends or leave a comment & rating below.
Cooking On The Weekends is a participant in the Amazon Services LLC Associates Program, an affiliate advertising program designed to provide a means for sites to earn advertising fees by advertising and linking to Amazon.com.