This Espresso Chocolate Sauce Recipe will add a touch of magic to any dessert! The intensity of the flavors will make any chocolate and coffee lover swoon. This rich, smooth sauce is divine whether it's warm or hot.  It can glaze a cake, be drizzled over ice cream, or eaten with a spoon!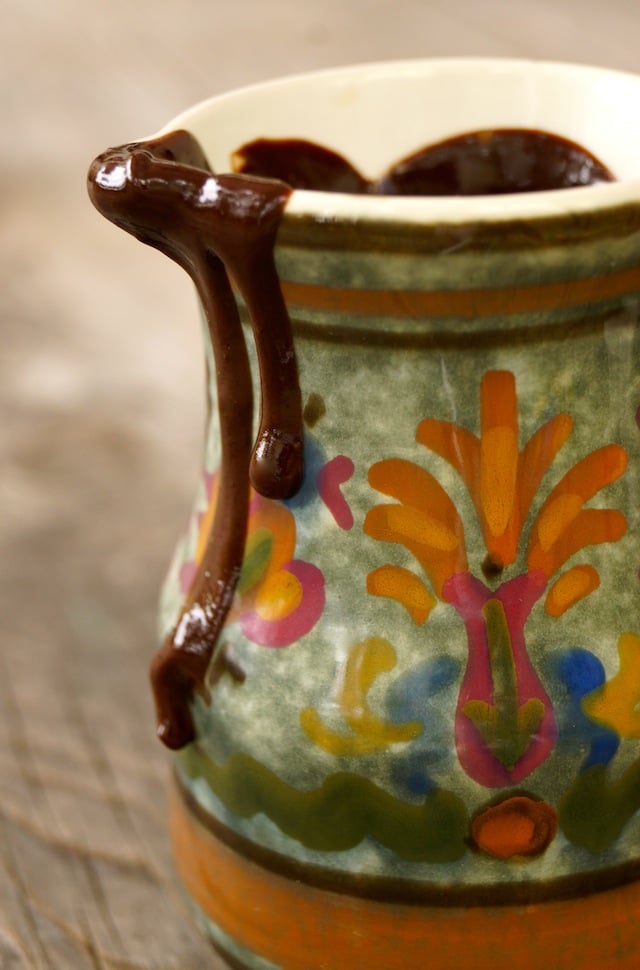 There's no end to how I might serve this Espresso Chocolate Sauce with!
I could eat it with a spoon.
I would dip my biscotti in it.
I would love it drizzled over my ice cream.
I could cover strawberries with it.
I might even pour it over bananas.
Or pour it over bread pudding.
Really, I could drink it.
Over the weekend I served it with Individual Chocolate-Coffee Mud Pies for my dad's birthday.  And to say it was a hit, would be a huge understatement!  I know, I'm bragging about my recipes again, but in the case of this Espresso Chocolate Sauce recipe, I simply can't help myself.  People were licking their plates!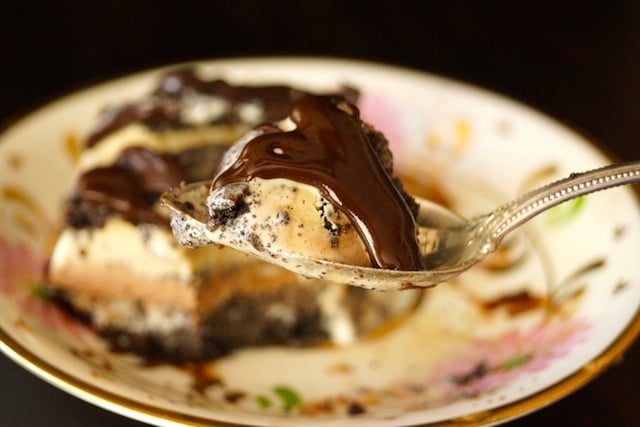 When you drizzle the scrumptious dessert sauce, while it's very warm, or hot, over ice cream, it becomes a bit firm.  Not like a "shell," just a bit more solid, turning it into something that is reminiscent of a candy bar.  I know! Insane!
What I should really be doing is bottling the Espresso Chocolate Sauce recipe and selling it!  It's that delicious.  Am I selling you on it?  I can only so with my endless bragging and confidence.f
I won't actually be selling it — however, I will be bottling it and giving it away as gifts.  I think it's perfect for a hostess gift.  And it will be lovely when the holiday's come around.
This is definitely one of those recipes that I think should at the ready at all times.  You just never know when you might want to impress somebody.
Enjoy every drop of this Espresso Chocolate Sauce recipe!
Oh, and my favorite espresso to cook and bake with is Medaglia d'Oro.

This is not a sponsored post — as always, I only write about brands I love.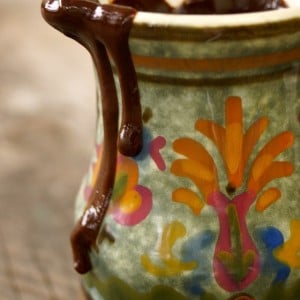 Espresso Chocolate Sauce Recipe
Makes about 1¼ cup
Ingredients
1

cup

finely chopped semisweet chocolate

¼

cup

salted butter

1½

tablespoons

instant espresso

¾

teaspoon

pure vanilla

1

tablespoon

heavy cream
Instructions
Add all of the ingredients except the cream, to a small saucepan.

Place the saucepan over low heat and let the chocolate and butter melt. (You can do this without a double boiler because of the butter -- chocolate alone shouldn't be melted this way.)

Gently stir to blend.

Add the cream and stir once again.

Serve!
Recipe Notes
You can store this for at least a week in the refrigerator. It will firm up, but just warm it gently to serve.
Save
Save
Save