Flourless Chocolate Kahlúa-Espresso Decadence Cake is a gluten-free masterpiece! The deep chocolate flavor is enhanced further with the espresso and Kahlúa. You'll want seconds! And thirds!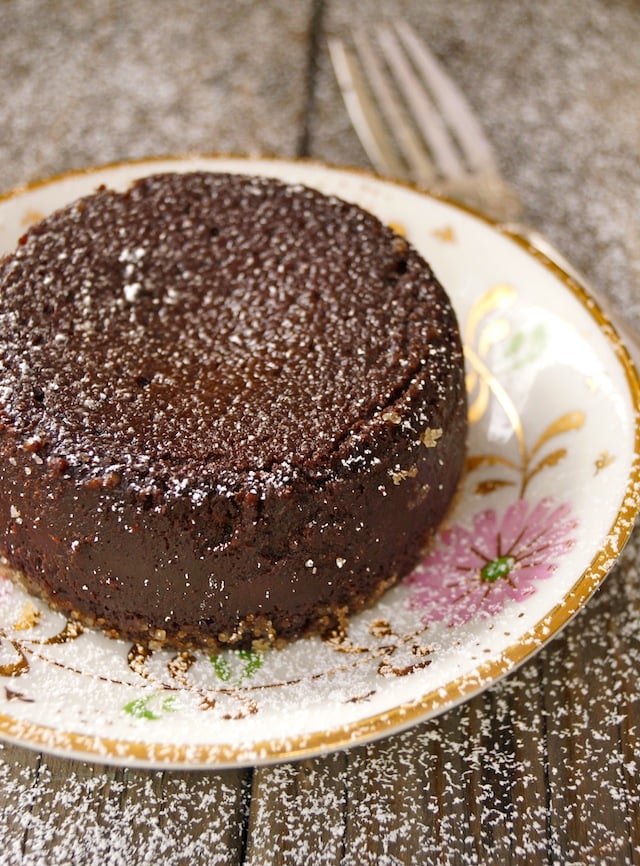 There are seven more chocolate recipe-planning days until Valentine's Day.
Will you make a flourless chocolate decadence cake? Maybe a Kahlúa cake? Or an espresso decadence cake? OR . . . . wait for it . . . . how about the mother of all of these luscious desserts, a Flourless Chocolate Kahlúa-Espresso Decadence Cake?
That's exactly what I'm making!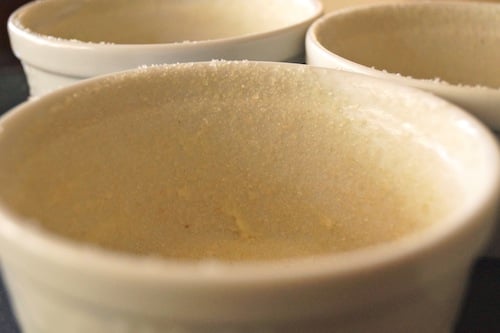 Inspiration
Let's be honest, Valentine's Day is simply a good excuse to eat chocolate — and for one reason and one reason only — because it's just so good. I guess I don't need an excuse for espresso or Kahlúa cake.
I'm always inspired to bake with chocolate on Valentine's Day. Well, every day. 😉
This recipe is absolutely delectable. I mean seriously, it's oozing with melting dark chocolate, scented with espresso beans, and lingers on your tongue with the subtle taste of Kahlúa.
What's in Flourless Chocolate Kahlúa-Espresso Decadence Cake
The title gives most of it away — there's no flour, there is chocolate, kahlúa and espresso. But wait, there's more: vanilla, butter, sugar, eggs and cocoa powder.
Could it get any better!?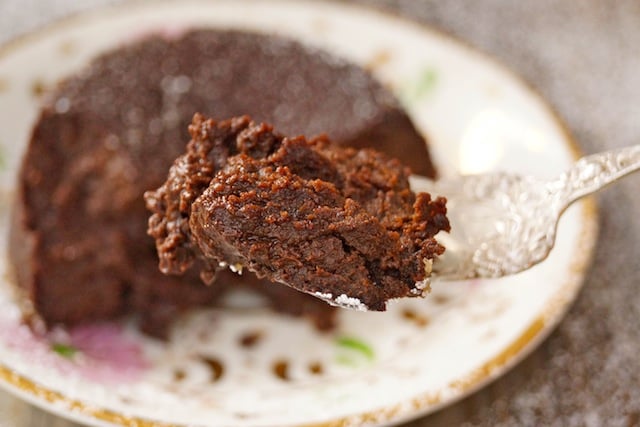 And yes, this is a gluten-free dessert. Hence, the "flourless" in the Flourless Chocolate Decadence! It's my favorite type of gluten-free dessert — one that's inherently gluten-free, where no substitutions are needed.
Need a little more Valentine's Day dessert inspiration?
Here are my Top Ten Valentine's Day Desserts.
Of course in my world chocolate is eaten all the time. And quite frankly I might not even need an excuse!
I probably eat at least a bite (or two or twelve!) every day.
Did I mention how incredibly impressive this is to serve at a dinner party!?
FYI, this is the instant espresso powder I love using in baking.
Enjoy!
Flourless Chocolate Kahlúa-Espresso Decadence Cake
If you imagine an espresso decadence cake, flourless chocolate decadence and a Kahlúa cake -- all together, you will taste the delicious intensity of this Flourless Chocoalte Kahlúa-Espresso Decadence Cake!
Keyword:
coffee and chocoalte recipes, gluten-free desserts, great for a dinner party
Instructions
Preheat the oven to 425°F, and adjust a rack to the center.

Use the 2 teaspoons of the butter to grease 6 (4-ounce) ramekins. Then dust them with 2 tablespoons of sugar. Be sure the entire inside is well coated because the cakes will rise in the oven. (See image above.)


Add the remaining ½ cup of butter and the 1 cup of the chopped chocolate to a small saucepan. Place it over low heat and melt the two together. Once it's nicely blended, remove the pan from the heat and add the espresso powder, Kahlúa and vanilla. Set aside to cool.

In a medium-sized mixing bowl, whisk the eggs and egg yolks. Once they are a bit frothy and slightly lighter in color, add the remaining tablespoon of sugar and whip to blend. Pour in about half of the chocolate mixture and and mix just for a moment. Then add the remainder of it, along with the cocoa powder and mix to blend.

Divide the batter evenly amongst the 6 prepared ramekins and place them on a baking sheet and in the preheated 425°F oven. Bake just until they solidify, 8 to 10 minutes - no more! You want them to be a bit wet in the middle.

Let them sit in the ramekins for at least 5 minutes, then run a dull knife along the edges in case they need to be loosened.

You can serve them in the ramekins or inverted onto dessert plates.

Let them cool slightly, sprinkle with powdered sugar and serve.
Cooking On The Weekends is a participant in the Amazon Services LLC Associates Program, an affiliate advertising program designed to provide a means for sites to earn advertising fees by advertising and linking to Amazon.com.