No-Bake Espresso Ganache Cheesecake is rich, creamy, over-the-top delicious! It sits on a divine, crisp espresso Oreo cookie crust, after all. Without turning on the oven, you can make this amazing dessert and impress everyone. Obviously, it's what you have to make next!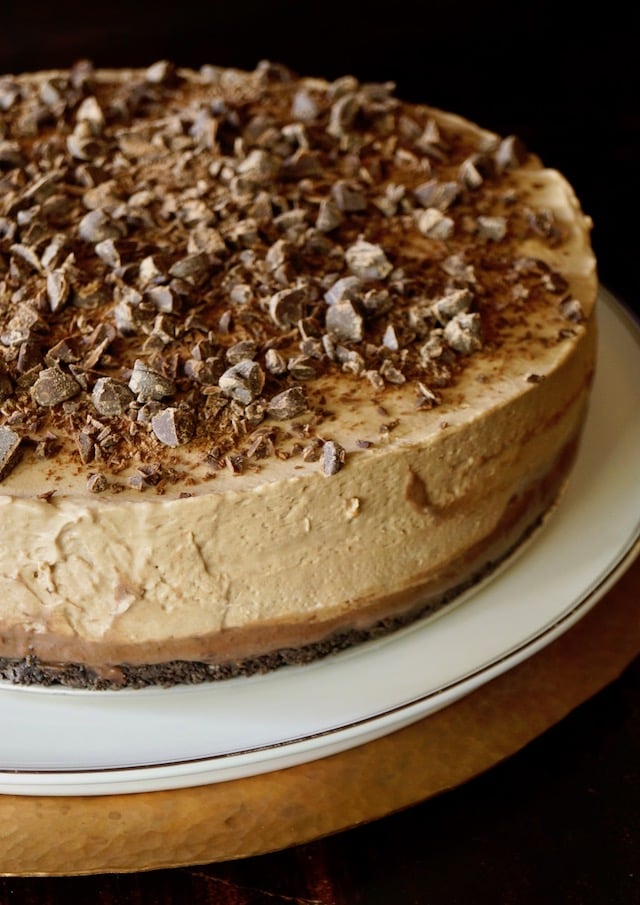 This Espresso Cheesecake with Ganache is a dessert I've been making for the past decade.
I make it at least a couple of times a year, and usually it's during the summer, when I love to entertain without turning on the oven.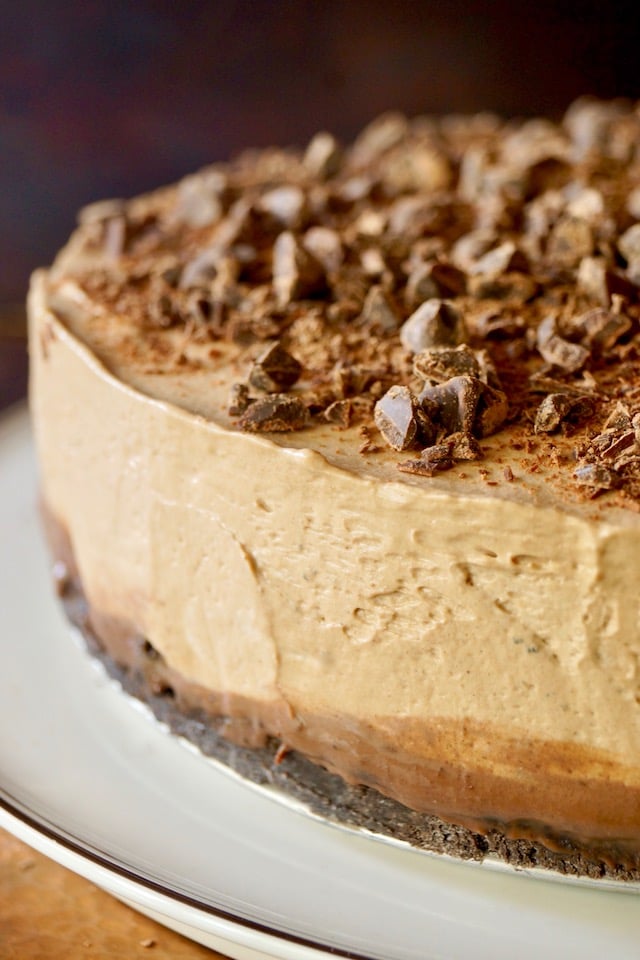 Not only is this coffee cheesecake no-bake, it's also a dessert that has to be made at least one day ahead of time. So the day your guests are coming, you have even less to do. Yay!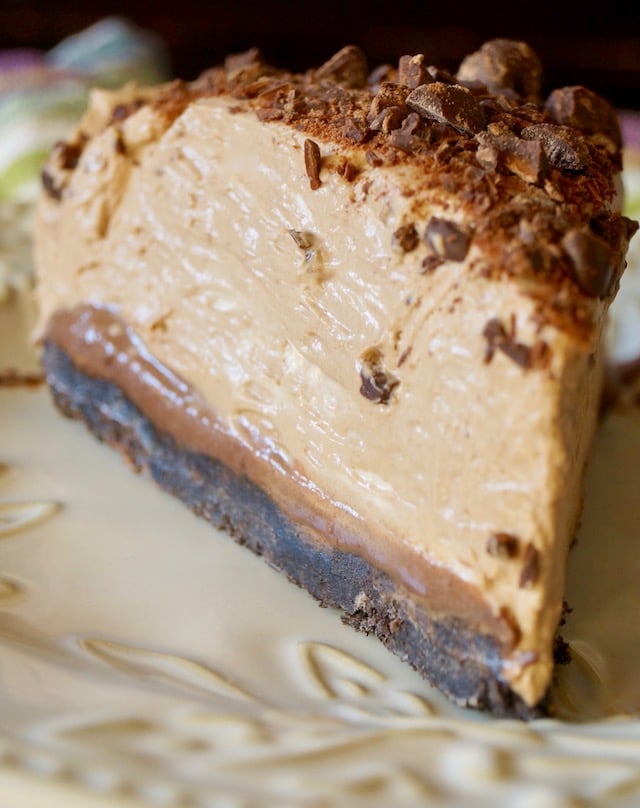 What's in this recipe?
---
Ganache

, for starters -- if you know what that is, that means chocolate! (Read all about Ganache here.)
Oreo cookies
butter
instant espresso powder
heavy whipping cream
cream cheese
vanilla
powdered sugar
How to Make Espresso Cheesecake
---
This cheesecake has an espresso Oreo cookie crust, two fillings, and a chocolate top. The first filling is Ganache, and the second is a chocolate-espresso cream cheese mixture.
1. Make the crust and press it into the pan.
2. Make the Ganache and pour it over the crust. Let it set.
3. Whip heavy cream.
4. Blend the cream cheese with melted chocolate, espresso, vanilla and sugar. And take a moment to look at how luscious it looks!
5. Fold the cream cheese mixture gently into the whipped cream, until it's totally combined.
6. Pour this into the prepared crust with the set Ganache, top with finely chopped chocolate and refrigerate overnight.
(More detailed instructions are below in the recipe card.)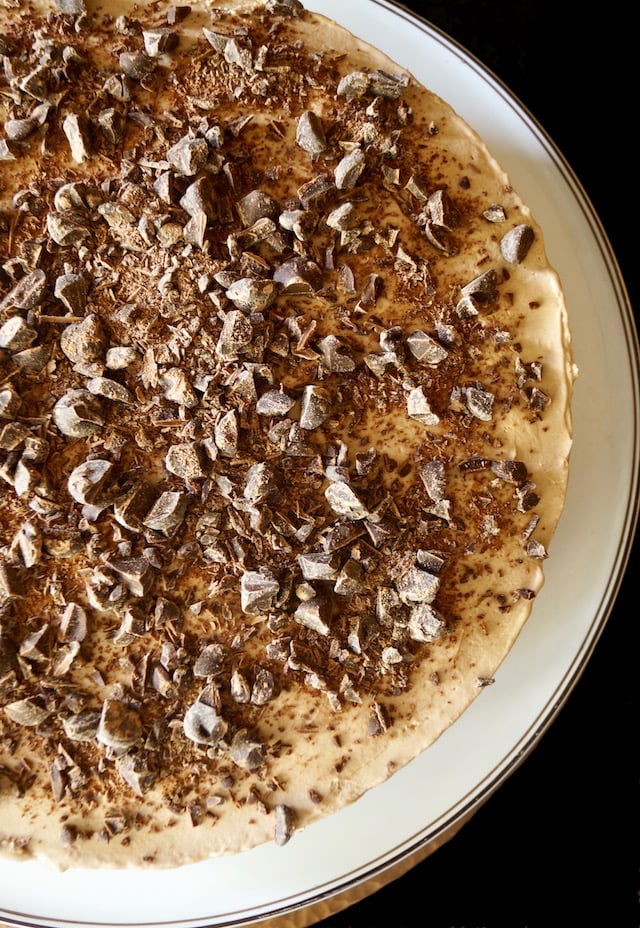 Can you freeze it?
---
More good news about this dessert . . .
If you want to make it more than a few days ahead of time, or just save leftovers, it freezes beautifully!
If you're freezing it once it's out of the springform pan, to keep the top surface pretty, stick a few toothpicks in the top and wrap it with plastic wrap gently. This way, the plastic will rest on the toothpicks and not the cake.
Coffee cheesecake has never been better!
Recipe Tips
---
Whip the cream until it's stiff, but not butter. There's a fine line here, but as soon as you lift the whisk and see peaks that aren't collapsing, you're there. This is partially what helps make a no-bake cheesecake firm.
Before opening the spring from the pan, run a dull knife along the edges to be sure it will loosen evenly.
If the cream cheese isn't softened to room temperature, it's possible your cake will have tiny lumps in it. This is the case even with a food processor. So be sure it's soft first!
It's important that the Ganache layer is completely set before you add the next filling. Otherwise it will spread up the sides of the cake. Still delicious, just not as pretty.
When you fold the cream cheese mixture into the whipped cream, do so as gently as possible. If you mix this vigorously, you'll loose a lot of the air you whipped into the cream.
If when you release the ring from the pan, the Ganache looks as if it's oozing a bit out of the sides, just smooth the edges with a spreading knife.
To make a gluten-free version of this cheesecake you can use

these Chocolate Cream Cookies

.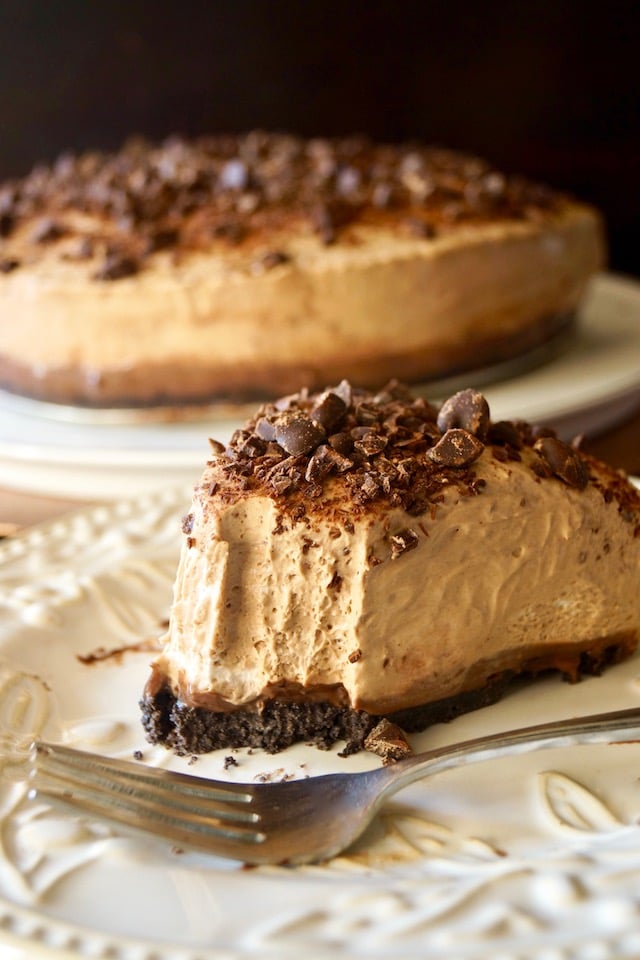 A few other delicious cheesecakes . . .
I hope you enjoy every last delectable bite of this No-Bake Espresso Ganache Cheesecake recipe, and that it will become a favorite you make as often as I do.
No-Bake Espresso Cheesecake with Ganache
This chocolate-espresso cheesecake is easy, delicious and fun to make. With a divine, crisp Oreo cookie crust, its flavor is deep and rich, and the texture is creamy and smooth.
Instructions
Crust
Use a food processor fitted with the blade attachment to grind the Oreos into a fine crumb.

Pour the ground Oreos into a large mixing bowl and mix in the espresso powder and melted butter.
Filling: Layer 1
Add the finely chopped chocolate to a small mixing bowl. In a small saucepan, scald the cream. Tiny bubbles will appear on the edges and it should be very hot, but not boiling. Pour the cream over the chocolate. Do not stir it yet – wait about 4 minutes and then, use a wooden spoon and stir to combine. It will take a few minutes of mixing before you see it come together. (This is Ganache.)

Let it cool slightly and then pour it directly on the prepared crust. Place the springform pan on a baking sheet in the refrigerator until this layer solidifies, at least 1 hour. (You want it totally firm.)

Filling: Layer 2
Melt 1 cup of chocolate and mix in the espresso powder. Set aside to cool.

Use an electric mixer or a stand mixer fitted with the whisk attachment, to whip the cream into stiff peaks. This will take about 2 minutes. Set aside.

Add the cream cheese to a food processor fitted with the blade attachment, or a bowl with an electric mixer. Blend for about 30 seconds. Then add the vanilla and powdered sugar, and blend until it's velvety smooth. Use a rubber spatula to scrape in all of the chocolate-espresso mixture. Mix to blend.

Fold the whipped cream into the cream cheese mixture just until it's combined.

Once it's been an hour, remove crust from the refrigerator and pour in the filling. Smooth the top and cover with plastic wrap. Refrigerate overnight (at least 12 hours.)

Use a knife to loosen the chilled cheesecake from the rim of the springform pan, then remove the rim. Sprinkle the top with the remaining ½ cup of chocolate. Slice and serve.
NOTES
Calorie count is only an estimate.
NUTRITION
Have you tried this recipe?
I'd love to see it on Instagram! Tag me at @cookingontheweekends or leave a comment & rating below.
Cooking On The Weekends is a participant in the Amazon Services LLC Associates Program, an affiliate advertising program designed to provide a means for sites to earn advertising fees by advertising and linking to Amazon.com.