Kahlúa Espresso Gelato can be equated to the tastiest, most rich and creamy latte you've ever had -- with a splash of Kahlúa and a touch of chocolate.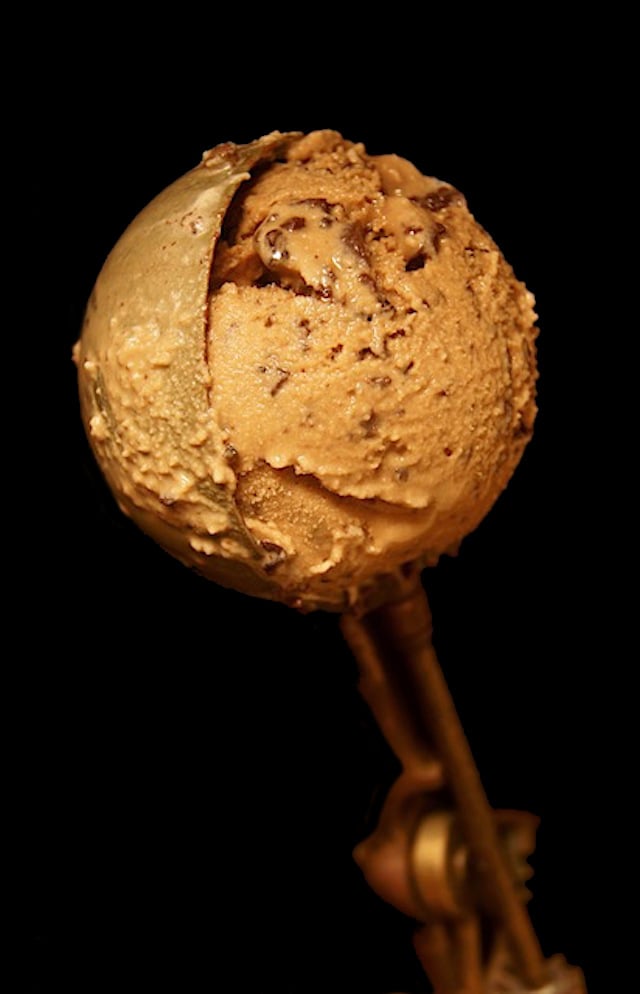 I was introduced to the flavor of coffee at a very early age, probably under ten-years-old.
And no, not in a mug with half and half!
Inspiration for Kahlúa Espresso Gelato Recipe
Rather, in pint-sized container of Häagen-Dazs coffee ice cream. It was, and still is my dad's favorite flavor. It didn't have to be Häagen-Dazs, but I think more often than not, it was.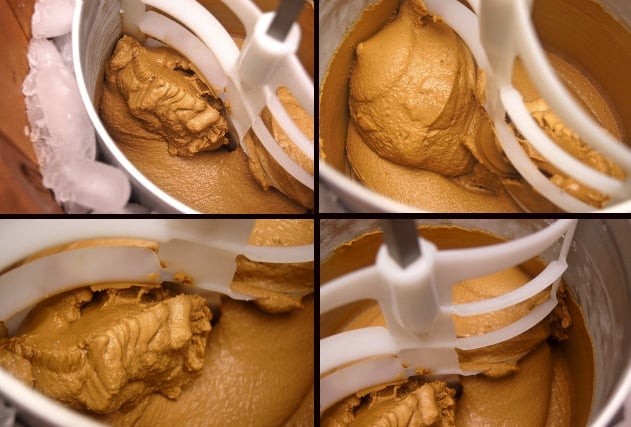 So naturally, I'm making my dad this insanely delicious Kahlúa Espresso Gelato.
And as always, my favorite part of the process of making gelato or ice cream, is when I remove the lid to the machine to reveal the beauty of the creamy blend of ingredients and flavors.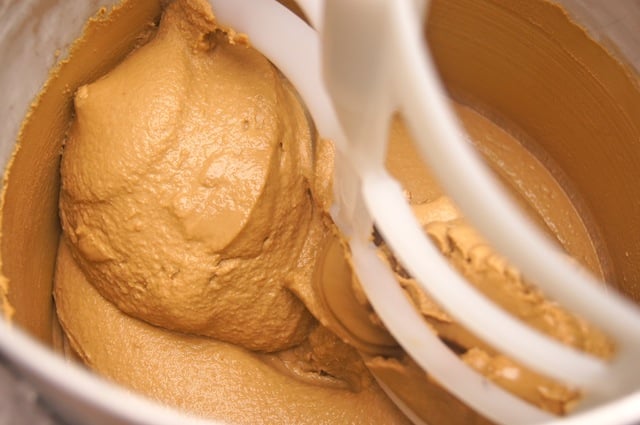 What is the Difference Between Gelato and Ice Cream?
Air. Gelato is churned much more slowly than ice cream, and as a result has less air incorporated into it. This makes it more dense.
Temperature. Typically, gelato is served at a slightly warmer temperature. This naturally makes it a bit softer than ice cream.

Fat. Gelato also typically has less fat than ice cream, making the flavor more intense. Gelato usually has a 4-6% fat content, while it's said that ice cream isn't sold with anything less than 10%.
I highly recommend trying this recipe and inviting a few friends or family over this weekend to partake in its deliciousness. And it will cool you down from the summer heat!
Enjoy! (Kahlúa Espresso Gelato recipe is below.)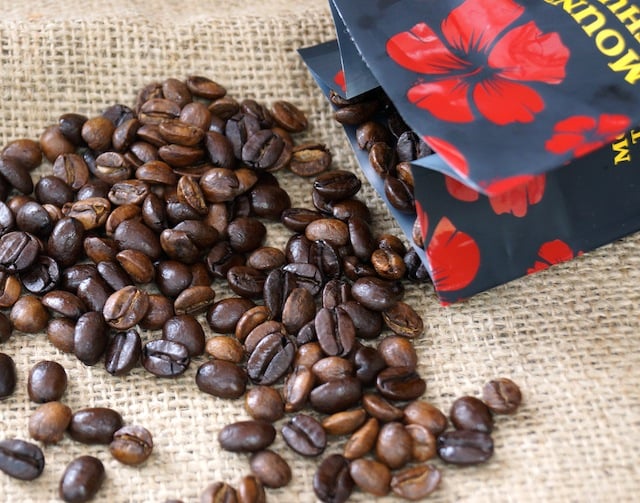 I just adore the flavor of coffee!  If you do too -- and I'm assuming that's why you've stopped by the recipe -- than you'll want to check out my Best Recipes for Coffee Lovers.
P.S. It's only fitting I would break out my favorite ice cream maker today.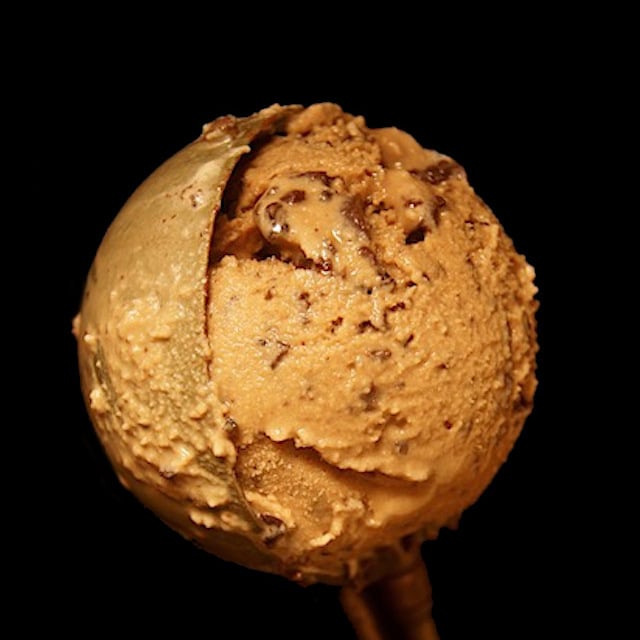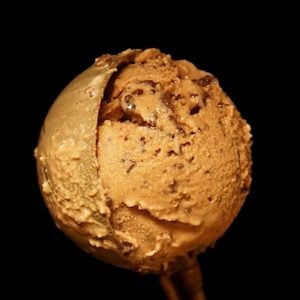 Kahlúa Espresso Gelato Recipe
I would equate this over-the-top delicious Kahlúa Espresso Gelato, to the tastiest, most rich and creamy latte you've ever had -- with a splash of Kahlúa and a touch of chocolate.
*Makes 1 quart

Ingredients
2

cups

whole milk

1

cup

heavy cream

⅓

cup plus ¼ cup

granulated sugar,

divided

4

tablespoons

instant espresso powder

⅓

cup

Kahúla

1

teaspoon

pure vanilla extract

4

large

egg yolks

1½

cups

dark chocolate covered espresso beans,

crushed
Instructions
Add the milk, cream, ⅓ cup of the sugar, espresso, kahlúa and vanilla to a medium-large saucepan. Stir to blend and place it over medium heat. Cook just until the sugar has completely dissolved, and it's beginning to simmer, a few minutes. Turn off the heat and leave this on the stove.

In a medium-sized mixing bowl, combine the egg yolks with the remaining ¼ cup of sugar. Use an electric mixer, with the whisk attachment, on a high speed to blend until the eggs become thick and pale yellow, about 3 minutes. (You can of course also use a hand whisk -- it will just take longer and use a lot of muscle.)

Pour about 1 cup of the warm milk mixture into the egg mixture and immediately stir to blend. Then add this mixture back into the saucepan.

Cook over very low heat, stirring constantly (a wooden spoon is best), until the mixture becomes thick enough to coat the back of a wooden spoon, about 7 minutes.  (Timing is important here -- you want to remove it as soon as it's at the point -- usually it's when I see the first couple of bubbles from the heat. If it goes too long it might curdle.)

Place a strainer over a medium-sized bowl and pour the warm custard mixture through the strainer and into the bowl. Once it's at room temperature, cover tightly with plastic wrap and refrigerate for at least 4 hours and ideally overnight.

Transfer to an ice-cream/gelato maker, and freeze according to the machine's instructions.

While the it's churning, crush the chocolate covered espresso beans. Here's how: add them to a heavy-duty, zip-lock bag and seal it, removing the air. Then use a meat mallet or the bottom of a small, heavy-bottomed sauté pan to crush the beans.

Once the gelato is ready, gently mix in the crushed chocolate-covered espresso beans. Serve immediately if you want it very soft, or place it in the freezer until you're ready to serve.
NOTES
Calorie count is only an estimate.
NUTRITION
Have you tried this recipe?
I'd love to see it on Instagram! Tag me at @cookingontheweekends or leave a comment & rating below.
Cooking On The Weekends is a participant in the Amazon Services LLC Associates Program, an affiliate advertising program designed to provide a means for sites to earn advertising fees by advertising and linking to Amazon.com.