Coffee-Chocolate Mud Pie is delectable! Smooth, creamy and rich chocolate, coffee and vanilla ice cream in every single bite — with a most delicious Oreo cookie crust on the bottom and sprinkled between the flavors.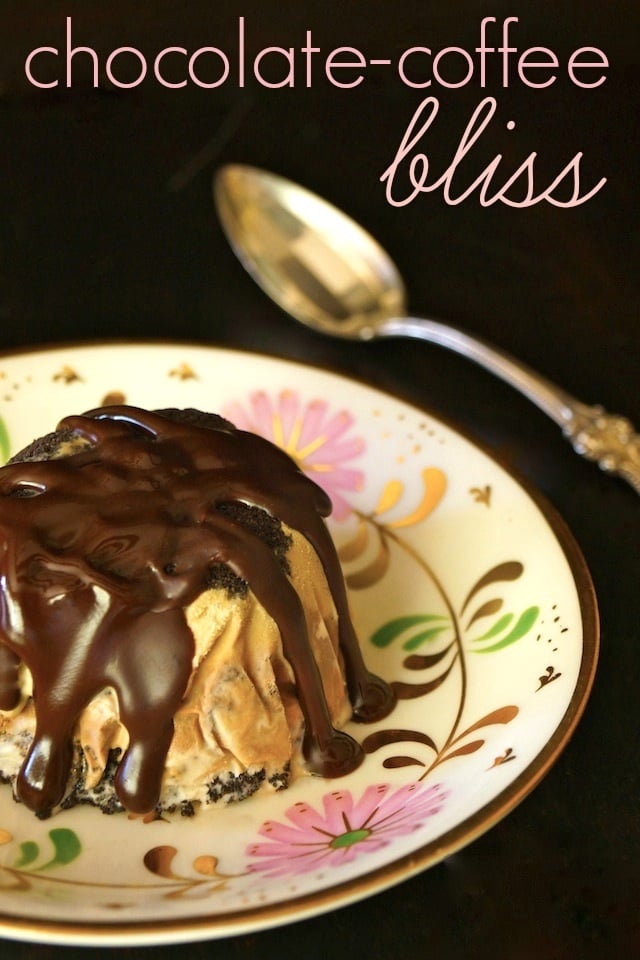 My dad turned 80 last week.  80!  And to think I remember being a kid and thinking he was old when he was 40!  Oh my goodness, what was I thinking!?
Think of every positive, loving adjective you can, and my dad's all that. Plus, he's the most youthful, active 80-year-old in existence.
My dad doesn't have a day without an hour with the LA Times and his dog at the local coffee shop, a hike and/or a visit to the Malibu Lagoon, a couple of hours restoring part of the house, or editing his nature photographs on his computer.  And throughout all of this, he's also caring for my mom, keeping in touch with his many good friends, cooking and gardening.
Does this guy deserve a good birthday dinner or what!?  So I invited a couple of his closest friends to join our family in celebrating him and to enjoy a meal together.
These Individual Coffee-Chocolate Mud Pies with Espresso Chocolate Sauce were dessert, and they were out of this world.
Really and truly, each and every bite was savored.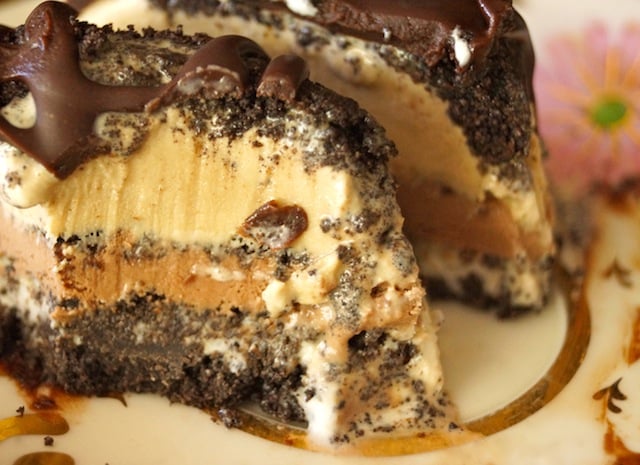 I mean, look at those scrumptious layers in this Coffee-Chocolate Mud Pie!
(We'll work our way backwards and next week I'll share the main course.)
The recipe is below, but you might want to check this out first . . . as I was getting ready to publish this, I looked back in my archives to see all of the times I've shared  — via food — how great my dad is.  Click here to all the recipes relating to my dad's brithdays.
Whether you're celebrating a birthday or not, enjoy every single delectable bite of this Coffee-Chocolate Mud Pie!
Individual Coffee-Chocolate Mud Pie Recipe with Espresso-Chocolate Sauce
You will need a muffin pan (with 1 dozen cups), plastic wrap, and parchment paper for this recipe.
Ingredients
1½

dozen Oreos

1½

tablespoons

instant espresso powder

I like Medaglia D' Oro

1

pint

coffee ice cream

1

pint

chocolate ice cream

1

pint

vanilla ice cream

2

tablespoons

unsalted butter

melted

about ¾ cup Espresso-Chocolate Sauce

Here's the recipe.
Instructions
Add the Oreos to a food processor fitted with the blade attachment. Blend until you have a fine powder, about 30 seconds. Pour the ground Oreos into a mixing bowl and stir in the espresso powder. Set aside.

Loosely cover a 12 cup muffin pan with a few pieces of plastic wrap -- they should be quite large. Now very gently use your hands to push the plastic wrap into each cup -- don't' worry if they don't lay directly against the surface.


Spoon 1 to 2 teaspoons of the Oreo-espresso mixture into each cup.


Soften the coffee ice cream -- either by leaving it out at room temp for about 20 minutes, or in the microwave for about 15 seconds. Evenly distribute the coffee ice cream between the 12 muffin cups, about 1 to 2 tablespoons each. Use the back of a spoon to smooth it out.


Sprinkle this with another couple of teaspoons of the Oreo-espresso mixture.


Place the muffin pan in the freezer until the coffee ice cream has solidified. Then repeat this process with the chocolate ice cream, followed by the vanilla ice cream -- but after the vanilla, add the melted butter to the remaining Oreo mixture before adding it to each one. The last ice cream layer might rise above the top of the muffin ring, and that's okay. The will be more of a crust and should have a bit more of the mixture than the inner layers.


Place a piece of parchment paper over the muffin pan and then warp it tightly with plastic wrap.


Place a baking sheet over this and weight it down in the freezer. (I use ice packs, but you can also use cans of food.) This will ensure the layers of the mud pie are nicely adhered together. Freeze for at least 30 minutes.

When you're ready to serve, you can cut the plastic wrap around each muffin cup and then gently unwrap the frozen dessert and place it, round side up on a serving plate. They will not be perfect looking!

Drizzle each one with a bit of the Espresso-Chocolate Sauce and serve!
Save
Save
Save
Save
Save
Save
Save