Cheesy Pancetta Brussels Sprouts Bake is a comfort food through and through. It's a great side dish but it's also hearty enough to be a whole meal!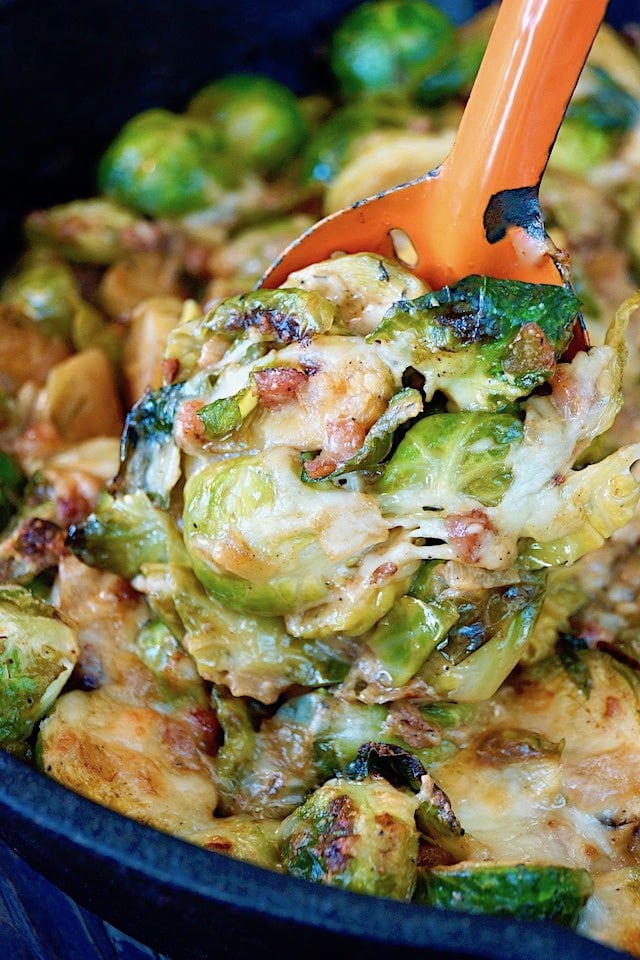 I miss my mom.
I don't think I realized how much cooking connected us until she passed away .
Inspiration for Cheesy Pancetta Brussels Sprouts Bake
There's no question that I cook just like she did. From the style of food I make and the choice of ingredients, to the way I work in the kitchen and even the cooking utensils I love. It all threads back to her.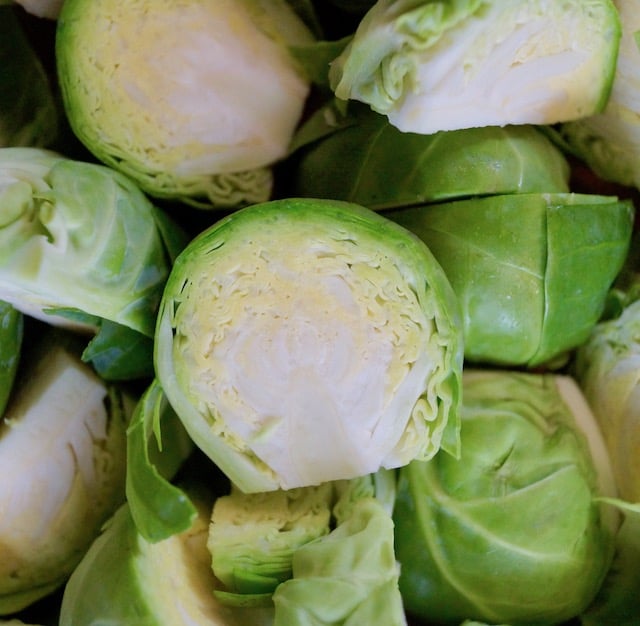 Comfort Food Dishes
Like my mom did, I often cook with whatever just happens to be in the refrigerator. And the result of "throwing things together" is usually a one pot, comfort food meal, that's richly flavored, hearty and relatively healthy. And that's exactly how my Cheesy Pancetta Brussels Sprouts Bake came to be.
(And no, the "cheesy" isn't necessarily the healthy aspect of the dish — but that's okay!)
The only thing I do differently than my mom did in the kitchen, is write down exactly what I do. And then I remake it with the notes to be sure it's accurate. And that's because it's my job. Otherwise, my measuring spoons might just stay in the drawer. 😉
My mom could never make the same thing twice. It could be similar, but never exactly the same.
Unless she was baking, she never measured anything, and would often throw in random leftovers from other meals, or even that she'd brought home from a restaurant.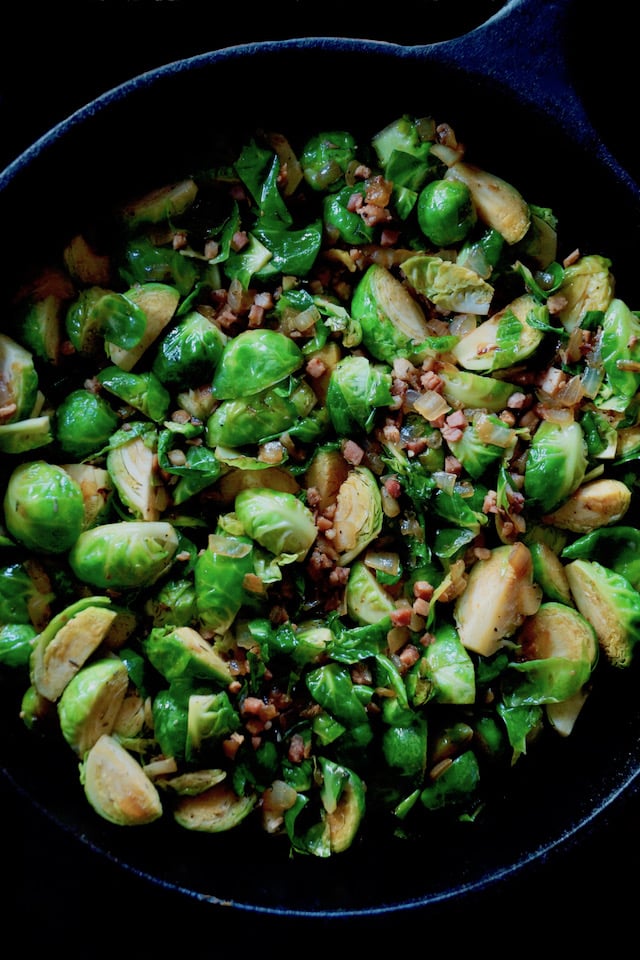 Can love be an ingredient?
Yes, yes it can!
There was always so much love in my mom's food! That was the one ingredient that she was able to repeat in every recipe.
I could smell the love (usually the sautéing onions), in my mom's kitchen as soon as I'd approach the house. This was the case when I was a kid walking home from school, when I was in college coming home for a visit, when I brought my now husband to dinner for the first time, and when I'd bring my little boys over to play. There was always the scent of a scrumptious meal brewing.
I hope my boys smell the onions as they approach our house. The love, that is.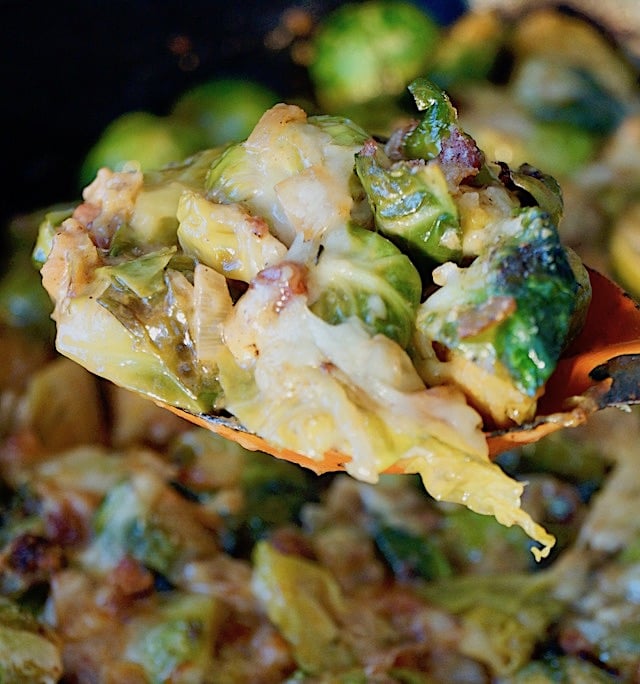 I hope you enjoy this Cheesy Pancetta Brussels Sprouts Bake as much as we do — it's made with love and bundle of other super delicious ingredients!
A couple more brussels sprouts recipes that are great for Thanksgiving: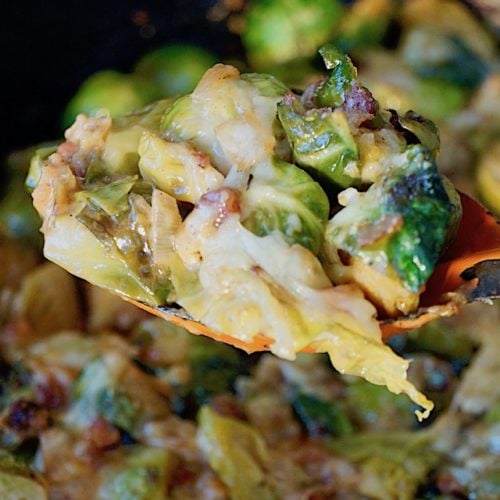 Cheesy Panceta Brussles Sprouts Bake
This is a comfort food through and through. It's a great side dish but it's also hearty enough to be a whole meal!
Ingredients
olive oil for the pan

2

cups

yellow onion,

finely chopped

1

tablespoon

garlic,

minced

1

cup

pancetta,

cut into a small dice

1 1/2

teaspoons

smoked paprika

1

teaspoon

dry thyme

2

pounds

brussels sprouts,

washed and dried, root ends cut off, halved or quartered into bite-sized pieces

1/2

cup

vegetable stock

2

tablespoons

heavy cream

2

cups

Gruyère cheese,

grated, divided

2

tablespoons

Parmesan cheese,

finely grated

salt and freshly ground black pepper
Instructions
Preheat the oven to 375°F, and adjust a rack to the center.

Lightly coat the bottom of a large, oven-proof skillet with olive oil and place it over medium-low heat. (A 12-inch cast iron skillet is perfect.)

Add the onion and cook, stirring often, until soft and slightly golden, about 10 minutes.

Add the garlic and pancetta and sauté until it's beginning to crisp, about 5 minutes. Then add the paprika and thyme, stir to blend and cook until it's very aromatic, about 30 seconds.

Gradually stir in the brussels sprouts and turn the heat to medium-high, and add a bit more oil. Sauté, stirring often until they are tender and becoming golden along the edges, about 10 minutes.

Deglaze the skillet with the vegetable stock, using a flat-edged spatula to scrape any bits of stuck food off of the bottom of the skillet, and back into the other ingredients. Season to taste with salt and pepper. (Please note that the pancetta is salty, you you wont need too much!)


Mix in the cream and 1 1/2 cups of the Gruyère. Sprinkle the Parmesan and remaining 1/2 cup of Gruyère on top.

Place in the preheated 375°F oven and bake until it's sizzling along the edges, about 10 minutes.(If the top isn't as golden as you'd like, you can place the skillet under the broiler for about 30 seconds.)

Serve!

Have you tried this recipe?
I'd love to see it on Instagram! Tag me at @cookingontheweekends or leave a comment & rating below.