Hazelnut Brown Butter Brussels Sprouts have a delicious nutty and subtly sweet flavor. They're pretty much impossible not to love!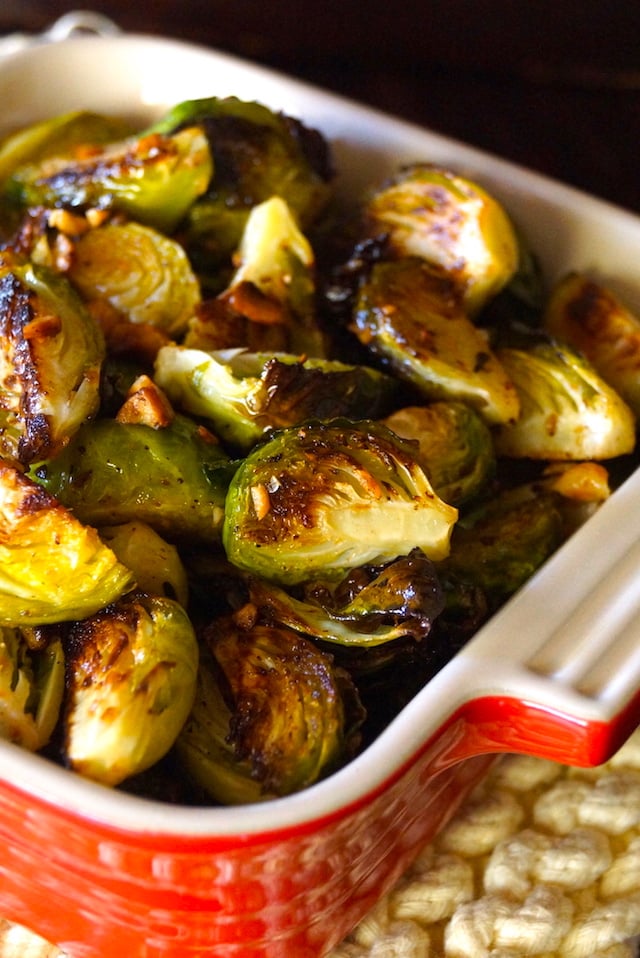 You really can't go wrong when you roast brussels sprouts at a very high temperature in the oven with some type of fat.
Whether it's olive oil, bacon grease, coconut oil, or in this case, butter, they will caramelize beautifully and become sweet and crispy.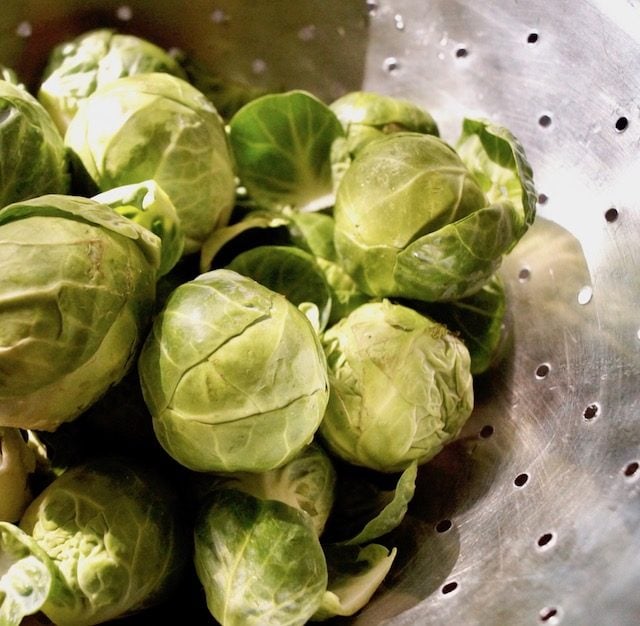 Keys that make this so delicious . . .
I had you at "brown butter," right? The brown butter alone is reason to make this recipe.
Really, the two keys to success here are the oven temperature and the brown butter. The nutty-sweet flavor from browning the butter is amazing with the caramelized hearty sprouts. The hazelnuts are delicious and the icing on the cake, if you will.
This could be the recipe that will turn you, if you think you don't like this lovely vegetable. It's that good.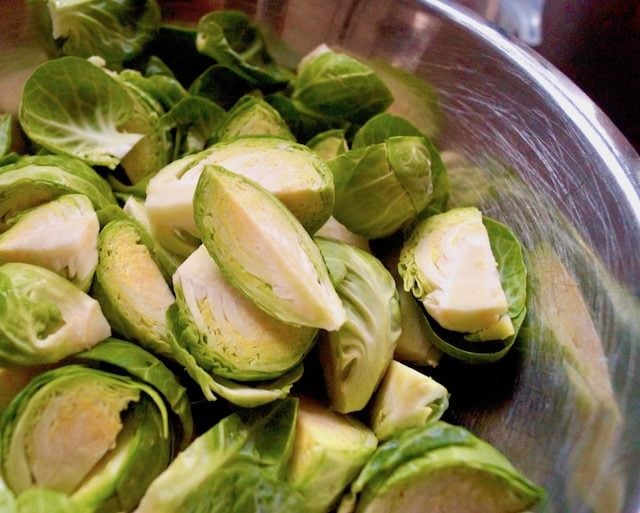 What to Serve with Them
They are amazing alongside all sorts of meat and chicken dishes during the fall and winter months. However, I especially love to serve these as part of a Thanksgiving feast. Here are a few recipes that are delicious with them:
This is the quintessential, super yummy brussels sprouts side dish for Thanksgiving. And they're quick and easy to prepare!
Recipe Tips
Do not throw away any of the leaves that fall off of the brussels sprouts -- roast them with everything else. Some will become too dark to eat, but others will be the most delicious brussels sprouts "chips" ever!
Try to chop the hazelnuts and finely as possible. The flavor will spread throughout the recipe a little better this way, and if chunks of the nuts are too big, they could burn.
Can you make them ahead of time?
Yes!
You can make them in the morning and reheat for dinner. (No need to refrigerate in between.)
Or, the day before you can make them up to the step just before they go in the oven, keeping them refrigerated, covered tightly in between. Then follow the roasting instructions about 30 minutes before you're ready to serve.
I hope you love these Hazelnut Brown Butter Brussels Sprouts as much as my family and I do!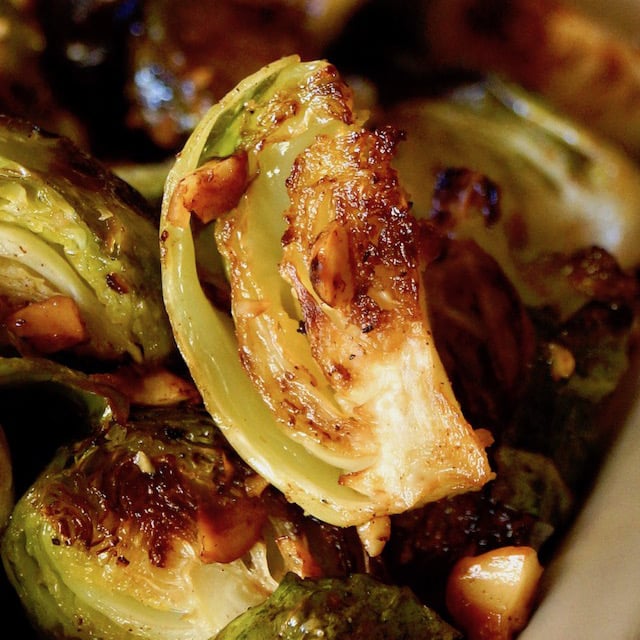 Hazelnut Brown Butter Brussels Sprouts Recipe
Hazelnut Brown Butter Brussels Sprouts have a delicious nutty and subtly sweet flavor. They're pretty much impossible not to love!
Ingredients
1

pound

brussels sprouts,

washed and dried

4

tablespoons

unsalted butter

2

tablespoons

blanched hazelnuts,

super finely chopped

2

teaspoons

lemon juice

salt and freshly ground black pepper
Instructions
Set the oven and prepare pan. Preheat the oven to 450°F and line a baking sheet with foil. Set aside.

Prepare brussels sprouts. Trim the ends from the brussles sprouts, and slice them in half if they're small, and in fourths if they're larger. Add them to a large mixing bowl and set aside.

Make the sauce and mix with sprouts. In a small sauté pan, melt the butter with the hazelnuts. Let it cook over low-medium heat just until it begins to brown, about 3 minutes after the butter melts. (Keep a close eye on this!) Mix in the lemon juice and pour it over the brussels sprouts and mix.

Roast. Add the sprouts to the foil-lined baking sheet and spread them out evenly. Use a rubber spatula to get all of the brown butter and nuts out of the bowl and onto the sprouts. Sprinkle lightly with salt and pepper.

Place the baking sheet in the preheated 450°F oven and roast until the sprouts are golden brown and tender, about 20 minutes. They should be flipped/stirred mid-way through the cooking process. Cooking times may vary!
NOTES
Calorie count is only an estimate.
NUTRITION
Have you tried this recipe?
I'd love to see it on Instagram! Tag me at @cookingontheweekends or leave a comment & rating below.
Save
Save
Save
Save