Parmesan Asparagus Salad is beautiful and delicious for spring and summer. It's made with a handful of simple ingredients and overflows with flavor!
Have you ever been served a salad you simply can't stop eating — in the same way that you can't stop eating a dessert you love?
I promise you, you'll experience that with this Parmesan Asparagus Salad!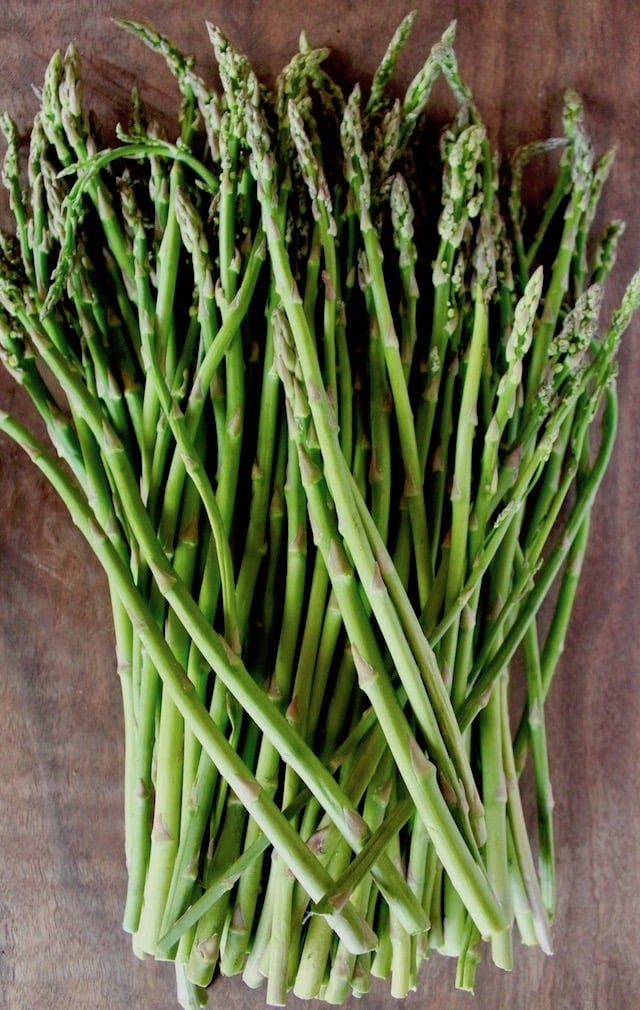 How to a Use Asparagus in a Salad
Trim and peel the asparagus (if the stems are thick and tough).
Steam the asparagus until it's tender.
Then "shock" it in ice water. This simply means to submerge the asparagus in ice water as soon as it's done cooking. This helps it keep its bright green color and stops the cooking process.
When it's cool, drain and dry it. Now it's ready to be added to a salad.
Every bite of this asparagus Parmesan salad is a beautiful combination of textures and flavors– crisp, crunchy, soft, sweet, salty and tangy.
Recipe Tips
It's not a must, but I usually peel the asparagus, because often times the outer layer can be tough. (When the spears are skinny, you don't need to worry about this.)
If you're making this salad last minute, you can use thinly sliced red onion or shallots. I love them

pickled

, but you'll have a tasty salad either way.
Parmesan Asparagus Salad with Pickled Shallots is great as a first course, but also substantial enough to serve as an entrée salad. You can even add roasted chicken to it for a heartier meal.
More delicious recipes with asparagus:
Parmesan Asparagus Salad
This salad is beautiful and delicious for spring and summer. It's made with a handful of simple ingredients and overflows with flavor!
Please note that the prep time does not include making the
Lime Pickled Shallots
, which should be made at least 1 day ahead.
Instructions
Cut the tough bottom portion off of the asparagus spears -- this is usually about 3-inches or so. Then peel the asparagus and set up a steamer on the stove with water just beneath the rack. Bring the water in the steamer to a boil and place the peeled asparagus spears on the rack and cover. Steam until tender, about 6 minutes. Drain the asparagus and "shock" it by placing it in a bowl of ice-water for about 3 minutes. This will stop it from cooking any further and help to keep the bright color. Then cut the spears in half, both vertically and horizontally.

In a large mixing or serving bowl, toss the asparagus with the greens, shallots and cheese. Set aside.

In a small mixing bowl, combine the lime juice with the mustard, honey and salt. Gradually whisk in the olive oil and season to taste with the pepper and more salt if necessary.

Toss the salad with the dressing and serve at once!
Notes
My favorite way to make salad dressing is in a jar. Simply add all of the ingredients, put the lid on, and shake!
Have you tried this recipe?
I'd love to see it on Instagram! Tag me at @cookingontheweekends or leave a comment & rating below.
Cooking On The Weekends is a participant in the Amazon Services LLC Associates Program, an affiliate advertising program designed to provide a means for sites to earn advertising fees by advertising and linking to Amazon.com.