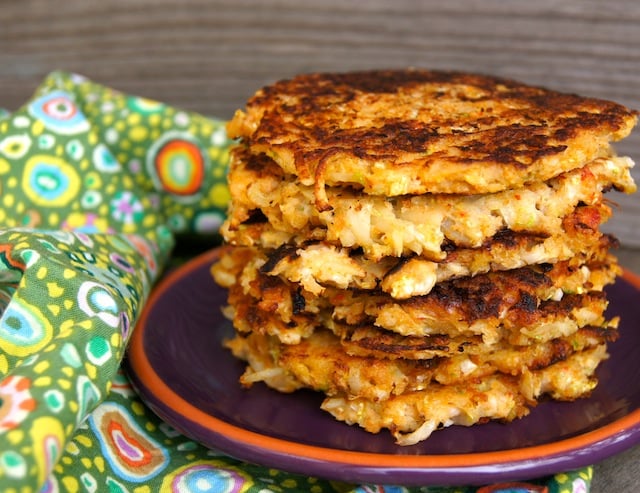 Want to know how happy I am when I see a Melissa's Produce box at my door?  So happy, that it's as if I'm one of my sons seeing an Amazon box full of toys. (Trust me — that's happy!)
Beautiful and green!  That's what the most recent box was filled with.  Gorgeous baby brussels sprouts, kale sprouts, leeks, and Napa cabbage.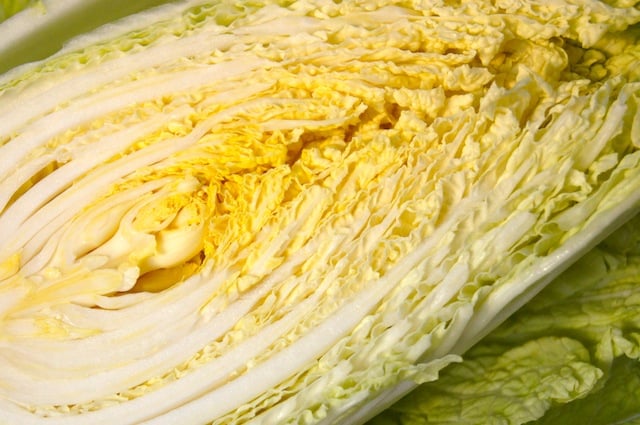 With St. Patrick's day around the corner, I grabbed the cabbage first to make these super delicious Spicy Potato-Cabbage Pancakes.
Potatoes and cabbage together in one spicy, crispy bite, along side homemade corned beef — how perfect.
And if you simply love cabbage and want another option, I love this Quick Spicy Pickled Cabbage recipe (pictured below). 
Enjoy!
Melissa's Produce sends me produce for recipe testing.  This is not a sponsored post and as always, all opinions are my own. 
Spicy Cabbage-Potato Pancake Recipe
The instructions below guide you through the recipe using a food processor. If you don't have one, with a little more effort you can use a hand grater, and they will be just as good. Makes about 16 pancakes
Ingredients
1-

pound

Idaho Russet potatoes

1

cup

bread crumbs

3

eggs

2-

pounds

Napa cabbage

cut into large chunks

About ½ large yellow onion

2

tablespoons

chile paste

I like Sambal Oelek

1

teaspoon

minced garlic
Instructions
Set up your food processor with the grater attachment.

Peel the potatoes and cut them into pieces that will easily fit into your food processor. Grate the potatoes in the food processor, and immediately place them in a strainer, over a mixing bowl. Then use your hands to squeeze the potatoes firmly to get any extra liquid. Let them sit for a few minutes and then squeeze them again.

Add the grated and well drained potatoes to a large mixing bowl along with the breadcrumbs and eggs. Mix to combine and set aside.

Without separating the leaves, keeping the head of cabbage as intact as possible, cut it into large pieces that will easily fit into your food processor. Grate the cabbage pieces in the food processor and then add the shredded cabbage to a mixing bowl.

Then grate the onion in the food processor and add it to the cabbage.

Just as you squeezed any excess liquid out of the potatoes, do the same with the cabbage and onions. Then add them to the potato mixture, with the chile paste and garlic. Mix until everything is well combined. (Using your hands works the best.)

Season generously with salt and pepper.

As with any savory pancake I make, here too, it's important to do a "seasoning test" before making all of them. Do this by heating a bit of the grape seed oil in a sauté pan and once it's hot, place a very small amount (about 1 teaspoon) of the mixture in the pan. Sauté until it's golden brown, about, about 20 seconds per side. Now taste. Does it need more salt and pepper? Adjust the seasonings!

Generously coat a large sauté pan with grape seed oil, and place it over medium-high heat.

Use a ¼ cup measure to shape approximately 16 evenly-sized pancakes, placing them in the preheated pan as you go. There should be at least a couple of inches between them. Use a flat-bottomed spatula to gently press the pancakes down to flatten them -- they should be about ¼-inch thick. Cook until they are golden brown, about 2 minutes per side.

Continue sautéing the pancakes using more of the oil if necessary, until you've used the entire mixture.

Serve warm!
Recipe Notes
The measurements in this recipe can all be "give or take" a bit.
If you're gluten-free, simply use gluten-free bread crumbs.
Save