Gluten-Free Chocolate Almond Nougat Bars are a delicious blend of ground nuts, made into a semi-soft crust, and chocolate. They're lovely for all occasions — especially holiday parties and cookie exchanges. 
My husband is the best!
He runs out to get me frozen yogurt if I'm suddenly craving it at 9 or 10 p.m. while we're relaxing on the couch.  He always has my back.  He's the best, most fun, dad in the world.  He allows our dog to be both on the couch and the bed (he caved after a few months of saying no.)  He's smart and has a hilarious sense of humor, and constantly makes me laugh.  He's "Tech Services" in our house — if there's any problem with my computer or site, and he can fix it.  And there's a whole lot more, but let's get on with it.
There is one thing my husband's not so into about me.
I tend to go on and on about the details of my recipes — how I thought of them, why I used certain ingredients, how long they were stirred, etc.
He's bored by this, and I totally get it, it's not his thing — he just wants to eat it when it's done. When I do go on and on about these things, he usually suggests I call a foodie friend.
My point is that sometimes I go on and on, and my husband will say, "just tell me what it is and when I'm allowed to eat it!" (He can't ever eat anything until it has been properly photographed, of course.)
So here it is, without any fluff . . . . This is a recipe for Gluten-Free Chocolate Almond Nougat Bars, which is a delicious blend of ground nuts, made into a semi-soft crust, and chocolate. It's a candy bar of sorts, and you can eat it now.
Oh, and I wouldn't go on about this with my husband, because he might get sleepy, but . .
What exactly is nougat, anyway?
Nougat is a candy typically made from sugar or honey, nuts, sometimes fruit and egg whites. This recipe doesn't have the egg whites or fruit, but the vibe is similar.
Enjoy!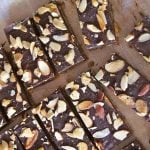 Chocolate Almond Nougat Recipe
This gluten-free Chocolate Almond Nougat is a delicious blend of ground nuts, made into a semi-soft crust, covered with solid chocolate.

Keyword:
dessert bar recipes, holiday cookies
Instructions
Preheat the oven to 375 degrees F, and line a

square (8 X 8-inch) baking pan

with parchment paper. (Use a large piece that will cover the sides and cut slits in each corner so that it will lay flat.)

Melt the butter over low-medium heat in a medium-sized saucepan.

Remove it from the heat and stir in the vanilla, 1/2 teaspoon of the salt, the sugar, honey, almond meal, and 1 1/4 cup of the almonds. Once it's a smooth mixture, pour it evenly into the parchment-lined baking pan.

Place it in the preheated 375 degree F oven for 8 to 10 minutes. It should look a bit golden along the edges and it will be bubbling. After you remove it from the oven, this bubbling will begin to dissipate. Do not turn off the oven.


Let the nougat cool in the pan for at least 20 minutes.

Once it's room temperature, evenly distribute the chocolate chips over it and return it to the oven for about 4 minutes -- just long enough to melt the chocolate. The chocolate chips will look very wet when they're melted and ready to spread.


Evenly spread the melting chocolate chips to create a smooth surface.

Sprinkle with the remaining 1/2 teaspoon of salt, and the remaining 1/4 cup of the toasted sliced almonds.

Let this set at room temperature for at least 5 hours and ideally overnight. (You could speed this step up by placing it in the refrigerator, but the chocolate may discolor a bit.)

Carefully lift the dessert out of the pan with the parchment paper. Set this on a cutting board, and evenly cut it into 21 slices, about 2-1/2 to 3-inches each -- or in whatever sizes you'd like.