Arroz con Leche with Anise is so rich, so creamy and so flavorful, that you simply won't be able to get enough. And that's a promise!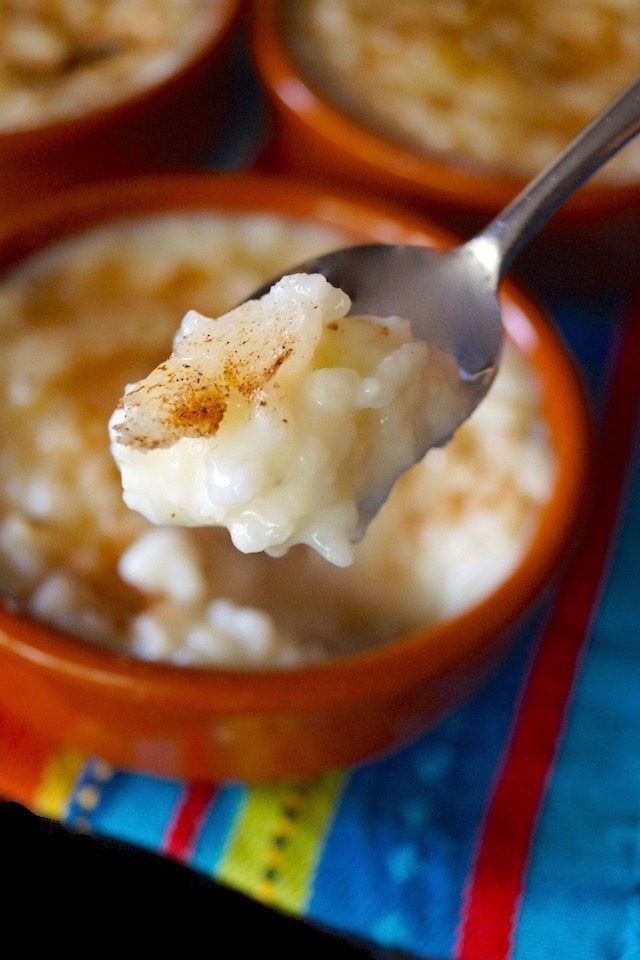 In English, Arroz con Leche is Rice with Milk and is usually called Rice Pudding.
I've had this delectable dessert many times, but on a trip to northern Spain I had the best one of my life at Mesón Tarayán in San Vicente, in Cantabria. I just had to recreate!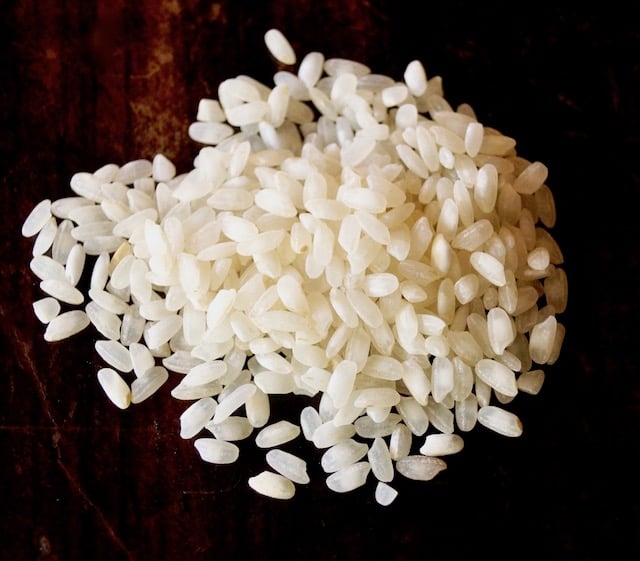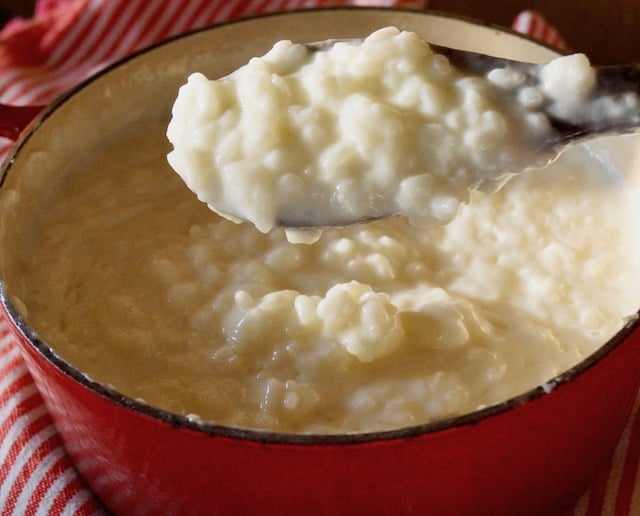 What is Arroz con Leche and what is its Origin?
It is thought that Arroz con Leche has its origins in Moorish cuisine. The Moors occupied Spain for about 700 years so it makes sense that the Spanish were influenced by much of their culture. It's believed that the dessert was created based on a very traditional Arabic mixture of cinnamon and rice.
Arroz Con Leche is one of the oldest desserts in Spain and it's prepared all over the country, with small regional differences. The basic ingredients are typically the same: rice, milk, sugar, lemon or orange peel and cinnamon.
Some of the preparations include the addition of egg yolks or grated coconut, or a sugar "crust" on top. And there are even versions made in cake form with corn meal. The spices used can vary from place to place, though cinnamon is the most common.
This dessert is also very popular in South America and Asia.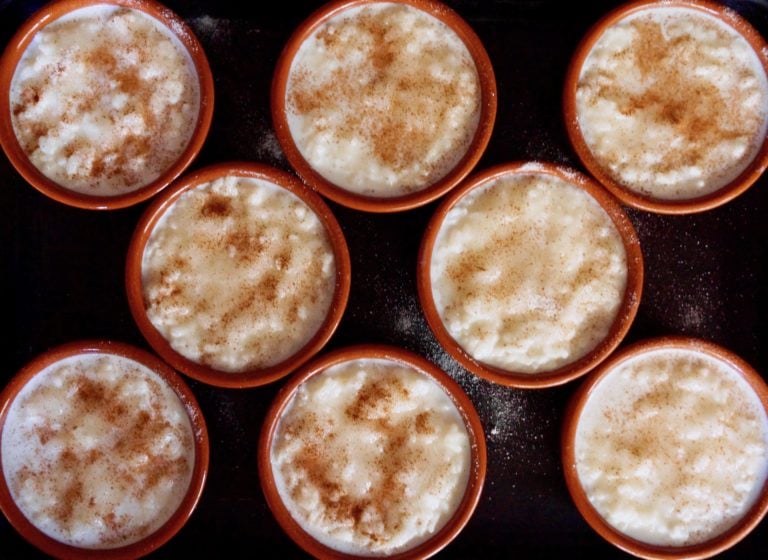 I made this version of Arroz con Leche with Anise based on how the chef at Mesón Tarayán told me she makes it.
How to Make Arroz con Leche
Rinse short grain rice, add water and cinnamon stick and bring to a boil.
Reduce the heat, cover and simmer to absorb all of the water.
Add about a third of the milk and cook until it's absorbed.
Each time the milk is absorbed, add more and stirring from time to time, wait for it to be absorbed again. (This is much like making

risotto

.)
Add the last of the milk with lemon juice, sugar and anise.
Mix and then cook until most it is absorbed, leaving it very creamy.
Add the mixture to ramekins and let them cool.
Coat each one with sugar and sprinkle with cinnamon.
Brown the sugar on top with a kitchen blow torch or broiler, just as you would with

Crème Brûlée

.
(More detailed directions are below.)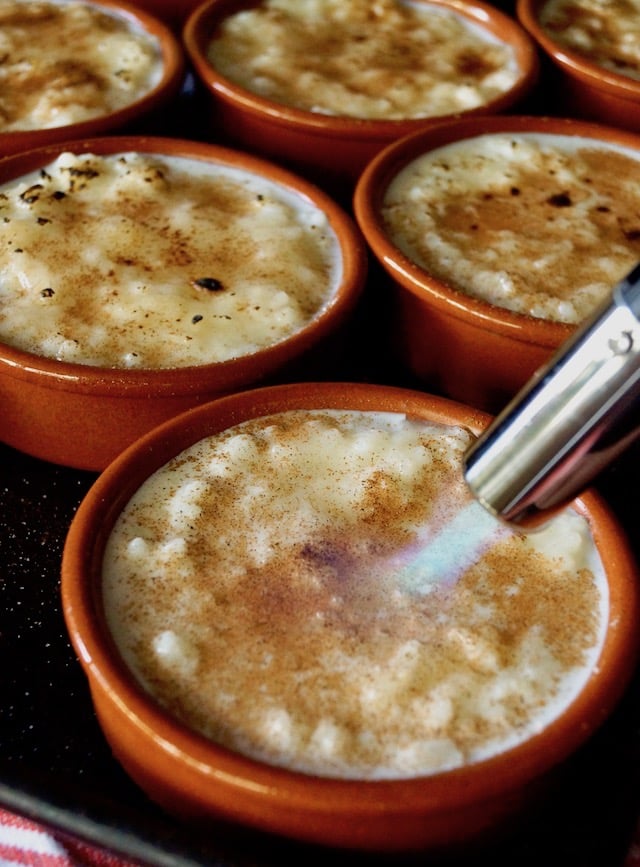 Can you freeze it?
I don't recommend it. For the most delicious texture, it should be served as close to preparation time as possible.
Enjoy and I hope you savor each bite, as I did!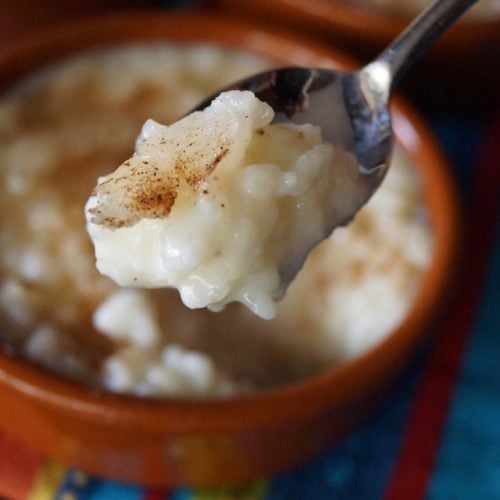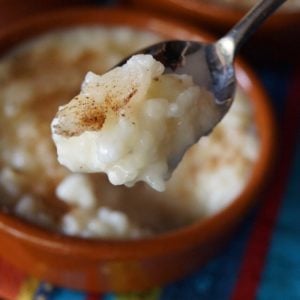 Arroz con Leche with Anise
Arroz con Leche with Anise is so rich, so creamy and so flavorful, that you simply won't be able to get enough. And that's a promise!
Ingredients
1

cup

short grain rice (like arborio)

1

approximately 3 to 4-inch

cinnamon stick

2½

cups

water

2

tablespoons

fresh lemon juice

3

cups

whole milk,

divided

¾

cups plus 6 tablespoons

granulated sugar

¼

teaspoon

pure anise extract
Instructions
Rinse the rice under cold water a couple of times and then add it to a large saucepan with the cinnamon stick. Add the water and turn the heat to high. Bring to a boil, turn the heat to low, cover and gently simmer until all of the water is absorbed.

Keeping the heat low, uncover and add 1¼ cup of milk. Stirring often, cook until it's absorbed. Continue adding milk, about ½ cup at a time, stirring often until each addition is absorbed. When you add the last of the milk, also add the lemon juice, ¾ cup of the sugar and the anise. Mix and stirring often again, cook until about ¾ of the milk has been absorbed, leaving it very creamy.

Add the mixture to 6 (6-ounce) shallow ramekins and let them cool to room temperature, about 90 minutes. At this point, if you think you'd like to serve them cold, you should cover them with plastic and refrigerate for about 1 hour.

Coat each one with about 1 tablespoon of the remaining sugar and sprinkle lightly with ground cinnamon. Use a small kitchen blow torch to brown the sugar to create a crust. Simply turn it on medium-high and evenly go around until all the sugar has caramelized to a pretty golden brown. Don't worry if some areas are darker than others. (If you don't have a torch, place the custards on a baking sheet, and adjust a rack so it's directly under the flame. Broil them just until the sugar is golden, less than 1 minute.

These can be served warm, at room temperature or cold.
NUTRITION
Have you tried this recipe?
I'd love to see it on Instagram! Tag me at @cookingontheweekends or leave a comment & rating below.
Cooking On The Weekends is a participant in the Amazon Services LLC Associates Program, an affiliate advertising program designed to provide a means for sites to earn advertising fees by advertising and linking to Amazon.com.