These delectable Gluten-Free Pink Lemonade Coconut Bars will make you a star! Gluten-free lemon bars are somewhat hard to come by and these are sweet, tart and oh-so-pretty!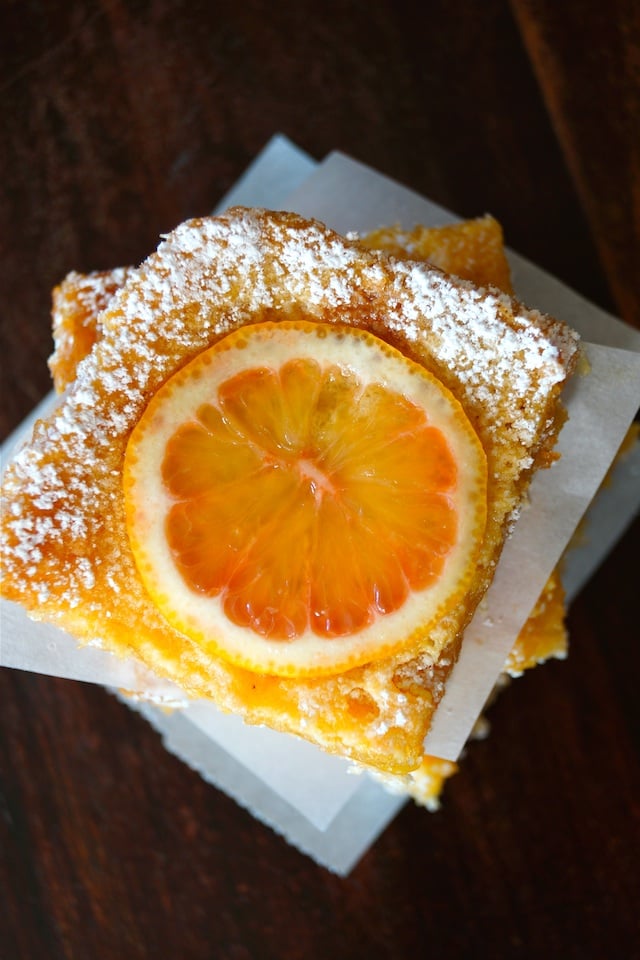 Though they appear more yellow than pink, these are quite literally pink lemon bars!  I used Frieda's Pink Lemons, and they are absolutely stunning.
So stunning that I just had to paint a pretty picture with them — in the form of a very tasty recipe.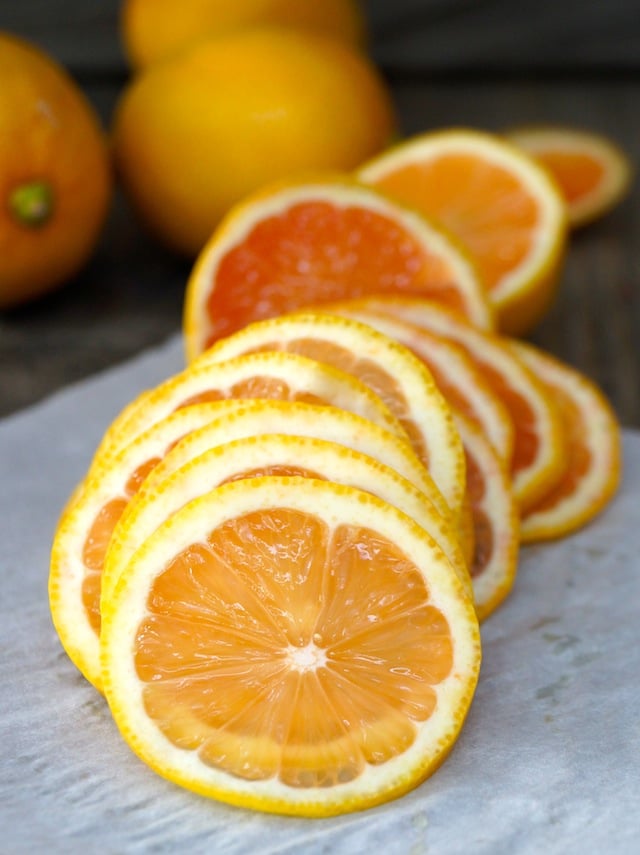 What are pink lemons?
Pink lemons are typically small and have a thin, but tough skin that's initially marked with green stripes.
As they ripen, the green fades and the skin becomes more yellow — while on the inside, the pulp becomes more pink. The juices however, are a pale yellow.
These lemons have very few seeds, and perhaps a slightly stronger and more tart, lemony flavor than other lemons.
Pink lemons also have lovely, subtle floral and berry undertones.
In season on and off from October through June, pink lemons are available nationwide.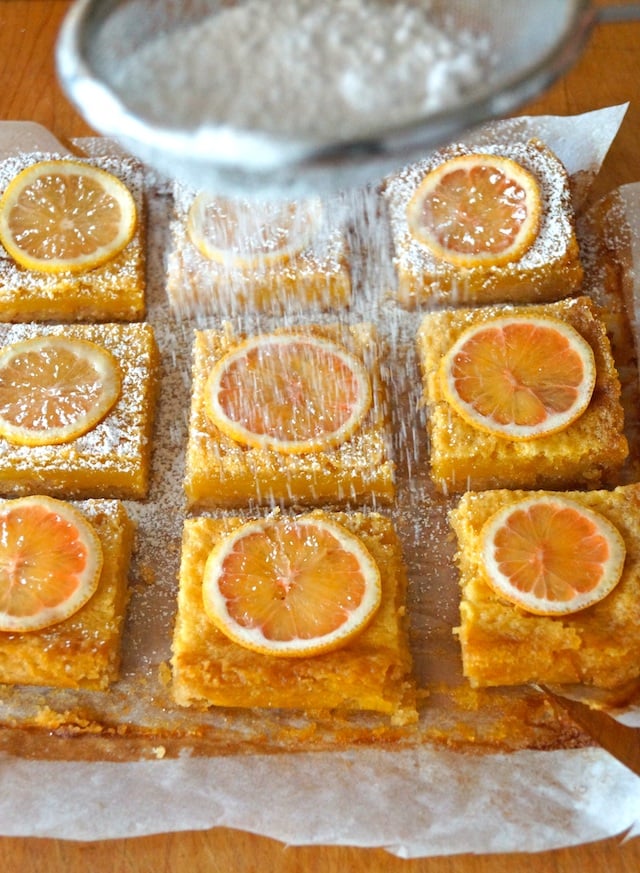 Ask your local produce manager about Frieda's pink lemons, to see if they have them, or when they're getting them.
And if you can't find get your hands on them, Meyer lemons would work beautifully in this recipe too.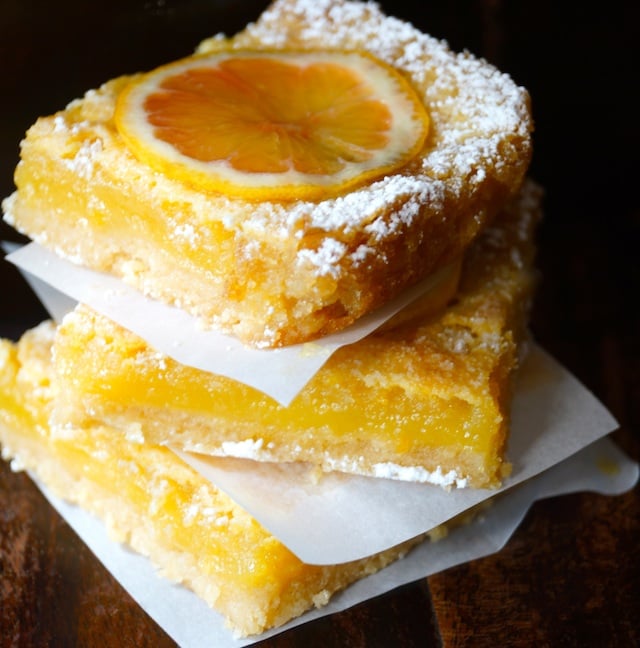 So that my gluten-free son would be able to taste this treat, I used coconut flour to make a shortbread-like crust, which perfectly compliments the lemon flavor.
It's light, flaky, and holds together well, making it the most delicious vehicle for the wonderful, creamy lemon mixture.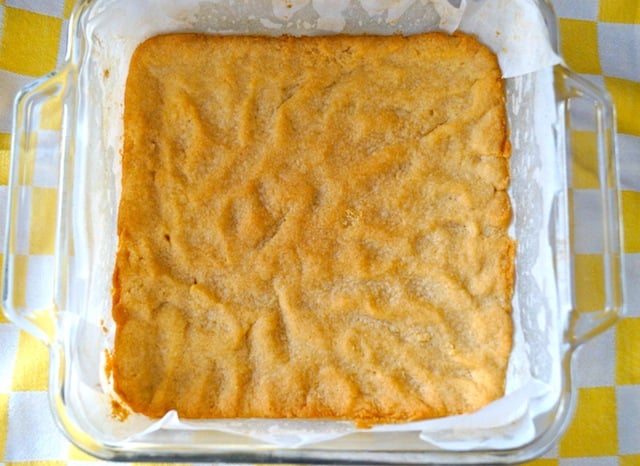 And can we talk about how pretty these lemon bars are!?
Seriously, I can't stop looking at them!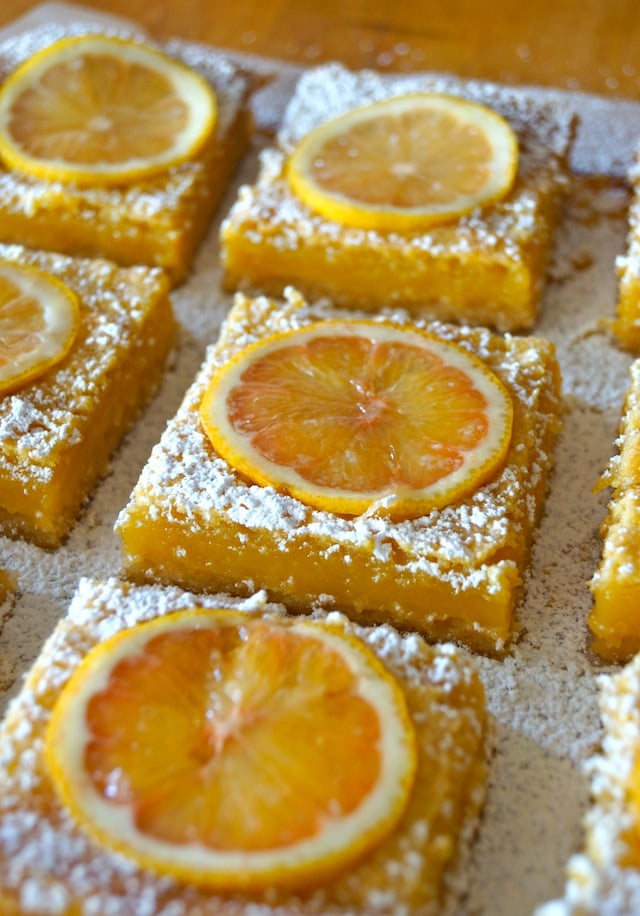 Though, I did devour a few.  They're as scrumptious as they are beautiful.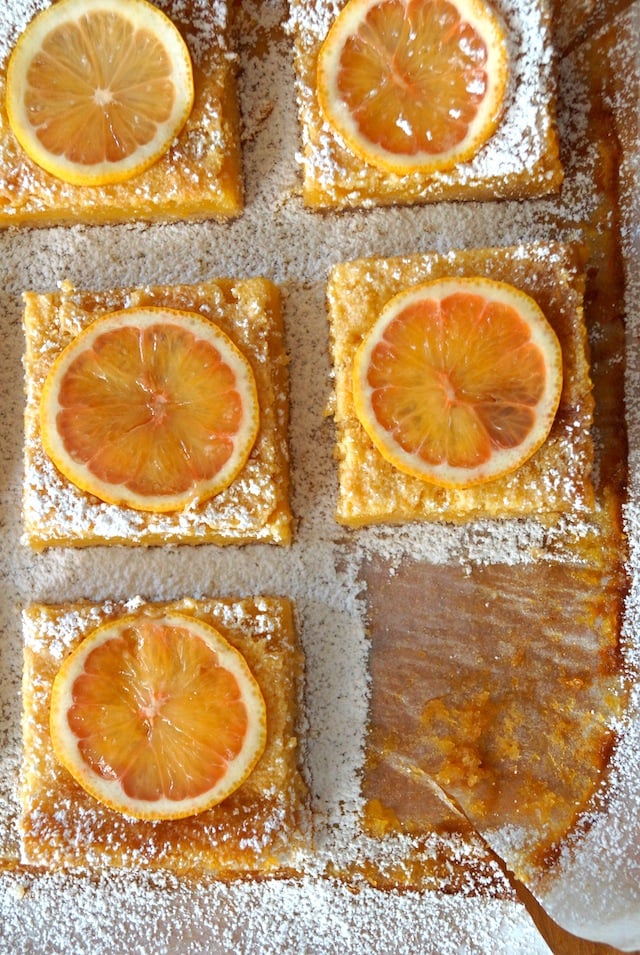 Enjoy every last Pink Lemonade Coconut Bar!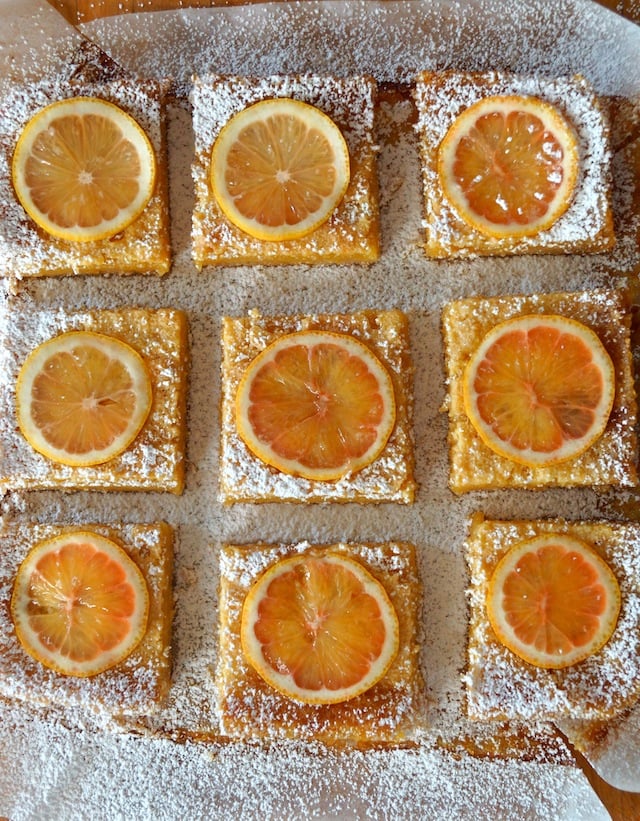 If you try these gluten-free lemon bars, or any of my other recipes, I'd love to hear what you think about it in the comments below. You can also follow on Facebook, Instagram and Pinterest to see more of my mouth-watering recipes!
This is not a sponsored post.  Frieda's Produce sent me pink lemons for recipe testing, and as always, all opinions are my own.
Gluten-Free Pink Lemonade Coconut Bars
Keyword:
best lemon desserts, citrus desserts for a party
Ingredients
For the lemon topping
1

large

egg

3

large

egg yolks

3/4

cup

granulated sugar

2

teaspoons

lemon zest,

from about 1 lemon

1/3

cup

fresh lemon juice

from about 5 lemons

9

very thinly sliced pink lemon

(Meyer lemons can be substituted)

about 1/4

cup

powdered sugar
Instructions
Preheat the oven to 350 degrees F, and adjust a rack to the top third.

Use a tiny bit of the 1 teaspoon of butter to lightly dab the bottom and sides of an

8 × 8-inch baking pan

. Now line the pan with parchment paper (the dabs of butter will help it stick). Be sure to use a large enough piece that will cover the bottom and sides. Cut slits in each corner so that it will lay flat. Now grease the parchment paper with what's left of the 1 teaspoon of butter. Set aside.
For the crust
In a large mixing bowl, combine the butter and sugar. Use an electric mixer or a standing mixer with the paddle attachment, to cream it together until it's light and fluffy, about 5 minutes.

Add the coconut flour and gluten-free all-purpose flour, and beat on a low speed just until it's completely incorporated.

Let the crust cool at room temperature.
For the lemon topping
While the crust is baking, in another large mixing bowl, whisk the egg with the egg yolks and sugar until it's smooth, thick, and lighter in color -- about 4 minutes. Add the lemon zest and juice and whisk until it's blended.

Pour the filling over the baked, cooled crust (it's okay if it's still a bit warm). Return the pan to the oven and bake just until it's set and lightly browned on top, about 25 minutes. (If you fear it's becoming to brown and isn't yet set, lay a piece of foil lightly over the top until it's done.)

Once it's cool, very gently and carefully, lift it out of the pan with the parchment paper, and place it on a clean, dry surface where it can be sliced.

Now add the powdered sugar to a small mesh strainer and gently tap its side, to sift the sugar over all of the bars. It will almost instantly dissolve on the lemon slices, while the corners and sides will stay white. (You will likely not use all of the sugar.)

To store the lemon bars, place them in an airtight container separated by parchment or wax paper layers, in the refrigerator.
Recipe Notes
While the crust does hold together nicely, these bars are not necessarily sturdy. They might fall apart a bit if you pick them up in your hands, and are therefore best eaten with a fork on a plate.
Cooking On The Weekends is a participant in the Amazon Services LLC Associates Program, an affiliate advertising program designed to provide a means for sites to earn advertising fees by advertising and linking to Amazon.com. Amazon affiliate links are for your convenience at no additional cost to you.