Cranberry Orange Cake with Amaretto Glaze is a gluten-free bundt cake that's scrumptious beyond words. The tart cranberries, tangy orange and subtle almond flavor combine to create a masterpiece.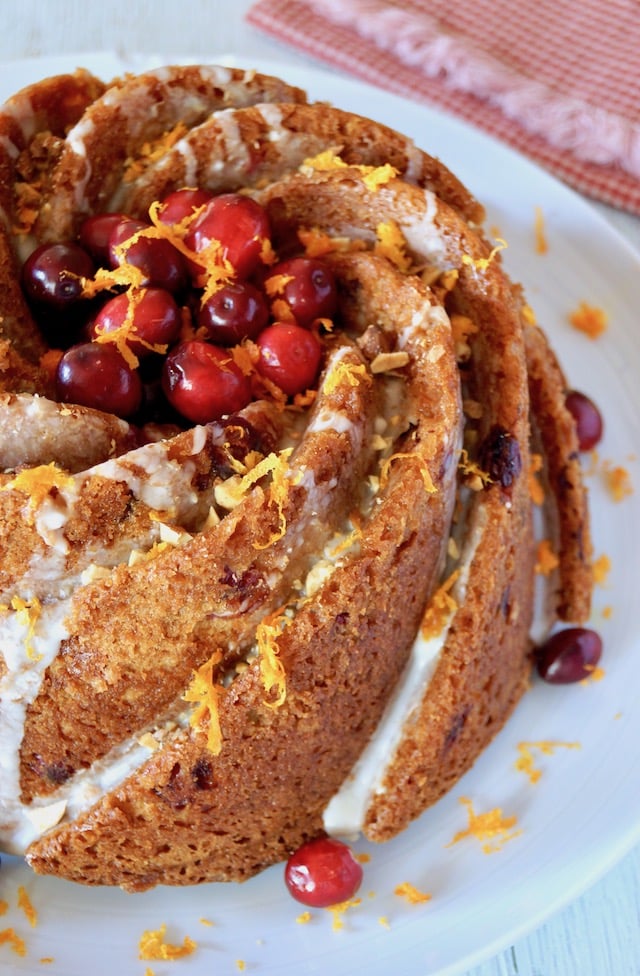 Cranberry and orange is a delicious, classic dessert flavor combination -- one that's especially popular during the holiday season.
Add a little almond flavor and put it all in a buttery, soft cake, and watch out!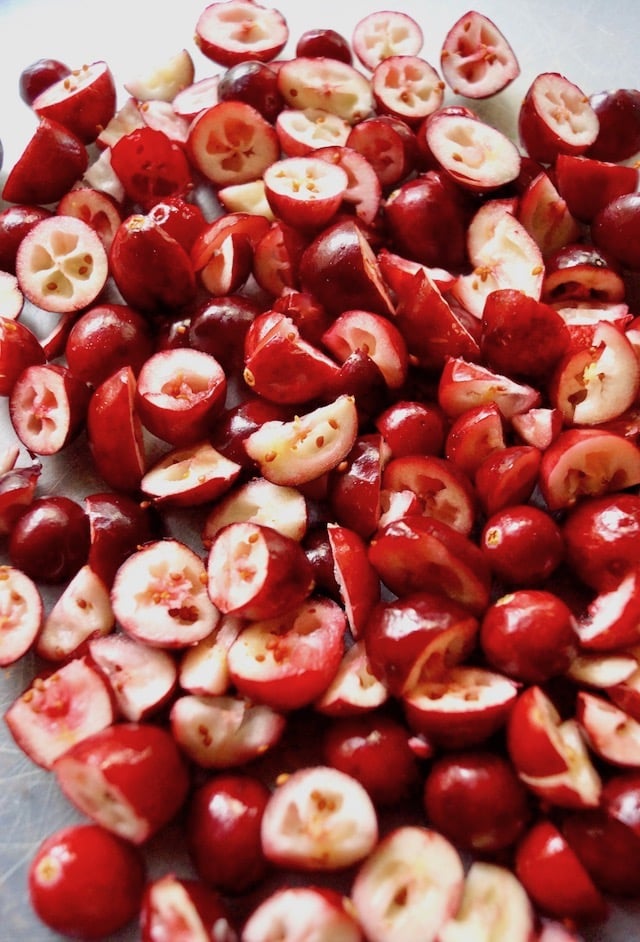 It goes without saying, but I have to say it . . . this is a perfect holiday cake!
It would be a lovely centerpiece on the dessert table for Christmas, or any winter holiday party.
Cranberry Orange Cake would also be delicious served with coffee or tea for at a brunch or luncheon.
There's never really a bad time for cake, right?
Can you make it ahead?
Absolutely!
Wrapped well, without the glaze it can be kept at room temperature for two days. (Glaze it at least a couple hours before serving.)
If you have leftovers (unlikely), the cake should be refrigerated by the third day and will still be good for a a few days after that.
You can also freeze it, wrapped well for a few weeks. I would only suggest this for leftovers, though.
Important Recipe Tips
1. It's very important the butter is softened before you begin. If it hasn't been sitting out, you can soften it in a microwave. Do this by setting it to just a few seconds at a time, because you don't want any of it to melt.
2. I really love the shape of the bundt pan I used for the cake in the photos. In my experience though, it's trickier for the cake to release in this shape — even if it's non-stick, and when it's well greased.  The smoother, more traditional bundt pans are easier.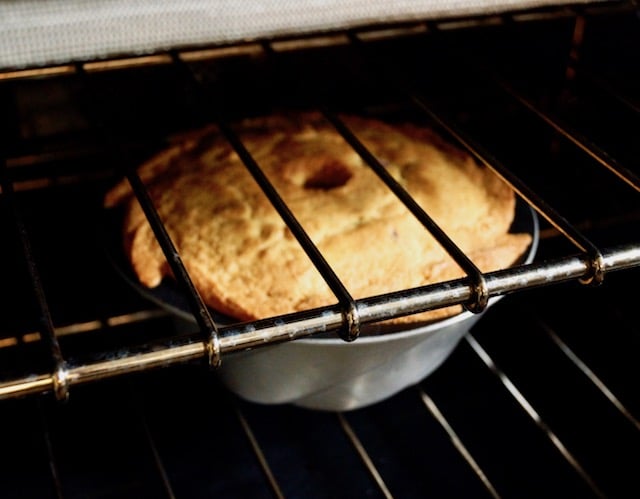 3. The best way to grease a bundt pan (and most cake pans), is to use both grease and flour. Here's How to do this.
4. I use my new favorite gluten-free flour in this cake. It's more expensive than some of the others, but the results are amazing. This cake can also be made with regular all-purpose flour, if it doesn't matter to you if it's gluten-free. The measurements are the same. (My second choice gluten-free flour is this one.)
5. When you pour the glaze over the cake, some of it will drip onto the sheet pan. Use a flat-bottomed metal spatula to scoop it up and add it back to the cake. (There will always be some left in the sheet pan, even after doing this.)
6. The amaretto glaze has a lot more powdered sugar than it does liquid. These proportions might seem off at first, but I promise if you whisk for a moment or two, it will come together beautifully.
7. This cake is pretty and festive with a few garnishes: finely chopped almonds, orange zest, and fresh, raw cranberries to fill the center. However, it will be every bit as delicious without them.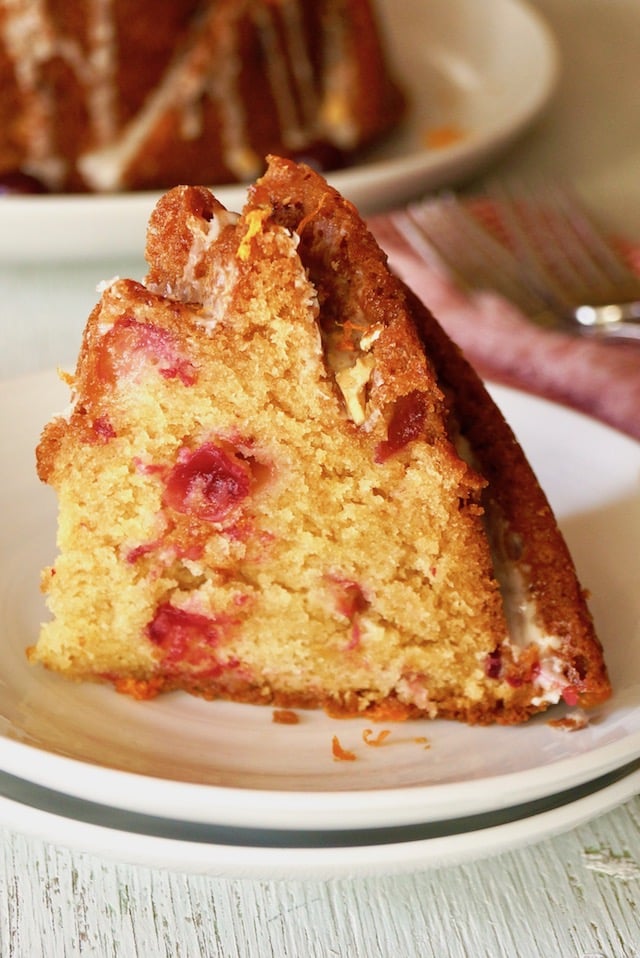 I really, really think you're going to love this Cranberry Orange Cake with Amaretto Glaze. It's impossible not to!
More amazing bundt cake recipes: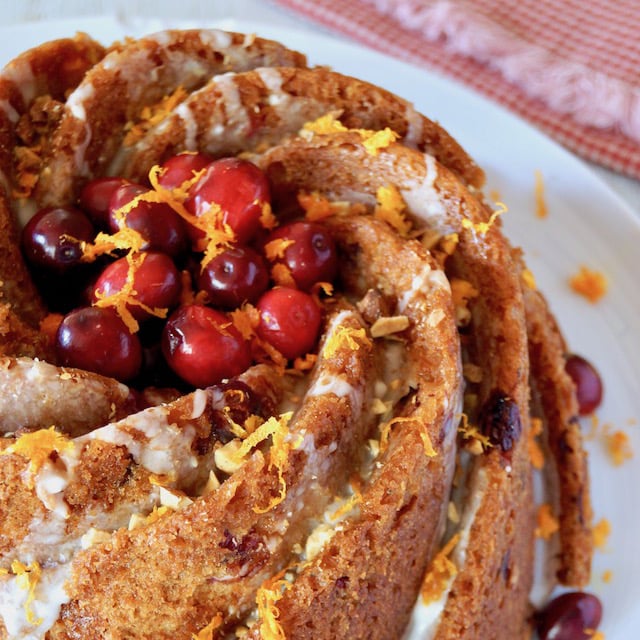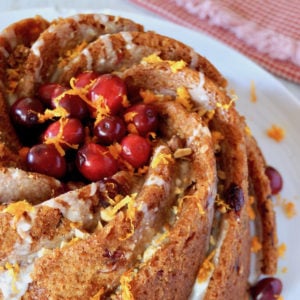 Cranberry Orange Cake with Amaretto Glaze
Cranberry Orange Cake with Amaretto Glaze is a gluten-free bundt cake that's scrumptious beyond words. The tart cranberries, tangy orange and subtle almond flavor combine to create a masterpiece.
Ingredients
For the cake
1

cup plus 1 tablespoon

unsalted butter,

softened, divided

2

cups plus 2 tablespoons

gluten-free 1 to 1 all purpose flour

½

cup

sour cream

1¾

cups

granulated sugar

1

tablespoon

vanilla extract

1½

teaspoons

almond extract

¾

teaspoon

salt

4

large

eggs

1

teaspoon

baking powder

1½

cups

raw, fresh cranberries,

roughly chopped

¼

cup

powdered sugar

2

tablespoons

orange zest

¼

cup

orange juice
For the glaze
1

cup

powdered sugar

1

tablespoon plus 1 teaspoon

amaretto - almond liqueur

(Disaronno Originale is a good one)

1

tablespoon plus 1 teaspoon

orange juice
Instructions
For the cake
Set the oven and prepare the pan. Preheat oven to 350°F and use 1 tablespoon of the butter to grease a 10-inch Bundt pan. Be sure the butter reaches deep into the crevices of the pan, and that it goes all the way up the sides and center. Then add the 2 tablespoons of flour to the pan and shake it gently to coat the butter with the flour.

Make the batter. Use an electric mixer to beat the remaining cup of butter with the sour cream, sugar, vanilla, almond and salt. Beat on high until smooth and light, about 2 minutes.

Add the the eggs, two at a time, and beat on a medium speed until they're fully incorporated.

On a low speed, gradually add the remaining 2 cups of flour and baking powder, and mix only until combined.

In a small bowl, mix the chopped cranberries with the powdered sugar, then fold them into the batter, along with the orange zest and orange juice.

Add batter to pan. Pour the batter into the prepared bundt pan and use a small spatula to evenly spread the top surface.

Bake. Bake in the preheated 350°F oven until the top is golden, beginning to crack, and it no longer jiggles — about 1 hour and 5 minutes.

Cool. Let the cake cool in the pan for about 15 minutes, then invert it onto a baking rack. Place the rack with the cake on a sheet pan and let it cool completely.
For the glaze
In a small bowl, whisk the powdered sugar with the amaretto and orange juice until smooth. It should be thick but pourable.

Once the cake has cooled completely, slowly pour the glaze over the top of the top, in any pattern you'd like. Let it sit until it's set, about 10 minutes.
NOTES
Calorie count is only an estimate.
NUTRITION
Have you tried this recipe?
I'd love to see it on Instagram! Tag me at @cookingontheweekends or leave a comment & rating below.
Cooking On The Weekends is a participant in the Amazon Services LLC Associates Program, an affiliate advertising program designed to provide a means for sites to earn advertising fees by advertising and linking to Amazon.com.