Eggnog Bundt Cake recipe with poppy seeds is so incredibly delicious and so festive for the holiday season. With eggnog and rum inside the cake and in the glaze, it's wonderfully rich with flavor.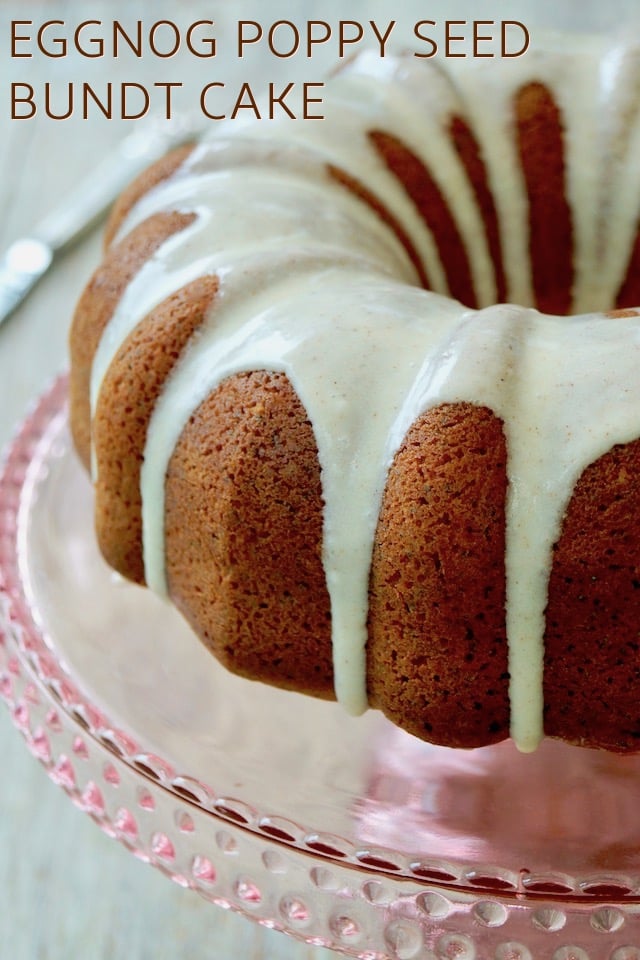 I created this Eggnog Bundt Cake recipe for three simple reasons . . .
I love eggnog. I love holiday desserts. And I love bundt cake!
And I was confident that combining those three loves would be delicious!
What is eggnog?
Eggnog is a festive holiday drink that's typically made with milk or cream, egg yolks, sugar, rum or whiskey, and spices.
Eggnog is said to have made its appearance in the American colonies in the 18th century, where both eggs and rum were plentiful.
The drink was popular around Christmastime because of its warm temperature and the addition of warming spices like cinnamon and nutmeg.
Pre-made, non-alcoholic eggnog is also available in most markets during the holiday season.
Here's a recipe for an excellent homemade eggnog.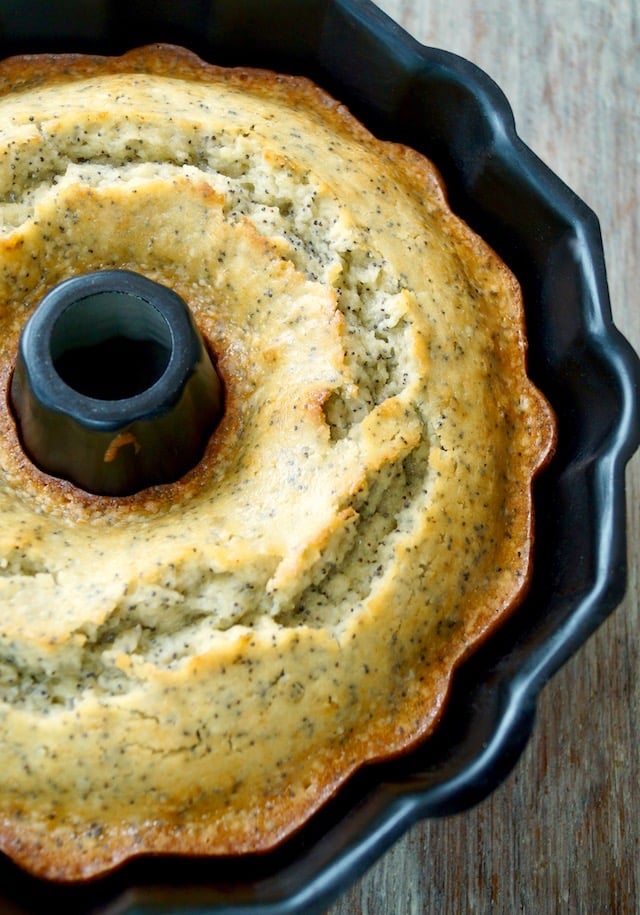 What is a bundt cake?
"Bundt" simply refers to the shape of the cake. A bundt cake is made in ring-shaped, fluted pan, and it makes the cake super pretty and interesting.
Almost all bundt cakes can also be made in traditional cake pans  — however, sometimes there are good reasons to go for the bundt.
I love the look of a bundt cake, and the endless possibilities of flavors that the pan can hold and mold.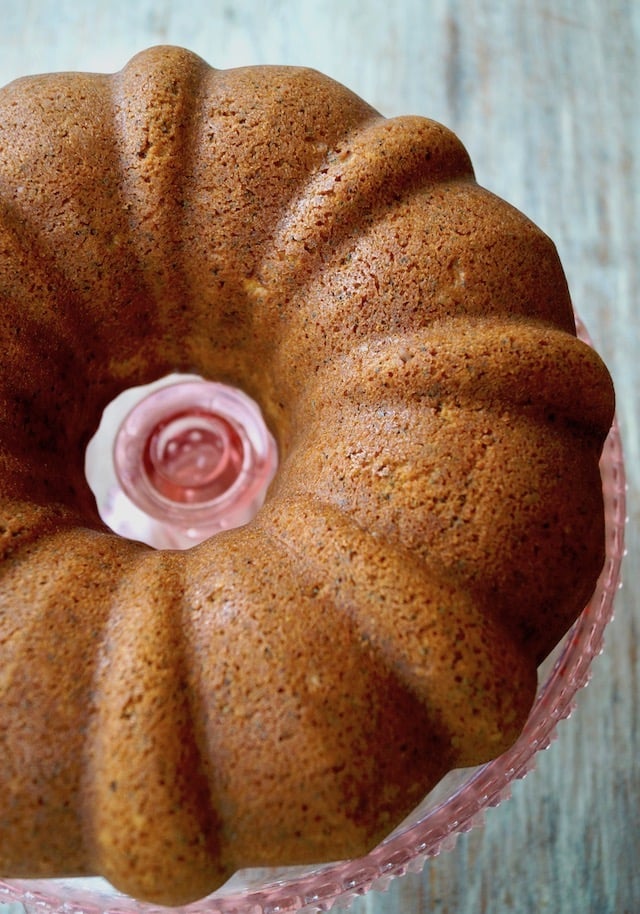 And I absolutely love the gorgeous amount of "crust" on a bundt cake. The bundt pan creates so much more of that delicious part of a cake that bakes along the edges of a pan.  It's the super caramelized area, and this way, you taste this special part of the cake in almost every bite. Know what I mean?
Since eggnog is deliciously creamy and rich, I knew it would easily lend itself to this pound-cake-like batter I made for this recipe.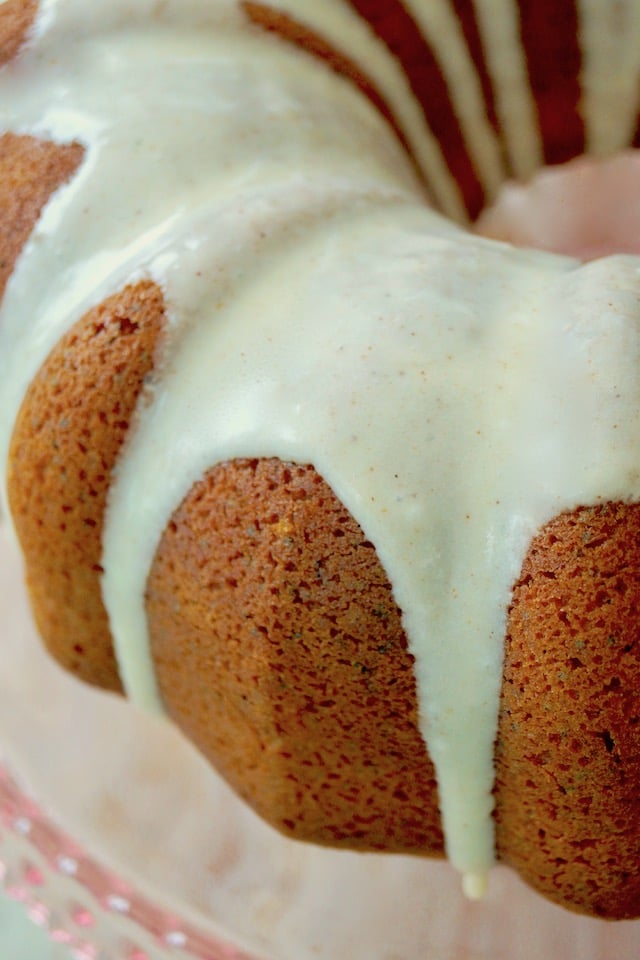 And with a touch of dark rum, this Eggnog Bundt Cake recipe is almost like the holiday drink in cake form.
It's dreamy!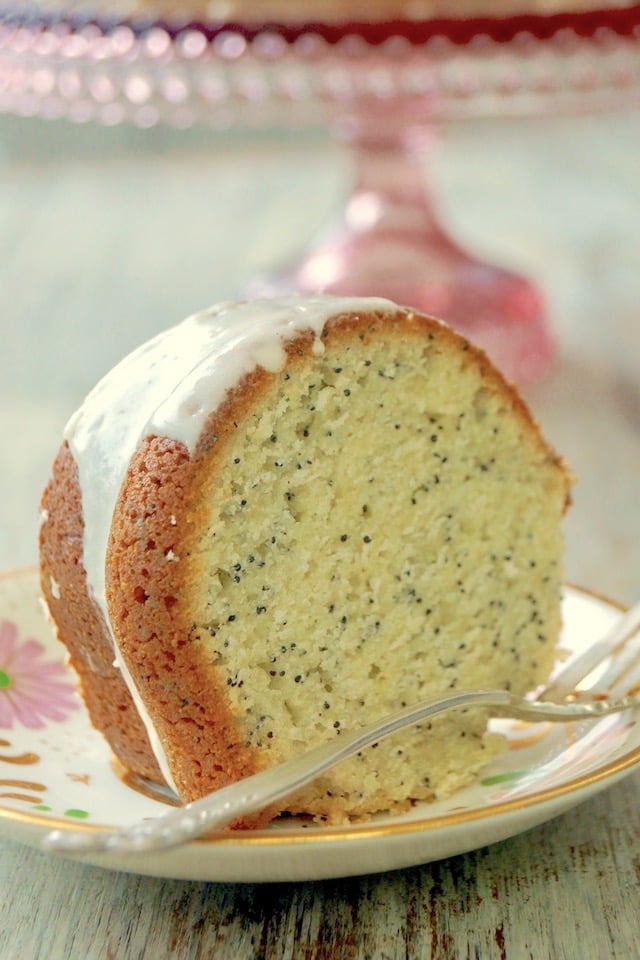 The eggnog is absolutely wonderful in this moist, heavenly holiday dessert, and the poppy seeds and a very delicate crunch.
I promise you, you'll be a big hit if you bring this to a holiday party — or serve it at yours!
If you try this cake or any of my other recipes, I'd love the hear what you think about it in the comments below. I love hearing from you! You can also FOLLOW ME on FACEBOOK, INSTAGRAM and PINTEREST to see more of my mouth-watering recipes!
Update December 2018: This recipe was initially published in 2012, and has been updated new images.
Eggnog Poppy Seed Bundt Cake Recipe
This cake is so incredibly delicious and so festive for the holiday season. With eggnog and rum inside the cake and in the glaze, it's wonderfully rich with flavor.
Keyword:
cake for party, holiday cakes
Ingredients
For the cake
1 1/2

teaspoons

unsalted butter,

softened

1

cup

neutral oil (like vegetable or bran)

2

cups

granulated sugar

1 1/4

cup

of your favorite non-alcoholic eggnog

1/2

cup

sour cream

2

tablespoons

dark rum

1

tablespoon

pure vanilla extract

3

large eggs

1/3

cup

poppy seeds

3

cups

all-purpose flour

1 1/4

teaspoon

baking powder

3/4

teaspoon

salt

1/2

teaspoon

nutmeg
For the glaze
2

tablespoons

of your favorite non-alcoholic eggnog

1

tablespoon

unsalted butter,

melted

2

teaspoons

dark rum

1/4

teaspoon

nutmeg

1/8

teaspoon

salt

3/4

cup

powdered sugar
Instructions
For the cake
Preheat the oven to 350 degrees F and grease the inside of a bundt pan with the butter, making sure to get it inside all of the crevices. Set it aside.

Add the oil, sugar, eggnog, sour cream, rum, and vanilla to a large mixing bowl. Use a whisk to mix everything together until it's a smooth consistency.

Add the eggs and whisk just until they are thoroughly blended into the batter.

Use a spatula to fold in the in the poppy seeds.

In another larger mixing bowl add the flour, baking powder, salt, and nutmeg. Make a well in the center and pour in the eggnog mixture. Whisk just until all of the dry ingredients are thoroughly blended in. (Do not over mix!)

Pour the batter into the buttered-bundt pan and bake in the preheated 350 degree F oven until the edges are golden brown, the top has risen, and it's beginning to crack, about 45 minutes.

Let the cake cool for about 15 minutes or so in the pan, then place a plate (or platter) that's at least a few inches bigger than the cake, up side down on top of the pan. Invert the cake onto the plate -- do this gently and don't remove the pan from the cake until you can feel that the cake has released and is firmly on the plate.

The cake should be completely cooled to room temperature before you add the glaze (see below instructions).
For the glaze
In a small mixing bowl, whisk the eggnog with the melted butter, rum, nutmeg and salt.

Place a fine mesh sifter over the bowl and about a third at a time, add the powdered sugar to it. Use the bottom of a large metal spoon to gently move the sugar around until all of it has gone through the sifter and into the bowl. Use the whisk to mix until it's smooth. Repeat this process twice, until all of the sugar has been added and mixed in. The glaze should be smooth, thick, and pourable.

Once the cake has cooled, use a spoon to drizzle the glaze on the cake in a circular motion around the top.
Recipe Notes
This cake serves 12 medium-large slices -- if you're serving it along with other dessert options, you would likely slice it more thinly and therefore have more servings.
The glaze will be thick - I like it this way so that it doesn't all seep into the cake and/or to the bottom. If you'd like it thinner, you can add a bit more melted butter.
Cooking On The Weekends is a participant in the Amazon Services LLC Associates Program, an affiliate advertising program designed to provide a means for sites to earn advertising fees by advertising and linking to Amazon.com. Amazon affiliate links are for your convenience at no additional cost to you.