These delicious Valentine's Day Raspberry Chocolate Chip Cookies are fruity, chocolaty and chewy, with a slight crunch. The juice from fresh raspberries, instead of food coloring, makes these naturally pink cookies —which is fun for the holiday or any day.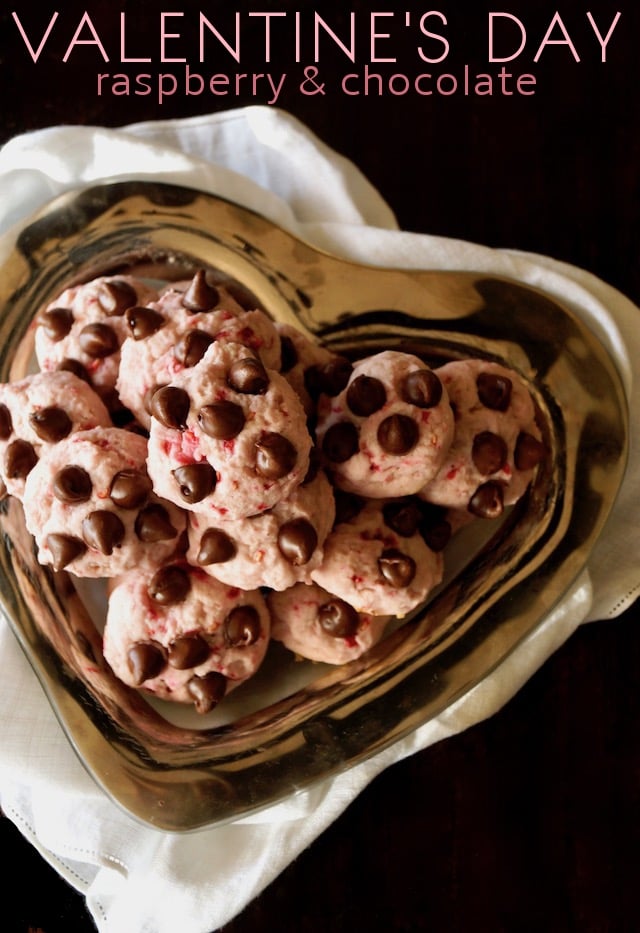 With a name like Valentina, how could I not get into the Valentine's Day spirit?
If you read my last recipe, Nutella Brownies Full of Heart, you know how much I love it. And nope, it's not my birthday. Though when I lived in Spain years ago, I got a lot of attention on el Día de San Valentín. It's a big deal when it's your Saint's Day in Spain. 🙂
I thought it would be fun to make Valentine's Day cookies. And I wanted to use a fruit that would be tasty with chocolate, and make them festive, naturally pink cookies.
I am so happy with how lovely they look and how good they taste.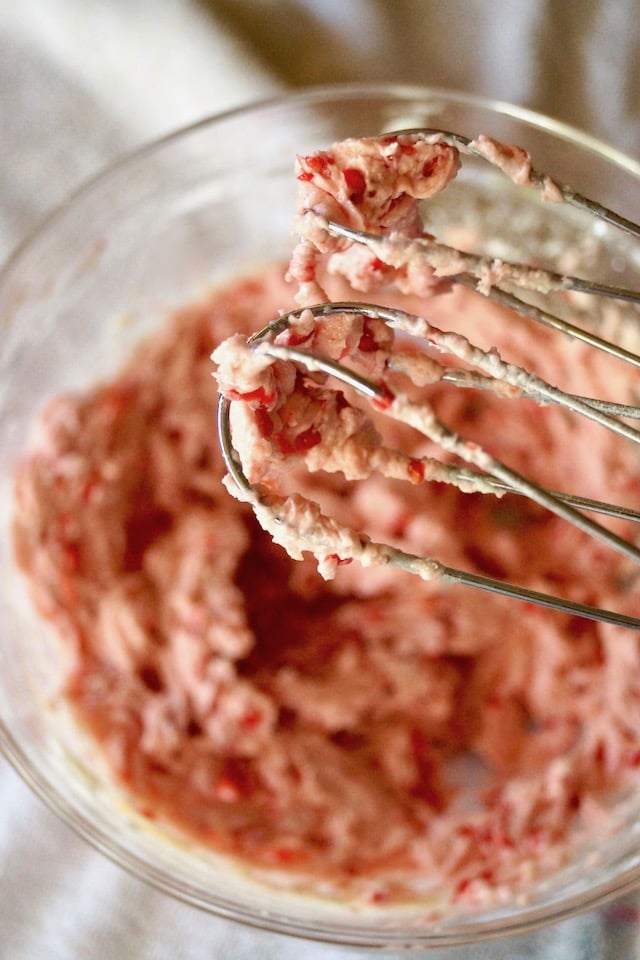 I'm not big on food coloring, so I really try to avoid it — and I love how you can use a real food to make naturally pink cookies!
Other foods to use as natural coloring:
Blueberries — Blueberries usually create a light bluish-purple color -- periwinkle, if you will. (I love that word!)
Beets — With beets, you can easily achieve many different levels of a deep, rich, pink-magenta color.
Annato seeds — These can be used for a golden-color. (

Here's how to use them

.)
Turmeric — This is what gives curries its yellow color, and it can also be used in baked goods, like in this oh-so-beautiful,

Upside Down Blood Orange Cake

.
And speaking of blood oranges — They too can create shades of pinks.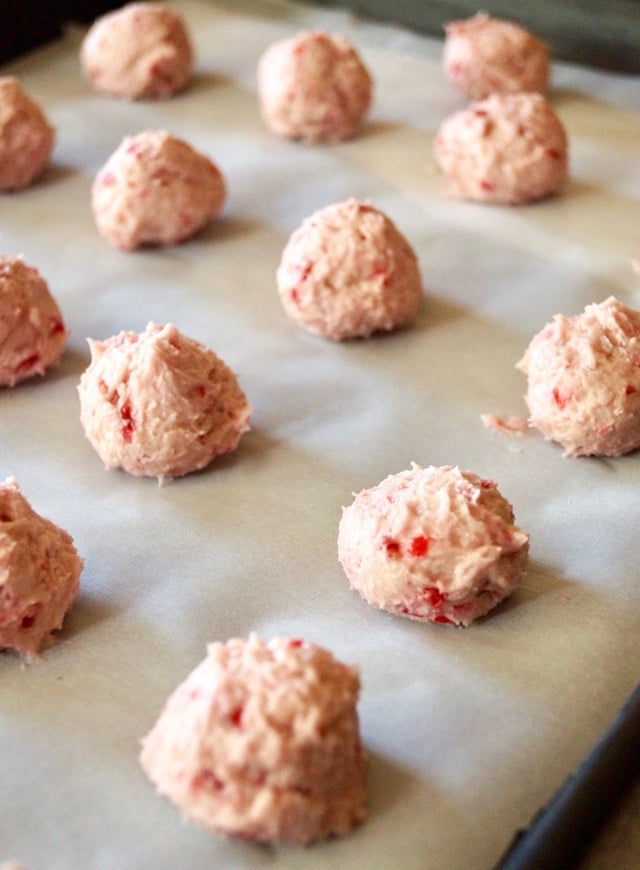 Naturally Pink Cookies
Not only do I love the pink color the berries give these Valentine's Day Raspberry Chocolate Chip Cookies, but the flavor is strong. You will know these naturally pink cookies are made from raspberries the minute you bite into them.
I also think the tiny bits or red are a perfect touch.
Do you like fruit with your chocolate? I want to know.
Some chocolate lovers are purists. I totally get it. Sometimes I need my chocolate to be left alone without interference from any outside flavors.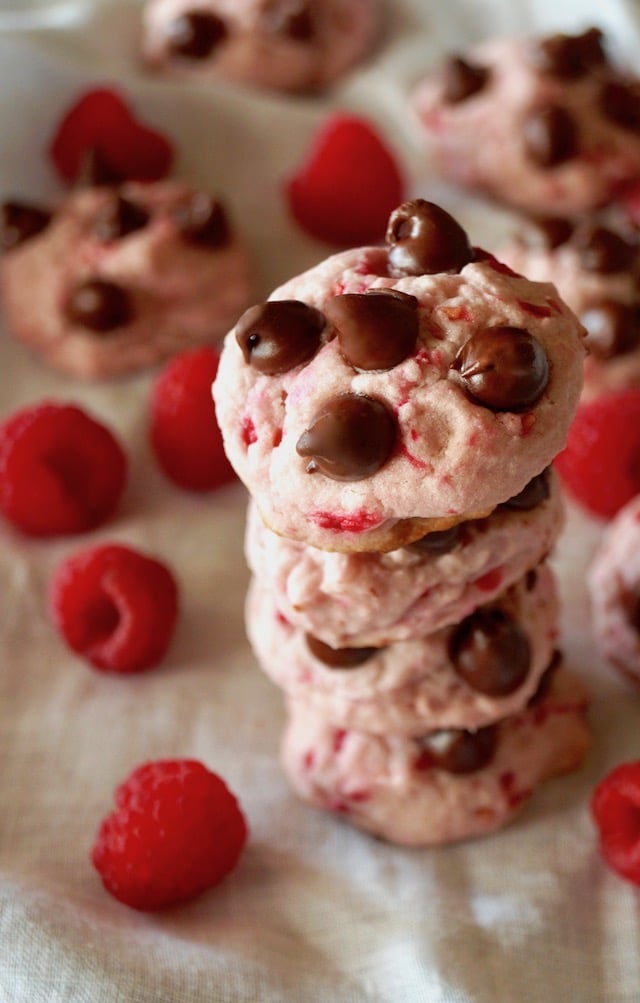 And sometimes I love a touch of it with something else — like these raspberry chocolate cookies. If you are a purist, these naturally pink cookies are also absolutely divine without the chocolate chips.
Recipe Tip
I add the chocolate chips to the tops of the cookies, but to save time you can also mix them into the batter.
Whatever you decide, I hope you make them, and love every last crumb!
Happy Valentine's Day!
Raspberry Chocolate Cookies Recipe
These delicious cookies are fruity, chocolaty and chewy, with a slight crunch. The juice from fresh raspberries, instead of food coloring, makes these naturally pink cookies —which is fun for the holiday or any day!*Please note that 1 hour of the prep time is inactive.*Makes about 2 dozen small cookies
Instructions
Prep baking sheets. Line a baking sheet with parchment paper. Set aside.

Mash raspberries. Add the raspberries to a small bowl and use the back of a teaspoon to mash them into a purée. Set aside.

Make the batter. In a medium-sized mixing bowl, combine the butter with the powdered sugar. Mix for about a minute or so, until it's a bit lighter and very smooth. (Using an electric mixer for this is easiest.)

Add in the raspberry purée, almond meal, vanilla, and salt. Mix until smooth. Fold in the flour and mix only until it's evenly incorporated.

Shape the cookies. Shape the batter into approximately tablespoon-sized balls. (If you have a 1¼ inch cookie scoop, it's the perfect size.) For a smoother surface, you can gently roll each one between the palms of your hands. Place them on the parchment-lined baking sheet as you go, with about 1½ or so inches between them. (You might need a second sheet, but it's not likely - they barely spread when they bake.) At this point, gently and lightly press about 5 chocolate chips onto each cookie.

Refrigerate. Cover with plastic wrap and refrigerate until the batter is firm, about 1 hour. (It's okay if it's longer — up to overnight is fine.)

Set the oven. Preheat the oven to 350°F.

Bake. Remove the the baking sheet from the refrigerator and bake in the preheated 350° F oven until bottoms are slightly golden and the cookies are solid, about 12 minutes.

Cool. Let the cookies cool on the baking sheets for at least 15 minutes.
NOTES
Calorie count is only an estimate.
NUTRITION
Have you tried this recipe?
I'd love to see it on Instagram! Tag me at @cookingontheweekends or leave a comment & rating below.