Buckwheat Chocolate Chip Cookies are gluten-free and you simply won't believe how amazingly delicious they are! Their buttery, earthy, super chocolatey flavors will keep you coming back for more. And more!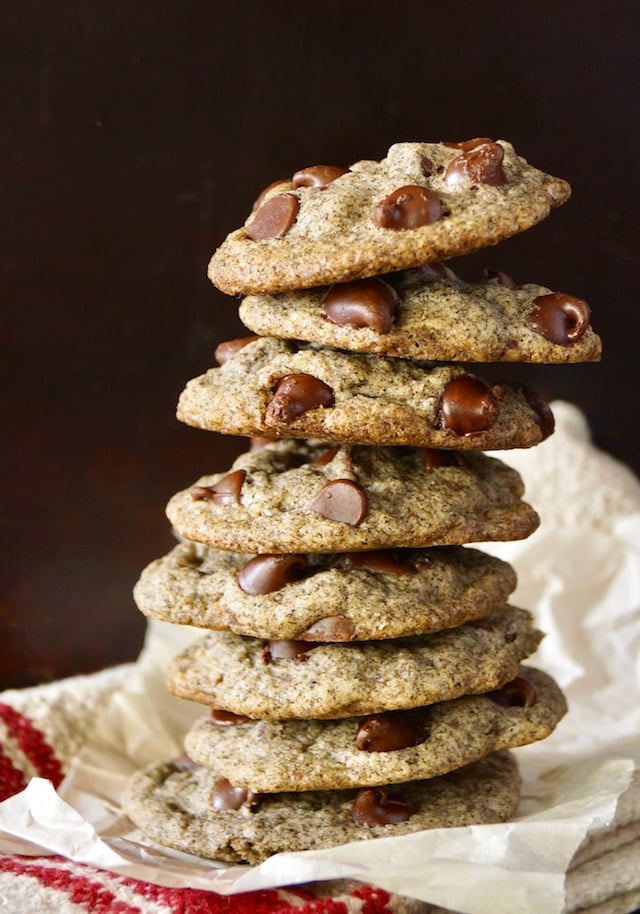 Crispy along the edges, soft on the inside, and full of melting chocolate, Buckwheat Chocolate Chip Cookies have a subtly earthy-nutty flavor that's not to be missed!
It's no wonder they're one of our favorite gluten-free chocolate chip cookie recipes.
Since my son has Celiac Disease, I've made and tasted a lot of gluten free chocolate chip cookies over the past several years.
This particular recipe is our current favorite. Buckwheat cookies seem to be few and far between, and I'm telling you, once you try these, buckwheat flour will soon be in your pantry.
What is buckwheat flour?
Is buckwheat flour gluten-free? Yes! Given its name, the most surprising thing about buckwheat flour is that it's gluten-free. It's not a wheat at all.
In fact, buckwheat is not a grain -- it's the seed of a fruit! I suppose that's also surprising. And how about this . . .  it's related to rhubarb.
What does buckwheat flour taste like? Buckwheat flour adds a tasty earthy, nut-like flavor to recipes. It also has a slightly bitter flavor, and can be intense. This is why it's typically mixed with other flours when used in baked goods.
Sometimes it's fun to add additional chocolate chips to the tops of the cookies before they go in the oven. It makes for an especially pretty presentation.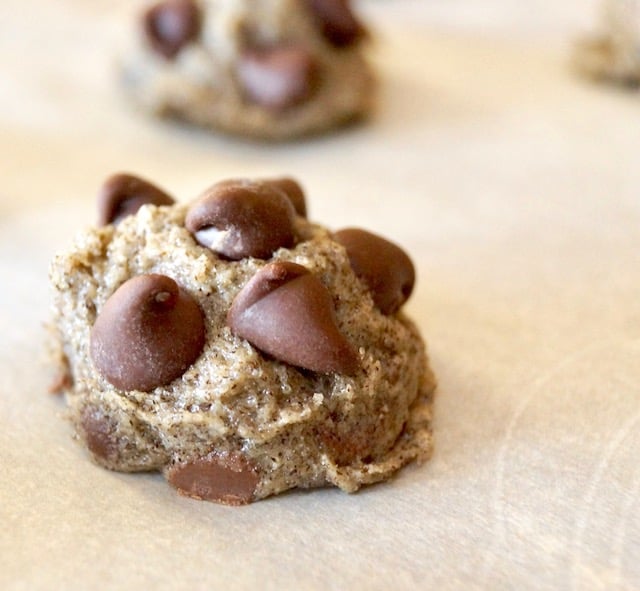 What's in this recipe?
It's the perfect blend of ingredients that makes these buckwheat cookies tasty and create such a lovely texture.
unsalted butter. The flavor of the butter with the buckwheat flour is amazing!
granulated sugar and brown sugar. The brown sugar adds softness while the granulated sugar helps with crispness.
sour cream. This might seem odd since it's typically seen in cakes, not cookies. However sour cream does the same thing in both -- it produces a soft creaminess.
vanilla. I almost always use 1 tablespoon of vanilla for my cookies recipes. It always enhances the flavor.
salt. Just as it does in savory recipes, salt brings out the natural flavor of the ingredients. So adding salt to this recipe will actually enhance the flavor of the buckwheat, the vanilla, and so on.
eggs. Eggs build structure and add moisture.

The yolks increase richness, tenderness and flavor.

gluten-free 1-to-1 baking flour. I love the 1 to 1 gluten-free flours because they're a blend of a few different flours and starches, and they contain xanthan gum.

(In this recipe for gluten-free chocolate chip cookies, I added a bit more xanthan gum to account for the buckwheat flour.)

buckwheat flour. This is what adds a tasty earthy, nut-like flavor to the cookies.
xanthan gum.

Without gluten, xanthan gum is what acts as the binding agent for the flour. It creates elasticity and helps give baked goods structure. 

baking soda.

This is what helps cookies rise.

chocolate chips. I use a combination of milk and semisweet in this recipe. I particularly like milk chocolate with the flavor of the buckwheat, since it's a bit less intense and sweeter. You'll notice I use a lot of chocolate chips. I think it's important that every bite include a few of them.

More gluten-free chocolate chip cookie recipes:
Whether you're gluten-free or not, I really hope you'll give this Buckwheat Chocolate Chip Cookie recipe a go. They're a favorite in my house for everyone!
Enjoy!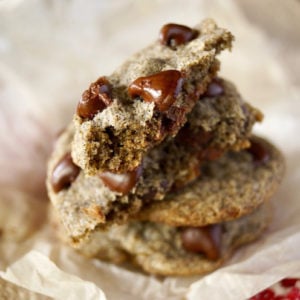 Buckwheat Chocolate Chip Cookies
Buckwheat Chocolate Chip Cookies are gluten-free, and you won't believe how amazingly delicious they are! And not just for being gluten-free -- rather, for just being a delicious cookie.This recipe makes about 8 dozen small cookies / Serving size: about 3 cookies
Instructions
Set oven and prepare baking sheets. Preheat the oven to 350°F, and line two baking sheets with parchment paper. Set aside.

Make batter. In a medium-sized mixing bowl, combine the butter with the sugars, sour cream, vanilla and salt. Once it's completely smooth, add the egg and stir to combine thoroughly.

In a larger mixing bowl, combine the gluten-free flour, buckwheat flour, xanthan gum, and baking soda. Mix just until everything is incorporated evenly and there are no dry spots.

Fold in the chocolate chips.

Shape. Use two teaspoons or a 1 inch cookie scoop to shape the batter into balls. Place them on the parchment-lined baking sheets as you go, at least 2 inches apart.

Bake. Bake the cookies in the preheated 350°F oven for about 8 minutes. They should be soft when they are removed from the oven, and will firm a bit as they cool.

Cool. Let them cool on the baking sheets for at least 15 minutes.
NOTES
I like these cookies to be on the small side, but of course you can make your cookies any size you'd like to.
Calorie count is only an estimate.
NUTRITION
Have you tried this recipe?
I'd love to see it on Instagram! Tag me at @cookingontheweekends or leave a comment & rating below.
Cooking On The Weekends is a participant in the Amazon Services LLC Associates Program, an affiliate advertising program designed to provide a means for sites to earn advertising fees by advertising and linking to Amazon.com.