Spiced Granola Breakfast Cookies are gluten-free, deliciously spiced and crisped to perfection. Imagine your favorite bowl of granola in cookie form.
Ever just wanna have a friend come by for a cup of coffee on a lazy weekend morning? While I adore a feast of a brunch, on occasion, I just want a delicious morning snack and a fantastic cup of coffee.
My Spiced Granola Breakfast Cookies developed as a result of my love of granola, cookies, and breakfast. Rather than make this a true "dessert" cookie with butter, flour, etc., I left those ingredients out and created what I think is a crunchy, sweet bowl of granola — in a cookie!
Don't get me wrong, clearly this breakfast cookie could pass as dessert!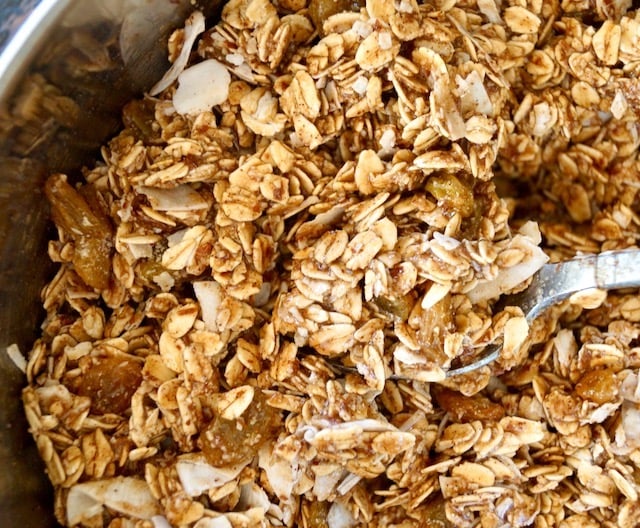 What's in Spiced Granola Breakfast Cookies?
rolled oats
egg whites
brown sugar
honey
vanilla
coconut
raisins
almond meal
cinnamon, cloves, salt
How to Make Them
This recipe is easy and fairly quick to prepare.
Blend the egg whites, sugar, honey, vanilla, spices and salt together.
Fold in the oats, raisins, coconut and almond meal.
Shape, bake and eat.
(More detailed instructions are below.)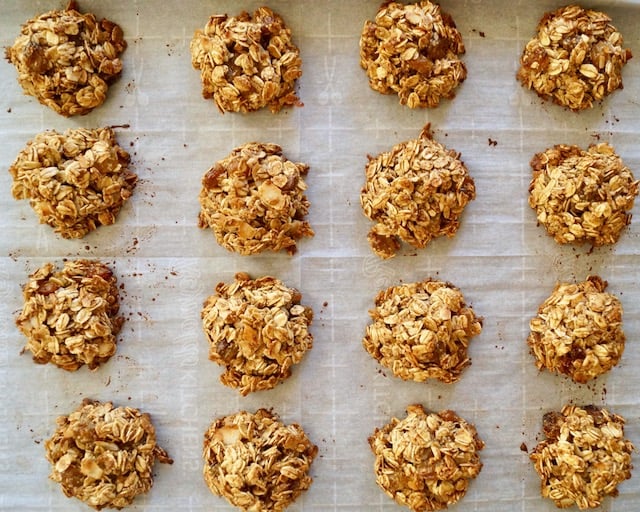 Can you freeze Granola Breakfast Cookies?
Yes you can.
Once the cookies have cooled completely, they can be stored in the freezer in an airtight container for up to a month. They are at their best however, just after they're out of the oven and cooled. (They will be softer if stored in the freezer, or even at room temperature for a day or so.)
Recipe Tips
Be sure the oats you use are marked as gluten-free, if this is important for you. Some oats are cross contaminated with wheat.
It's important these cookies cool almost completely on the sheet pan. Otherwise, they might crumble a bit. They are perfect after at least 15 minutes.
I love golden raisins, but you can use any type you like, as well as currants. And if you want to add chocolate chips, go for it!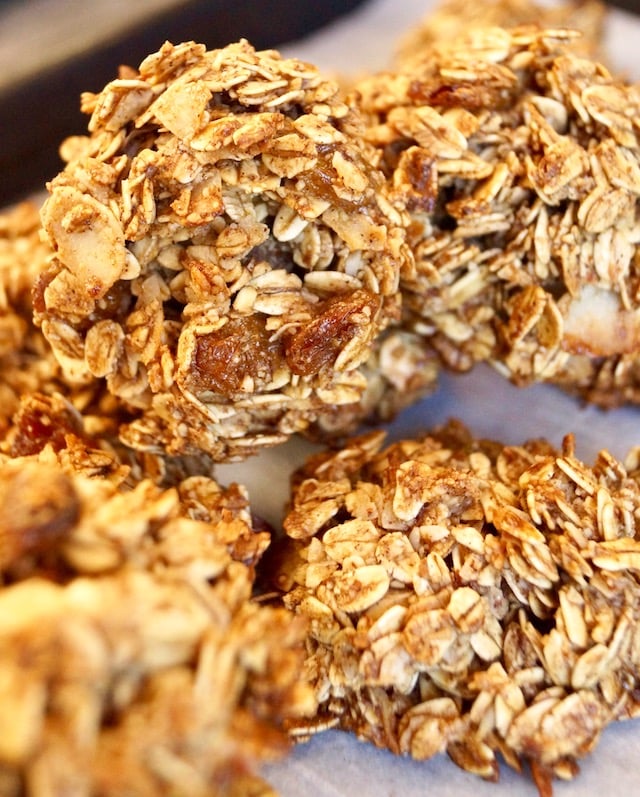 I hope you love these Spiced Granola Breakfast Cookies as much as my family and I do.
More granola recipes:
Apple Roasted Cinnamon Granola
Crispy Honey-Almond Cereal Bars
Crunchy Quinoa Granola
Father's Day Granola
Granola Chocolate Chip Cookies
Skillet Granola
Spiced Granola Breakfast Cookies
Spiced Granola Breakfast Cookies are gluten-free, deliciously spiced and crisped to perfection. Imagine your favorite bowl of granola in cookie form.
Keyword:
breakfast cookies, gluten-free cookies
Instructions
Preheat the oven to 375°F, and line a baking sheet with parchment paper. Set aside.

In a large mixing bowl, use a large fork to blend the egg whites with the sugar, honey, vanilla, spices and salt.

Once everything is well blended, fold in the oats, coconut, raisins and almond meal.

Use an approximately 2-inch cookie/ice cream scoop (or about 3 tablespoons), to shape the "batter" into balls, placing them on the parchment-lined baking sheet as you go. (They won't spread, but still leave at least an inch or so between each one.)

Bake in the preheated 375°F oven until they are golden brown, about 18 minutes.

Let the cookies cool on the baking sheet for at least 15 minutes before serving.
Recipe Notes
These cookies are best served as close to baking time as possible because they're deliciously crunchy right out of the oven. They are still good later, but will become softer.
To make sure this one is gluten-free, make sure the oats say "gluten-free" on the package.
Cooking On The Weekends is a participant in the Amazon Services LLC Associates Program, an affiliate advertising program designed to provide a means for sites to earn advertising fees by advertising and linking to Amazon.com.