Nutella Cookies are inherently gluten-free, very rich and amazingly decadent. They're a mind-blowing experience as the batter is made mostly of straight-up Nutella.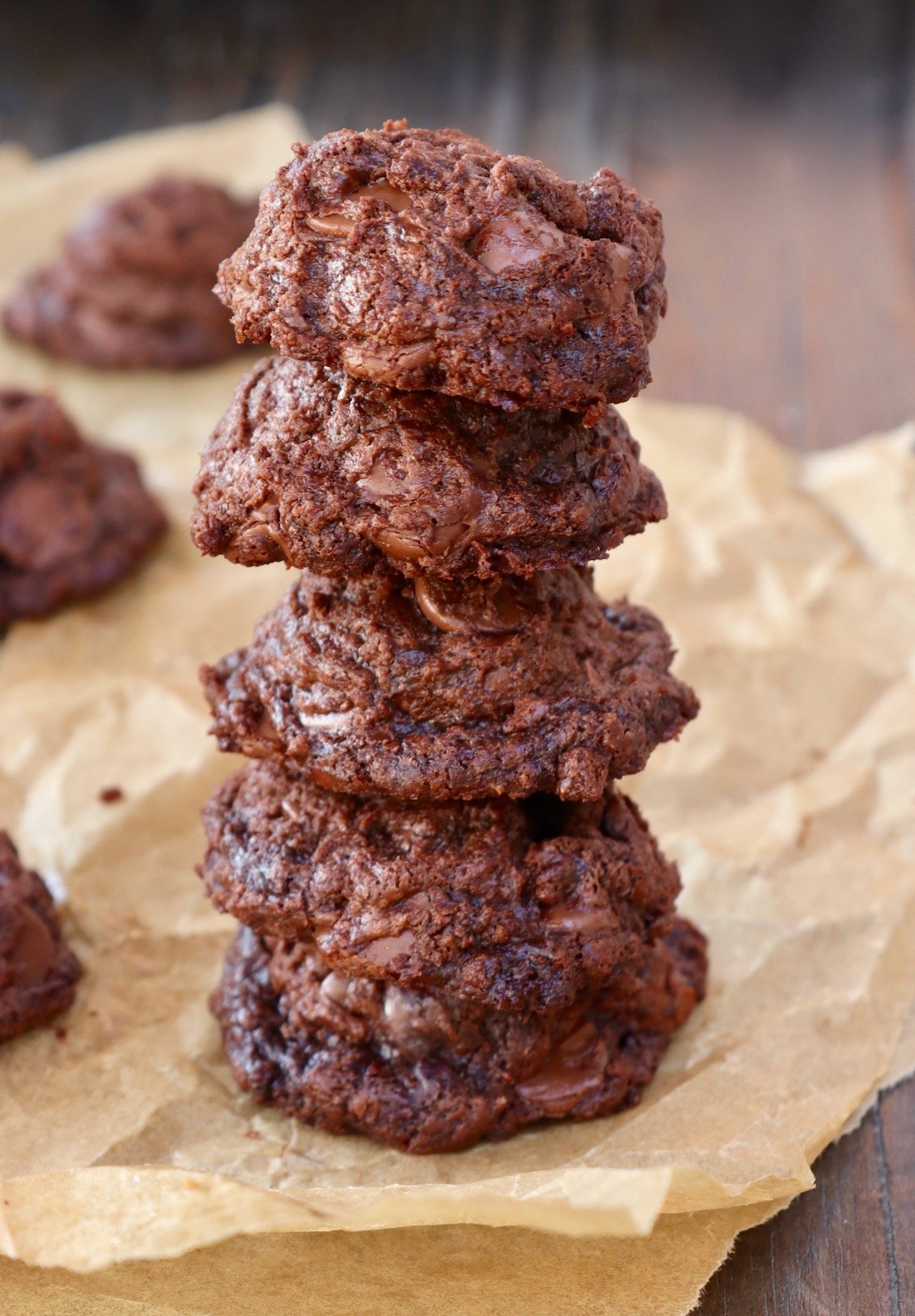 "You can't make everybody happy, you're not a jar of Nutella."
-I don't know who said this, but think it's funny.
Do you, or does anyone you know love Nutella?
Let me rephrase that . . . . I'm sure we all know someone who loves Nutella.
These cookies are a dream for those people. They're essentially straight up Nutella in cookie form, with little bits of chocolate.
They happen to be gluten-free, everyone loves them, and they come together in a matter of minutes.
What is Nutella?
Nutella is a brand of sweetened hazelnut-cocoa spread manufactured by the Italian company Ferrero.
It was originally created in Italy during World War II by a baker named Pietro Ferrero. He had the idea to add ground hazelnuts to a chocolate spread to make up for a shortage of cocoa at the time. It was introduced as Nutella in 1964 in and began to be marketed outside Italy.
Undeniably delicious, it's one of the most recognizable commercial foods in the world, and there's even World Nutella Day.
The texture is insanely smooth and creamy, and the flavor is sweet, nutty and chocolatey.
Nutella is eaten spread on toast, in pancakes, in crepes, in cookies, in cocktails, in breads, on spoons, etc.
(At times Nutella has been under scrutiny for its use of palm oil -- however, Ferrero now uses 100% sustainable palm oil that does not come from plantations subject to deforestation. You can read about that here.)
Recipe Tips and Substitutions

The batter for the Nutella cookies will initially seem like it won't come together easily. Keep stirring and within a minute or two, you'll see it begin to nicely blend.
The recipe calls for a

1¼ inch cookie scoop

, which is a bit more than a tablespoon. However, you can make them any size you like. I find they present the best the smaller they are, and since they're so rich, a bite or two is perfect.
I usually use semisweet, but you can use any chocolate chips you like. White, dark, milk -- or skip them all together if you want to.
Be sure to let them cool completely before serving.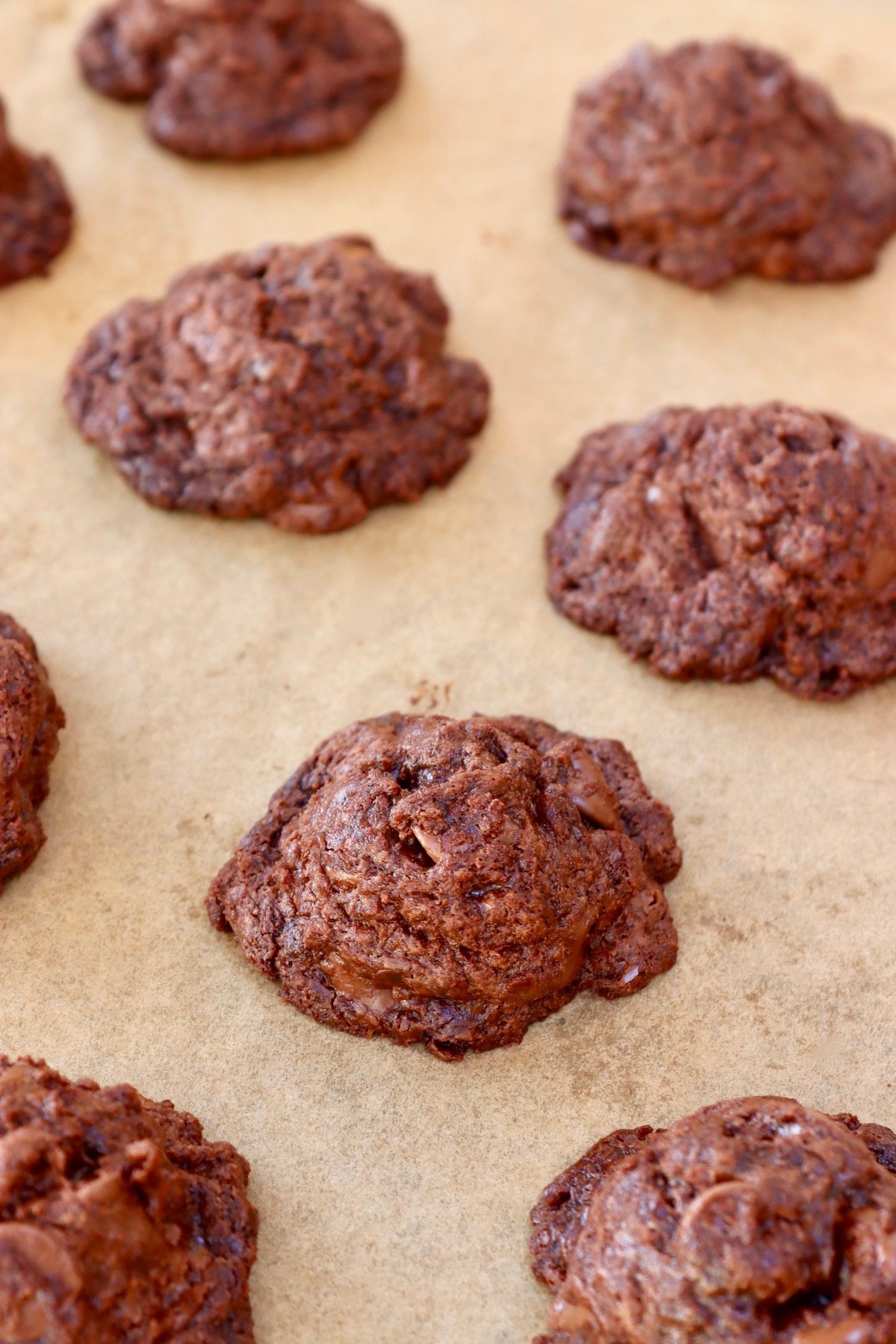 These cookies are inherently gluten-free, by the way.
There's simply no need for flour of any sort in this batter. The cocoa powder does the trick of holding the batter together perfectly -- and it also deepens the chocolate flavor.
Can you make them ahead?
Room temperature. In a tightly sealed container, the cookies can be kept at room temperature for about three days.
Refrigerator. In a tightly sealed container, they can be stored in the refrigerator for up to a week.
Freezer. Sealed tightly, you can store the cookies for about two months in the freezer.
I hope you love these Nutella cookies. I'm pretty confident you will. I mean, how could you not!?
More recipes using Nutella:
Nutella Cookies with Chocolate Chips
Nutella Cookies are over-the-top rich and intense.They are a mind-blowing experience as the batter is made mostly of straight-up Nutella.Makes 4 dozen cookies / serving size: 2 cookies
Instructions
Make the batter. Add all of the ingredients to a large bowl and mix until completely blended.

Shape. Use a 1¼ inch ice cookie scoop (or teaspoons) to shape the cookies into balls of batter, placing them on the parchment-lined baking sheets as you go. There should be about about 2 inches between them.

Bake. Bake in the preheated 325°F oven until the cookies are almost dry, 8 to 10 minutes. They should still a bit doughy -- they'll continue to cook a bit outside of the oven. Let them cool on the baking sheet for at least 10 minutes.
NOTES
Calorie count is only an estimate.
NUTRITION
Have you tried this recipe?
I'd love to see it on Instagram! Tag me at @cookingontheweekends or leave a comment & rating below.
Cooking On The Weekends is a participant in the Amazon Services LLC Associates Program, an affiliate advertising program designed to provide a means for sites to earn advertising fees by advertising and linking to Amazon.com.