Learning how to make Kimchi is fun and easy! Once you make it and have it on hand, you'll use it in all sorts of recipes.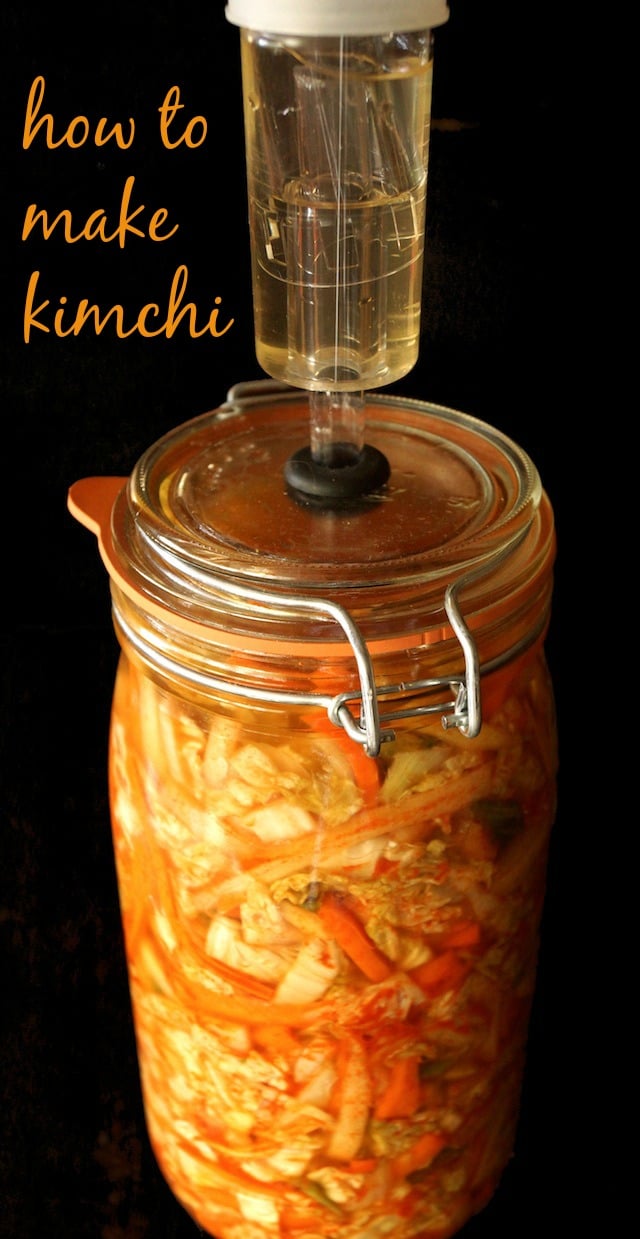 Making Kimchi has been on my culinary bucket list for years. I think it's definitely something many of us think of as a daunting task -- at least I did.
So I was so happy when Melissa's Produce invited me to be a part of  Chef Ernest Miller's food preserving class. Chef Miller -- sometimes referred to as the Huell Howser of California food -- is also a historian, educator, consultant and speaker -- he not only teaches in kitchens, but also in museums and schools.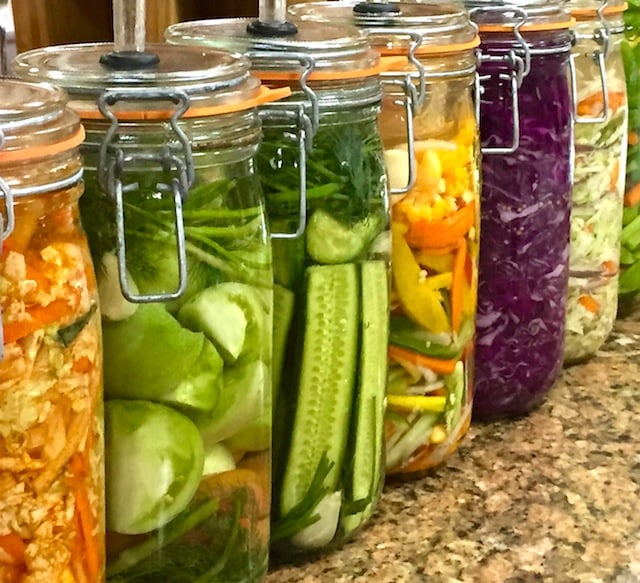 Where does Kimchi come in?
Chef Miller is the lead instructor for the Master Food Preservers of Los Angeles County and the founder of Rancho La Merced Provisions, through which he invented the best fermentation kit on the market -- the an Air-Lock Lacto-Fermentation Kit. (This isn't the one he invented, as it's no longer available.)
You really need a kit like this to make Kimchi and other fermented foods properly at home.  There's a whole lot of science to this -- in fact, I felt like I was in a lab of some sort while we were preparing the Kimchi.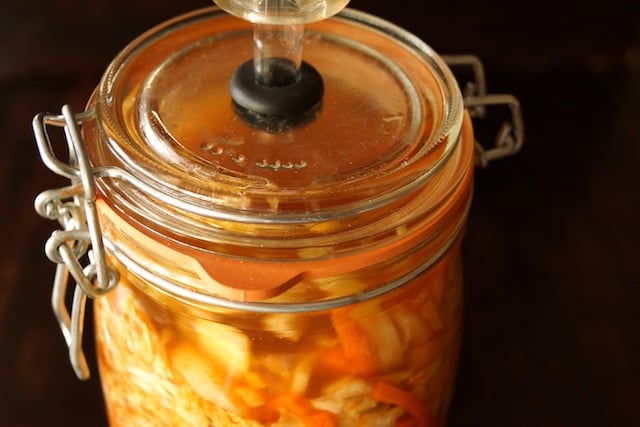 What is Kimchi?
Kimchi is the national dish of Korea and it refers to a variety of pickled vegetables which are typically consumed daily, at almost every meal.
This was originally a way to preserve vegetables for the winter months, and the average Korean consumes nearly 40-pounds of kimchi per year.
Takeaways from Chef Miller:
Fermented foods are healthier than raw foods.
Kimchi and other fermented foods are probiotic foods.  They contain Lactobacillus, which is the same bacteria used to make yogurt, and is valued for its ability to aid in digestion and keep a healthy balance of bacteria in our systems.
Only 3 ingredients are needed for fermentation of vegetables; water, salt and the vegetables.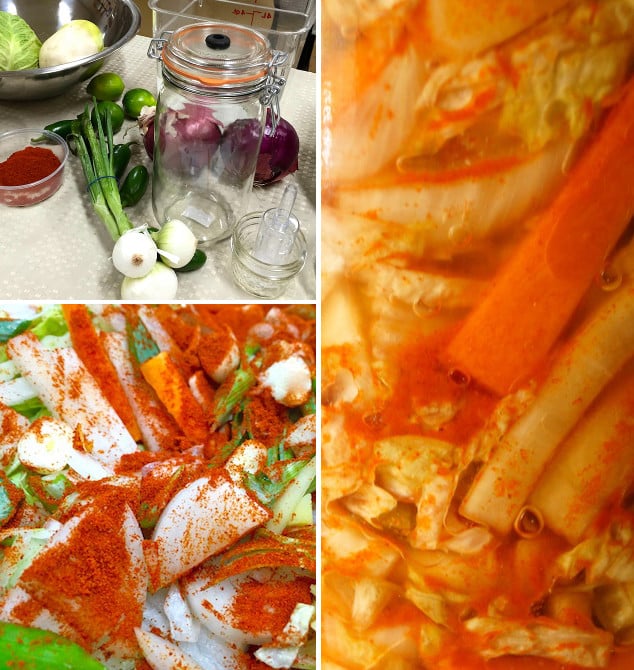 Top left:  The ingredients and the Air-Lock Lacto-Fermentation Kit | Bottom Left: Preparing the vegetables | Right: After about 1 week of fermenting
Some people say "everything is better with butter," (I agree with that on some level) -- but, my newest culinary saying is that "everything is better with Kimchi!"
You'll get it when you see my Grilled Sirloin Steak-Kimchi Sandwich and Kimchi Egg Ramen.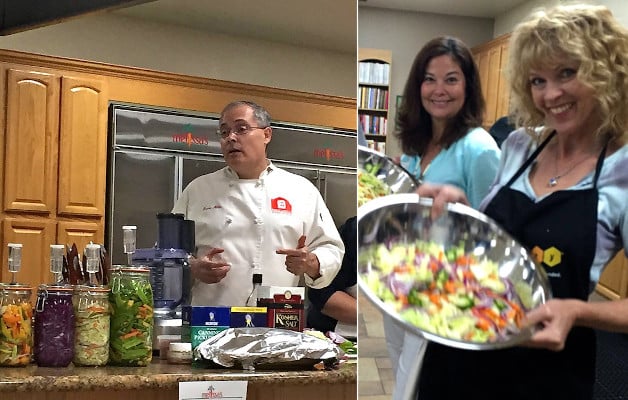 Left: Chef Ernest Miller | Right:  Two of my favorite food blogger friends: Priscilla of She's Cookin' and Cathy of She Paused for Thought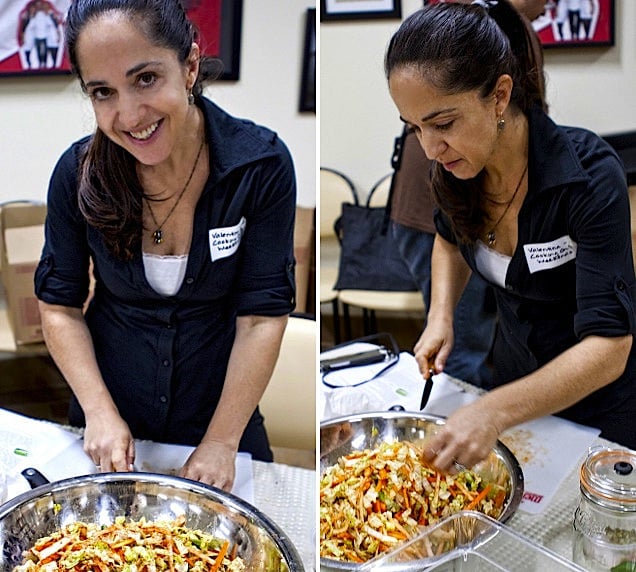 Here I am prepping away. Photo credit: Cathy Arkle
Thank you to Melissa's Produce for another amazing event. Robert Schueller, this was one of the best -- so educational and so much fun!
If you've never fermented foods before, I think you'll be amazed at just how easy it can be and learning how to make kimchi is fun!
Below is Chef Miller's recipe.

This is not a sponsored post.  I'm a huge Melissa's Produce fan and have been working with them for a few years now. I was given the Air-Lock Lacto-Fermentation Kit from Chef Miller to try it out.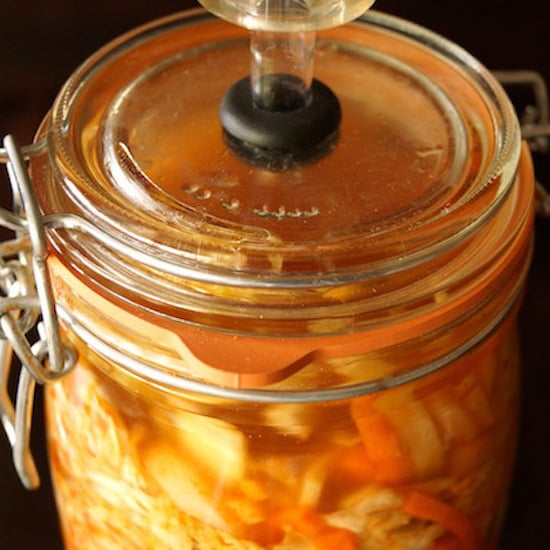 Kimchi Recipe
Learning how to make Kimchi
is fun and easy! Once you make it and have it on hand, you'll use it in all sorts of recipes.
Makes 1 (3 liter jar)
Ingredients
1

ounce for every 3-pounds of vegetables

pickling canning, kosher or sea salt

3

pounds

Napa Cabbage,

cored and coarsely chopped

8

ounces

Daikon radish

8

ounces

carrot,

super thinly sliced

4

green onions,

finely choppped (white and green parts)

3 to 4

cloves

garlic,

chopped, minced or whole

2

teaspoons

dried red pepper for kimchi

(you can find this in Korean markets, or you can use chile paste as a substitute)

3

tablespoons

fresh ginger,

grated or super thinly sliced
Instructions
Mix all ingredients thoroughly and pack firmly into your clean jar. Be sure the jar is filled to the "max" line but no higher. Place a clean notched weighting jar on the kimchi. This weight is to force water out of the kimchi and keep the kimchi submerged under the brine.

Seal your jar, gently twist the airlock into place and fill with brine or distilled vinegar to the fill line.

Store at 70 - 80°F. Kimchi will be fully fermented in about 1-2 weeks. At 60-65°F, fermentation may take 2-4 weeks.
NOTES
At temperatures lower than 60°F, the Kimchi may not ferment.
Above 80°F, it may become too soft.
Fully fermented Kimchi can be kept in the refrigerator, tightly covered for several months.
Calorie count is only an estimate.
NUTRITION
Have you tried this recipe?
I'd love to see it on Instagram! Tag me at @cookingontheweekends or leave a comment & rating below.
Save