Delicious, healthy and beautiful Nicoise Salad Cups with Honey-Lemon Dressing — a lovely display of fresh ingredients!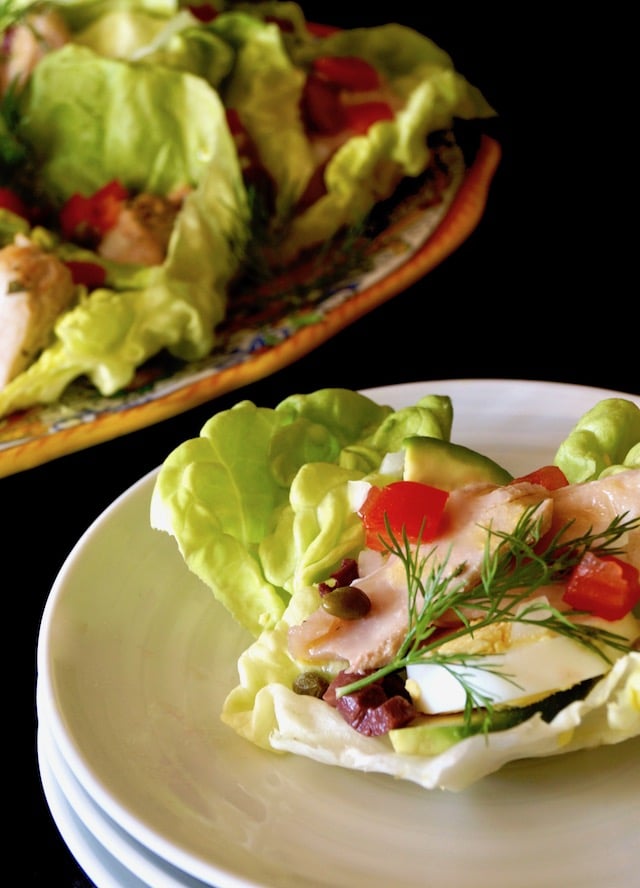 My parents bought their house, where my dad still lives, over 50 years ago.
They've always been so fortunate to have wonderful neighbors. I'm not talking about just nice — I'm taking about really good-will-do-anything-for-you people. Everyone looks out for each other — and they're friends. Real friends.
When my dad was in the hospital a few months ago, there were phone calls, emails, texts, flowers, cards, food, etc. And when my mom passed away, there was all of that and then some.
Inspiration for Nicoise Salad Cups
One of the neighbors, John, has lived right next door for over thirty years . Not only is he everything I mentioned above, but there's an additional benefit to knowing him — his passion for, and expertise in fishing.
My family has eaten a whole lot of fresh fish John's caught over the years. Really fresh, super delicious fish!
John recently gave me a gift, along with a culinary challenge.
He gave me a beautiful albacore tuna loin from a recent fishing excursion. He wanted me to see if I could prepare it in a way his wife Dana, might like it. You see, Dana isn't a fan of "fishy" fish, which Albacore can sometimes be. And she prefers tuna fully cooked, as opposed to raw or just seared.
I decided to make Nicoise Salad Cups and I was determined to make this somewhat fishy fish more mild, add some delicious flavors to it, work it into a super tasty recipe, and have Dana love it.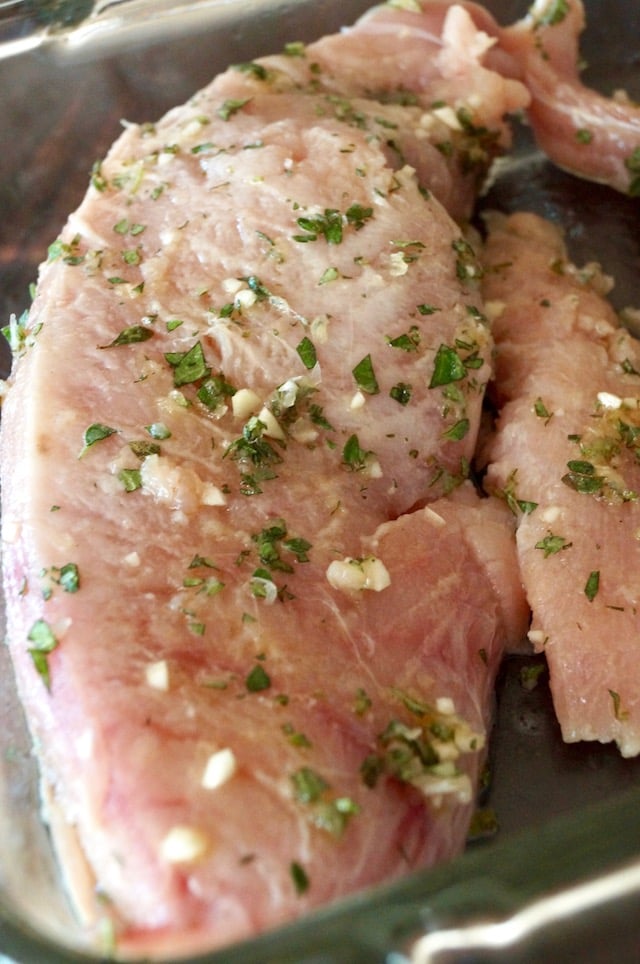 How to Make a Fish Taste Less Fishy
Soaking fish in milk for a brief time can help remove some of the fishiness, so I knew that would be step one. For the science behind this, check out this explanation from Cooks Illustrated. And to see how to do it, and check out instruction no. 1 in the salad portion of the recipe below.
It worked!
After the milk-soaking process, I added a rub-like marinade with fresh herbs, garlic and a little olive oil to the tuna. Then I cooked it in a very hot sauté pan — caramelizing it to perfection.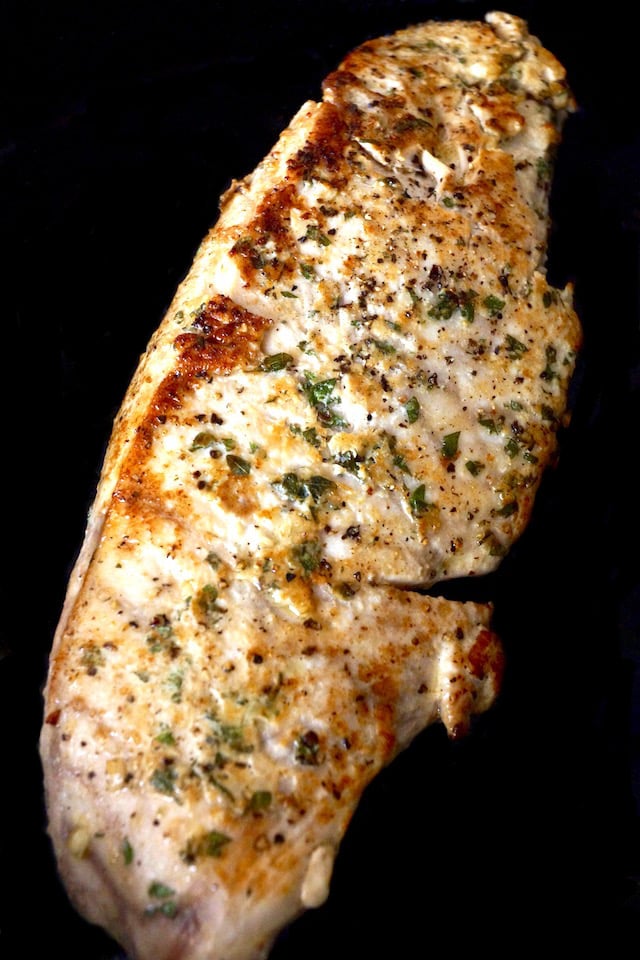 As you'll note in the recipe, you can cook it as long or as little as you'd like — assuming it's a very high quality/sushi grade fish, like this. (Here's some information on purchasing sushi grade fish.)
The tuna can be thinly sliced, and in some cases, it will almost "flake" apart.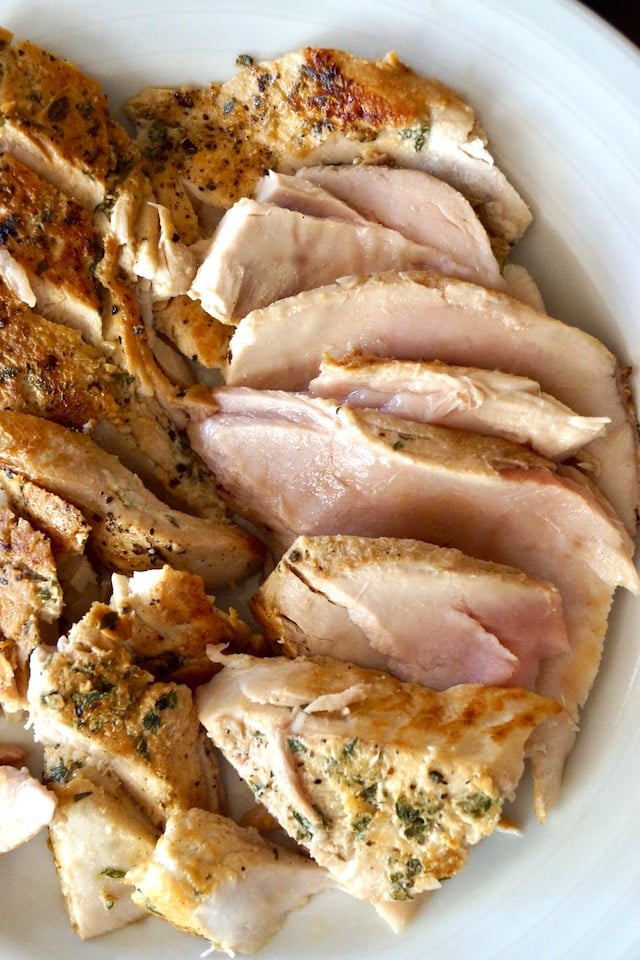 (You'll notice some pieces look more rare than others — the loin is thicker in the middle, so the ends are well done, which is the portion I gave Dana.)
Then one step at a time, it became part of a delightful Niçoise Salad.
How to Assemble Albacore Nicoise Salad Cups with Lemon Dressing
Topped with avocado, fresh dill and hard boiled eggs . . . .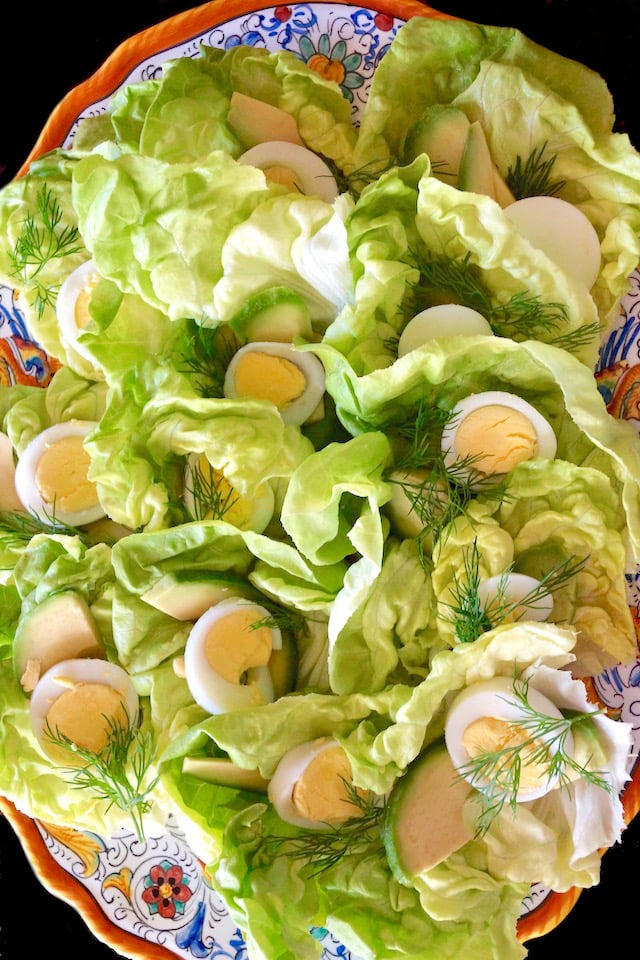 And the tuna, of course . . . .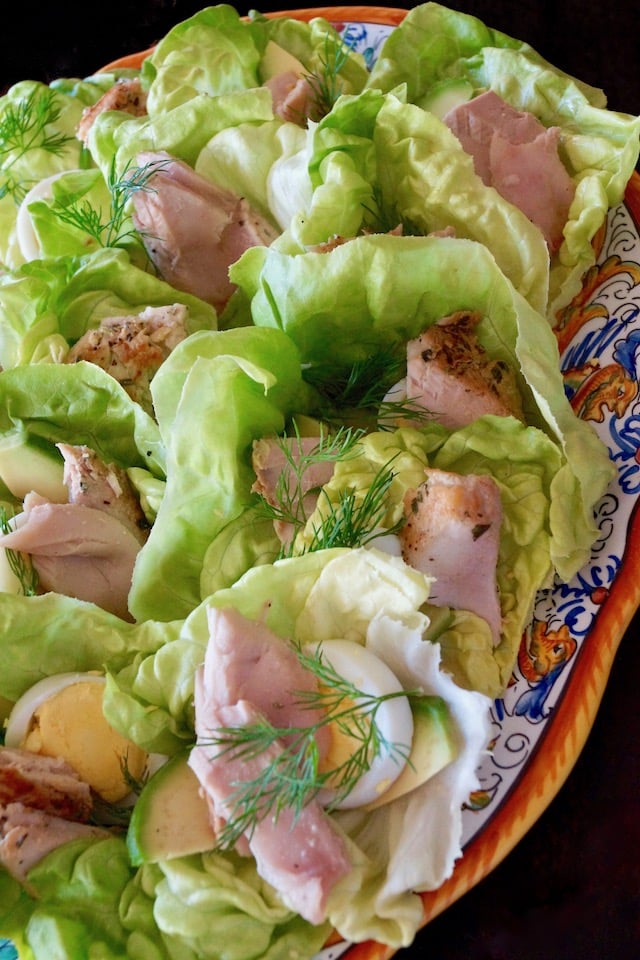 Followed by a sprinkling of olives, capers, tomatoes and onions . . .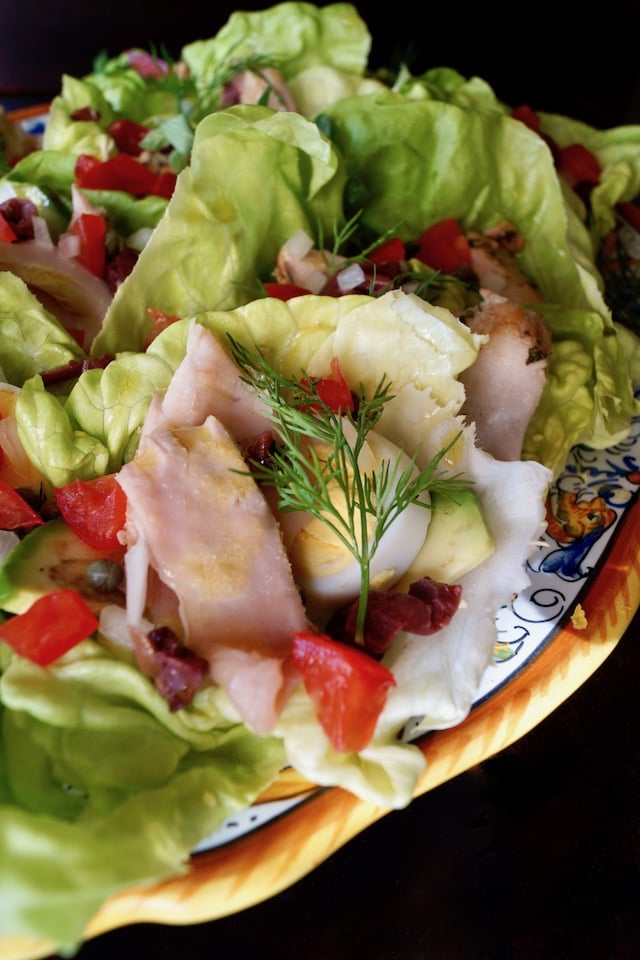 And finished with a drizzle of Lemon Dressing.
Dana loved it! Yay!
And so did the rest of us.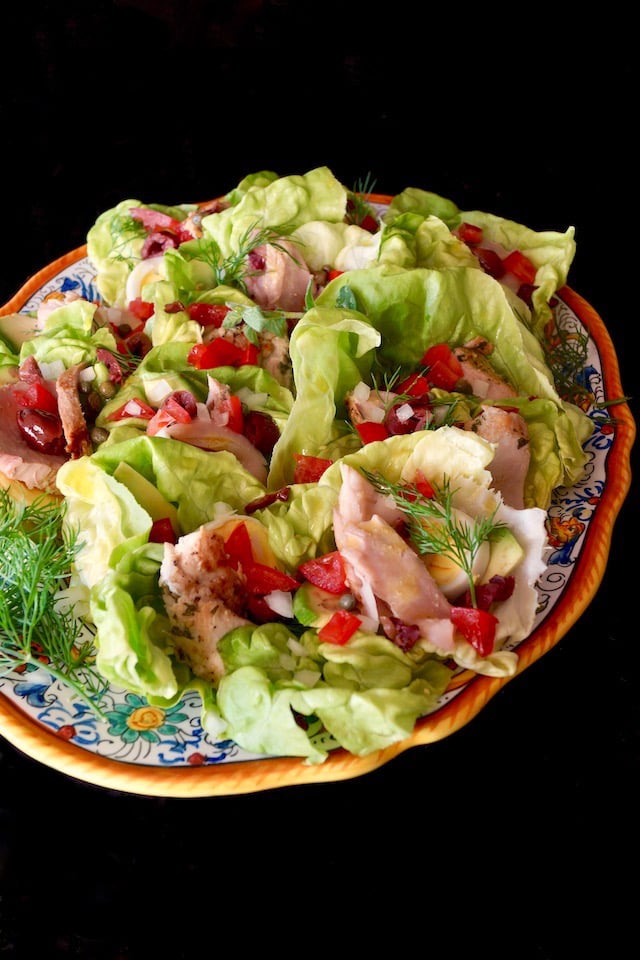 I hope you all enjoy every bite!
Maybe you'll invite some neighbors over to try these lovely Nicoise Salad Cups Nicoise Salad Cups with Lemon Dressing!
Albacore Nicoise Salad Cups with Lemon Dressing
Delicious, healthy and beautiful Niçoise Salad Cups -- a lovely display of fresh ingredients!*Please note that 30 minutes of the prep time is marinating time, and if you do the milk soak, it will add an additional 20 minutes.
Ingredients
For the dressing
2

tablespoons

fresh lemon juice

1½

teaspoons

honey

1

teaspoon

Dijon mustard

2

tablespoons

extra virgin olive oil

sea salt and freshly ground black pepper
For the salad
1

(approximately 1-pound)

albacore tuna loin

¾

cup

milk,

1 or 2% — optional (see recipe instruction no. 1)

2

teaspoons

fresh oregano,

washed and dried, finely chopped fresh oregano

1

teaspoon

fresh thyme,

washed and dried, finely chopped fresh thyme

2

teaspoons

garlic,

minced

1

tablespoon

olive oil

(plus a bit more for the pan)

4

large

hard boiled eggs,

sliced thinly

2

small heads

butter lettuce

12

small

dill sprigs,

washed and dried

½

small to medium sized

avocado,

thinly sliced

¼

cup

Nicoise or Kalamata olives,

pitted, roughly chopped

¼

cup

tomatoes,

seeded

1

tablespoon

capers

1

tablespoon

yellow onion,

finely chopped

salt and freshly ground black pepper
Instructions
For the dressing,
In a very small bowl, whisk the lemon juice with the mustard and honey, and then gradually add the oil. Season to taste with salt and pepper and set aside.
For the salad
If you prefer your fish to be as mild as possible, to remove some of the "fishy" taste from the albacore, soak it in the milk for 20 minutes. You can do this in a large zip-lock bag or a bowl, and it should be refrigerated. When you remove it from he milk, pat it dry with paper towels and proceed with the recipe.

In a tiny bowl, mix the oregano, thyme, garlic and olive oil together. Place the albacore in a large baking dish and then rub the herb mixture all over it. Cover with plastic wrap and let it marinate for 30 minutes.

Coat the bottom of a large sauté pan with olive oil and place it over high heat. Once it's very hot, sprinkle the marinated albacore with salt and pepper, and then add it to the pan. You should hear it sizzle when it hits the pan — otherwise, wait until you do. Sear each side of to brown it nicely, and then turn the heat to low-medium to cook it to the desired doneness. To cook it through, it will be about 7 minutes or so. To keep the center rare, it will be about 4 minutes or so. Remove it from the pan and set it aside to cool while you prepare the rest of the ingredients.

Cut the root ends off the lettuce heads and carefully pull off about 1 dozen leaves. Use a damp towel to gently clean them and place them on a large serving platter, round side down.

Add a small dill sprig to each lettuce leaf, followed by 1 or 2 avocado slices and about 2 slices of egg. Now thinly slice the albacore, and evenly distribute it among the lettuce cups, on top of the egg. Then sprinkle the entire platter with the tomatoes, olives, capers and onion.

Drizzle the desired amount of the dressing over the lettuce cups and serve.
Have you tried this recipe?
I'd love to see it on Instagram! Tag me at @cookingontheweekends or leave a comment & rating below.
Save
Save
Save
Save
Save
Save
Save
Save
Save
Save
Save
Save
Save
Save
Save
Save
Save
Save