This healthy Gai Lan Soup Recipe with Egg is as nourishing, comforting and delicious as it looks!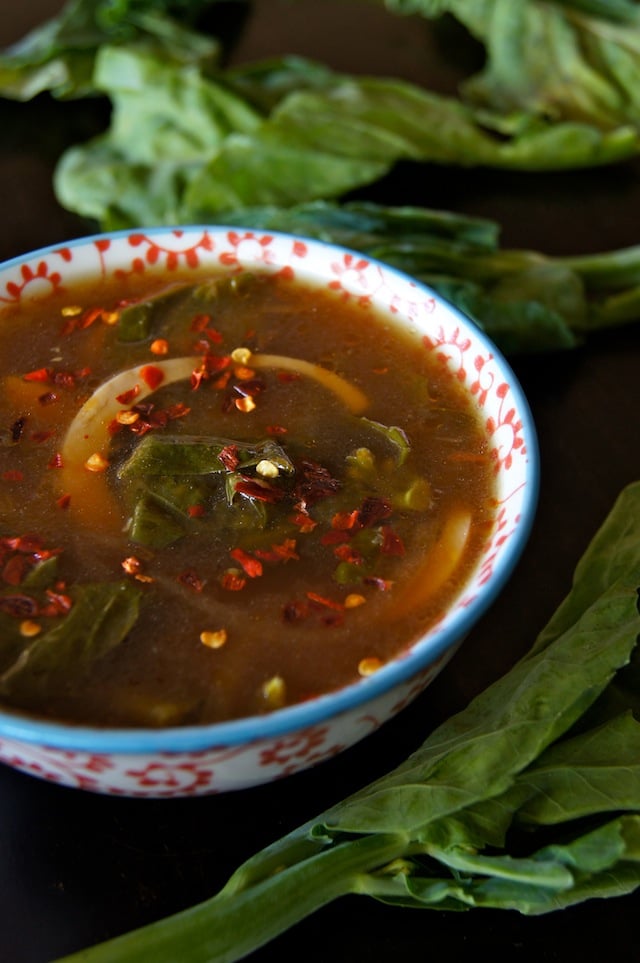 It's almost Chinese New Year, and I suggest serving this super delicious soup.
Have you ever heard of Gai Lan?
What is Gai Lan?
Gai Lan is actually Chinese Kale, and is often referred to as Chinese broccoli.
The dark green leaves of Gai Lan are packed with nutrients and become soft, like spinach, when cooked.
Gail Lan has thick green stems and deep green leaves.  As with most greens, the younger the plant, the more tender the stalks and leaves are.
The flavor is similar to broccoli, both bitter and sweet. Though perhaps a little more bitter, which mellows as it cooks, making it perfect for gai lan soup or in stir-fries.
Gai Lan is available year-round.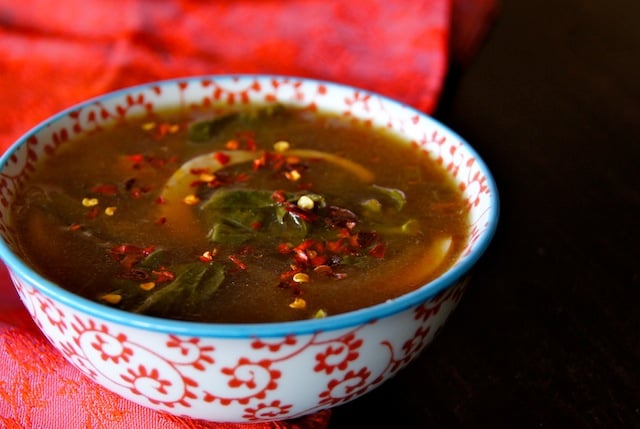 What does Gai Lan taste like?
Gai Lan is similar to broccoli, but with a much stronger flavor that is slightly bitter. I especially love it in soups because the bitterness mellows and it keeps its sweet and pungent flavor even after a longer cooking time.
How to Serve Gai Lan
Gail Lan is delicious sautéed with oyster sauce and garlic. It shines in all sorts of stir-fries.  It's also one of my favorite greens to add to soups.
This Gai Lan Soup Recipe is on the spicy side, and with the addition of egg and miso, it's not only healthy, but it's quite rich and hearty.
If you are cooking up a Chinese New Year's menu, I hope you include the soup.
It would be delicious with  Crispy Garlic Ginger Bok Choy Chips. . .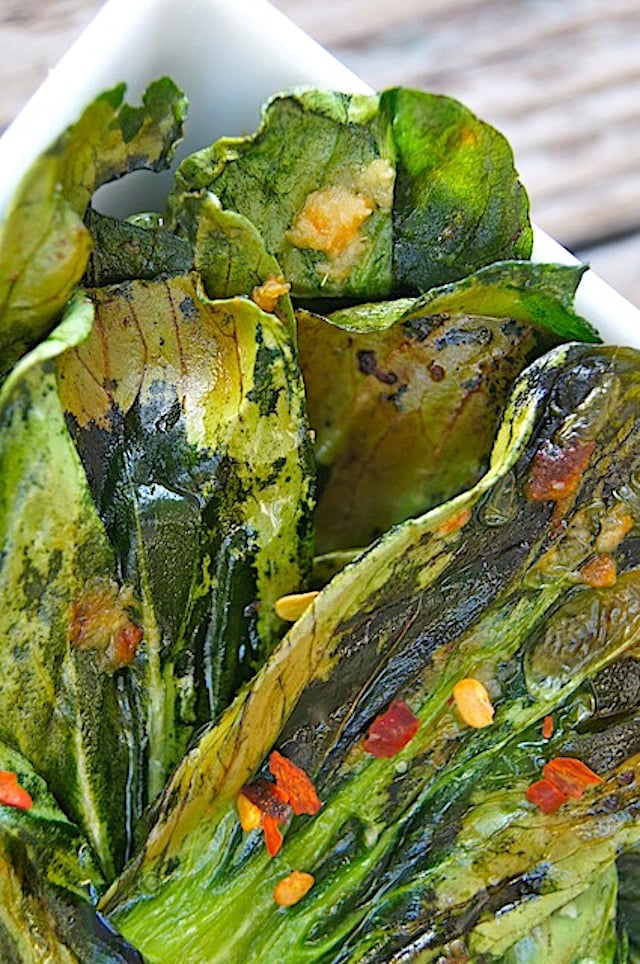 Whatever you serve it with, I hope you enjoy every last spoonful of the gai lan soup!
I want to thank Melissa's Produce again for essentially sending me Chinese New Year -- in a box. This is not a sponsored post, as always, all opinions are my own.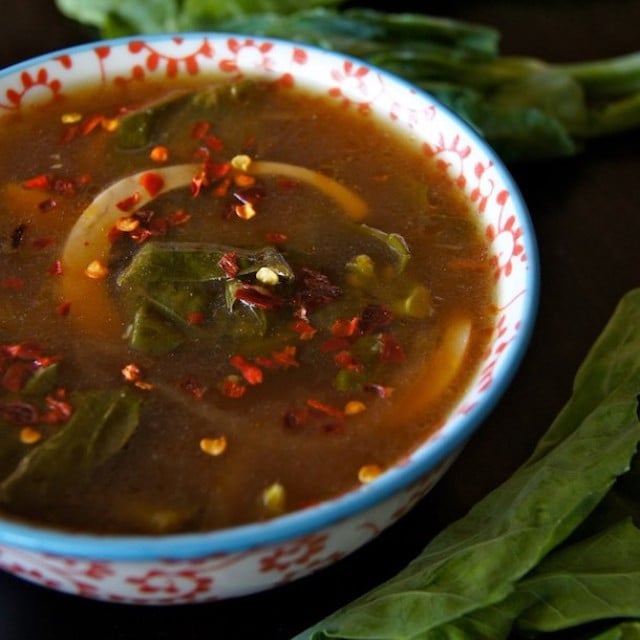 Gai Lan Soup with Egg
This healthy Gai Lan Soup Recipe with Egg is as nourishing, comforting and delicious as it looks!
Please note that the prep time does not include hard boiling the eggs, which will take 15 to 20 minutes. (
Here's how to hard boil eggs
.)
Ingredients
grapeseed oil for the pot

1

tablespoon

ginger pulp

1

teaspoon

garlic,

minced

1½

teaspoons

chili paste

¾

cup

yellow onion,

thinly sliced

3

cups

Gai Lan,

washed and dried, roughly chopped, tough portions of stems removed

5

cups

warm water

4

hard boiled eggs,

yolks removed, thinly sliced

salt to taste
Instructions
Coat the bottom of a large soup pot with grapeseed oil and place it over medium-low heat. Add the miso, ginger, garlic and chile paste. Let this sauté for a couple of minutes, and then add the onions. Continue to sauté until the onions are soft and translucent, about 7 minutes.

Add the Gai Lan and cook just until it's wilted. Then add the water and bring to a boil.

Add the sliced hard cooked egg whites, cover the pot, reduce the heat to low and simmer for about 15 minutes.

Season to taste with sea salt and garnish each serving with dried chili flakes.
NOTES
Calorie count is only an estimate.
NUTRITION
Have you tried this recipe?
I'd love to see it on Instagram! Tag me at @cookingontheweekends or leave a comment & rating below.
Cooking On The Weekends is a participant in the Amazon Services LLC Associates Program, an affiliate advertising program designed to provide a means for sites to earn advertising fees by advertising and linking to Amazon.com.