Pumpkin Braised Short Ribs are every bit as dreamy as they sound. These ribs are super succulent and the pumpkin braising sauce is subtly sweet, rich and creamy.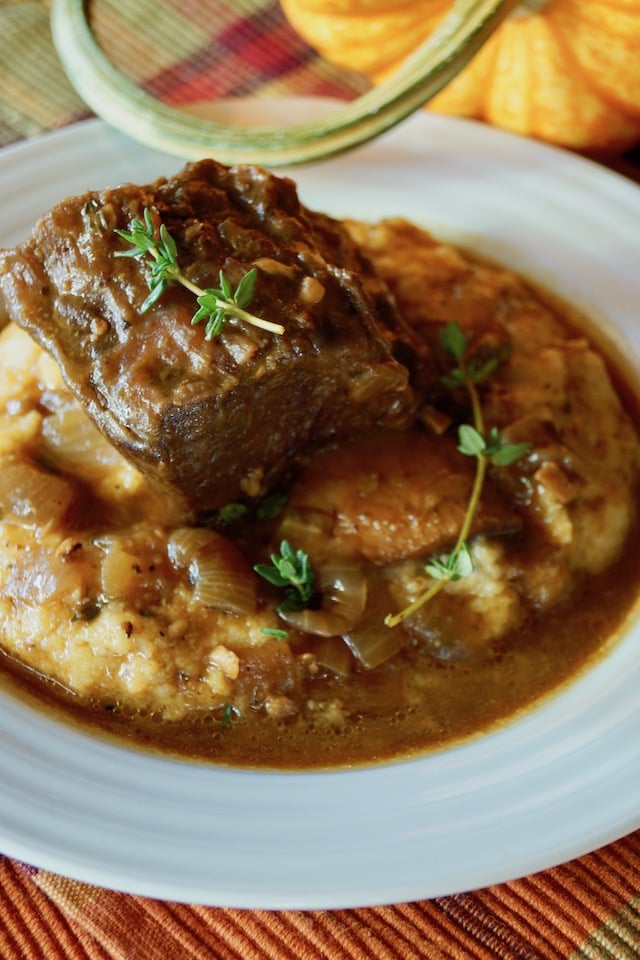 In October, as we head deeper into fall, naturally we feel the urge to cook with pumpkins and make warm, comforting one-pot meals.
Pumpkin Braised Short Ribs are exactly that, and not to be missed!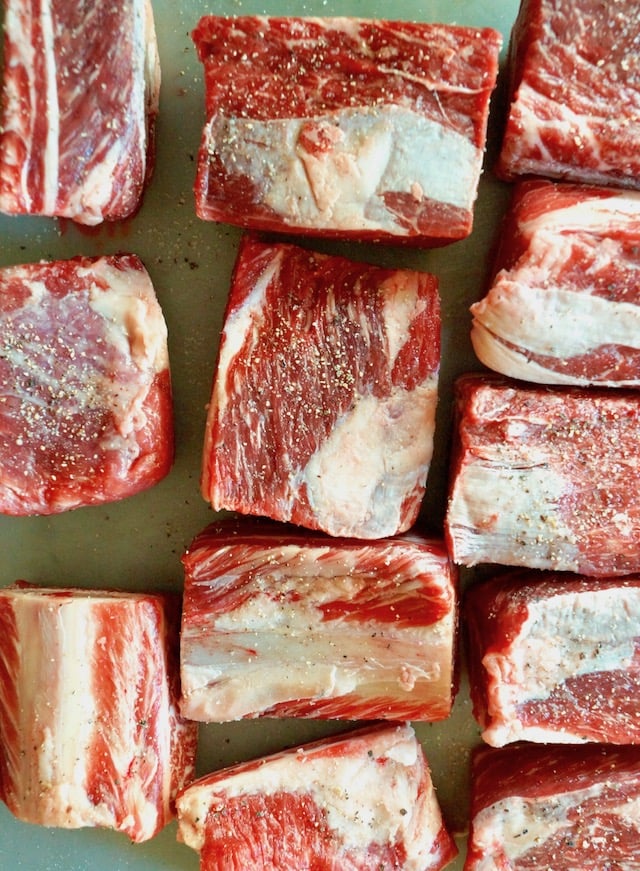 How much do you love it when you arrive at a home, and you're immediately swept in by alluring, comforting, aromas of food cooking?
I love it.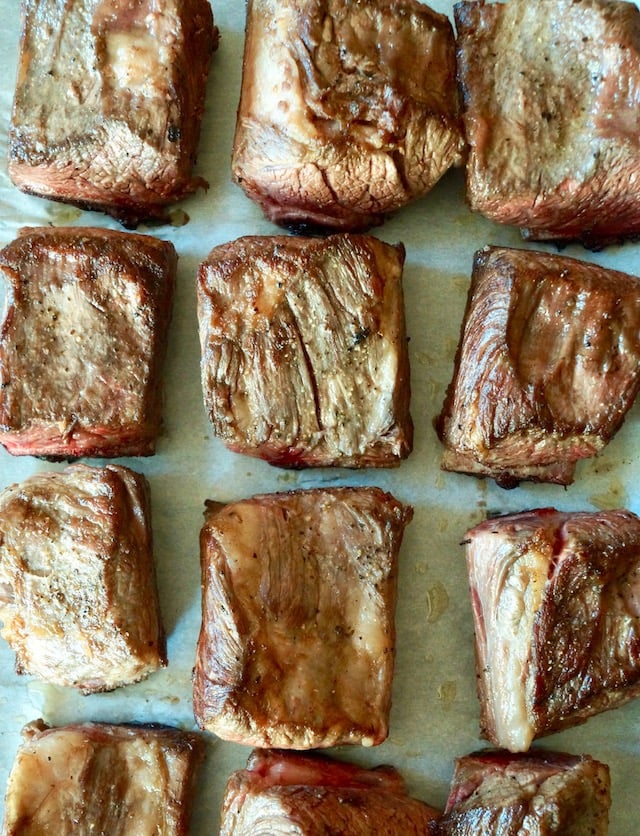 Making braised short ribs will do that very thing.
And if you decide to make this for guests, I think they'll take in some of this incredible aroma as they step out of their car and head up your walkway.
They'll be thinking, "I can only hope that's coming from this house."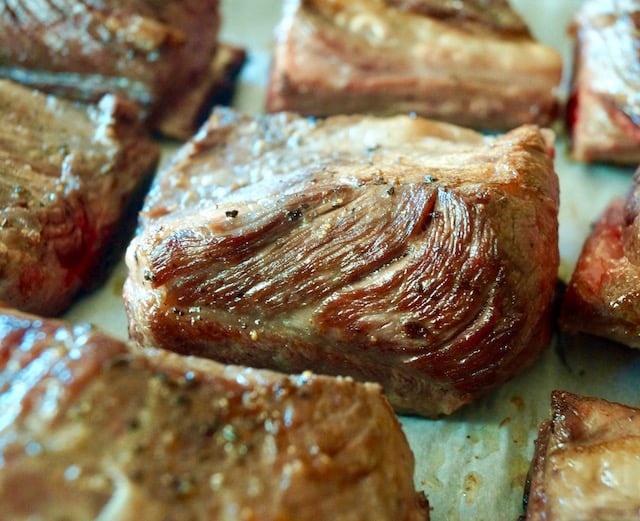 Believe me, I know time is precious, but so is food.
Sure, this recipe takes some thoughtful planning, but after you get it going, it'll just hang out in the oven for a couple of hours (and perfume your home while it does).
What does every good stew begin with?
Every good stew begins with onions. Always.

What to Serve With These Ribs
My Pumpkin Braised Short Ribs are divine served with polenta — especially this

Creamy Gorgonzola Polenta

.
Pasta, rice or bread would also be lovely — something to soak up every bit of the sauce.
Can you make braised short ribs ahead?
Yes! You can make this over the weekend and enjoy it all week long. It only gets better with time.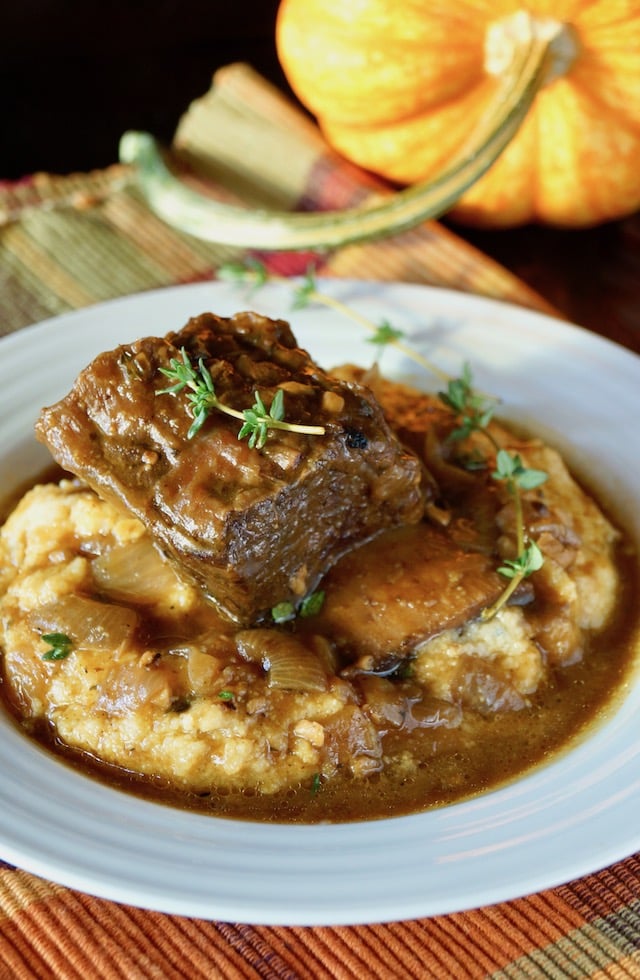 Enjoy every last bite of this most amazingly comforting and delicious Pumpkin Braised Short Ribs!
More delicious short rib recipes . . .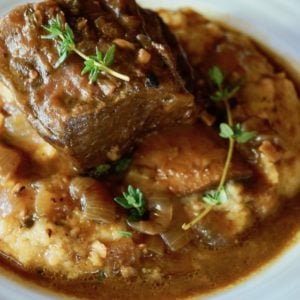 Pumpkin Braised Short Ribs
Pumpkin Braised Short Ribs are every bit as dreamy as they sound. These ribs are super succulent and the pumpkin braising sauce is subtly sweet, rich and creamy.
Ingredients
4¼

pounds

beef short ribs,

bone-in

olive oil to coat pan

4

cups

onion,

sliced thick (about 1/4-inch)

1½

tablespoons

garlic,

finely chopped

3

tablespoons

fresh thyme,

finely chopped

½

teaspoon

ground cinnamon

1

cup

pumpkin purée

3

cups

beef stock

1

cup

red wine

salt and freshly ground black pepper
Instructions
Season the ribs. Place the ribs on a baking sheet and season all sides generously with salt and pepper.

Sear the ribs. Lightly coat the bottom of an oven-safe pot (approximately 10 to 12-inch diameter), with olive oil. (A Dutch Oven is perfect.) Place the pot over high heat. Add the ribs to the pot once it's very hot, about 4 at a time -- you should hear a sizzling sound, and if you don't, it's not hot enough. Wait until it's very hot and listen for the sizzle! Searing the meat this way seals in the juices, caramelizes the surface, and reduces the overall cooking time. Brown the ribs very well, about three minutes per side. Remove the ribs from pot, place them on a plate, and set aside. Repeat this until all of the ribs are browned.

Begin making the braising liquid/sauce. Add the onions to the pot and cook over medium-high heat, stirring often, until they are golden and are soft, about 10 minutes. Add the garlic and cook for another 5 minutes. Add the fresh thyme and cinnamon and cook for another minute or so, until it's very aromatic. Now add the pumpkin and cook until it begins to brown, about 5 minutes. The bottom of your pot will become brown, too, and this is okay. In fact, it's great! It is flavor!

Deglaze, simmer and set the oven. Pour in the stock and wine and use a deglazing spatula (a wooden one with a flat edge is best), to scrape the bottom of the pan, working all the wonderful flavor back into the sauce. Bring to a boil, then lower to a simmer and do not cover. Let the mixture simmer until it has reduced by about ⅓, about 20 minutes.

Preheat the oven to 325°F.

Add the ribs to the liquid and braise in the oven. Return the ribs to the pot and gently stir them into the sauce. Cover the pot and place in the preheated 325°F oven. Braise until the meat is very tender and easily comes off the bone, about 2 hours. Turn the ribs over halfway through the cooking time.

If the braising liquid is as think as you'd like it to be, then it's ready. Otherwise, to thicken the liquid further, remove the lid, place the pot over low heat on the stove, and let it simmer until it's as thick as you'd like.
Notes
Calorie count is only an estimate.
Have you tried this recipe?
I'd love to see it on Instagram! Tag me at @cookingontheweekends or leave a comment & rating below.