Bok Choy Chips are the new big thing in healthy vegetable snacks! Homemade and flavored with garlic, ginger and chili paste, you won't be able to stop eating them.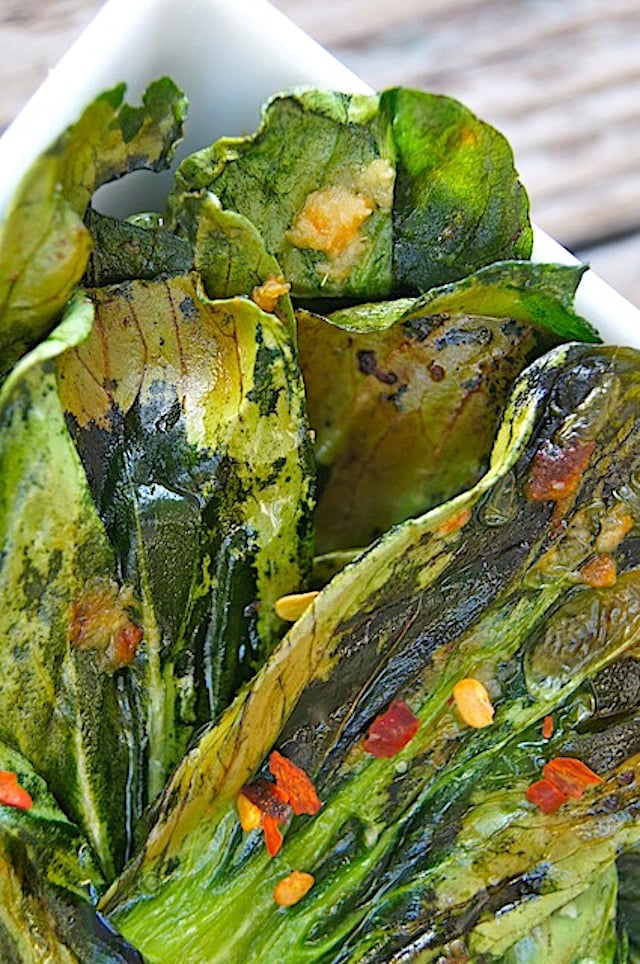 Spicy and and full of flavor, Crispy Garlic Ginger Baby Bok Choy Chips are an addicting snack, a scrumptious side dish and would add perfectly to a menu celebrating the Chinese New Year!
Really, they're ideal for any occasion.
Snacks for Chinese New Year
The celebration for the Chinese New Year is a fifteen-day festival. Though I'm not even close to being an authority on this holiday, it seems to be focused greatly around family — and food.
Here's a great overview of the holiday.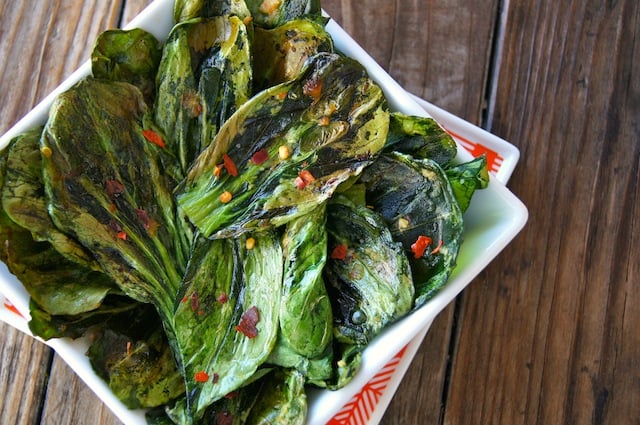 I absolutely love Asian flavors and greens, and this quick and easy recipe is a fun way to use Baby Bok Choy to kick off a Chinese New Year feast — or any meal.
Or, here's another idea . . . make this for a super cool Game Day snack.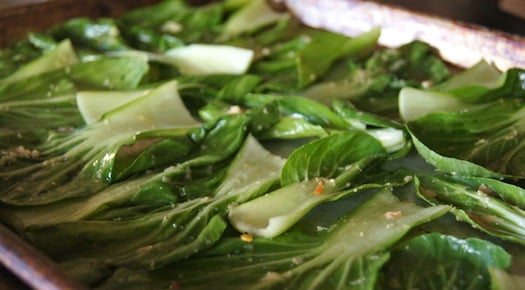 How to Serve Crispy Garlic Ginger Bok Choy Chips
Right off the bat, I imagine these in a large serving bowl for snacking.
They're also lovely to serve as a side dish. The bok choy chips would be delicious with meat, chicken or fish.
How about in a burger? I would love it.
Move over kale chips. 😉 Though they can also be super tasty, the markets seem to be saturated with them lately. Let's try something new and different.
You can make all sorts of homemade vegetable chips, actually. And not just from leafy greens, either. You can use beets, sweet potatoes, turnips, carrots, and the list goes on.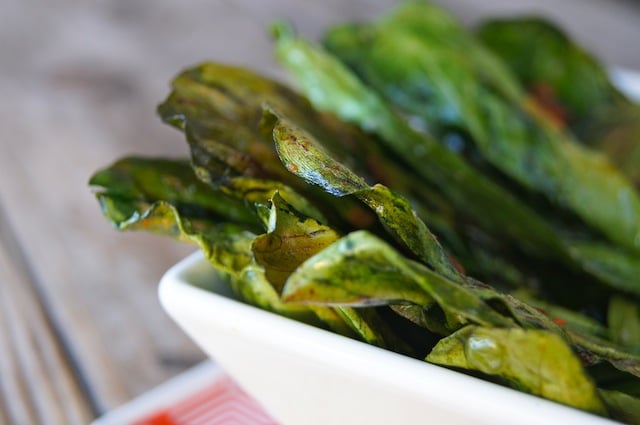 Those are a bit more common, and more easily found in stores. I love making things you wouldn't typically see, and these bok choy chips are certainly in that category, and they've become my new favorite homemade vegetable chips.
Enjoy!
A few more of my favorite bok choy recipes:

Crispy Garlic Ginger Bok Choy Recipe
These homemade vegetable chips are especially delicious because they're flavored with garlic, ginger and chile paste.
Keyword:
good vegetables for making chips, party food
Ingredients
¼

cup

grape seed oil

½

teaspoon

chile paste

I like Sambal Oelek

1

teaspoon

garlic,

freshly grated

1

teaspoon

ginger pulp

8

heads

Baby Bok Choy

sea salt
Instructions
Preheat the oven to 425 degrees F, and adjust a couple of racks towards the center.

In a small mixing bowl, combine the oil, chile paste, garlic and ginger. Mix until it's evenly blended and set aside.

Cut the root ends off of each bok choy -- the leaves will separate when you do this. Wash and dry them. Now you have a choice -- if you want "chips," cut the stems off of the leaves (save them for another use), OR if you want to serve this as a side dish, or over rice, leave the stems on. Either way, coat both sides of each leaf, individually with the oil mixture. You can do this with a pastry brush, your hands, or by gently dredging each leaf through the mixture. As you do this, lay them in a single layer on a baking sheet (you will need approximately 2). Then sprinkle them lightly with sea salt.

Place the baking sheets in the preheated oven and bake them until they have darkened and are starting to become crisp, about 6 minutes. Gently flip each one over and bake just until they are crisp -- similar to a chip, but a bit softer and more fragile. This should take about 2 more minutes.

To cool them, place them in a single layer on a baking rack and let them sit for at least 5 minutes -- and if they seem particularly oily, place them on paper towels to cool.


Sprinkle with dried chile flakes and serve.
Recipe Notes
For this recipe the best way to grate the ginger and garlic is with a Microplane zester. If you don't have one, simply chop them as finely as possible.
Save
Save
Save
Save
Save
Save
Save
Save