Hazelnut Chocolate Chip Cookies are gluten-free and full of the flavor of Nutella. You'll think you're eating Nutella right from the jar — but, with hazelnut meal and cocoa powder, you're eating homemade Nutella — in the form of a cookie! Recipes with homemade Nutella can be just as delicious as the real thing. These cookies prove it!

Hazelnut Chocolate Chip Cookies are Nutella-ish.
Please don't worry about the "ish."
Inspiration for Homemade Nutella Cookies
These cookies are full of hazelnut-chocolate deliciousness and are very reminiscent of what I eat with a spoon out of a jar. 😉 I've found that cookie recipes with homemade Nutella can be every bit as scrumptious as recipes with with Nutella from a jar.
My gluten-free son loves them, and he's tough to please — even when it comes to desserts.
If there's a gluten-free eater in your life, watch out if you make these for them, because you'll be making them every couple of days! Though gluten-free or not, these melt-in-your-mouth cookies are a huge crowd-pleaser.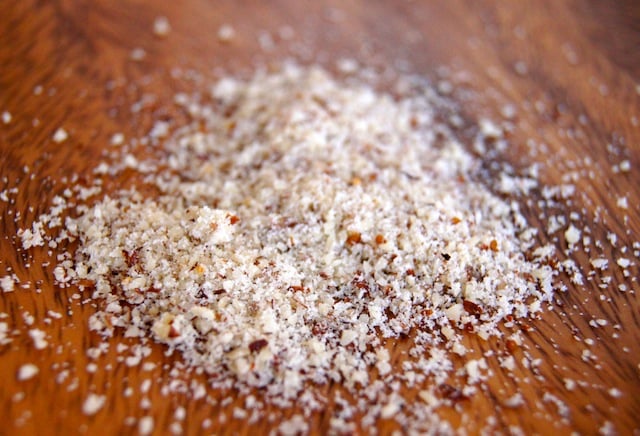 * hazelnut meal *
More Nutella Cookies
And if you want a really intense Nutella cookie, you must also try my Nutella Chocolate Chip Cookies (pictured below)! These do have the Nutella from the jar — so you can compare. A taste test would be fun! 😉
Homemade is Always a Good Choice
Let's be honest though, it's always going to be a healthier choice to make your own, as opposed to using something from a jar. Whatever it is. When you make it yourself, you know exactly what's in it.
The hazelnut meal adds the wonderful flavor of hazelnuts, along with a buttery taste and texture. Add chocolate to that, and it's hard to go wrong! So obviously, recipes with homemade Nutella will be a hit!
Enjoy every last crumb of these Hazelnut Chocolate Chip Cookies!
This is not a sponsored post, Bob's Red Mill sent me Hazelnut Meal/Flour for recipe testing, and as always, all opinions are my own.
Hazelnut Chocolate Chip Cookies
These gluten-free cookies are full of the goodness of chocolate and hazelnut! You'll think you're eating Nutella right from the jar -- but, with hazelnut meal and cocoa powder, you're eating homemade Nutella -- in the form of a cookie!
*Makes about 6 1/2 dozen
Keyword:
gluten-free cookies, Nutella recipes
Instructions
Cover a couple of baking sheets with parchment paper.

In a medium-sized mixing bowl, mix the butter with the sugar, oil and vanilla. Once it's smooth, add in the eggs and mix to blend.

Add the hazelnut meal/flour, cocoa powder, gluten-free all-purpose flour, salt, xanthan gum, and baking soda. Mix until the batter is as smooth as possible and you no longer see any dry spots.

Fold in the chocolate chips.

Use a small cookie scoop or spoon to shape balls of dough onto the prepared baking sheets -- they should be about a tablespoon each. Drop them as close together as possible without letting them touch. Cover the baking sheets tightly with plastic wrap, and place them in the refrigerator overnight.

The next day, preheat the oven to 375°F, and cover another baking sheet with parchment.

Once the oven is ready, remove the baking sheets from the refrigerator and place about 1 dozen pre-shaped cookies on the new baking sheet, with about 2-inches between them. Sprinkle them with a bit of coarse sea salt.

Bake in the preheated 375°F oven just until the cookies look dry, about 8 minutes. Continue this process until all of the cookies are baked, keeping the pre-shaped cookies in the refrigerator between batches.

Let them cool on the baking sheet for a few minutes and then transfer them to a cooling rack.
Cooking On The Weekends is a participant in the Amazon Services LLC Associates Program, an affiliate advertising program designed to provide a means for sites to earn advertising fees by advertising and linking to Amazon.com.