I serve Pulled Pork Nachos with Chicas Chips and Salsa. Simply put, they're the best! And they bring these nachos to another level.
If you've been following Cooking On The Weekends for any amount of time, I'm sure it's clear that I get very enthusiastic about things I love. You've seen how many exclamation points I use! 😉
Well my friends, today it's all about chips and salsa -- and pulled pork nachos.
Full disclosure: I contacted Arboleda Foods and offered to write about them. I'm not being monetarily compensated for this post. I was given product for recipe testing and promotion. I was simply eager to share their brand with you because I'm in love with it.
I've been serving Chicas Chips for a few years now at parties, and the response to the chips is always overwhelmingly positive. Everyone proclaims them to be the best chips they've ever had, and they want to know the brand and where to get them. Everyone! And that's exactly why I wanted to share them with all of you.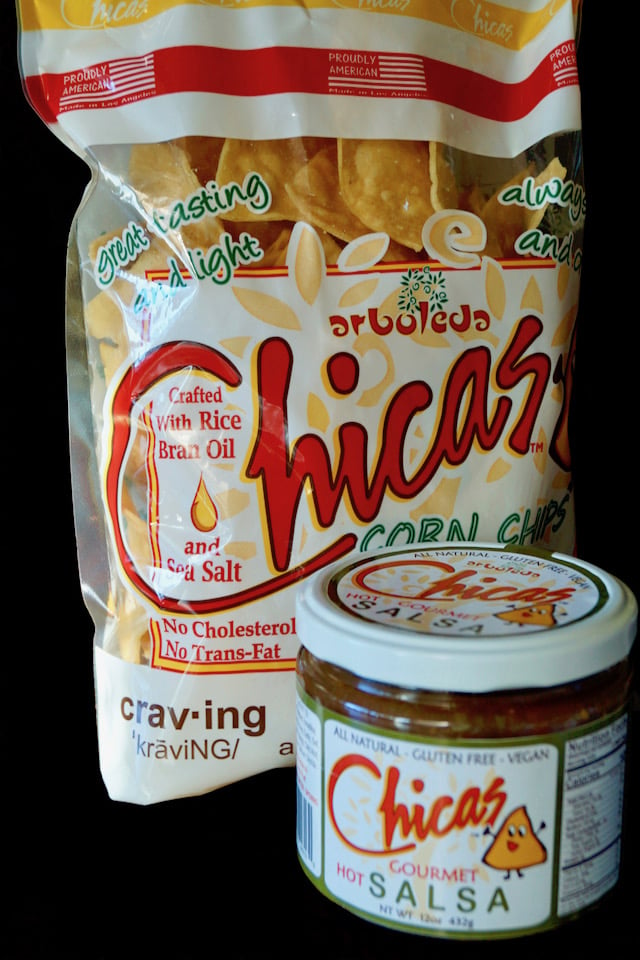 Arboleda Foods
Arboleda Foods is a family-run business (my favorite kind!), located in Los Angeles, CA. The founder, Irlanda Montes, began the business in 2010 with one goal in mind: "to learn everything she could to see her beloved mother's salsa made to be enjoyed by everyone."
Irlanda debuted the salsa at an LA Farmers Market in 2011, along with homemade chips to serve it with. Not only was the salsa a hit, but the chips were an even bigger hit.
Arboleda Foods' Chicas Chips and Salsas are in over 70 locations today!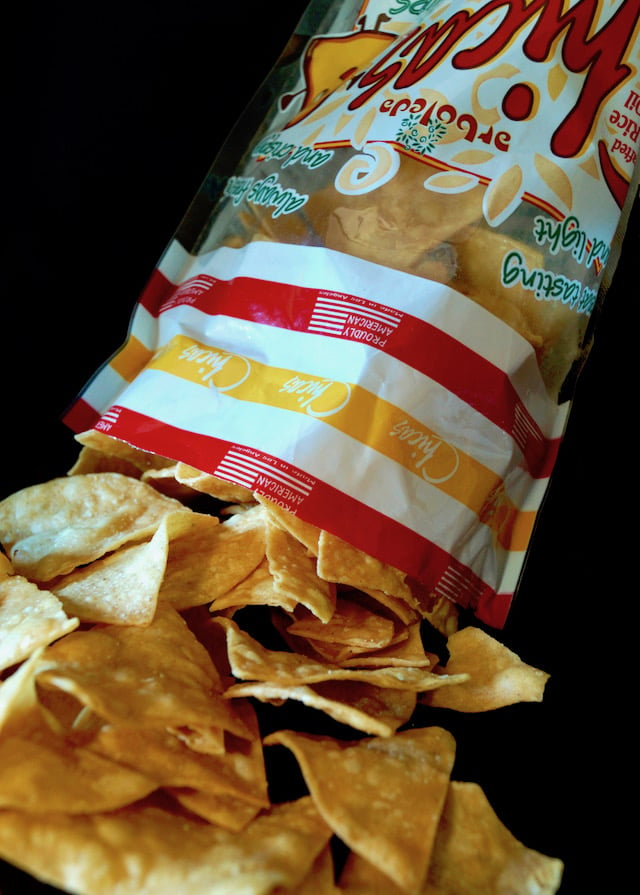 Chicas Chips are the best for my Pulled Pork Nachos
Chicas Chips are always deliciously fresh, crispy, light and perfectly seasoned with sea salt.
They're hand-crafted in pure rice bran oil. The combination of the rice bran oil and sea salt gives them a unique, exquisite flavor.
And on top of all of that, the chips are gluten-free, vegan, have no trans-fat and no cholesterol.
Why rice bran oil?
Rice bran oil

is the oil extracted from the hard outer layer of rice, and it has a very high smoke point and a mild flavor. The high smoke point makes is perfect for high-temperature cooking methods like frying and deep frying.
Naturally GMO free, rice bran oil is a heart healthy oil that contains a balanced amount of monounsaturated, polyunsaturated and saturated fats.
Foods — the chips in this case — absorb less oil when rice bran oil is used for cooking because the viscosity of the oil is quite light. As a result of less oil absorption, foods cooked in it will be lighter, have fewer calories, and enhanced flavor.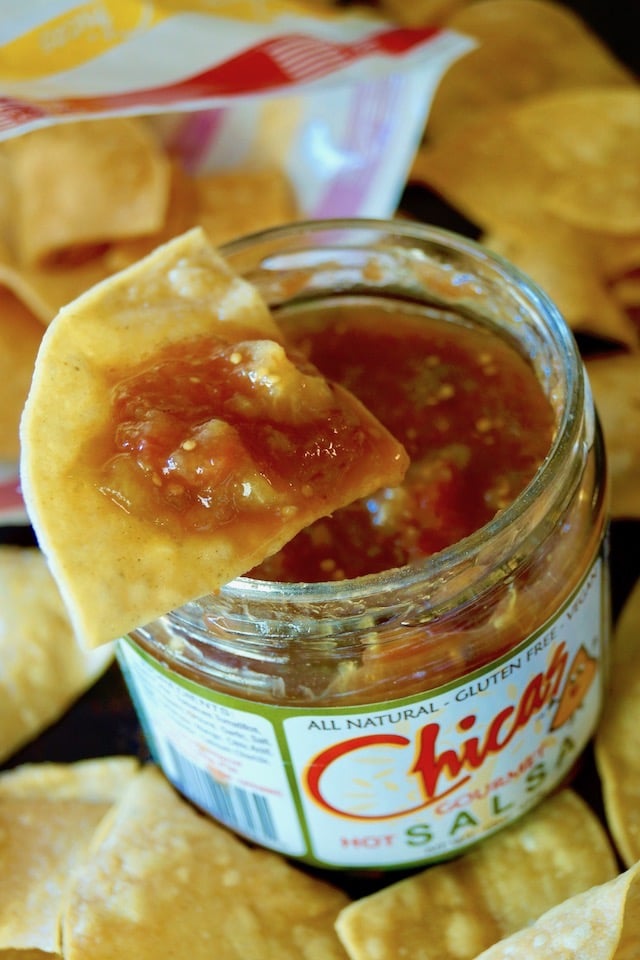 About the salsa . . .
Chicas Gourmet Hot Salsa is not too hot. I generally don't like things labeled "hot," as they're typically too hot for me. This salsa however, is just right — spicy but easy on the mouth. Know what I mean?
The salsa is rich in flavor, as it's slowly cooked to perfection with tomatoes and tomatillos. I also love it served with grilled chicken shrimp or steak.
I'm sure you haven't forgotten the over-the-top Perfect Spiced Pulled Pork we made the other day, right?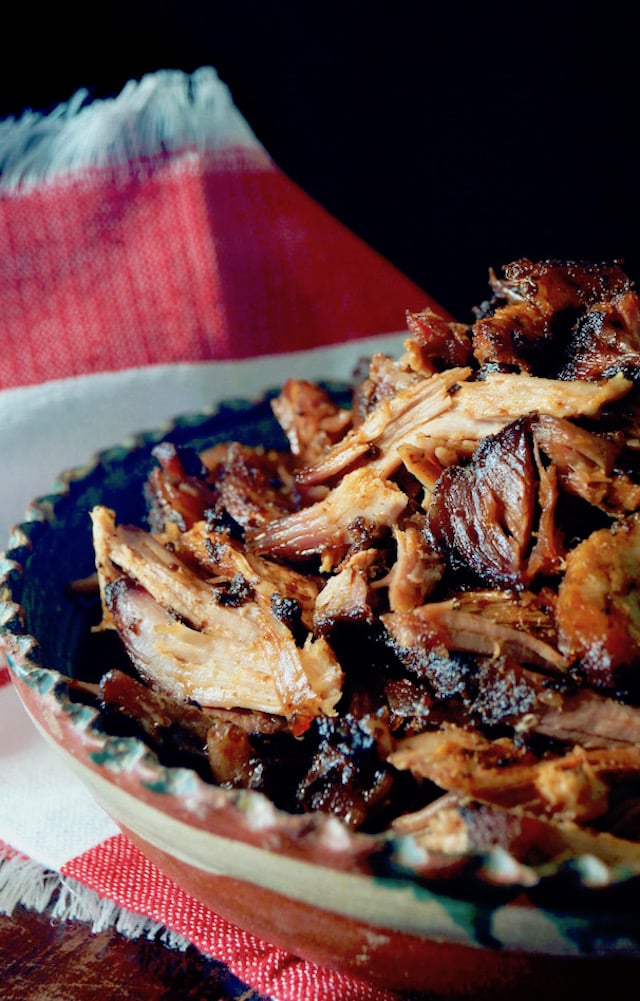 Now imagine that, if you will, on Chicas Chips, with a bit of melted pepper jack cheese, fresh avocado and tomato, all balanced with Chicas Salsa which adds exactly the right amount of spice.
Enter Pulled Pork Nachos!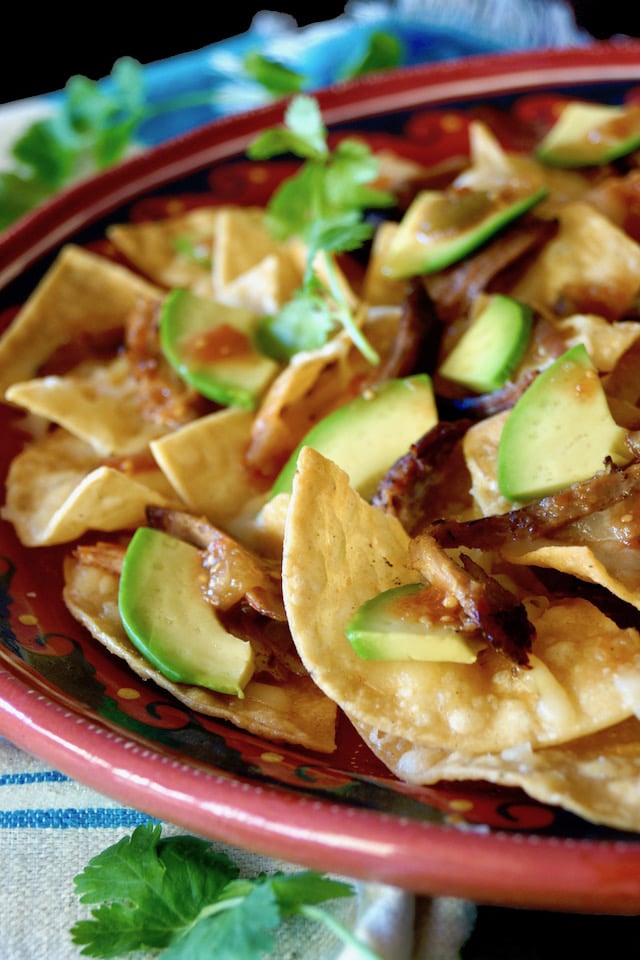 HERE are all of the store locations that sell Chicas Chips & Salsa, or you can order them here.
And of course, enjoy the Spiced Pulled Pork Nachos!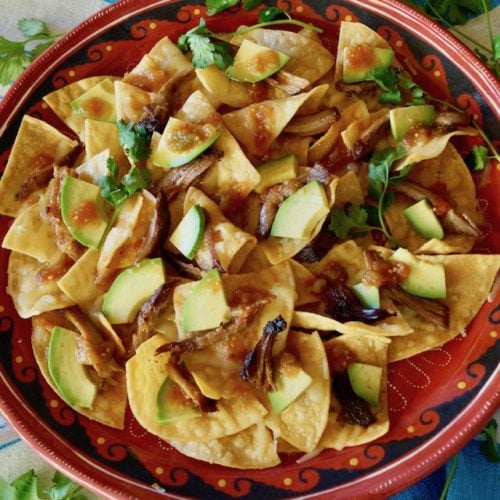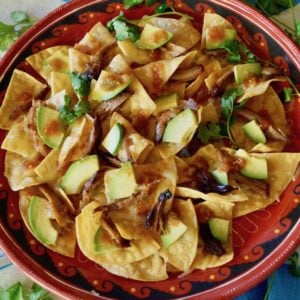 Pulled Pork Nachos
These nachos will be the hit of any family dinner, get together with friends and/or family, game day, or any other occasion! 
Please note the the prep time does not include making the pulled pork which you can and should do ahead of time! (
Perfect Spiced Pulled Pork recipe is here
.)
Ingredients
1

(9.5-ounce ) bag

Chicas Chips

2½

cups

pepper jack cheese,

grated

1½

cups

cherry tomatoes,

washed and dried, sliced in half

½

cup

Chicas Gourmet Hot Salsa

1

medium-large

avocado,

cut into thin, bite-sized pieces

fresh cilantro sprigs for garnish (if desired),

washed and dried
Instructions
Preheat the oven to 400°F and line a sheet pan with foil.

Add as many of the chips to the pan that will fit nicely in a single even layer. Sprinkle them with about half of the cheese, pork and tomatoes. Then drizzle about half of the salsa on top.


Repeat above process, using the remaining ingredients, directly on top of the previous layer.


Place the sheet pan in the preheated 400°F and bake just to melt the cheese and warm the chips, about 5 minutes.

Transfer to a serving platter and top with the avocado slices and cilantro sprigs (if using).


Serve!

NOTES
Calorie count is only an estimate.
NUTRITION
Have you tried this recipe?
I'd love to see it on Instagram! Tag me at @cookingontheweekends or leave a comment & rating below.