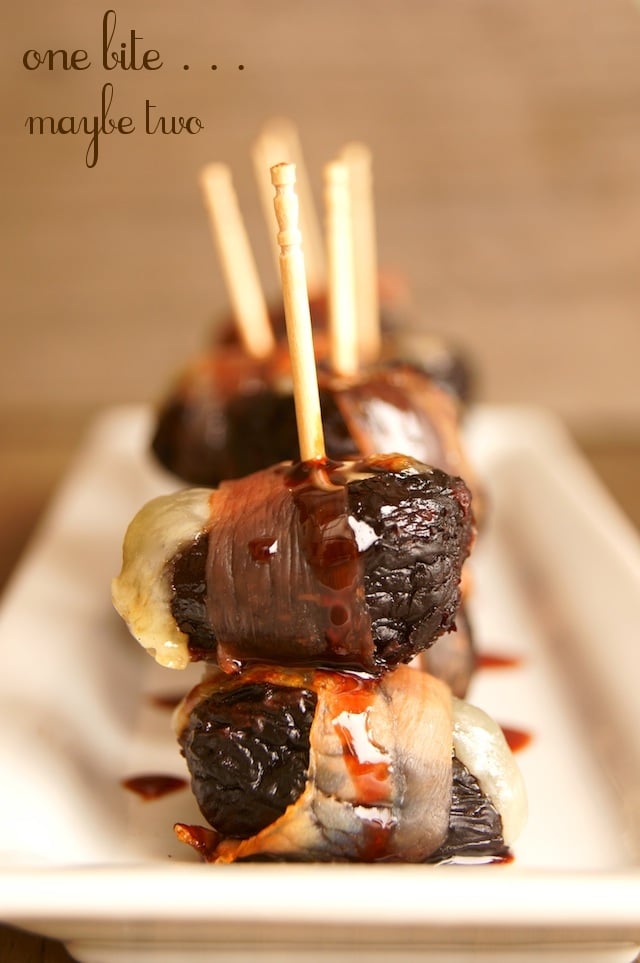 What's better than a cute, tasty and easy-to-eat hours d'oeuvre at a holiday party?
After all, you can mingle, eat, and have a cocktail all at once.
There's no better way to socialize, if you ask me.
Holiday Hors D'Oeuvre Parties are my favorite!  (You can get to all of the recipes pictured above by clicking here.)
Ideally at a party, an hors d'oeuvre should be one, maybe two bites.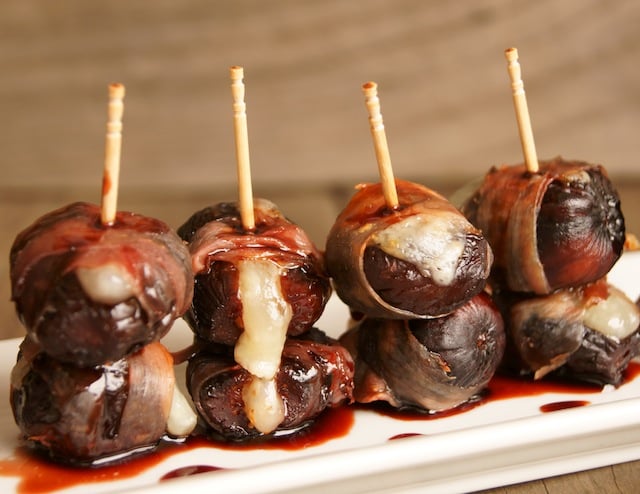 And these bites or two should look fantastic and be absolutely packed with flavor.
And they should not be messy!  No forks.  No knives. No fumbling around.  Really, you should only need cocktail napkins and toothpicks.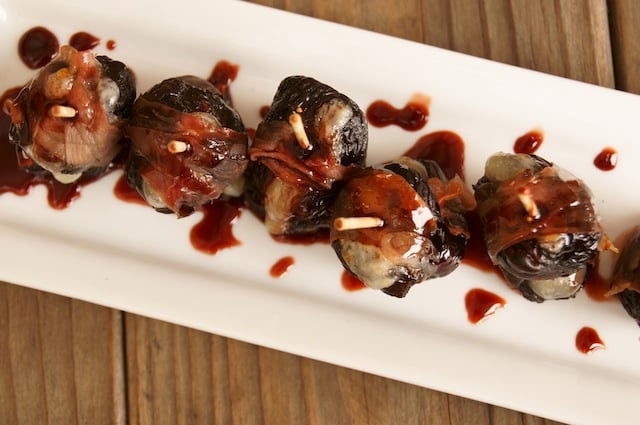 So plan your holiday party, get cooking and have a bite!
Enjoy!
Port Glazed Manchego Figs and Prosciutto
Please see notes below the recipe about how to serve. Makes 2 dozen.
Ingredients
2

dozen dried Mission figs

1

cup

Ruby port wine

4-

ounces

Manchego cheese

3-

ounces

prosciutto
Instructions
Use a paring knife to cut off any bits of stem that may remain on the dried figs. Then make a slit with the knife in each fig -- the slits should be made lengthwise and go about half way through.


Pour the port into a small saucepan and add the figs. Gently stir to be sure they're well coated, and the bring to a boil.

Turn the heat off, cover, and let the figs hydrate for about 15 minutes.

While the figs are hydrating, remove the rind from the Manchego and cut it into 2 dozen tiny chunks, that will fit snugly into the slits in the figs.

Preheat the broiler and line a baking sheet with parchment.

Use a slotted spoon to remove the figs from the port, placing them on a cutting board, or directly on the prepared baking sheet as you go.

Bring the port that remains in the sauce pan to a strong simmer and do not cover. Let it simmer for about 5 minutes or so, just until it's a nice, thick consistency. Set aside.

Very gently squeeze a chunk of Manchego into each slit in the figs.


Then, use your hands to tear thin strips from the prosciutto -- they should be about 2 X 1/2-inch strips. They might not stay intact, and that's okay.

Wrap a prosciutto strip around each Manchego filled fig. It should wrap around the fig at least once, and twice is also okay. Be sure the "seam" is on the bottom.


If they're not already on the prepared baking sheet, place them on it, at least an inch apart with the seam side down.

Place the baking sheet under the broiler until the cheese is melted and the prosciutto begins to sizzle or brown.

Carefully put the on a platter and stick a small toothpick into either 1 or 2 of the figs.

Drizzle generously with the port glaze and serve. (If the glaze has become firm at all, simply warm it again.)
Recipe Notes
This is an hour d'oeuvre that should be served warm. They can be assembled as early as the morning of your party -- just heat them on the baking sheet and stick toothpicks in them right after they come out of the oven.
Save