The Camp & Cabin Cookbook by Laura Bashar will be more popular than roasting marshmallows on your next camping trip. No joke! Put the hot dogs aside and get ready for refined, rustic, delicious campfire meals! Spinach Feta Quiche Baked in Portobello Shells is just one of 100!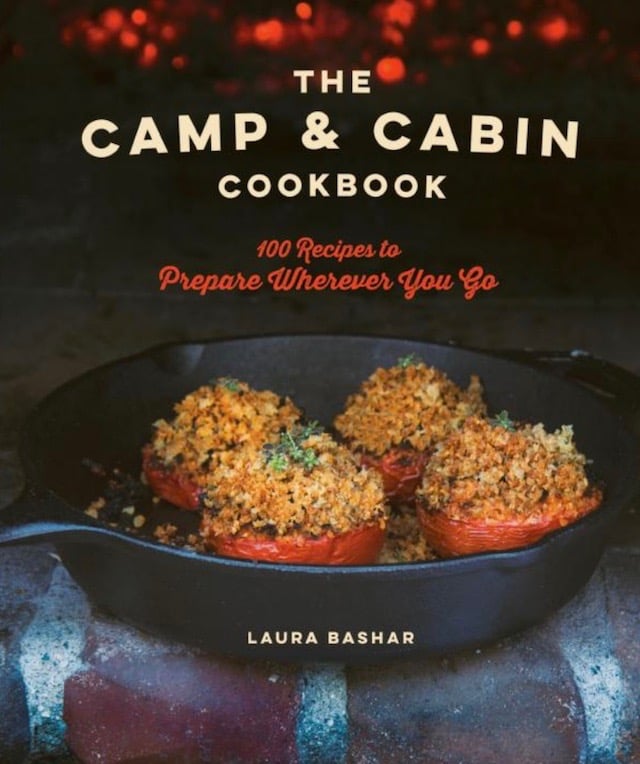 I was so happy when I heard that Laura Bashar of Family Spice would be writing this book.
I've been a fan of Laura's food blog for years and – whether you're into cooking or not – you'll love perusing her site. It's so beautiful, it's almost like walking through a photography exhibit in a museum.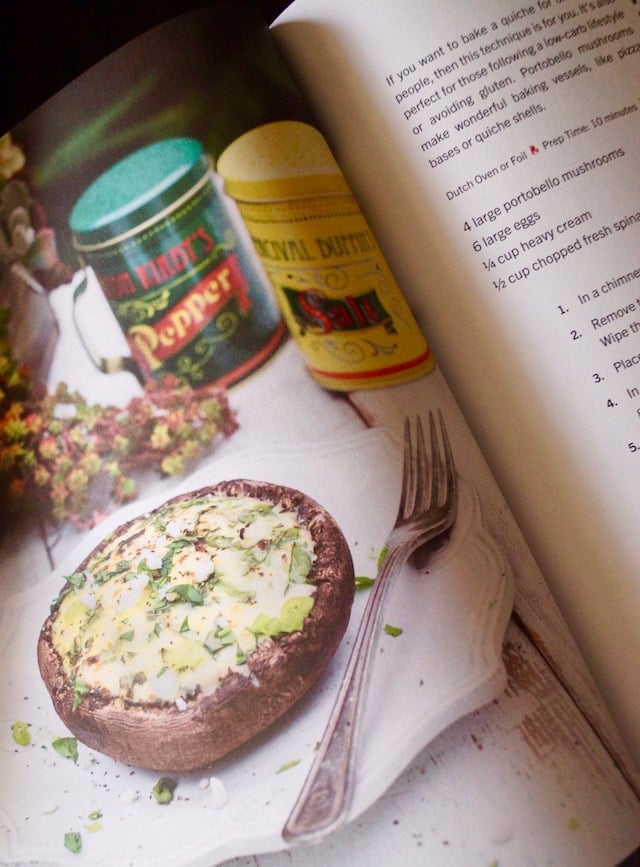 The Camp & Cabin Cookbook by Laura Bashar
I think this is the best cookbook for the outdoors.
From setting up an outdoor kitchen and building a fire, to grilling and cooking in foil, everything you need to know about outdoor cooking is in

The Camp & Cabin Cookbook

.
A fantastic equipment guide is included and several different methods of campfire cooking are explained.
Most of the recipes in the book don't require more than a knife, a bowl, and a cooking vessel -- which might just be foil.
There are recipes for breakfast, snacks, lunch, dinner and of course, dessert.
The variety of ingredients and flavors is incredible. I was surprised at some of the meals that I learned could be cooked outside. Lasagna, Osso Buco, and Mulled Wine, to name a few. Yep, you heard me, Osso Buco! Yes, at the campfire!
---
Other Favorite  Portobello Mushroom Recipes:
---
A perfect cookbook for Father's Day!
No, I'm not saying all men love camping. Or that men love the outdoors any more than women. In fact, in my family, where I'm out numbered by men, I'm the one who loves it most. (Though if I'm being honest, I'll always happily let someone else pitch the tent.)
That said, I know a lot of dads who do love camping and cooking outdoors, and I'm thinking they'd love this book for Father's Day.
This book is awesome for anyone who loves to cook. Every recipe includes alternative cooking methods, including cooking in a kitchen at home. Which is exactly what I did.
Can you make The Camp & Cabin Cookbook recipes at home?
Yes!
Since I love Portobello mushrooms, without a camping trip on the horizon – but with a strong desire to try the Spinach Feta Quiche Baked in Portobello Shells – I just went for it at home. I combined a couple of methods: I used foil and the oven. And to prevent sticking, I drizzled a bit of olive oil into the foil in case any of the quiche mixture spilled out during the cooking process.
Would you ever imagine that you can make quiche at a campsite? In a mushroom, no less? This recipe is delicious, and with a short list of fairly basic ingredients, there is SO much flavor.
Do you have cooking friends who love camping? Glamping? Picnicking at the beach? Or even staying home? Well then, they'll love The Camp & Cabin Cookbook!
This is Laura Bashar's second cookbook -- her first is Cooking Techniques and Recipes with Olive Oil.
Spinach Feta Quiche Baked in Portobello Shells
This super flavorful quiche from Laura Bashar's The Camp & Cabin Cookbook, is delicious not only for breakfast, but also makes for a fantastic lunch or dinner, and it's a great option for those on a low-carb or gluten-free diet. Everyone will love it!

*Please see notes for alternative cooking methods.
Ingredients
4

large

portobello mushrooms

6

large

eggs

¼

cup

heavy cream

½

cup

fresh spinach,

chopped

¼

cup

green onions,

chopped

½

cup

feta,

crumbled

¼

teaspoon

kosher salt

pinch of ground black pepper
Instructions
In a chimney, light up 38 coals.


Remove the stems and scrape out the gills from mushrooms. Wipe them clean with a paper towel.


Place mushrooms, bowl side up, in a 12-inch Dutch oven.


In a medium-size bowl, whisk together eggs, cream, spinach, green onions, ¼ cup crumbled feta, salt and pepper.


Divide the egg mixture evenly between the mushroom bowls.


Sprinkle the remaining ¼ cup feta over the egg mixture.


Cover the Dutch oven, and place 17 coals on top and underneath it (375°F).


Bake until eggs are golden brown, approximately 35 minutes.

NOTES
ALTERNATIVE COOKING METHODS: You can also wrap each mushroom quiche in heavy-duty aluminum foil and cook over the coals until the egg is set. To cook at home, place quiches on a baking sheet and bake in the oven at 375°F for 30 to 40 minutes or until egg is set.
NUTRITION
Have you tried this recipe?
I'd love to see it on Instagram! Tag me at @cookingontheweekends or leave a comment & rating below.
This post contains Amazon affiliate links for your convenience at no additional cost to you. I was given a copy of this cookbook for review. I did not receive compensation for this post, and as always, all opinions are my own.