Portobello Mushroom Pizzas with Sausage are impossible not to love. They're easy-to-make, gluten-free, low-carb, and absolutely scrumptious. And you can easily mix this recipe up and use your own favorite toppings.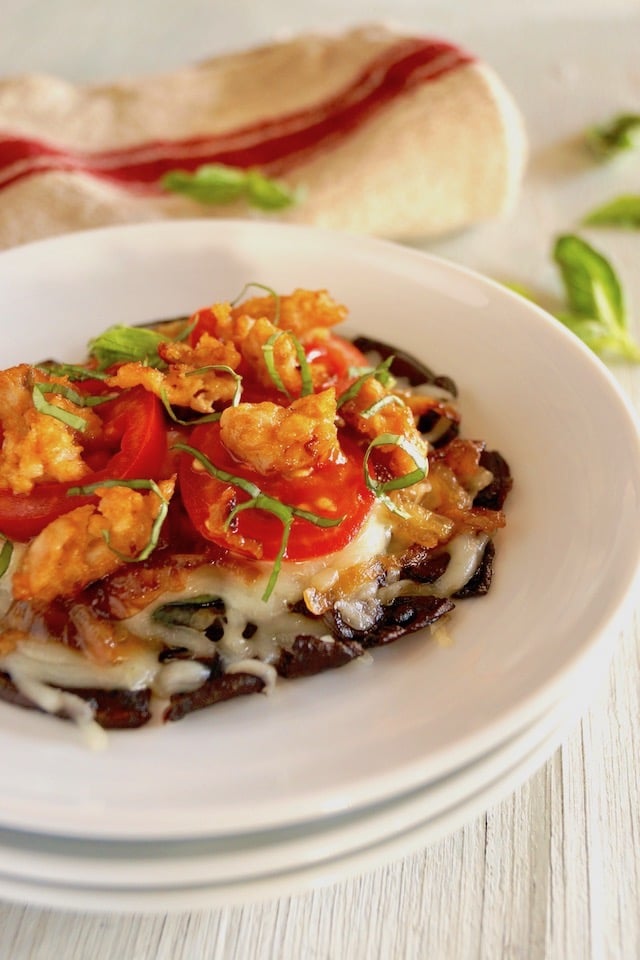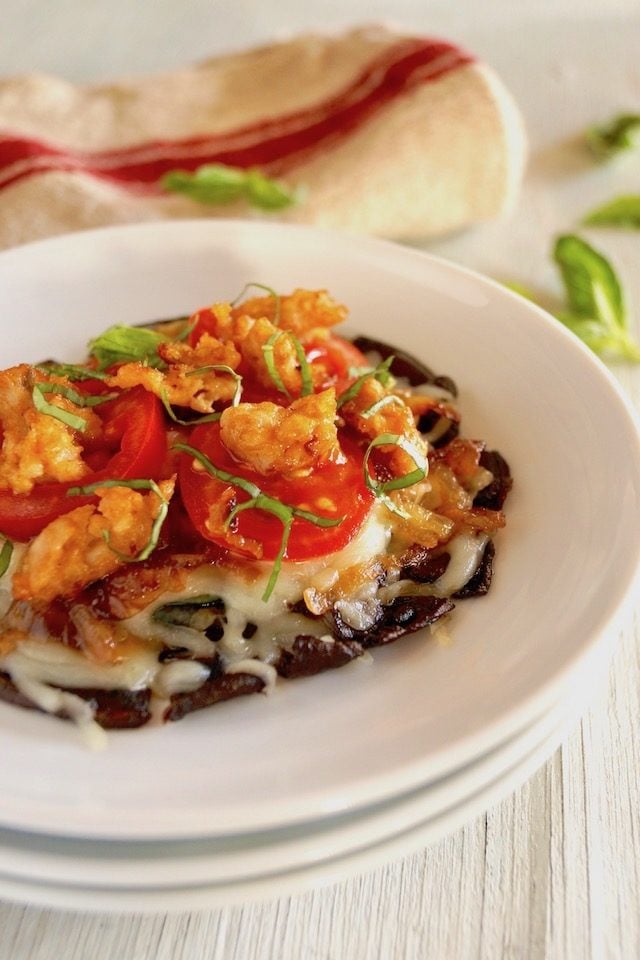 Okay, let's be honest, it's a pizza of sorts.
The "crust" is an entire portobello mushroom cap, which is is a delicious way to make mini pizzas unique.
Portabello Mushroom Pizzas are fun and easy to make for a busy weeknight, or to impress guests on the weekend.
They can be an entrée, or sliced into small pieces for a fabulous appetizer to share.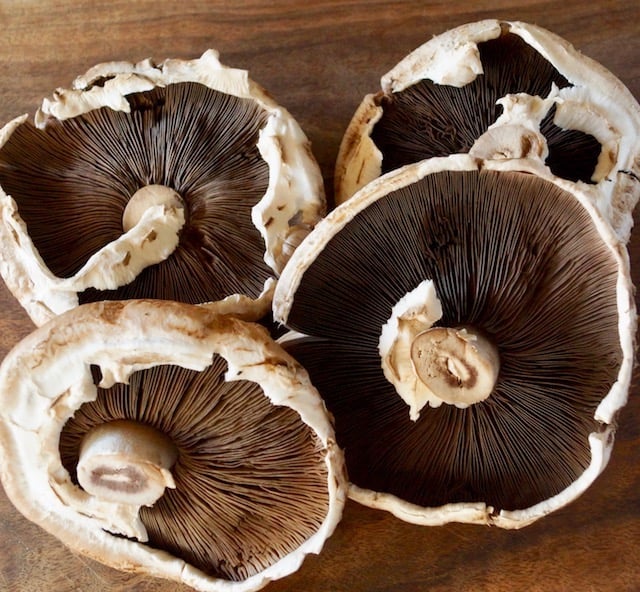 What are the ingredients in this recipe?
---
large portobello mushroom caps
onion
unsalted butter
olive oil
Mozzarella cheese
tomatoes
fresh basil leaves
Italian sausage
salt, black pepper
How to Clean Portobello Mushrooms
---
Gently wipe the rounded top of the mushroom with a damp cloth. Mushrooms can absorb a lot of water, so it's best not to wash them under running water and add extra moisture. (When the mushrooms are super dirty, i.e., with clumps of dirt, run water over directly over them, and then wipe them off.)
Remove the stems. You won't risk breaking the mushrooms if you gently wiggle them back and forth to pull them off. (You can wash and save the stems for a making vegetable stock or chopping and adding to a stir fry.)
Use a spoon to scrape off the gills from the underside of the mushroom. (This is not imperative -- however, I always do it when I'm grilling or sautéing them over high heat because they become bitter.)
How to Make Portobello Mushroom Pizzas with Sausage
---
- Caramelize onions in clarified butter.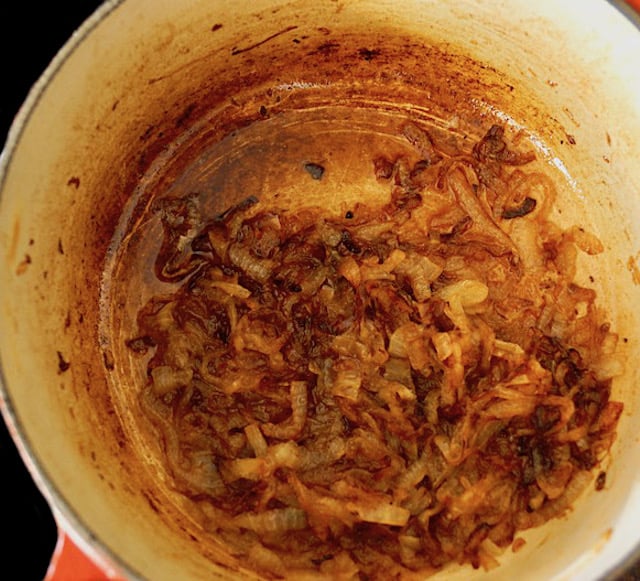 - Sauté the sausage in the same pot where you cooked the onions.
- Clean and grill the mushrooms with a pinch of salt.
- Add the toppings in the following order: basil, mozzarella, caramelized onions, tomatoes, sausage.
- Bake.
- Add basil garnish.
(Much more detailed instructions are in the recipe card below.)
Recipe Tips and Substitutions
---
The flavor the butter adds to the caramelized onions is dreamy, but if you want it to be a bit lighter, use olive oil. They will still be tasty.
To save time, you can quickly sauté the onions. They will only be slightly caramelized, less soft and sweet -- but again, still tasty. 🙂
You'll notice this recipe doesn't include tomato sauce -- if you think you'll miss it, add a bit beneath the cheese. You can use something from a can or jar, or your own pizza sauce.
I use thinly sliced fresh tomatoes on top of the pizzas. Halved cherry tomatoes are also a great choice.
The ingredient measurements might vary slightly depending on the size of your mushrooms, so don't worry if you have a bit more or less of something.
You can always add extra veggies -- as my mom would say, "double the onions!"
This recipe doesn't have garlic in it. You can add minced garlic or garlic powder to the onions while they're cooking if you'd like to.
If you don't have a stove-top grill, you can sauté the mushrooms in a skillet following the same instructions. (A cast iron skillet is ideal.)
The mushroom cap pizzas don't have to be baked on a foil-lined baking sheet, but the clean-up will be much easier if they are.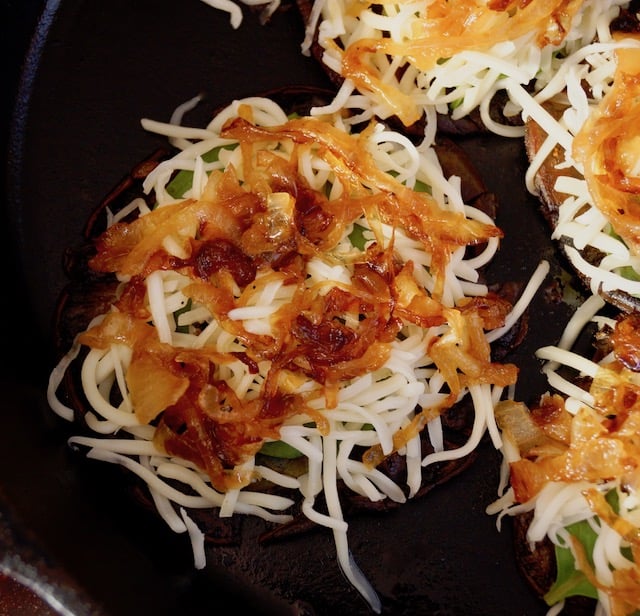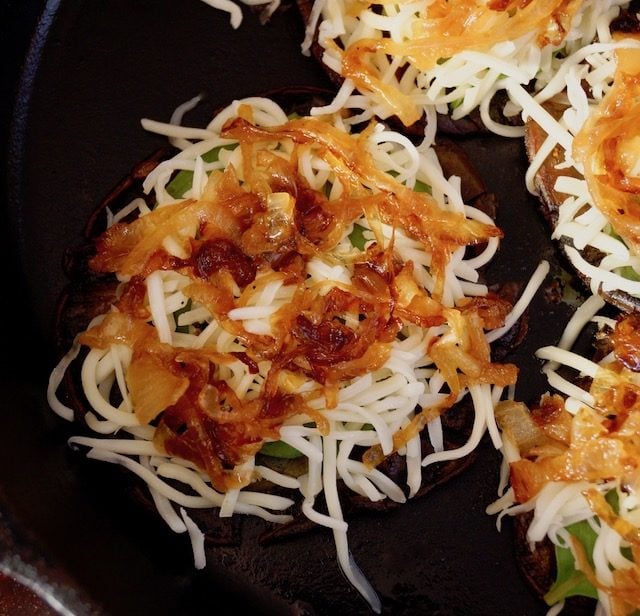 Serving Suggestions
---
These Portobello mushroom pizzas are actually a meal in and of themselves. However, it's nice to add something light, like fruit, salad or a side dish of vegetables. Here are a few great options:
Why You Will Love Them
---
First and foremost, they're delicious.
You can use any toppings you like, and the possibilities are endless.
They happen to be gluten-free and low-carb -- if that matters to you or perhaps a guest. 😉
Portobello Pizzas make for awesome individual-sized servings. Add a salad and call it dinner.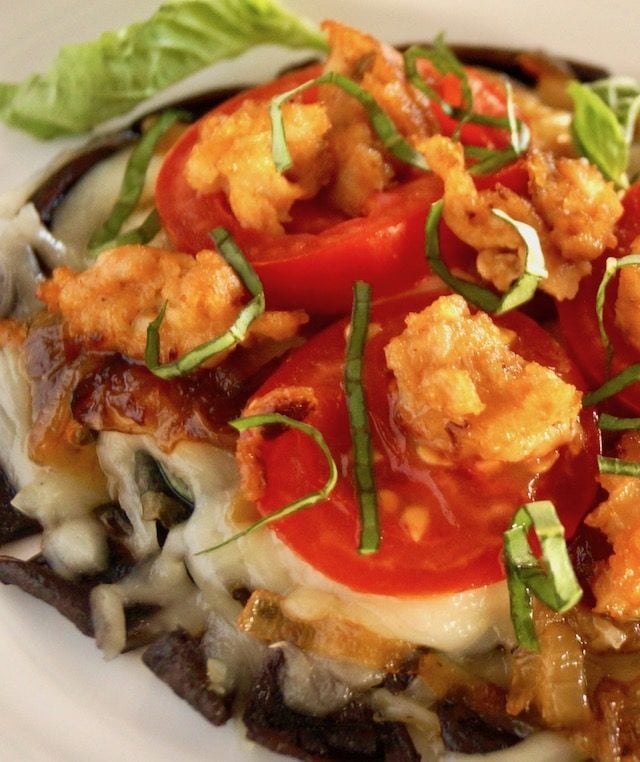 More Ideas for Portobello Pizza Toppings
---
You can use absolutely any of your favorite pizza toppings. Here are a few delicious ideas:
Gruyère and spinach.
Manchego, chorizo and bell peppers.
Asiago, caramelized onion and pecan.
Mozzarella, roasted garlic, tomato and black olives.
Caprese with fresh mozzarella, basil and tomatoes.
Mozzarella, Feta, sun-dried tomato and Kalamata olives.
Oregano, basil, rosemary or any other Italian seasoning will work with most of these toppings.
For a little heat, sprinkle some red pepper flakes on top of the pizzas.
I hope you love these Portobello Mushroom Pizza recipe as much as my family and I do!
More delicious portobello mushroom recipes:
Portobello Mushroom Pizzas with Sausage Recipe
Portobello Mushroom Pizzas with Sausage are impossible not to love! They're absolutely scrumptious and also happen to be gluten-free and low-carb.
Ingredients
3

cups

yellow onion,

thinly sliced (about 1 large onion)

4

tablespoons

unsalted butter

4

large

portobello mushrooms

(approximately 5-inch diameter)

olive oil for the grill

about 2

dozen

fresh basil leaves,

washed and dried

¾

cup

mozzarella cheese,

grated

3

small

tomatoes,

washed and dried, thinly sliced (you will need approximately 12 slices)

1

(4 ounce)

raw sweet Italian sausage

salt and freshly ground black pepper
Instructions
Caramelize the onions. Add the butter to a large pot and turn the heat to low. Once the butter has melted completely, use a spoon to remove the milk solids (white foam) from the surface and discard. Then turn the heat to medium-high and add the onions. Stirring often, sauté until they're a deep golden color and very soft. This should take about 25 minutes. About halfway through the cooking time, reduce the heat to medium-low. Season to taste with salt and pepper. (Here's How to Season to Taste.) Remove the onions from the pot and add them to a small bowl. What was 3 cups will now be about ½ cup. Set aside.

Cook sausage. Squeeze the sausage out of its casing into the same pot, break it apart and sauté until it's cooked through. Set aside.

Set oven and prep pan. Preheat the oven to 375°F, and line a baking sheet with foil. Set aside.

Clean mushrooms. Use a damp paper towel or kitchen towel to wipe the mushroom caps clean. Remove the stems from the mushrooms by wiggling them gently. Then use a small spoon to scrape the gills off the undersides of the mushrooms.

Grill mushrooms. Over a high flame, preheat a stovetop grill. (See notes!) On a large plate, drizzle the mushrooms with olive oil on both sides and season generously with salt and pepper. Place them on the preheated grill — if you don't hear a sizzle, take them off until it's hot enough that you do. They will not caramelize properly unless it's hot enough. Grill them until they're nicely browned and tender, 3 or 4 minutes per side. When they're done, place them on the foiled covered baking sheet, round side down.

Assemble. Place enough basil leaves on each mushroom to cover the surface. Divide the cheese evenly among them, sprinkling it directly on top of the basil. Then, dividing them equally, add the caramelized onions, followed by the tomato slices and sausage.

Bake. Place the "pizzas" in the preheated 375°F oven and bake until the cheese is completely melted, about 5 minutes.

Garnish and serve. Finely chop the remaining basil and sprinkle it on top of each one and serve.
NOTES
If you don't have a stove-top grill, you can sauté the mushrooms in a skillet following the same instructions. (A cast iron skillet is ideal.)
Calorie count is only an estimate.
NUTRITION
Have you tried this recipe?
I'd love to see it on Instagram! Tag me at @cookingontheweekends or leave a comment & rating below.
Cooking On The Weekends is a participant in the Amazon Services LLC Associates Program, an affiliate advertising program designed to provide a means for sites to earn advertising fees by advertising and linking to Amazon.com.