Marinated Grilled Portobello Mushrooms are a hearty vegan and/or vegetarian option for summer barbecues. The Portobello mushroom marinade in this recipe bursts with fresh, spicy and delicious flavors.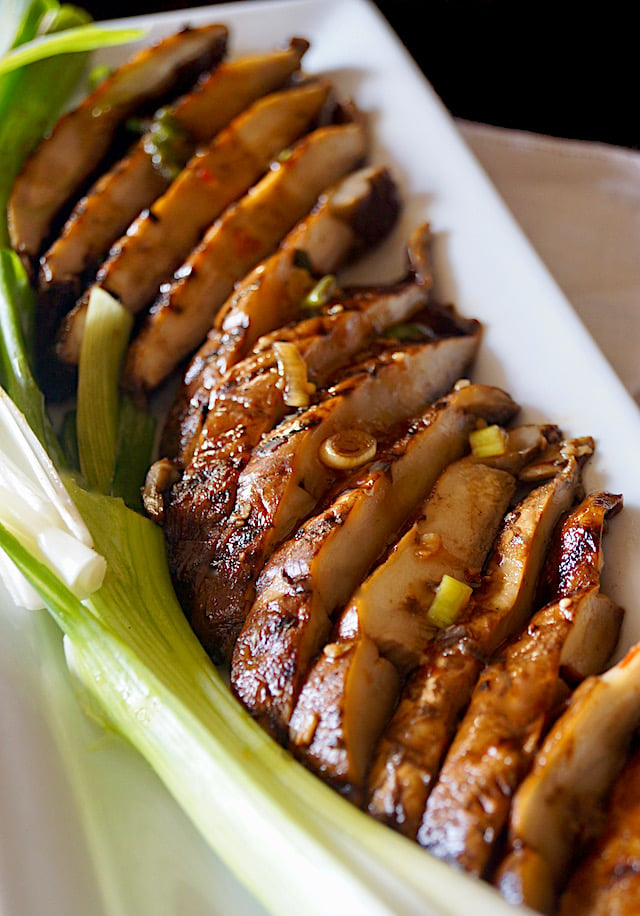 Portobello mushrooms are "meaty." Really, they are! Just ask a vegetarian friend.
As if they'd really know, right? 😉
Actually, the truth is, while they certainly can't compete with a perfect rib-eye or juicy flank steak, they are indeed a very hearty mushroom! These mushrooms can be a super satisfying meal, in and of themselves!  And I'd use this Portobello mushroom marinade in this recipe on a steak any day!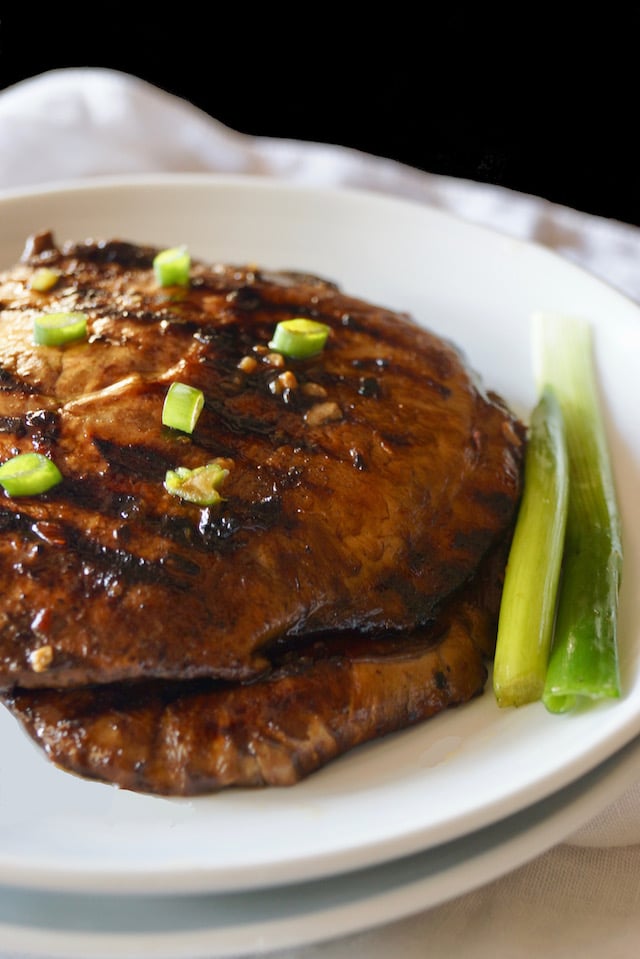 What do Portobello mushrooms taste like?
Portobellos have an deep, earthy flavor. That, combined with their ability to soak up most flavors added to them, is a recipe for culinary success. Pun intended.
What's in this Recipe?
These marinated grilled Portobello mushrooms marinate for at least six hours in a blend of soy sauce, citrus, garlic, chili paste, and more. The spicy Asian vibe works so well with the earthy mushrooms.
Add to that the smoky flavor the grill imparts, and oh my, what a dish!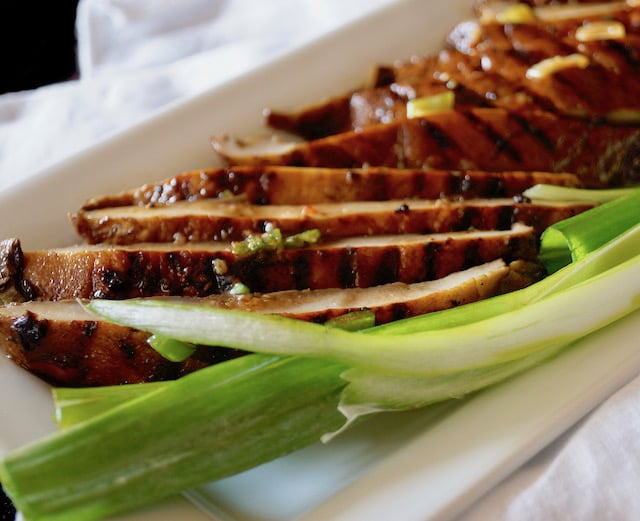 Oh, and just in case you're not going for the vegetarian meat thing, this Grilled Coffee Balsamic Flank Steak is one of my favorites.
And better yet, also for the non-vegetarians, you can serve this with the mushrooms. They'd be fabulous together.
Ideas for Serving Marinated Grilled Portobello Mushrooms:
Chopped and tossed into a salad or stir-fry.
As a meat substitute in a "burger."
As the "bun" of a burger. (Have you seen this?  It's a gluten-free/low-carb, trend these days.)
On your pizza.
In a vegetarian sandwich.  Just add tomato, crispy lettuce, and whatever other ingredients suit you.
Mixed into pasta.  I'd use a wide noodle, like Pappardelle -- to stand up to the hearty mushrooms.
Or simply as a most delicious side dish.
The possibilities are endless!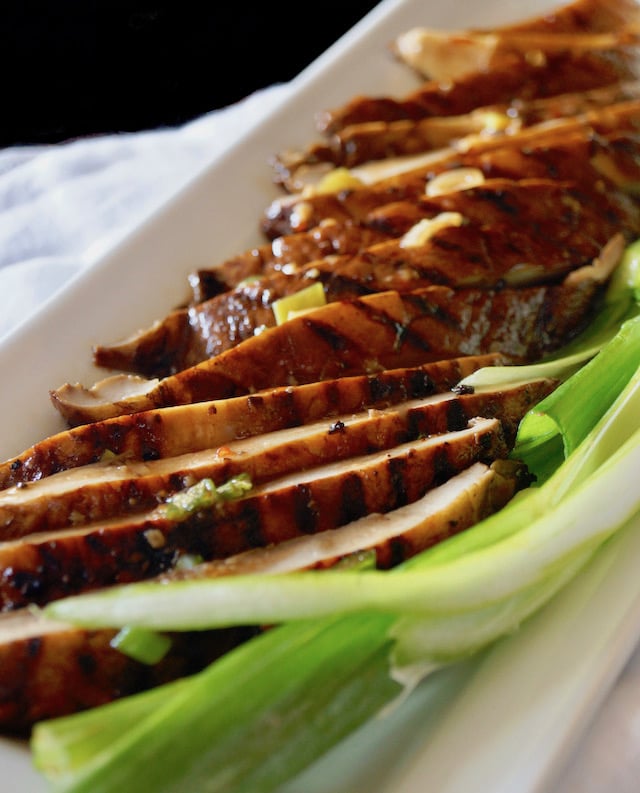 You can garnish with fresh or dried scallions. If you live in Los Angeles, you can find the dried scallions, and the other ingredients for the portobello mushroom marinade at one my favorite Asian markets, Nijiya.
However you decide to serve up the marinated grilled portobello mushrooms, enjoy!
Don't have a stove-top grill or BBQ? Don't feel like grilling? That's cool, you can follow the same recipe instructions, but use a sauté pan instead.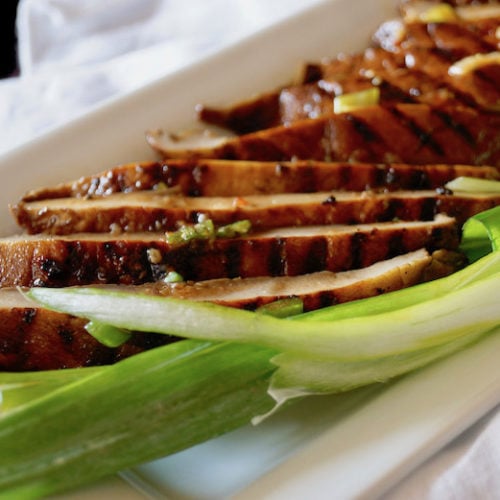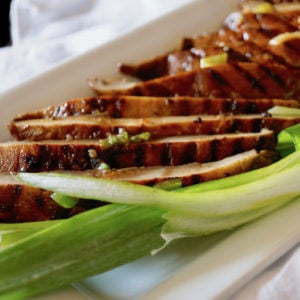 Marinated Grilled Portabella Mushroom Recipe
Marinated Grilled Portobello Mushrooms are a hearty vegan and/or vegetarian option for summer barbecues, and this recipe is bursting with fresh, spicy and delicious flavors.*Please note that 6 hours of the prep time is marinating time.
Ingredients
2

large

portobello mushrooms (about 3 ounces each)

1

tablespoon

Tamari or soy sauce,

low sodium

1

teaspoon

lime juice

1

scallion

finely chopped

1

teaspoon

garlic

minced

1

teaspoon

chili paste

(I like Sambal Oelek)

¼

cup

grape seed oil

salt and freshly ground black pepper
Instructions
Clean the mushrooms. Use a damp towel to gently wipe the mushrooms clean. Then use the dull side of a small paring knife to gently scrape off the gills from the underside of the mushroom. (This little extra step is important because this portion of the mushroom can become quite bitter when it's grilled.)

Make the marinade. In a small mixing bowl, combine the tamari or soy sauce with the lime juice, scallion, garlic and chili paste. Then gradually mix in the oil and blend until smooth.

Marinate. Place the two mushrooms in a large zip-lock bag and pour the marinade over them. Use your hands to ensure the marinade is evenly covering both sides of the mushrooms. Place the bag in the refrigerator to marinate for at least 6 hours, and ideally overnight.

Grill. The next day, when you're ready to cook, preheat your BBQ or stove-top grill. Remove the mushrooms from the bag, gently shaking any excess marinade back into the bag. (Save this for later!) Put the mushrooms on a large plate and season both sides with the salt and pepper. Place the mushrooms on the preheated grill -- if you don't hear a sizzle, take them off until it's hot enough! They will not grill and caramelize properly unless the grill is hot enough! Grill the mushrooms until they are nicely charred and tender, about 3 or 4 minutes per side.

Slice and serve. After the mushrooms have slightly cooled, cut them into then slices, place them on serving plate and drizzle with the remaining marinade. Unlike when you're cooking "real" meat, this is totally safe to do! The mushrooms can be served, hot, warm, room temperature or chilled in a salad!
NOTES
Calorie count is only an estimate.
NUTRITION
Have you tried this recipe?
I'd love to see it on Instagram! Tag me at @cookingontheweekends or leave a comment & rating below.
Cooking On The Weekends is a participant in the Amazon Services LLC Associates Program, an affiliate advertising program designed to provide a means for sites to earn advertising fees by advertising and linking to Amazon.com.