Baroda Farms is home to one of the most beautiful things I've ever seen -- a Sangria Artichoke field.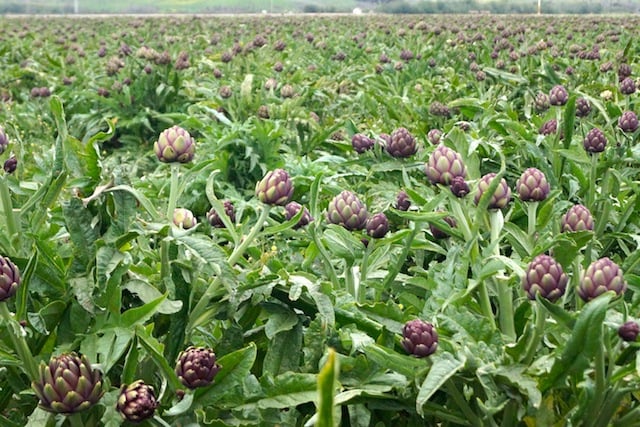 A couple of days ago I saw one of the most stunning sites I'd ever seen. A Sangria artichoke field.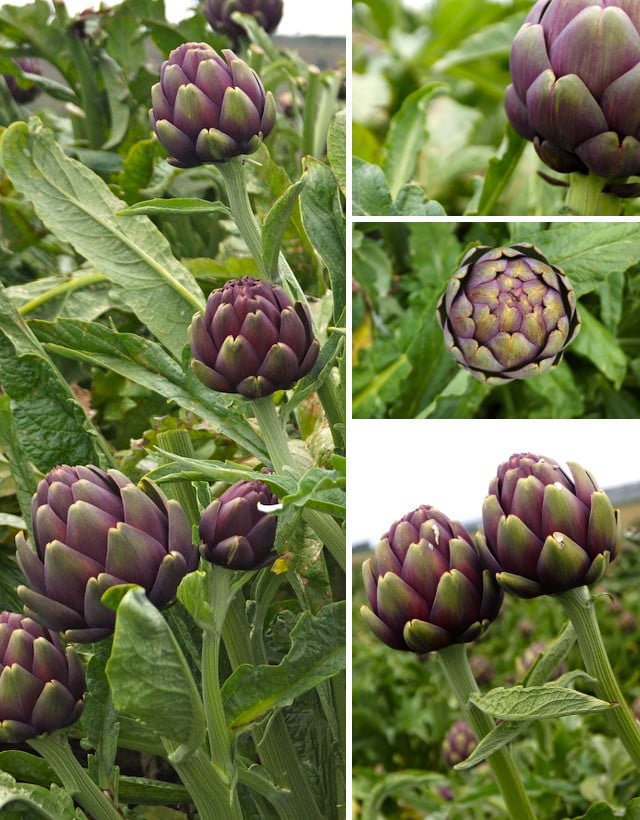 I would have believed it if you told me I was in France or Italy. The Sangria artichoke field was truly breathtaking -- just as an endless field of lavender or sunflowers would be.
Where is Baroda Farms?
I was actually in the county of Santa Barbara, in Lompoc, California. (not quite as romantic, I know).  Thanks to wonderful people at Frieda's Produce, the exclusive distributor of this gorgeous artichoke, a small group of other food bloggers and I were able to visit Baroda Farms.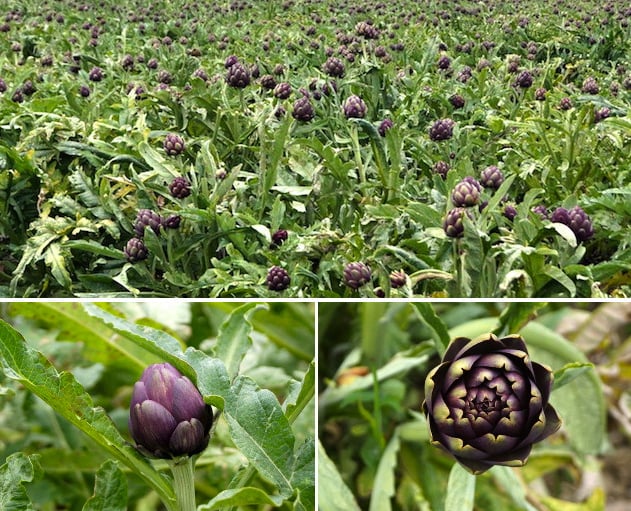 Steve Jordan, the President and owner of Baroda Farms, and his brother are partners with the Italian government in developing new red artichoke varieties, and the Sangria Artichokes are grown from a proprietary seed variety.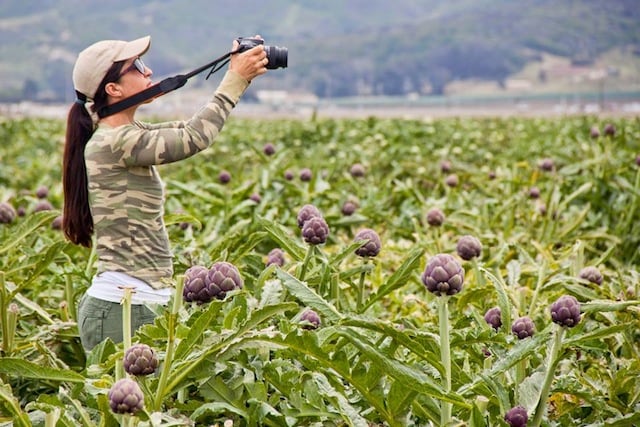 Photo credit: Cathy of She Paused for Thought
I could have taken picture after picture of these deep purplish-green wonders. Every angle exposed a new magnificent sight.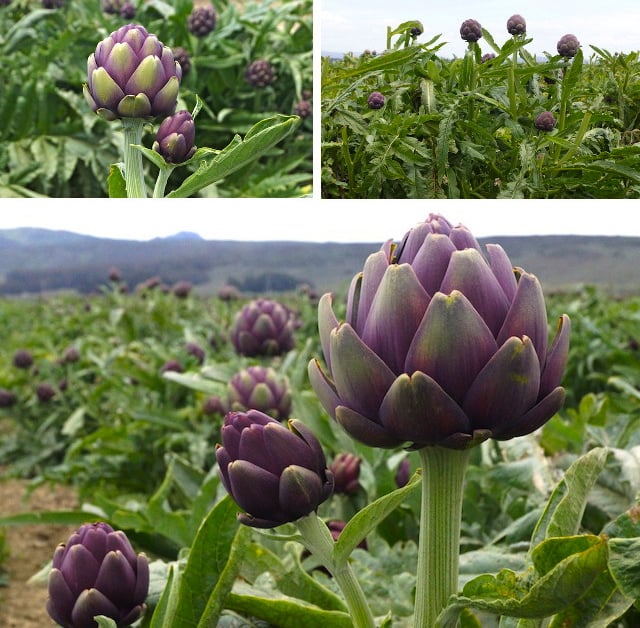 Sangria Artichokes
The pretty, pointy leaves of Sangria artichokes are delicious -- they're quite "meaty" and tender with a subtle, nutty flavor.
When I got home from the farm, I couldn't wait to slice one in half to reveal the inside.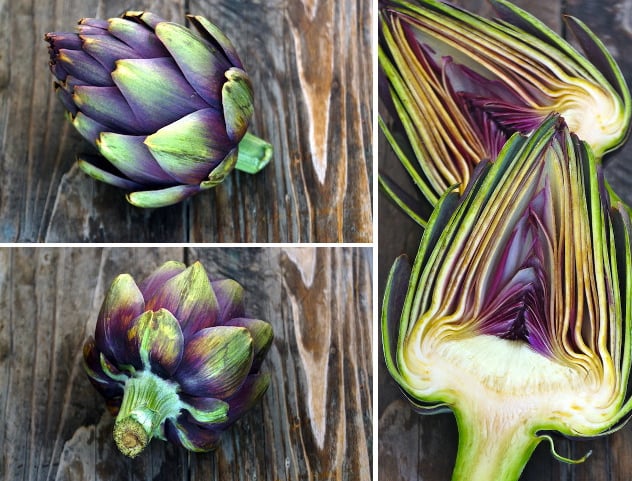 I could make art with the leaves for hours. Just look at those colors!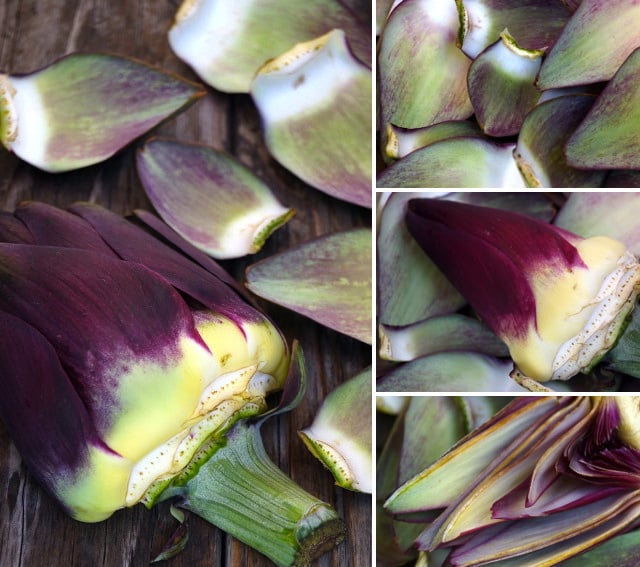 And the beauty doesn't stop here -- next I'll be sharing a recipe for a delectable stuffed artichoke made from another Baroda Farm variety -- the Lyon!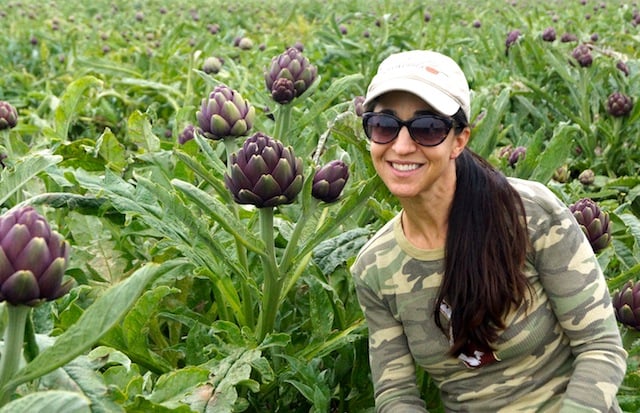 Photo credit: Kelly of Tasting Page
Another great aspect to this lovely day on the farm was getting to spend time with a few other awesome food bloggers. Check out our  artichoke farm "selfie" taken by Christina of Christina's Cucina.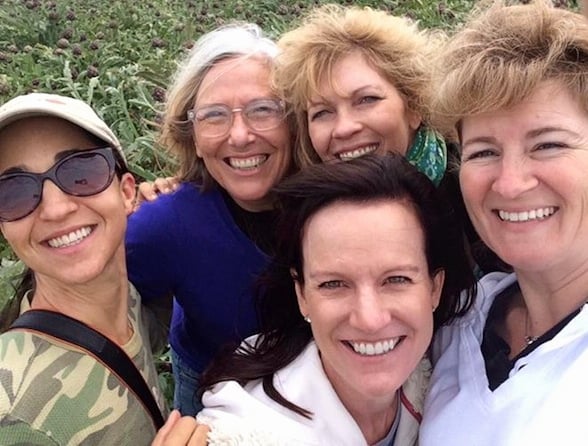 From left to right: Moi, Judy of My Well Seasoned Life (who put together this fantastic outing!), Cathy of She Paused for Thought, Christina of Christina's Cucina and (in front), Kelly of Tasting Page.  So much fun!
You should be able to find Sangria artichokes from Frieda's at most Gelson's and Ralphs Markets.

Disclosure: This is not a sponsored post and as always, all opinions are my own. 🙂

Save