This Mexican Chocolate Chili was inspired from a dish from what was my favorite Mexican restaurant of all time, Casa Mia in Santa Monica Canyon, CA. While the restaurant is gone, the memory of their incredibly delicious Colorado chili lives on. This is extremely similar, though my version is a Mexican chocolate chili recipe.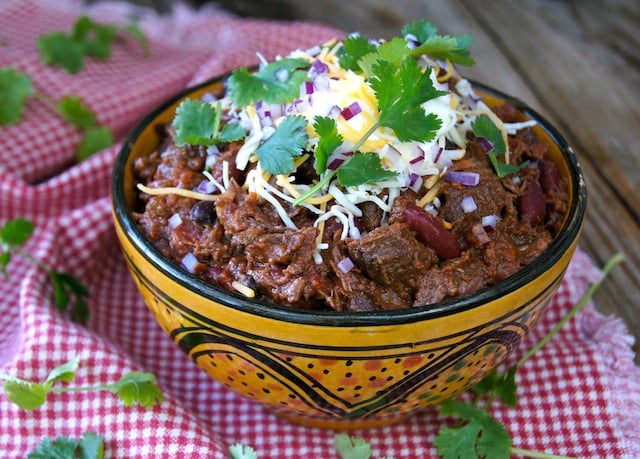 Mexican Chocolate Chili Inspiration
Growing up, on Tuesday nights my dad would go on his weekly Sierra Club hike, I would go to gymnastics practice, and my mom and brother would go to one of the best Mexican restaurants of all time -- Casa Mia in Santa Monica Canyon, CA.
We all went together at least once a week also.
The Scene at Casa Mia
Casa Mia was a dive and seconds from the ocean. The restaurant was very small and dark. With burgundy vinyl booths, each table had an old school, round red candle holder covered with a white "net."
Just across from the tiny, full bar, stood the most awesome old jukebox ever, that played oldie after oldie. And from just about every table you could see the owner/cook, Joanne Livas, putting orders on the kitchen window shelf.
The front of the restaurant on Channel Road, Santa Monica Canyon, CA.

The Menu at Casa Mia
My order: Two A la Cart Beef Tacos. They'd arrive sitting on white paper in a bright red plastic basket, and were unbelievably greasy -- so greasy that they were actually dripping. That, in conjunction with the perfectly spiced beef and fresh, crisp lettuce was amazing! (I can remember exactly what each delicious, bite tasted like.)
My dad's order: The tostada, which was pretty much the tacos, only in bowl form.
My brother's order: The rich and cheesy Enchilada Suizas, which came on a plate that was always too hot to touch.
And my mom's order: The Colorado Chili Burrito, which I always had a bite of. The delicious, greasy tacos kept me from making it my own order, but I'll never forget the fork-tender chunks of beef in a deeply flavored, spicy sauce that oozed out of a warm flour tortilla. My Mexican Chocolate Chili is very reminiscent of this dish.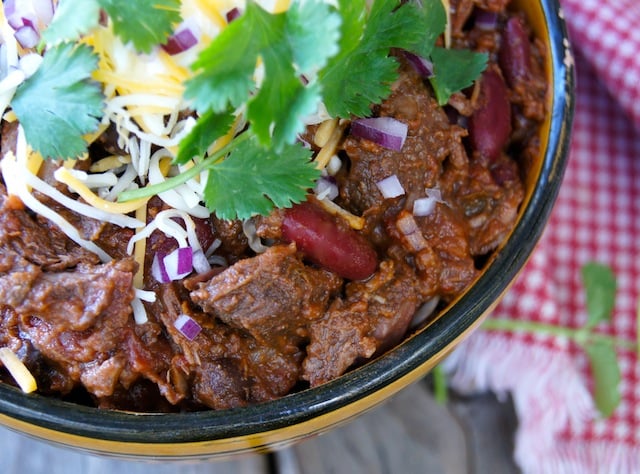 And no, Colorado Chili has nothing to do with the sate of Colorado.
Colorado means red in Spanish and is used in the name to describe the sauce, which is typically made with a variety of red chiles.
What's in Mexican Chocolate Chili?
chipotle chiles
bacon
onion
garlic
stew meat
Mexican oregano, cumin, chili powder and cloves
red wine
kidney and black beans
chocolate
I can almost guarantee Casa Mia did not make their chili with chocolate, but I couldn't help myself. It's adds richness and makes the sauce extra smooth.
My brother and I would both say this restaurant was a wonderful part of our childhood. Thank you, Casa Mia, for the memories.
Casa Mia in Santa Monica Canyon was bought from it's original owner, Charley Lowery, by the Livas family (Poncho, Joanne and Chris), in 1961.  And sadly, the doors closed in 1988 when the building was sold and the new landlord raised the rent to an unaffordable amount.  The recipes were a blend of those from Lowery and the Livas family. If you want to get a feeling for the awesome vibe of Casa Mia, you can check out the Casa Mia, I Remember Facebook page -- which was created by Chris Livas, who has kept the history and memories of Casa Mia alive.
Share Your Casa Mia Memories!
I was only a teenager when Casa Mia closed, so my memories are minimal (outside of the Colorado Chili Burrito!) compared to those who knew the restaurant longer.  If you are one of those folks, and you're reading this, please chime in with your stories, in the comments below.
Now get in the kitchen and start cooking this delicious Mexican chocolate chili recipe.
Photos of the restaurant were taken from the Casa Mia, I Remember Facebook page.
More Mexican (or Mexican-Style) recipes: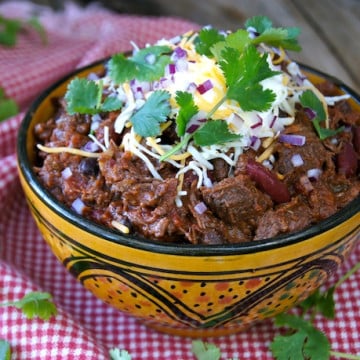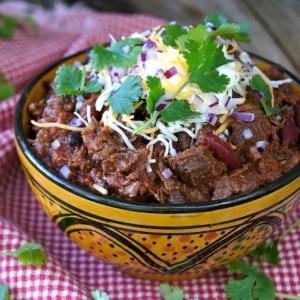 Mexican Chocolate Chili
This chili is is rich, hearty and exploding with latin flavors.
Ingredients
3

strips

applewood smoked bacon,

diced

2

cups

yellow onion,

diced

1½

tablespoons

garlic,

minced

1½

pounds

stew meat, cut into approx 1-inch pieces

(i.e., Chuck Shoulder, Rump Roast)

2

tablespoons

Mexican oregano

1

tablespoon

ground cumin

1

teaspoon

chili powder

½

teaspoon

ground cloves

½

cup

dry red wine,

such as Merlot, Pinot Noir, Shiraz

1

(28-ounce) can

diced tomatoes in tomato juice

1

tablespoon

chipotle peppers in adobo sauce,

finely chopped

1

(14-ounce) can

Kidney beans,

drained

1

(14-ounce) can

black beans,

drained

3

tablespoons

semisweet chocolate,

finely chopped or chips

salt and freshly ground black pepper

optional garnishes: sour cream, grated cheddar cheese, finely chopped red onion, and cilantro leaves or chives
Instructions
Cook bacon, onion and garlic. Add the diced bacon to a large pot (a Dutch oven is perfect), and place it over medium heat. Moving it around occasionally, cook the bacon until the pieces are becoming crisp, about 5 minutes.

Stir in the onion and garlic and cook until the onions are soft and beginning to brown, about 10 minutes. (You shouldn't need to add oil to the pan -- the bacon fat should be sufficient.)

Use a slotted spoon to remove the bacon-onion mixture and place it in a bowl. Set aside.

Sear the meat. Sprinkle the meat with salt and pepper, and turn the heat up to high. Add the meat to the pan. (You should hear a sizzling sound -- if you don't the pan isn't hot enough.) Sear the meat, browning it on all sides.

Return bacon mixture to pot and add spices. Return the bacon-onion mixture to the pot and add the oregano, cumin, chili powder and cloves -- continue to cook for another couple of minutes.

Deglaze. Deglaze the pot with the wine and tomatoes, and use a wooden spatula to scrape any bits of food off the bottom of the out and into the mixture.

Add chipotles and simmer. Stir in the chipotles, turn the heat to low, cover the pot, and simmer until the pieces of meat are super tender -- almost (but not quite), falling apart, 2½ to 3 hours. Stir the chili from time to time.

Add beans and chocolate. Mix in all of the beans and the chocolate and cook on low for about 10 more minutes. Season to taste with salt.

Serve with any or all of the garnishes is desired.
NOTES
Calorie count is only an estimate.
NUTRITION
Have you tried this recipe?
I'd love to see it on Instagram! Tag me at @cookingontheweekends or leave a comment & rating below.
Cooking On The Weekends is a participant in the Amazon Services LLC Associates Program, an affiliate advertising program designed to provide a means for sites to earn advertising fees by advertising and linking to Amazon.com.