My Cranberry Creme Brûlée recipe with Amaretto is rich, creamy and full of delicious bites of fruit. Beautifully presented, this is an elegant and festive dessert for the holiday season.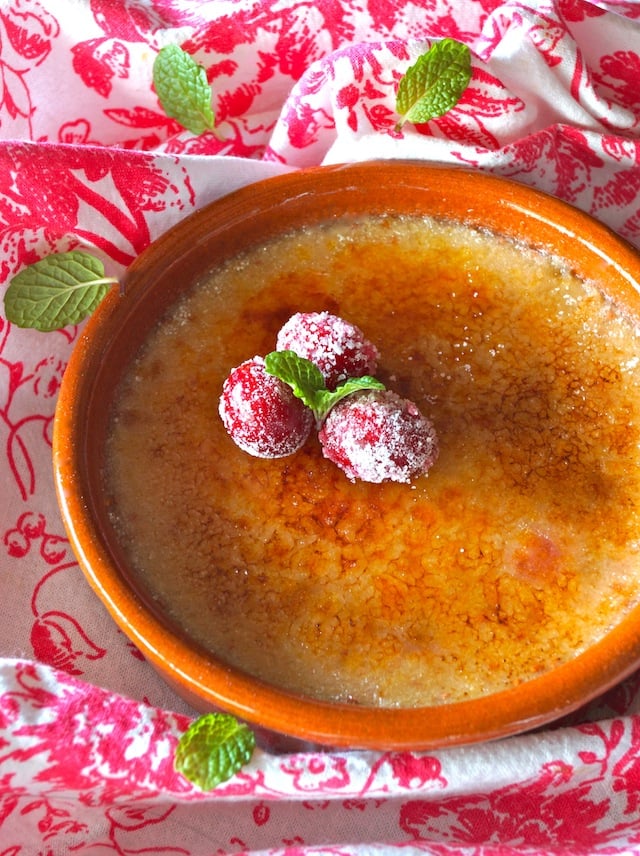 update: I got 4th place 🙂
Inspiration
I have a friend who wins every contest she enters. Every one! (You know who you are!) Whether it's for a delicious recipe she's created or simply a raffle box she's dropped her business card into — she's always the winner.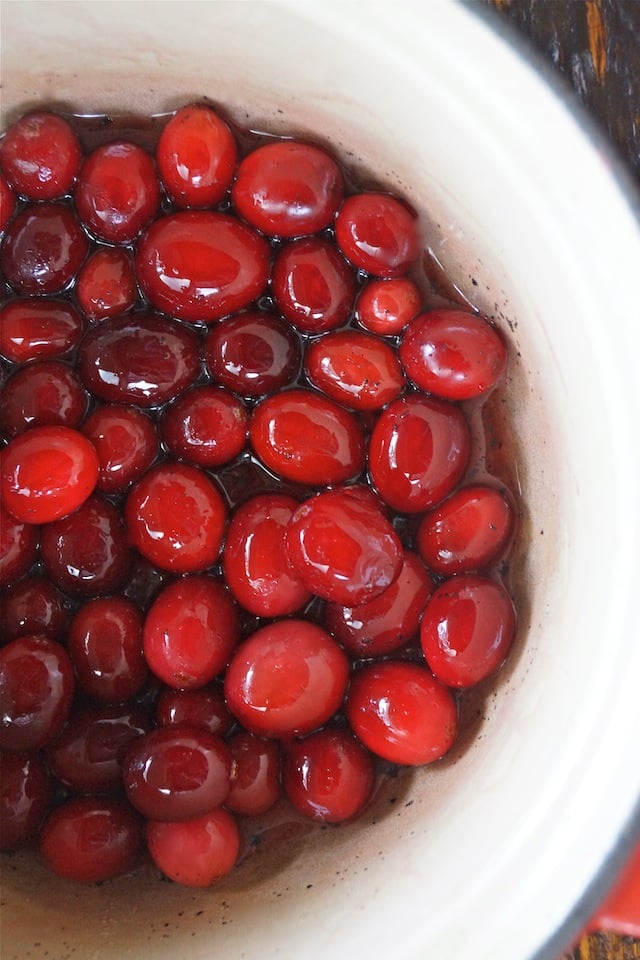 This woman always has a great shot in contests where her culinary talent is involved because her food is amazing.
The Lucky Fairy must be watching over her for those when her name is drawn from a hat. She's won trips to Europe and beyond, hotel stays, kitchen appliances and then some!
So when Cape Cod Select asked me to participate in their Holiday Blogger Recipe Challenge, I decided to channel this winning friend of mine and go for it. I'm entering this Cranberry Creme Brûlée recipe in the baking portion of the competition, and I think my chances are pretty good for a few reasons . . .
Creativity, taste, presentation and to my knowledge, this friend I've been speaking of didn't enter. 😉
Challenge or not, I'm super excited to share this Cranberry Creme Brûlée Recipe with Amaretto with you because I love it so much, and it's fun and festive for the holiday season.
It's absolutely luscious! Rich, creamy and full of cranberries soaked in amaretto. Oh my!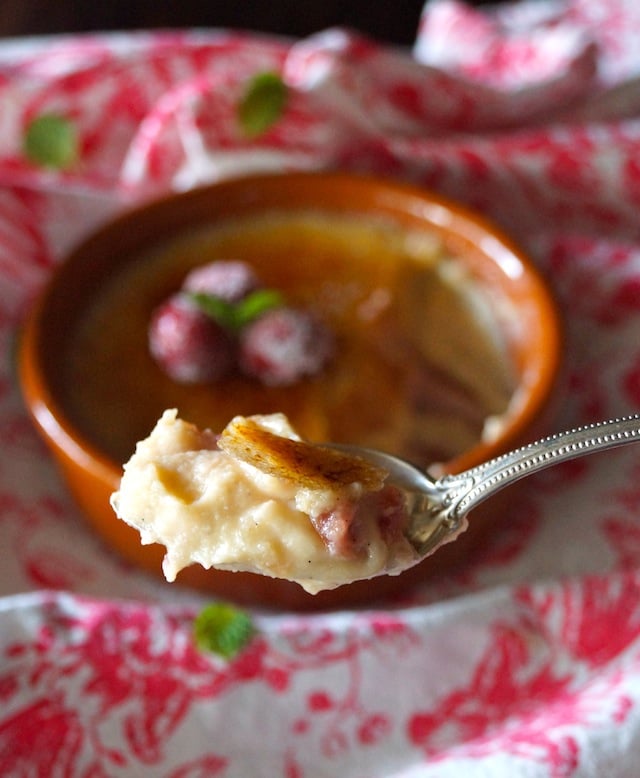 Cranberries for Cranberry Creme B
rûlée

Recipe with Amaretto

Gorgeous Cape Cod Select Cranberries are harvested in Southeastern Massachusetts, the heart of "Cranberry Country." From flower to package, they integrate the latest sustainable technologies and do their share to protect the environment.
Cape Cod Select freezes the cranberries at the peak of freshness, making them available year round – not just for the holidays!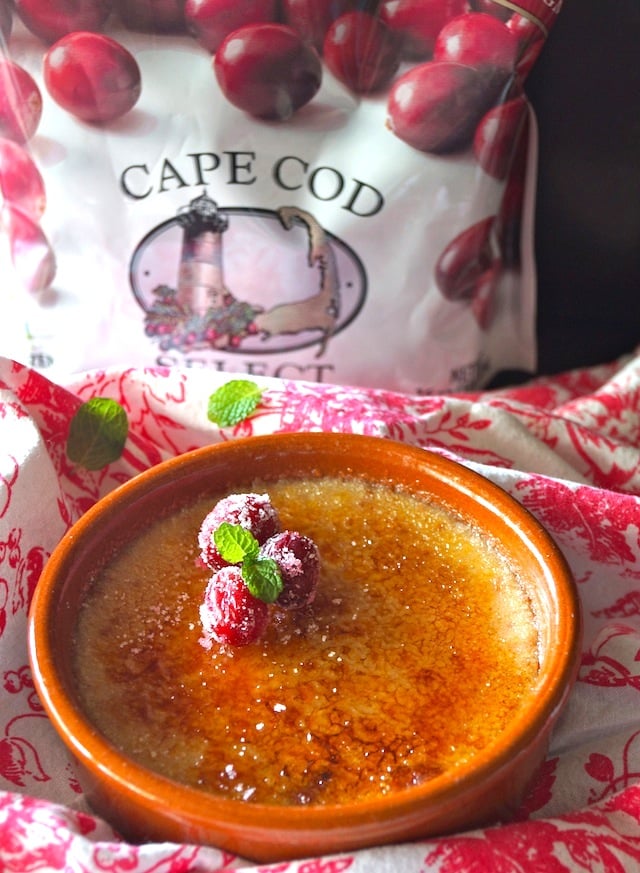 When I opened and spilled out my bag of frozen Cape Cod Select Cranberries, I had to pause and admire their beauty.
Each one plump, round and a stunning, saturated red.
You can keep up with Cape Cod Select on Facebook, Instagram, Pinterest and Twitter to get regular updates about their products and recipes.
You can find a store location near you that sells them here, or you can order online here.
Here are a few more cranberry recipes you might love:
Enjoy every bite of your Cranberry Creme Brûlée. (And wish me luck!)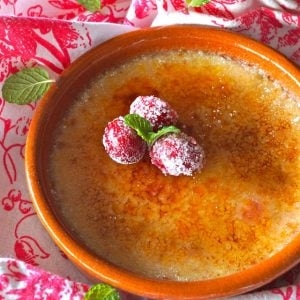 Cranberry Amaretto Crème Brûlée Recipe
My Cranberry Creme Brulee recipe with Amaretto is rich, creamy and full of delicious bites of fruit. Beautifully presented, this is an elegant and festive dessert for the holiday season.*Please note that only 30 minutes of the prep time is active. (4 hours is refrigeration time.)
Ingredients
1½

cups

frozen cranberries,

thawed

1

(approximately 7-inch)

vanilla pod

¾

cup

granulated sugar,

divided

¼

cup

amaretto

(almond liqueur)

2

cups

heavy cream

5

large egg yolks
Instructions
Preheat the oven to 325°F and adjust a rack to the center.

Add the cranberries to a small sauce pan.

Use a paring knife to slice the vanilla pod in half, lengthwise. Use the back of the knife to scrape the vanilla beans, from both halves, into the saucepan with the cranberries. Add 2 tablespoons of the sugar and the amaretto and stir. (Set the emptied vanilla pod aside -- you will need it later!) Turn the heat to high and bring to a boil. Then reduce the heat to low, and simmer until the cranberries have broken and become soft, and the liquid has thickened. This should take about 15 minutes. Let them cool completely.

Meanwhile, add the cream, the emptied vanilla pod, and 6 more tablespoons of the sugar to another small saucepan. Place it over low heat and bring to a simmer. Stir to dissolve the sugar and then turn off the heat. Set aside.

In medium-sized mixing bowl, whisk the egg yolks until they're well blended. Remove the vanilla pod from the cream and then in a slow stream, whisk it into the yolks, just until evenly combined. Now with a spoon, mix in the cooled cranberries.

Divide the mixture evenly among 4 (6-ounce), shallow ramekins and place them on a rimmed sheet pan. Pour enough hot water in the pan to go about halfway up the sides of ramekins. Place the pan in the oven and bake just until they're set in the center when pan is gently shaken, about 30 minutes.

Remove ramekins from the pan and let them cool to room temperature. Then cover each one with plastic wrap (being careful it doesn't sit directly on the custard), and chill in refrigerator for at least 3 1/2 hours and up to 2 days.

About 10 minutes before serving, sprinkle the remaining 4 tablespoons of sugar evenly among the 4 ramekins. Use a kitchen torch to caramelize the sugar, one at a time -- quickly moving the flame around until the sugar is crisp and golden. Place 3 of the reserved cranberries on each one, sprinkling them with a bit of sugar if desired.

Serve!
Have you tried this recipe?
I'd love to see it on Instagram! Tag me at @cookingontheweekends or leave a comment & rating below.
Save
Save
Save