This Smashed Potato Stew recipe is made with a warm coconut sauce filled with aromatic curry spices, and the creamy, buttery Dutch Yellow Potatoes have never been better! This potato stew is ideal for a cozy dinner in the cooler months.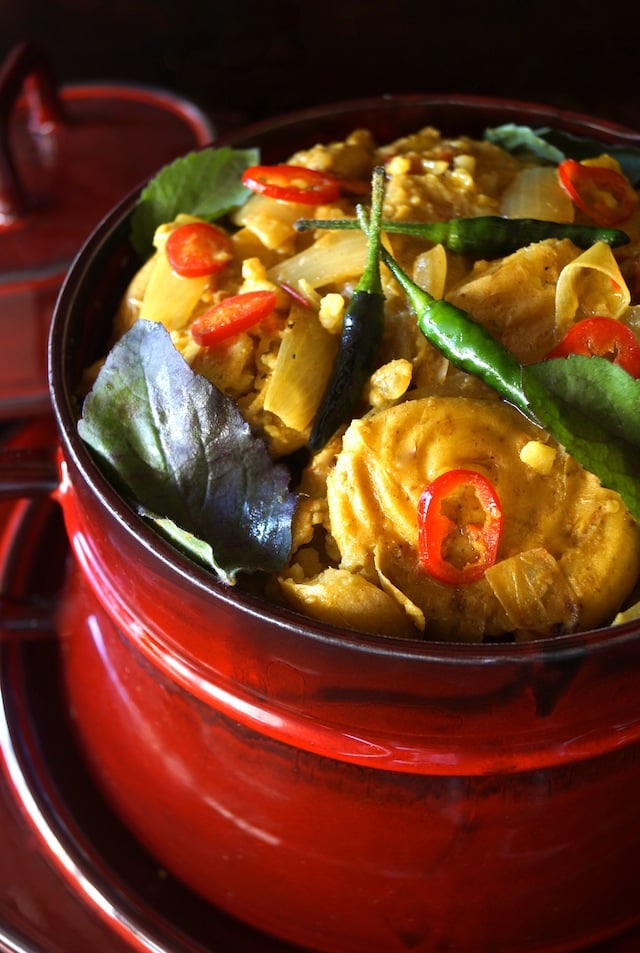 My recipe inspiration comes from all over -- anything from the produce that's in season and the temperature outside, to the mood I'm in and flavors I'm craving.
My inspiration can also be artwork I see in books, aromas in the air, what's in my pantry, and a million things in between.
Believe it or not, this potato stew recipe was inspired from a beautiful red, ceramic serving pot that my aunt game me.
She'd never had the perfect occasion to use it and said she could imagine it filled with a hearty soup or stew in one of my photographs.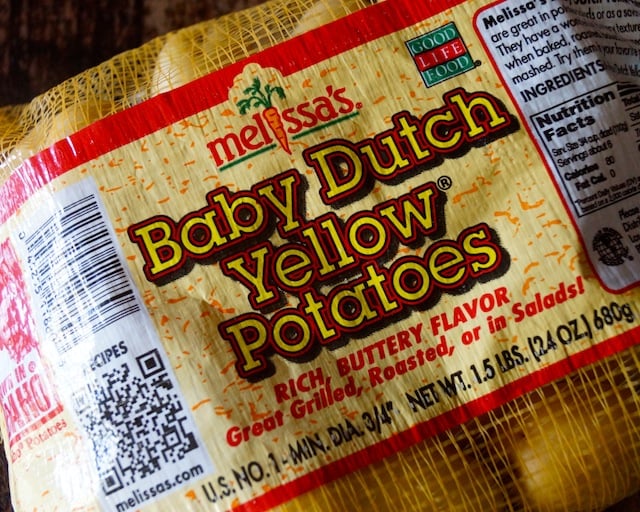 I received a bundle of Baby Dutch Yellow Potatoes from Melissa's Produce with a new kitchen tool called a Smood, from Dreamfarm, and created this smashed potato stew.
And it looks (and tastes) fabulous in the red pot. 🙂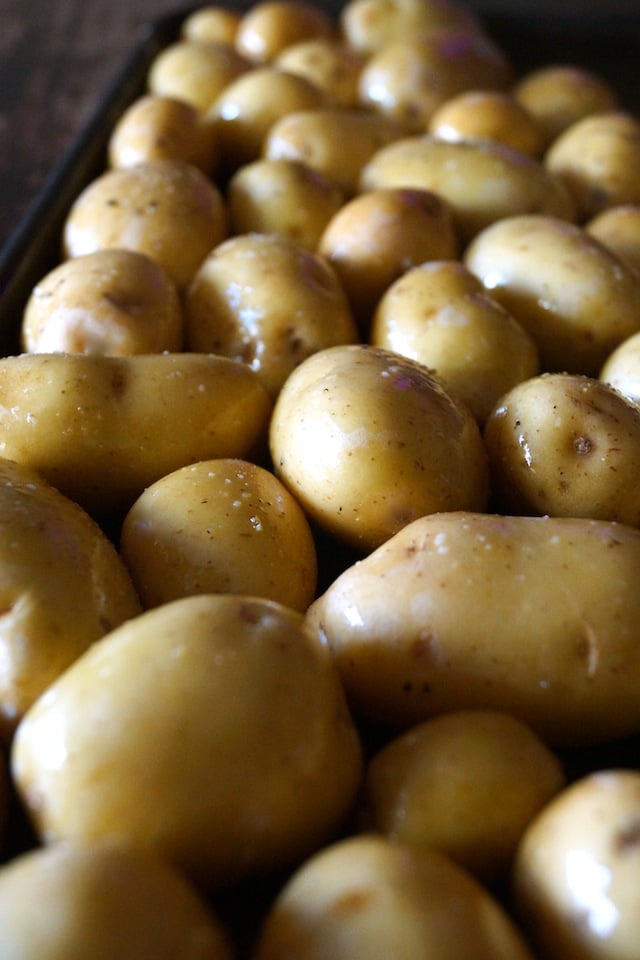 Dutch Yellow Potatoes
Look at these fantastic Dutch Yellow Potatoes. The skin is thick a gold-yellow color and the inside is creamy and rich.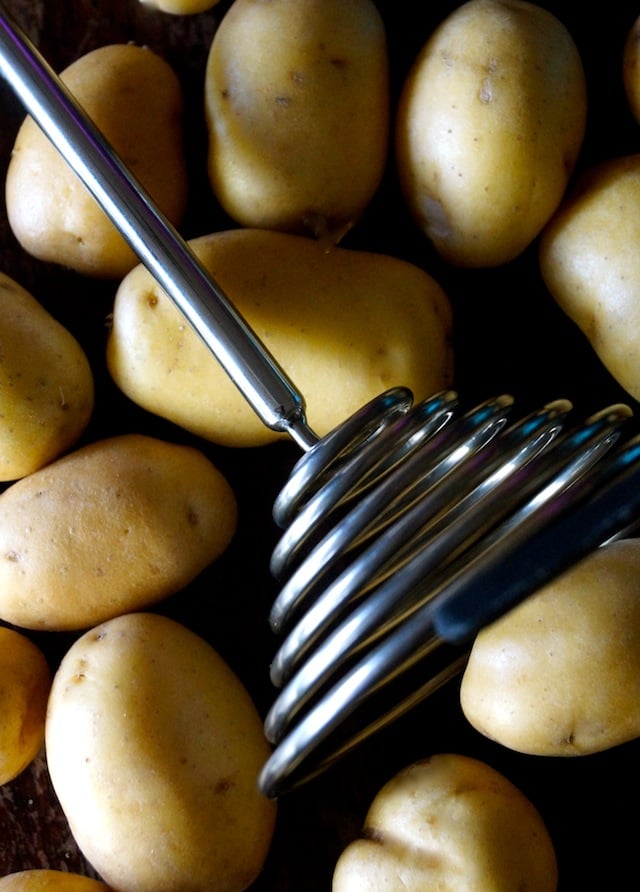 "Smashing" the potatoes with the Smood makes them ideal for soaking up the curry flavors in the stew.
Above image: This is how the ginger should look for this recipe. It's easiest to us a microplane zester.
Making Smashed Potato Stew
I'm not usually interested in specialized kitchen tools. I'm more of a DIY chef -- I typically smash potatoes with the bottom of my smallest sauté pan. However, the Smood intrigued me.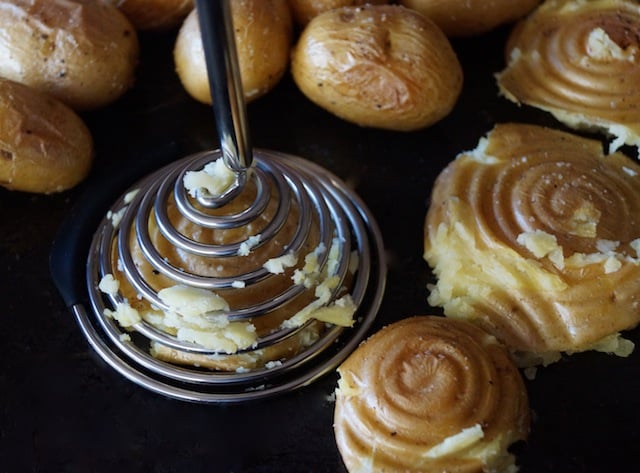 It smashes roasted, boiled or steamed potatoes with ease and no mess. More importantly, it keeps the buttery texture of the potatoes without ruining the nicely crisped skin.
You can use as much pressure as you'd like -- the more pressure used, the more you mash.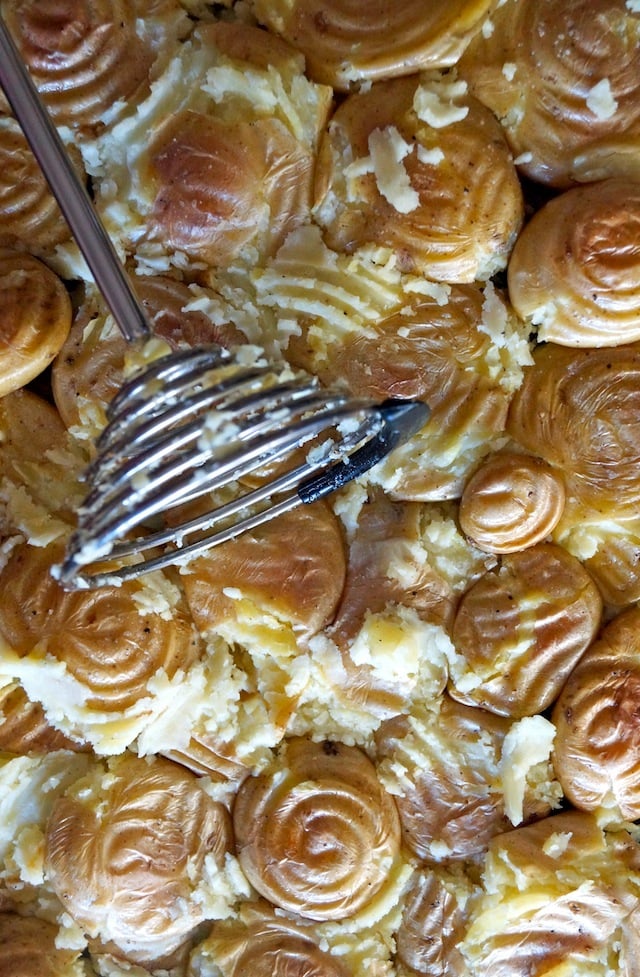 Enjoy! I'm hoping this becomes one of your favorite potato stews!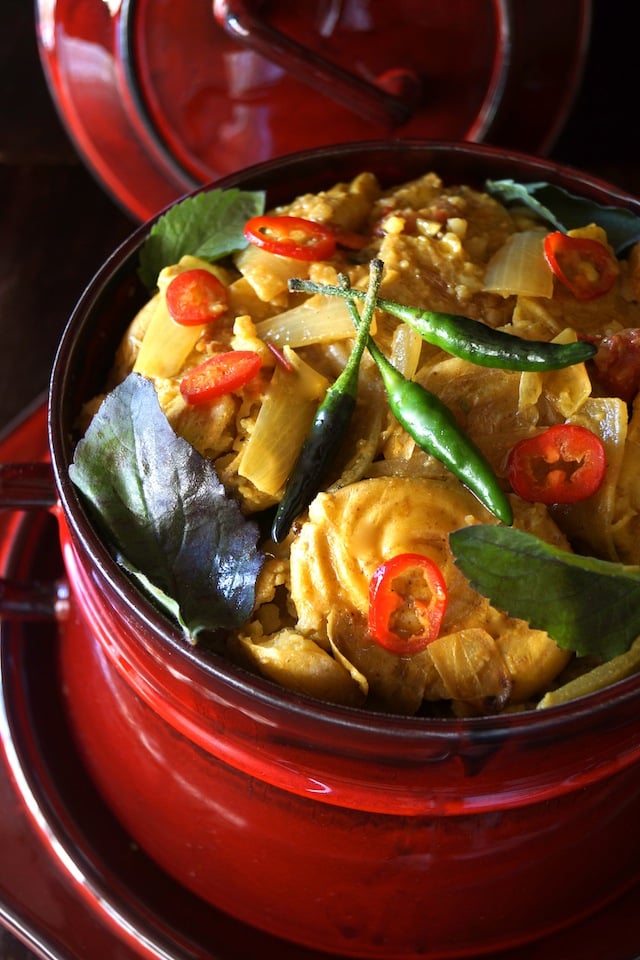 This is not a sponsored post. Melissa's Produce gave me the potatoes for recipe testing and Dreamfarm gave me the Smood for review. As always, I only write about things I love.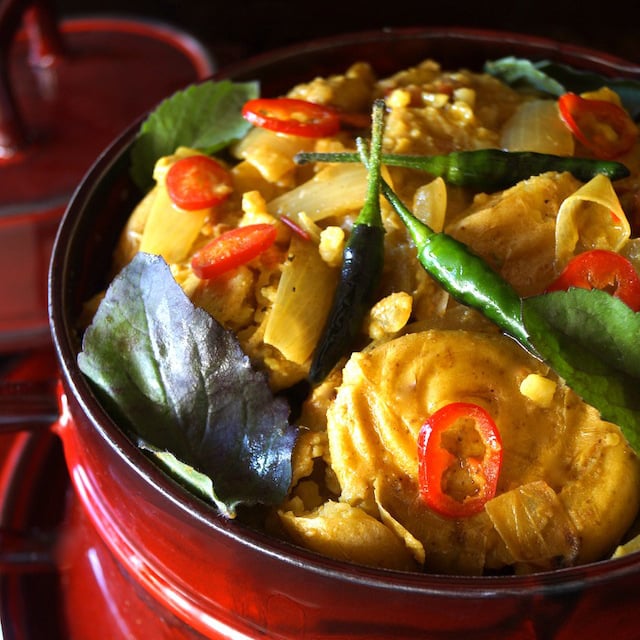 Curry Smashed Potato Stew
In a warm coconut sauce filled with aromatic curry spices, the rich and creamy, buttery textured Dutch Yellow Potatoes have never been better!

Ingredients
3

pounds

Baby Dutch Yellow Potatoes,

washed and dried

2

tablespoons

olive oil

(plus a bit more for the pan)

3

cups

yellow onion,

large dice

3

tablespoons

minced garlic,

minced

1½

tablespoons

ginger pulp

(from approximately 2 X 1½-inch ginger root)

1 to 2

teaspoons

minced Thai chile pepper

(or other hot pepper -- see notes)

2

teaspoons

brown sugar

2

teaspoons

ground cumin

1½

teaspoons

ground cardamom

1½

teaspoons

ground turmeric

1

teaspoon

ground cinnamon

½

teaspoon

ground cloves

3

cups

coconut milk

1

cup

vegetable stock

1½

cups

diced fresh tomatoes

approximately 2

dozen

fresh basil leaves,

washed and dried

salt and freshly ground black pepper

a few thin red or green jalapeño slices for garnish
Instructions
Set the oven and prep the potatoes. Preheat the oven to 400° F, adjust a rack to the center, and add the potatoes in an even layer to a sheet pan. Drizzle them with the 2 tablespoons of olive oil and sprinkle generously with salt and pepper. Move the pan around to be sure all of the potatoes are evenly coated.

Roast the potatoes. Once it's preheated, place the sheet pan in the oven and roast the potatoes until they're tender when pierced with a fork, about 40 minutes. Jiggle the pan to move the potatoes around about halfway through the cooking time. The skins should be wrinkled and slightly golden when they're done.

While the potatoes are in the oven, cook the onions, garlic, ginger and peppers. Coat the bottom of a large sauté pan with olive oil and place it over medium heat. Add the onions and cook, stirring often, until they're soft and a bit golden, about 8 minutes. Add the garlic, ginger pulp and chili pepper to the onions. (The ginger is most easily grated into a pulp with a microplane zester.)

Add sugar and spices. Cook for about 3 minutes, and then add the brown sugar, cumin, cardamom, turmeric, cinnamon and cloves and stir. Cook until this is very aromatic, about 1 minute.

Add coconut milk and tomatoes, and simmer. Add the coconut milk, stock and tomatoes. Stir to blend, bring to a boil, and then turn the heat to low and simmer gently until it thickens slightly, about 15 minutes.

Smash and add the potatoes. While the potatoes are still hot on the sheet pan, gently press them down to "smash" them. You can use a smooth-bottomed meat mallet, the bottom of a small sauté pan, or a Smood.

Add the smashed potatoes and gently coat them well with the sauce.

Serve. You can serve immediately, but the longer the potatoes sit in the sauce, the more it will seep inside of them and the flavor will be more intense.
NOTES
The amount of chili pepper you add depends on the level of heat you like. One teaspoon of a very hot pepper will give you a medium-mild result. Calorie count is only an estimate.
NUTRITION
Have you tried this recipe?
I'd love to see it on Instagram! Tag me at @cookingontheweekends or leave a comment & rating below.
Cooking On The Weekends is a participant in the Amazon Services LLC Associates Program, an affiliate advertising program designed to provide a means for sites to earn advertising fees by advertising and linking to Amazon.com.