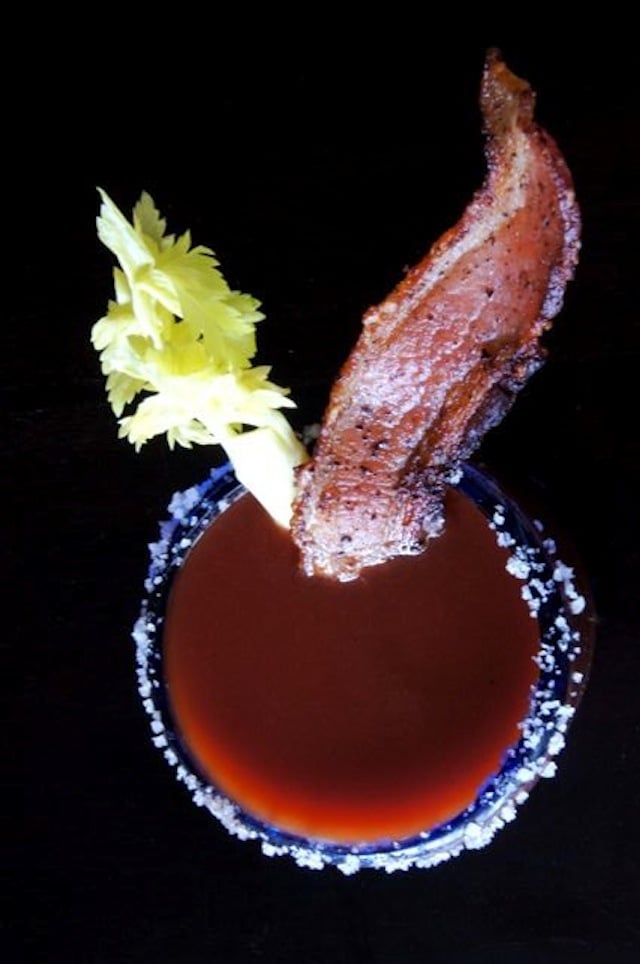 My husband's favorite cocktail is a Bloody Mary, and I think it'll pair quite nicely with the Mexican fare we're serving for his birthday dinner.   This is his drink, and honestly I'm not exactly sure what his ingredient list is, or how much of each he uses.
This is exactly the sort of recipe that should be made to taste.  Everyone will have their own individual preferences.  I was so happy to hear the boys from The Table Set agree with me in their podcast about brunch.  (Put An Egg On It — you must listen to this — it's entertaining and delicious!)
The bacon here is not so classic.  And can you believe I'm sticking bacon in my vegetarian husband's birthday cocktail?  Well, as I told him, I have a good reason.
A few weeks ago I was chatting with Jenn of Kitchy Cooking (a great food blog with tons of classic cocktail recipes), and she mentioned using applewood smoked sea salt with a Bloody Mary.  Smoked sea salt?  That did sound interesting.  A couple of days later, I  went to a brunch where Bloody Mary's were being served with strips of applewood smoked bacon.  With Jenn's applewood smoked sea salt still in my mind, I had to try this curious combination.  I loved it!  It was brilliant!
I like to sprinkle freshly ground black pepper on both sides of the bacon before cooking it.
Oh, and the olives are simply delicious.
Recipe
(All of the ingredients are to taste.)
The drink:
Ice cubes
Spicy tomato juice
Vodka (good vodka, please!)
Lemon or lime juice
Worcestershire sauce
Hot pepper sauce
Coarse sea salt and freshly ground black pepper
The garnishes:
Celery stalks
Stuffed green olives
Lemon wedges
Applewood smoked bacon
Salt the rim of a glass. To do so, pour coarse sea salt onto a small plate, moisten the rim of the glass with a damp towel and press it into the salt.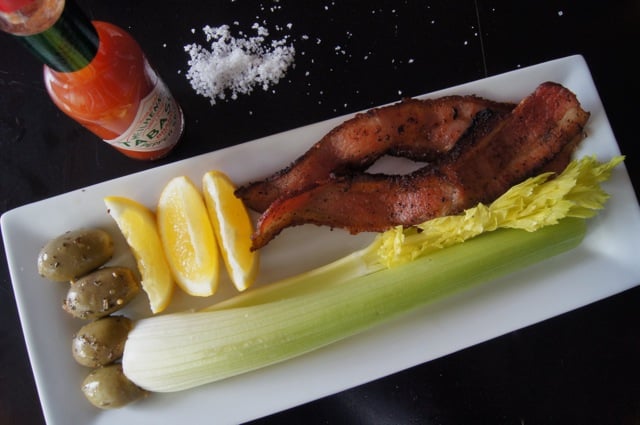 Put out everything your guests will need and let them make their cocktail to taste.  (Or you can make it for them, per their directions.)
Here's more or less, what they should do:
Fill the glass with ice cubes.
In a cocktail mixer (or serving pitcher) full of ice, combine the desired amounts (to taste) of tomato juice, vodka, lemon juice, Worcestershire sauce, hot pepper sauce, horseradish, salt and pepper. Shake or mix vigorously and strain into the glass.
Garnish with a stalk of celery, a crispy strip of bacon, lemon wedges, or olives on a toothpick.
Notes:
For whatever it's worth . . . every time I drink a Bloody Mary, while I love the flavors, I always think to myself that I'd prefer it as a sauce.   Over grilled chicken or prawns! Really!
Friday Flowers will be back next week. 🙂