Mother's Day Mimosa Granitas are one of the most lovely and unique Mother's Day drinks! Refreshing frozen Mimosas can be sipped or eaten with a spoon, and they're absolutely lovely as part of a Mother's Day brunch menu.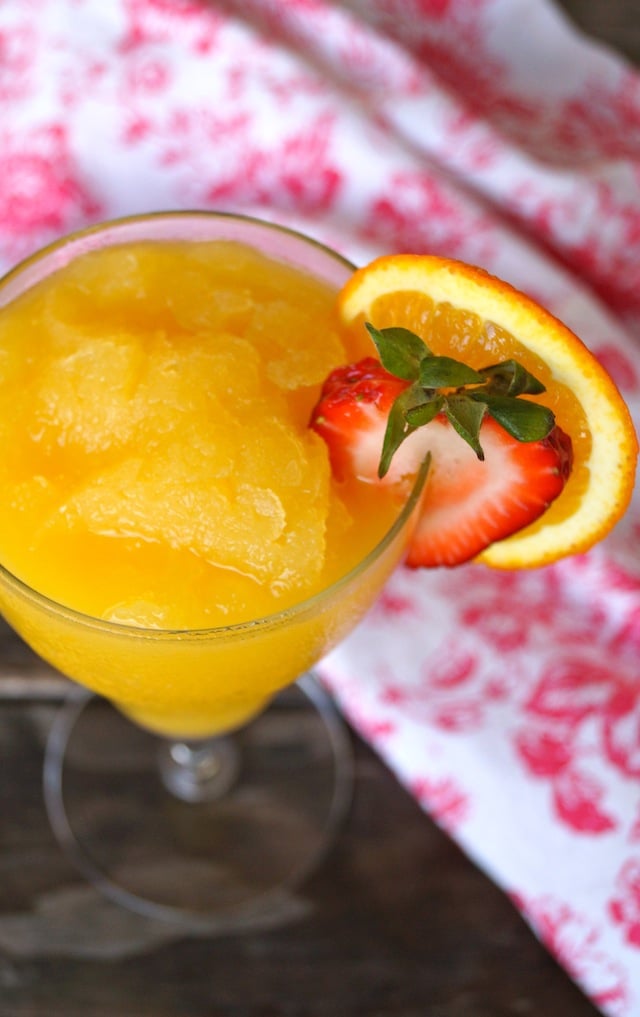 Here's what I want for Mother's Day . . .
Number one is a given — to be with my mom and to be with my boys. All together would be the best, though I'll happy have them all in any order, too.
Second is a

perfect cup of coffee

(also a given if you know me well). And by "a" cup, I mean a few cups. 😉
And third is brunch around 11 AM — which will include of the

most delectable foods ever

, including a luscious Mother's Day Mimosa Granita.
A Mother's Day Mimosa Granita is quite different from a typical Mimosa.
What is a Mimosa?
Traditionally served in a tall flute glass, a Mimosa is a cocktail that is one part champagne and one part orange juice.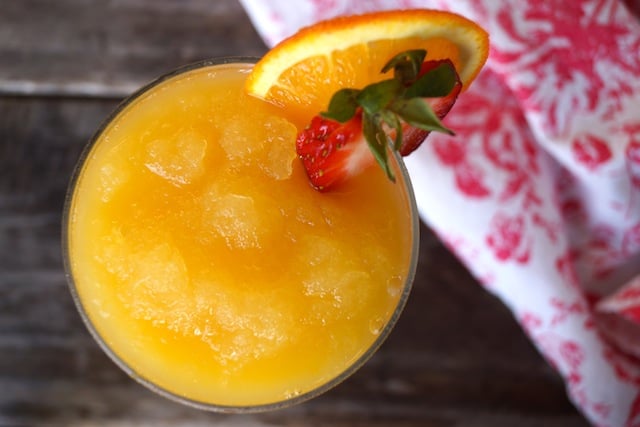 This beautiful, bright and sunny Mimosa Granita Cocktail is essentially a classically made orange granita, with a touch of vodka, that's rested to just the right consistency.
Simple, vibrant and delightfully refreshing!
A few ideas of what to serve for brunch with the Mother's Day Mimosa Granita:
And honey, in case you've tuned in, I'd also love a trip to a spa and a super clean house. Just sayin'.
My favorite thing from my boys is anything homemade. Even as an adult I know my mom's favorite gifts are those that I make.
I'm guessing frozen Mimosas just might jump to the top of your favorite drinks list.
So I hope you'll try the Mother's Day Mimosa Granita — whatever day it is!
Mother's Day Mimosa Granita
Refreshing frozen Mimosas can be sipped or eaten with a spoon, and they're absolutely lovely as part of a brunch menu.

Ingredients
½

cup

water

3

tablespoons

granulated sugar

3

cups

freshly squeezed orange juice

(from about 6 Naval oranges)

1/2 to 3/4

cup

vodka

(or the amount you desire, depending on the strength you want)

about 6 thin orange and strawberry slices for garnish
Instructions
Add the water and sugar to a small saucepan, place it over medium heat and cook just long enough to dissolve the sugar, about 1 minutes. Let it cool to room temperature.

Add the orange juice and vodka. Stir to blend.

Pour the mixture into a shallow dish, cover it with plastic wrap and place it in the freezer until the edges are frozen, about 30 minutes. Scrape the ice from the edges with a fork, mixing it into the center. Repeat this scraping and mixing process every 20 minutes or so, until it has turned into tiny ice flakes. (Don't stir as you would a batter -- you should almost be "chopping" as you move the ice around.) Keep this in the freezer until you're ready to use it.

Fill 4 to 6 glasses with the granita and let it defrost slightly, so that it's slushy, about 5 minutes.

Cut slits in the orange and strawberry slices, garnish the glasses with them and serve!
Recipe Notes
Of course this can also be made sans vodka -- a delicious orange slushy!
Save
Save