There aren't too many recipes with rambutans, but they're the star of this Tropical Smoothie Recipe, which also includes banana and pineapple.  It's perfect for a warm summer day!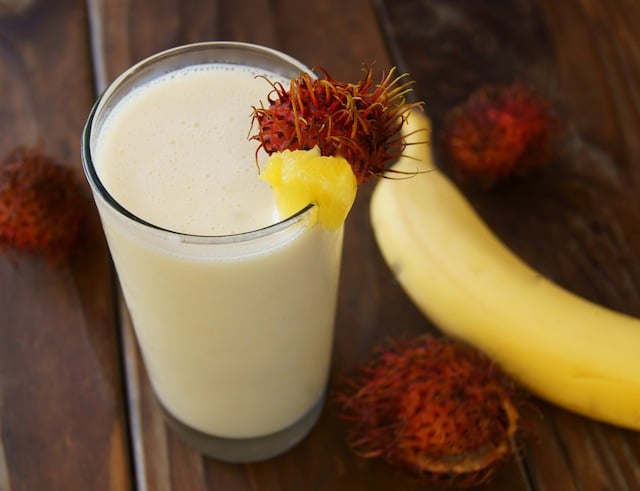 I exercise simply because I feel I should.  I don't love it.  On a good day, I like it.
I trail run a few times a week, for about twenty minutes (tops!).
I'm incredibly lucky to live just a few blocks from the Santa Monica Mountains.  It's on a trail in these mountains where I run, and it's the beautiful  scenery that keeps me going.
I push myself out the door on my running days — and to be totally honest, part of my incentive is that I know I'll have the next day off.
Here's the deal, I exercise because I know it's good for me, and I feel good about doing it — and honestly, more than I think I actually feel good from doing it.
One of the reasons I continue to run, is that it's when my mind is clear and I think.  I review things going on in my life — my kids' activities, how my parents are doing, and what I'll create next in the kitchen.
It usually starts with a single ingredient I know I want to use, and then I come up with different ideas about what to pair it with.  Typically there are several that come to mind, and only one will excite me.
So yes, somehow on the trails of the Santa Monica mountains, I was thinking of recipes with rambutans.  And this tropical smoothie recipe is one of them!
Another was my Rambutan Cocktail (below). While the adults were sipping those, my boys (6 and 8 years- old), were sipping this super delicious, refreshing smoothie.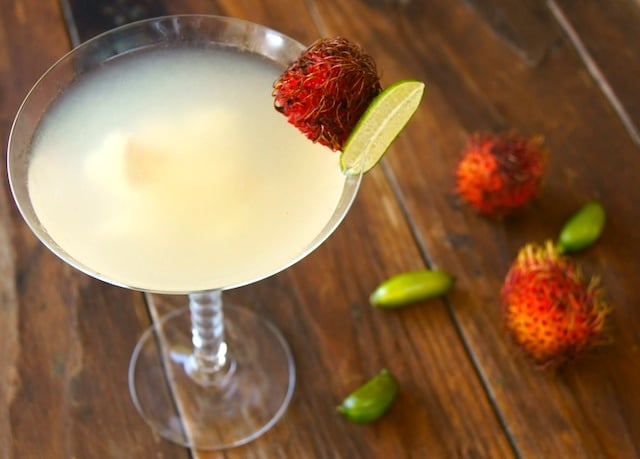 This smoothie is the perfect treat to reward yourself with after you've forced yourself out the door and exercised for at least 20 minutes!
Or many it's the cocktail!  You decide. 😉
Hopefully this will be one of your go-to recipes with rambutans.
Enjoy!
And thank you to Melissa's Produce for the gorgeous rambutans.
Tropical Smoothie Recipe
Ingredients
3/4

cup

plain yogurt

5

rambutans or lychees

peeled and pitted (here's how to peel and pit them)

1

medium-sized ripe banana

1/3

cup

pineapple chunks

1

tablespoon

honey

1

teaspoon

vanilla extract

1/2

cup

crushed ice
Instructions
Add all of the ingredients to a blender and purée until it's smooth.

Serve!
Recipe Notes
You can also use canned lychee or rambutan -- if you do, drain them from any syrup that they might be canned with, before adding them to the blender.
Save