These lamb kebabs are absolutely packed with flavor and are a fantastic new grilling recipe for the summer.  They're quick, easy and over-the-top delicious!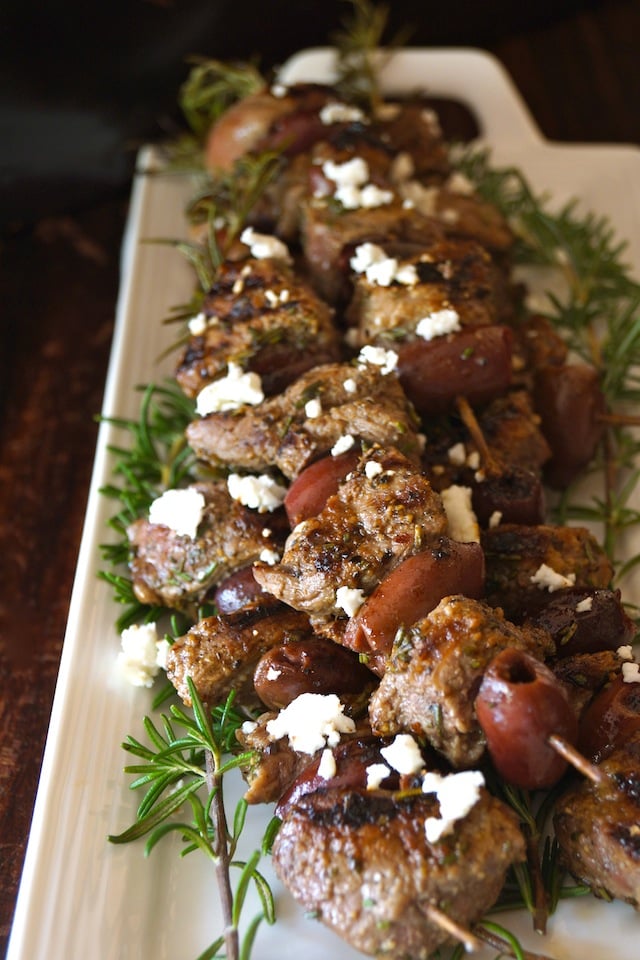 I get all sorts of cooking requests from my boys. Sometimes it's as boring (no offense!), as buttered toast or cheese and crackers — but, other times it's quite interesting.  My younger son once helped me create a recipe he'd concocted in him mind for Bacon-Waffle Deviled Eggs. And THE Breakfast Taco was my older son's idea.
So last week my 12-year-old came home from school one day and announced he told his history group that his chef mom would make a bunch of food to represent Ancient Greece . . . .
Um . . . . okay.  🙂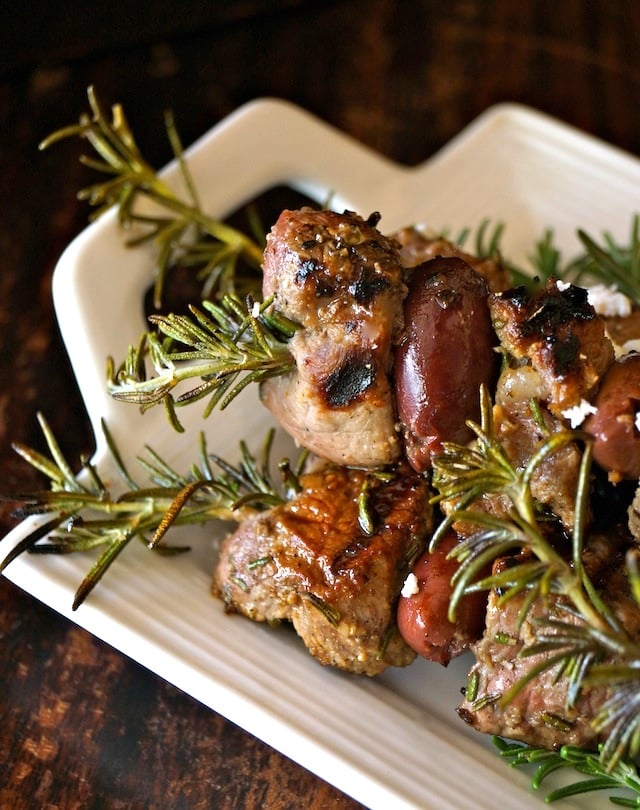 My son's group came up with what I was to make and I happily agreed.  The lamb kebabs were the biggest hit in class — and at home!  I immediately remembered my friend Judy's amazing lamb we had at our Summertime Garden Party, and tried to do something similar, but with the addition of the olives and Feta.
With summer pretty much here, I'm so excited to have a new, super tasty recipe to hit the grill!  Hope you are too.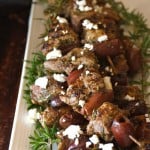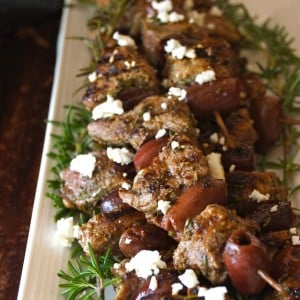 Grilled Rosemary Lamb Kalamata Kebabs Recipe
Ingredients
8

strong

approximately 6-inch long rosemary sprigs

1

tablespoon

olive oil

plus a bit more for the grill if necessary

1-

pound

boneless leg of lamb

cut into approximately 32 bite-sized pieces

1

tablespoon

minced garlic

approximately 32 pitted Kalamata olives

sea salt and freshly ground black pepper

1

tablespoon

crumbled Feta cheese
Instructions
Rinse and dry the rosemary. Then remove all but the top 1-inch or so of leaves from each sprig. Finely chop about half of the removed leaves -- you need 2 teaspoons of it. Set the 8 cleaned sprigs, and 2 teaspoons of finely chopped rosemary aside.

Add the olive oil, garlic and 2 teaspoons of finely chopped rosemary to a medium-sized mixing bowl. Add the pieces of lamb and mix to coat it well with everything.

Now begin adding the lamb and olives to the cleaned rosemary sprigs. Add 4 pieces of lamb, alternating with 4 olives on each one.

Preheat a stove-top or outdoor grill and season both sides of the kebabs with salt and pepper.

Once the grill is very hot, add the kebabs -- with a bit more olive oil if necessary. You should hear a sizzling sound when they hit the grill -- if you don't, it's not hot enough yet. Grill each side for about 3 minutes or so, just until the lamb is cooked through. (It's best with it's still a bit pink in the center.)

Arrange the kebabs on a platter, or individual serving plates, and sprinkle them with the Feta while they're still hot.

Serve and enjoy!