Chipotle Tequila Lime Chicken bursts with delectable flavors, and can be grilled, sautéed or baked. It's excellent in salads, tacos, sandwiches, or served as a main course with sides.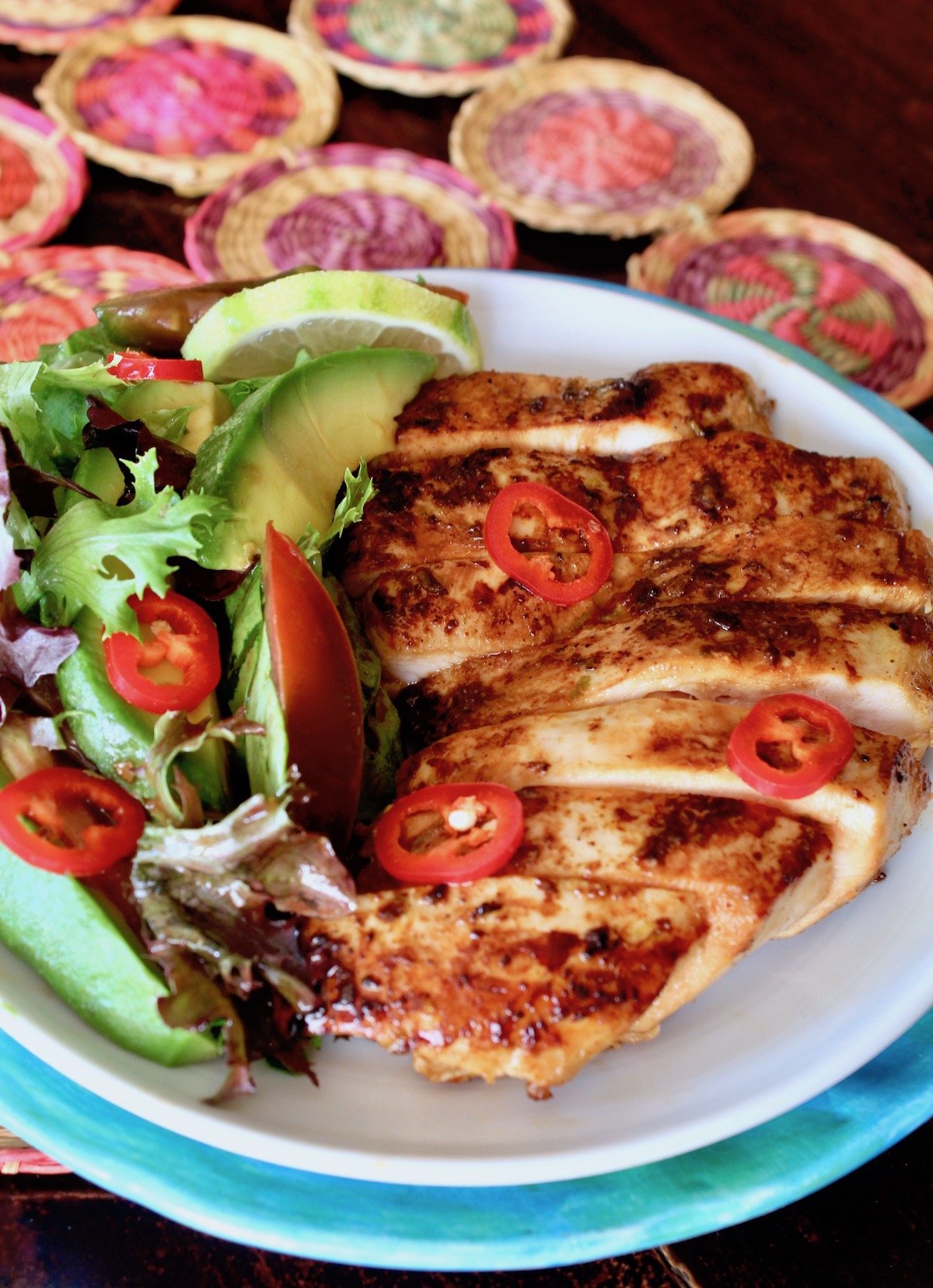 Above: It's delicious served with or in a salad.
Chipotle Tequila Lime Chicken carries a ton of delicious sweet, spicy and tangy flavors.
Whether you serve it as a main course drizzled with its scrumptious sauce, or chopped into a salad, everyone will flip for it!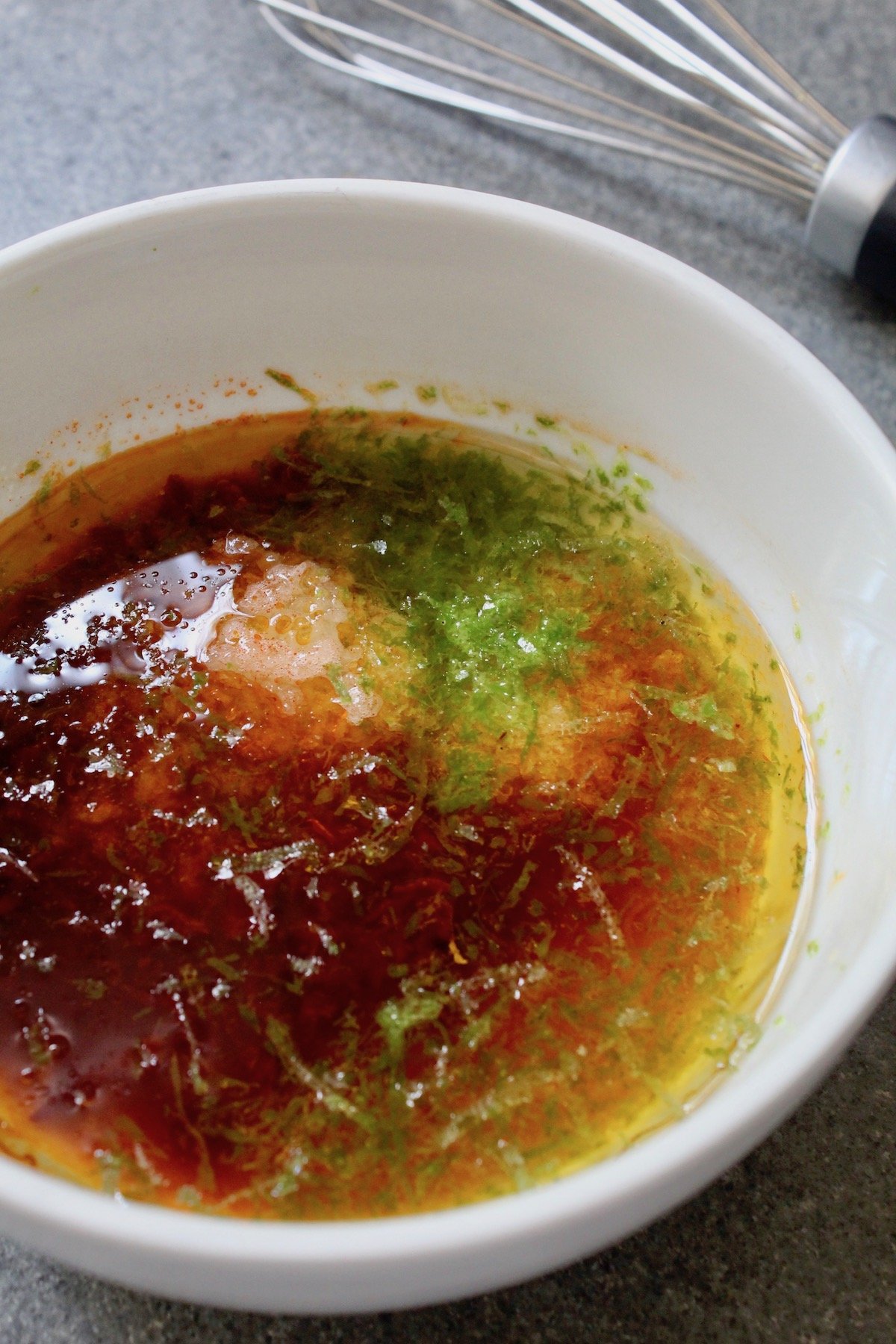 Above: Chipotle Tequila Lime Marinade (grapeseed oil, tequila, honey, lime zest, chipotles and garlic)
What does alcohol do in a marinade?
In marinades, alcohol does not tenderize, but it does help season the protein and can carry amazing flavor.
I like using tequila in marinades for chicken because it adds a delicious smoky flavor.
What does citrus do in a marinade?
Too much acid in a marinade can actually dry out and toughen protein. So while citrus does enhance flavor, it should be used minimally and not for long periods of time.
While it's quite popular to use citrus juices in marinades, I often prefer to only use citrus zest. The zest contains the essential oils of the citrus and is therefore filled with pure flavor.
So while a little bit of citrus juice can work well in a marinade, the zest packs a lot of flavor and you won't risk changing the texture of the protein.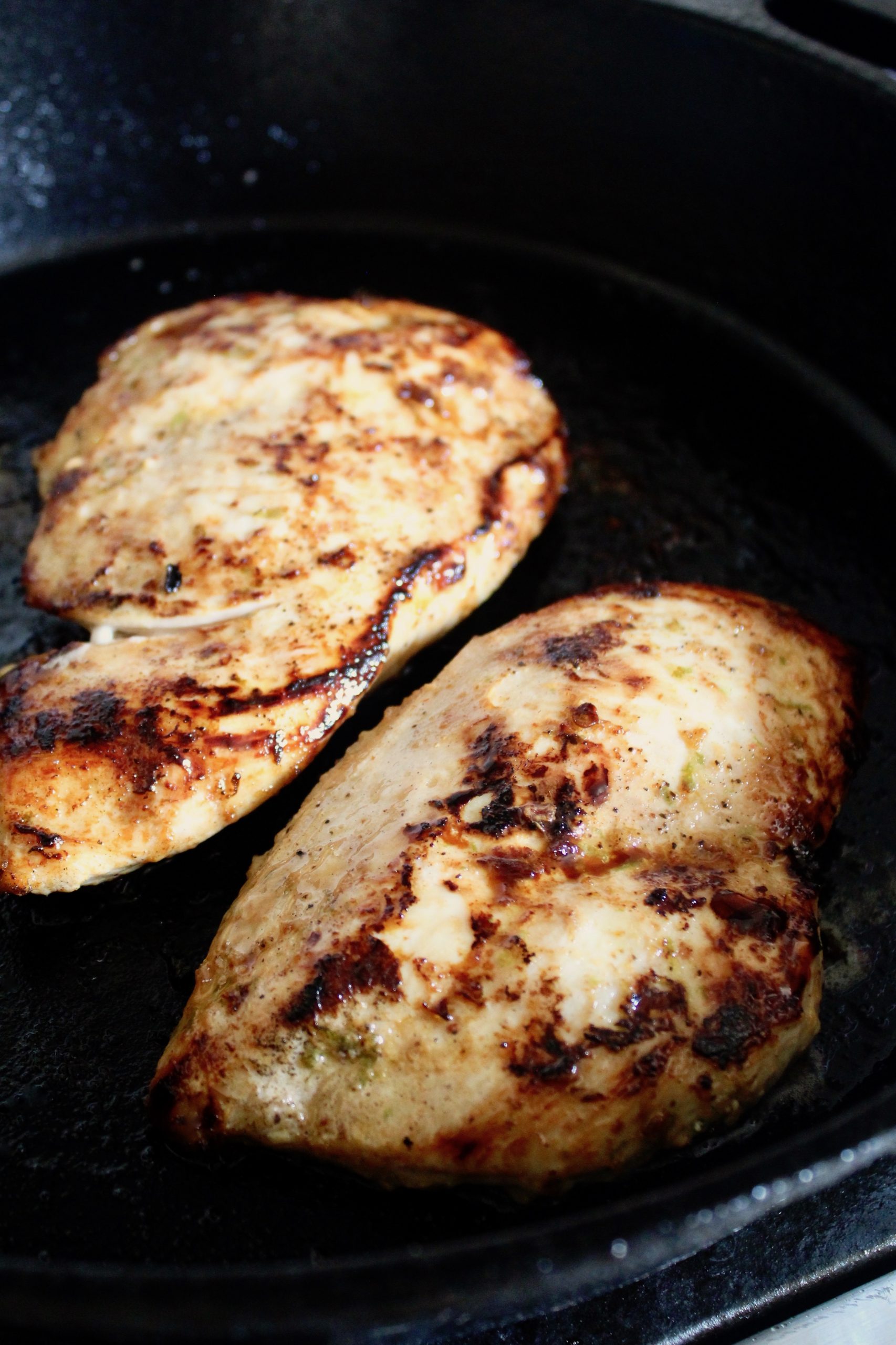 Ideas for serving Chipotle Tequila Lime Chicken
Add it to a chopped salad, or any other salad you'd like to. It's a great way to turn a side salad into a hearty main course.
It's delicious in tacos, burritos, tostadas, etc.
Serve it with

Mexican beans

, rice and a salad for a great well rounded meal.
The possibilities are really endless.
Above: The marinade deglazes the pan where the chicken was sautéed, cooks over high heat for a few minutes, and is fantastic drizzled over the chicken.
Recipe Tips and Substitutions
If you lightly pound any thicker parts of the chicken breasts before you begin, it will cook more evenly. Use a

smooth meat mallet

or the bottom of a small sauté pan, with the chicken between two pieces of plastic wrap.
For less heat, use less of the chipotles in adobo, or only the (adobo) sauce and none of the actual chiles with seeds.
While the cooking time will be much longer, you can use this tequila lime marinade with bone-in chicken as well. (If you do, bake it in a 375

°

F oven for approximately 30 minutes — just until it's cooked through.)
If you choose to grill the chicken breasts, the cooking time will be similar to sautéing it.
To serve the chicken hot, it's best to do so immediately after it's cooked.
If you're using the chicken for sandwiches or in a salad, let it cool completely and then slice it.
And finally, to serve it as an entrée, I would definitely drizzle it with the sauce (which is made from heating the leftover marinade). If you don't drizzle it and use the chicken differently, I'd still make the sauce and save it — even if it's to dredge a piece of bread in. It's so tasty!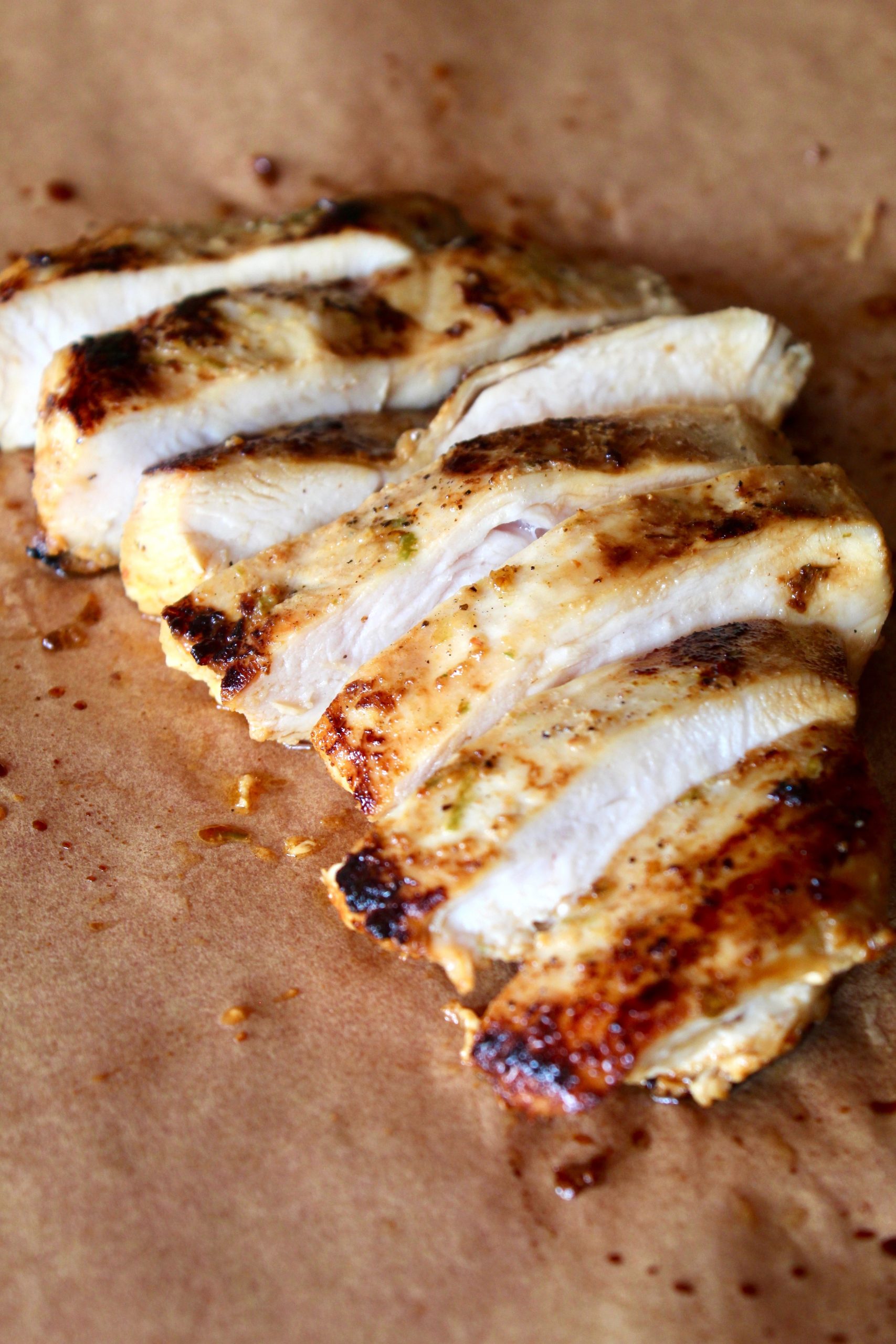 Can you make it ahead?
As I mentioned, if you're planning to serve the chicken hot, it should be served as close to cooking time as possible.
You can make it ahead if it will be used cold in salads, sandwiches, etc. Up to two days ahead is okay. (To keep it as juicy as possible, don't slice it until you're ready to use it.)
Above: Right out of the pan, the chicken is drizzled with the cooked marinade.

I hope you love every last bite of this Chipotle Tequila Lime Chicken!
More marinated chicken recipes: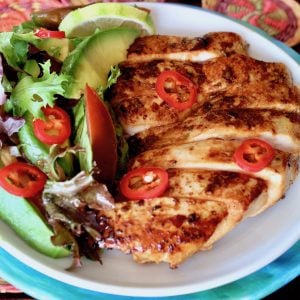 Chipotle Tequila Lime Chicken
Chipotle Tequila Lime Chicken bursts with delectable flavors, and can be grilled, sautéed or baked. It's excellent in salads, tacos, sandwiches, or served as a main course with sides.
Ingredients
¼

cup

grapeseed oil

¼

cup

good quality tequila

2

tablespoons

honey

2

tablespoons

finely chopped chipotles in adobo sauce

1

tablespoon

lime zest (from about 1 large lime, washed and dried)

2

teaspoons

minced garlic

1

pound

boneless, skinless chicken breasts

(4 small or 2 large)

salt and pepper
Instructions
Make the marinade. In a small bowl, combine all of the ingredients except the chicken, and whisk to blend.

Marinate the chicken. Trim the chicken breasts of any excess fat. Pour the marinade into a heavy-duty zip-lock bag and add the chicken. (To avoid leaking in the refrigerator, put the bag in a second bag or a bowl.) Marinate in the refrigerator for at least 6 hours and ideally overnight.

Cook the chicken. Remove the chicken from the bag, and let any excess marinade drip off into the bag. Place the chicken on a clean, dry surface. (Do not throw out the marinade!) Sprinkle both sides of the chicken with salt and pepper, coat the bottom of a large sauté pan with grapeseed oil and place it over high heat. When the pan is hot, add the chicken. You should hear a sizzling sound when it hits the pan, and if you don't, wait until it's hotter. Sauté just until it's cooked through, about 3 minutes per side. (Times will vary, depending on the thickness of the chicken breasts.)

Deglaze the pan/cook the marinade. As soon as you remove the chicken, pour the leftover marinade from the bag in the pan. With the heat about medium-high, use a flat-edged spatula to scrape the bottom of the pan to dislodge any stuck, caramelized bits of the marinade from sautíng the chicken. Work them into the liquid and bring to a boil. Since it's just a small amount, it will look more like a strong simmer than a boil, and it will be thick. Turn the heat to low and simmer for just a couple of minutes. Remove from the heat.

Rest, slice and serve. Let the chicken sit for a few minutes (slice if desired), and drizzle with the cooked marinade.
NOTES
Calorie count is only an estimate.
NUTRITION
Have you tried this recipe?
I'd love to see it on Instagram! Tag me at @cookingontheweekends or leave a comment & rating below.
Cooking On The Weekends is a participant in the Amazon Services LLC Associates Program, an affiliate advertising program designed to provide a means for sites to earn advertising fees by advertising and linking to Amazon.com.