Gluten-Free Butternut Squash Pie, with chai spices no less! And a unique gluten-free nut crust recipe. It's all so dreamy!  This pie tastes like the perfect blend of pecan pie and pumpkin pie — only it's neither one and even better!
I remember the Thanksgiving when I was in culinary school.  I was in my third month of the pastry course, and I made pie after pie for my family's feast.
Each one was more elaborate and prettier than the next.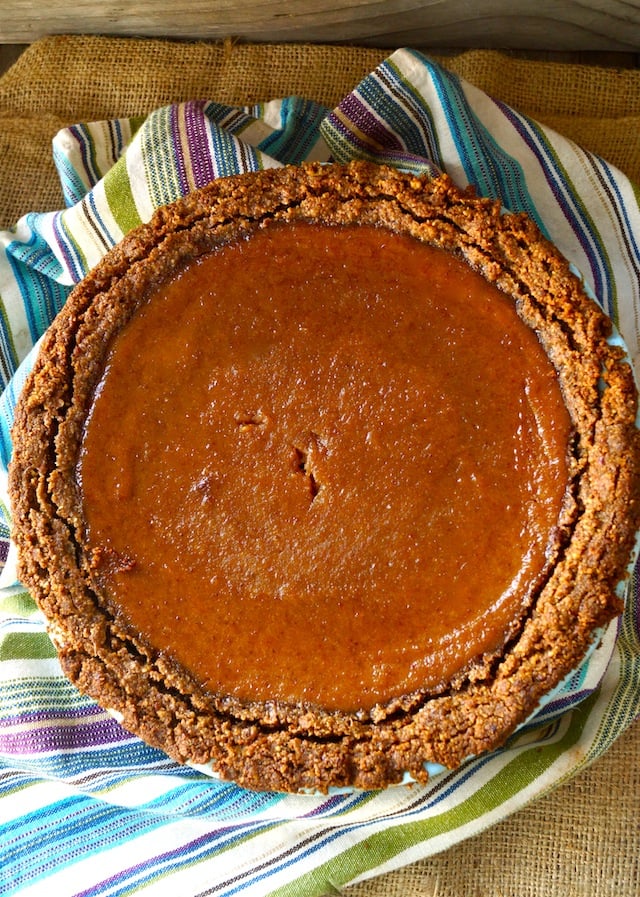 I distinctly remember making dozens of intricately detailed maple leaves out of pie crust dough, and making fillings that took days to prepare.  And I loved every single second of it.
Almost 20 years, a husband, two kids, and a demanding puppy later, I don't quite have that sort of time anymore.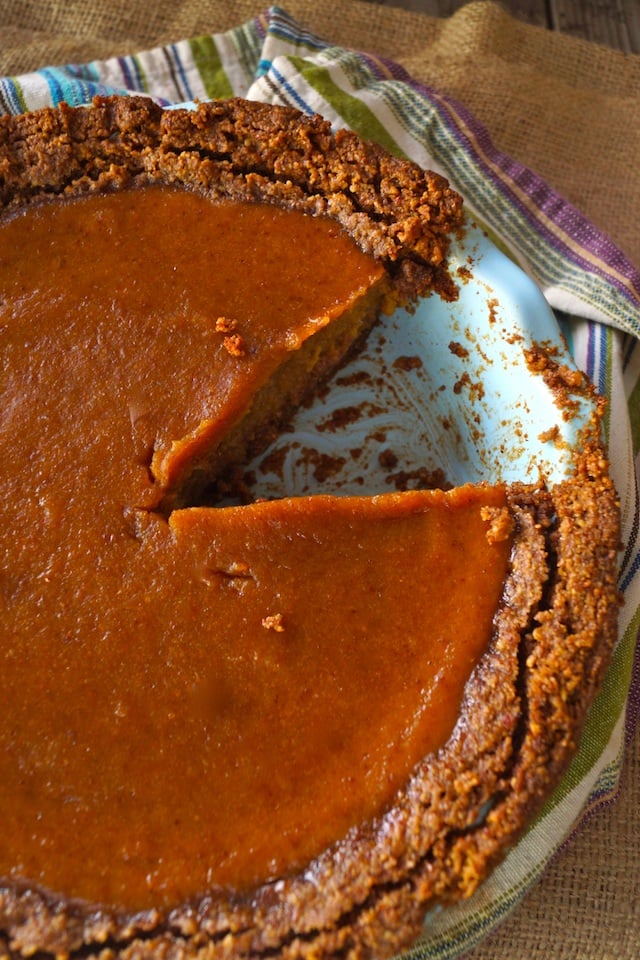 That's why this Gluten-Free Butternut Squash Pie is rustic looking — and to me that means it's a bit messy — but only in the coolest, most beautiful way.
Yes, the top edges of the crust might fall apart a bit while serving – that's okay!  This gluten-free nut crust recipe is so unique and delicious that you certainly won't mind a few crumbs falling out of place.
While I can't spend several hours delicately using the back of my paring knife to make tiny veins in the pie crust dough maple leaves, I can spend an hour or so assembling this sort of scrumptious pie.
Most of the prep time for my Gluten-Free Butternut Squash Pie is refrigeration and baking time.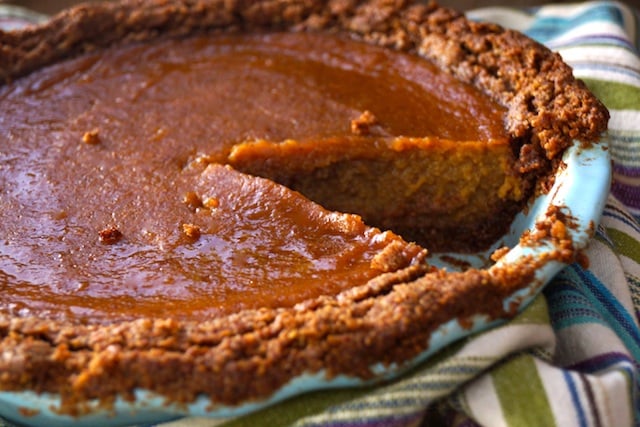 And let me tell you, it's really scrumptious!  The gluten-free nut crust recipe is made almost entirely of nuts and it tastes like a delicious pecan pie — in and of itself!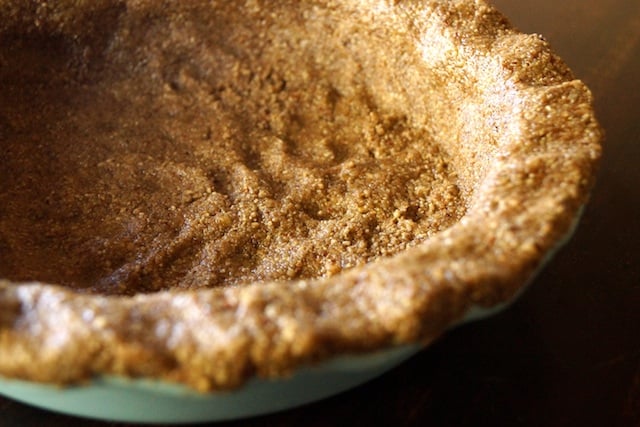 Imagine topping that with another delicious pie — full of creamy, sweet butternut squash and chai spices.  I'm telling you, this is really over the top!
FYI, this pie was more orange in color the day it was baked.  The next day it's equally as delicious, but less orange, and more brown.  Again, it's rustic. 😉
And if what you really want is pumpkin pie, here's another gluten-free recipe with a twist: Salted, Spiced Caramel Pumpkin Pie with Pecan Crust.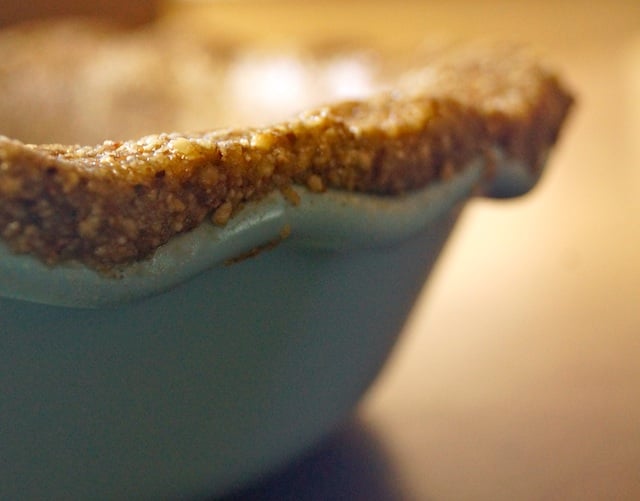 Though I think this crust is quite special, if you really want to save time, you can of course use a prepared pie crust of your choice!
Enjoy every last bite of this oh-so-delicious Gluten-Free Butternut Squash Pie with it's divine gluten-free nut crust recipe!
Chai Spiced Butternut Squash Pie Recipe with Gluten-Free Pecan-Walnut Crust
This pie tastes like the perfect blend of pecan pie and pumpkin pie -- only it's neither one and even better!

For this recipe, the butternut squash can be roasted two days ahead of time -- and should be roasted at least 6 hours ahead. Here's How to Roast a Butternut Squash. (It is not included in the prep time for this recipe. You can also purchase butternut squash purée.

Keyword:
gluten-free Thanksgiving recipes, pies for Thanksgiving
Ingredients
For the crust
2

cups

pecans

1

cup

walnuts

5

tablespoons

unsalted butter,

melted

1/2

cup

granulated sugar

1 1/2

teaspoons

ground cinnamon

3/4

teaspoon

ground ginger

1/2

teaspoon

ground nutmeg

1/2

teaspoon

salt
Instructions
For the crust
Add the pecans and walnuts to a food processor fitted with the blade attachment and blend until it's just becoming -- but isn't quite -- a paste. They should be somewhere between a powder and paste.


It will be about 1/2-inch thick, thicker than a typical pie crust. Be sure to bring the crust on top of the top edge as it will shrink a bit during the baking time.

Place the prepared crust in the refrigerator for at least 45 minutes, and during that time, preheat the oven to 350 degrees F.

Once the oven is preheated and the pie has refrigerated for at least 45 minutes, place the pie plate on a baking sheet and bake until it's becoming golden and is sizzling, about 20 minutes. Remove from the oven and let it cool. Keep the oven on.
For the filling
In a medium-sized mixing bowl, use a whisk to blend the 4 cups of butternut squash (see notes) purée with the sugar, eggs, egg yolk, potato starch, cinnamon, cardamom, ginger, cloves and pinch of salt.

Once the crust is about room temperature, pour in the filling. Keeping the filled pie on the baking sheet, place it in the (still) preheated 350 degree F oven and very loosely, cover it with a piece of foil. (The foil should not be wrapped around the pie plate, it should be sitting on top, more or less.) Bake it this way for 1 hour, then remove the foil and bake until it's set, about 10 more minutes. When you move the baking sheet, it should no longer jiggle in the center. You can also stick a wooden skewer int he center -- it should come out clean when it's done. (Cooking times may vary.)

Cool to room temperature and serve.
Recipe Notes
If your squash purée isn't smooth, you can blend it in a food processor with the blade attachment for about 30 seconds.
To save time, you can buy butternut squash purée at some stores. I've seen it at Trader Joe's.
If you don't have, or can't get potato starch, you can use corn starch. Mix 1 tablespoon with 1 tablespoon of water, before adding it to the filling.