This photo guide takes you through how to roast butternut squash — and you'll see how incredibly easy it is! Then you can use it in dozens of recipes!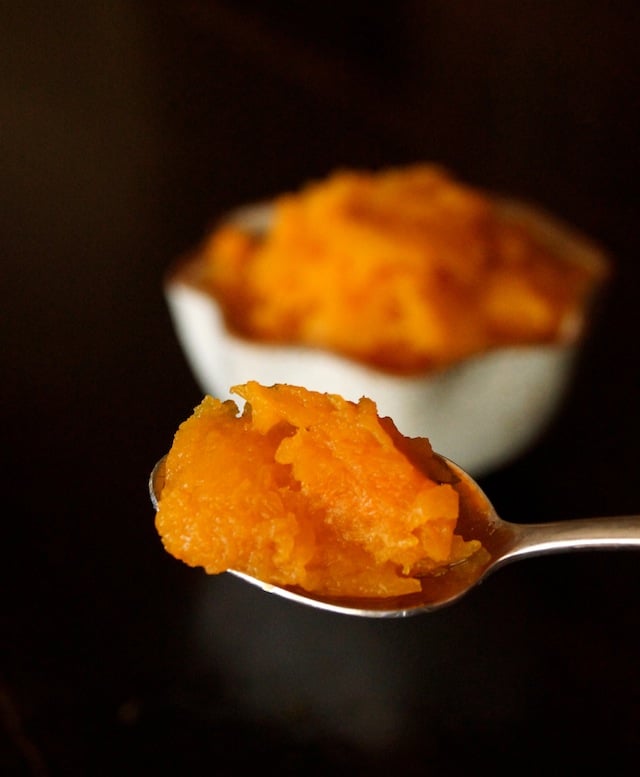 Even before taking pictures of food was part of my job description, I'd find myself in the middle of cooking a recipe looking for my camera.
The simple beauty of an ingredient can make me pause. This happens more often than not.  Whether I'm peeling asparagus or an onion, slicing beets or citrus, or maybe simply swirling melted butter around a pan, I'm constantly struck at how beautiful food can be. I can't seem to move forward without first taking a moment to admire it, often times taking a picture while I'm at it.
And it can happen over and over with the same foods — for example, every time I slice a roasted butternut squash in half,  I love seeing the rich and deep orange color reveal itself, and I slow down, maybe even stop briefly — it's like a lull in a conversation.  This is just one of the reasons to learn how to roast  butternut squash.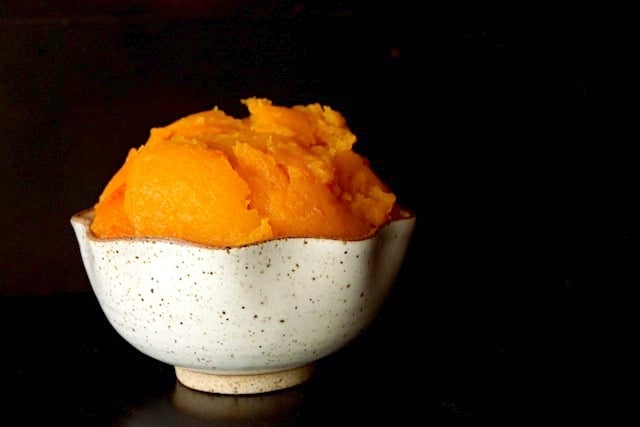 If this sort of thing hasn't happened to you with food, imagine your driving around a bend in a mountain, and when you make it around the curve, you suddenly see the ocean.  It's stunning, somewhat surprising, and it may make you slow down or even take your breath away.  Maybe you'll even want to take a picture. Get it?
I welcome these interruptions when I'm in the kitchen — in fact, it's part of what I love about cooking.
I've been working with butternut squash a lot this week and realized how important it is to know how to roast one.  If you haven't done it, it might seem daunting , and having the roasted squash at the ready this time of year is a must.   I want to make sure you all know just how easy it is!
How to Roast Butternut Squash: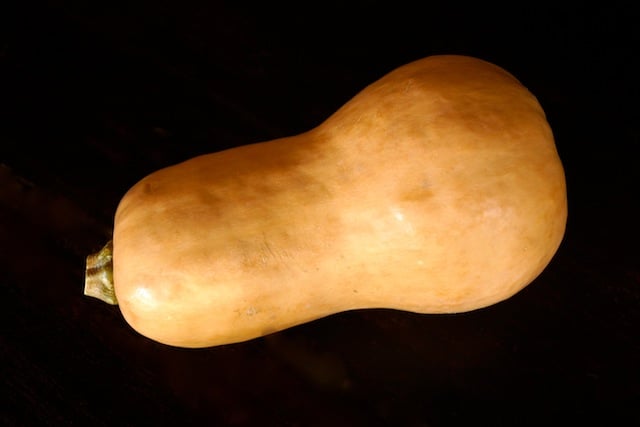 Step 1:  Preheat the oven to 400 degrees F, adjust a rack to the lower third, and place a whole butternut squash on a baking sheet.  Pierce it just a few times with a fork. Don't do anything else!
Step 2:  Once it's preheated, place the baking sheet with the squash in it in the oven, and roast until it's soft to the touch, about 1 hour, 45 minutes.  (Cooking times will vary depending on the size of your squash — this timing is for a squash that's approximately 4-pounds.) After the first 45 minutes, turn it over and you should check on it every 20 minutes or so.  When it's done, the skin will be somewhat wrinkled with some charred areas, and some golden brown spots.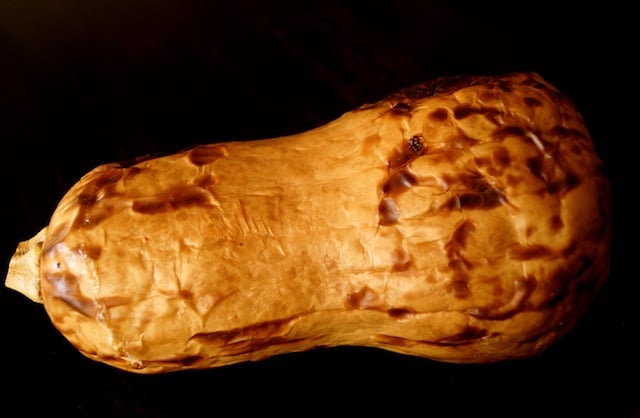 Step 3:  Let the squash cool so you're better able to handle it.  Then cut the stem end off.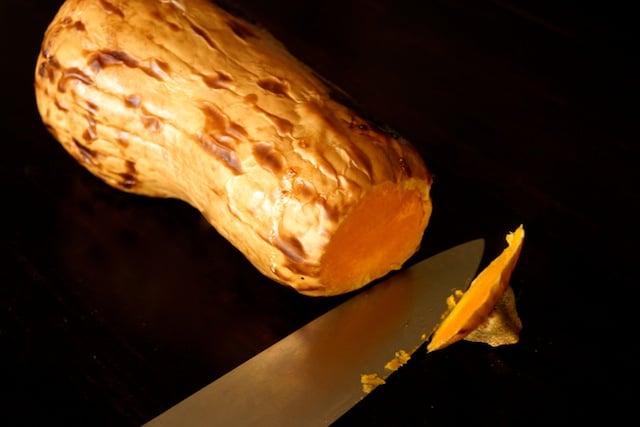 Step 4:  Now slice it in half lengthwise.  Be careful because it it's still hot, a lot of steam will release at this point.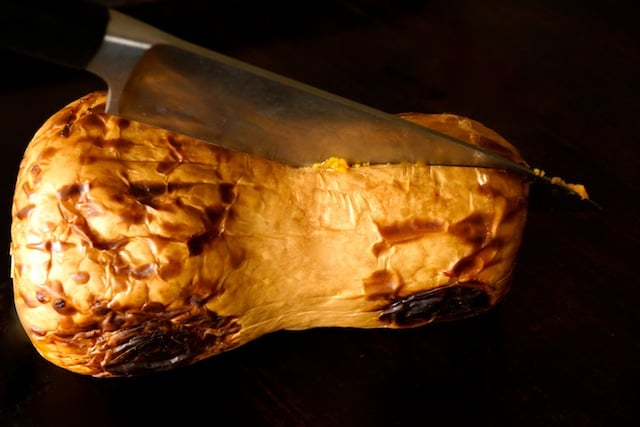 Step 5:  Use a large spoon to gently scoop out the seeds and membranes.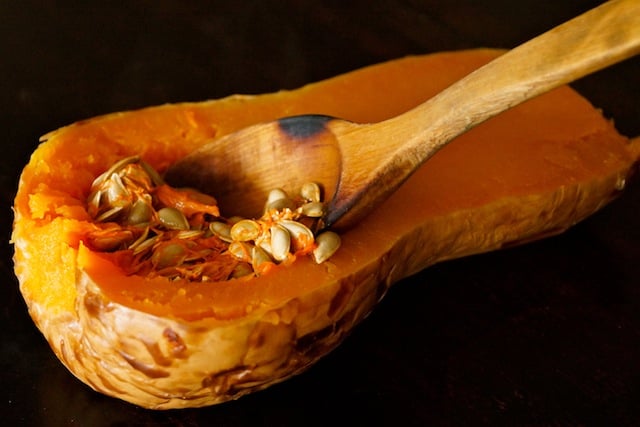 The color is just so brilliant!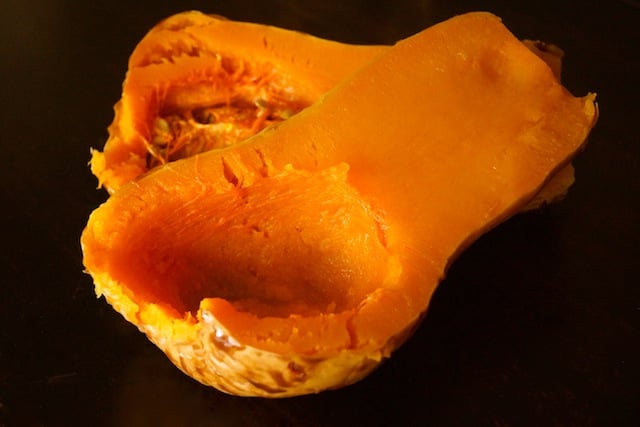 Step 6:  Keep the seeds — just like those from a pumpkin, they can be roasted and seasoned. Just put them in a fine mesh strainer and rise them, removing any of the squash membranes that might be stuck.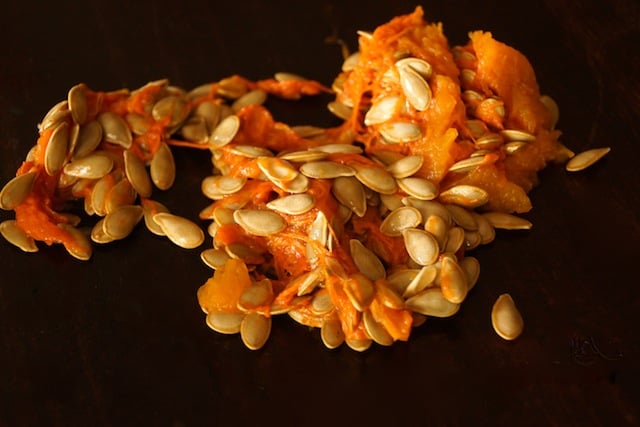 Step 7:  Gently scoop the soft flesh out of the skin.
Aren't you happy that now you know how to roast butternut squash?  And can you believe how easy it is?  I love having it on hand.  After all, you never know when you'll want to whip a Chai Spiced Butternut Squash Pie!
Enjoy!
Save