Yesterday when I was out walking our sweet puppy, I happened upon a gorgeous Liquid Amber Tree.
Unlike other parts of the U.S., in LA it's very rare to come across a tree with leaves changing colors in the fall.
Liquid Amber Trees are an exception.
I grabbed a handful of the beautiful, vibrantly colored leaves off the ground and brought them home.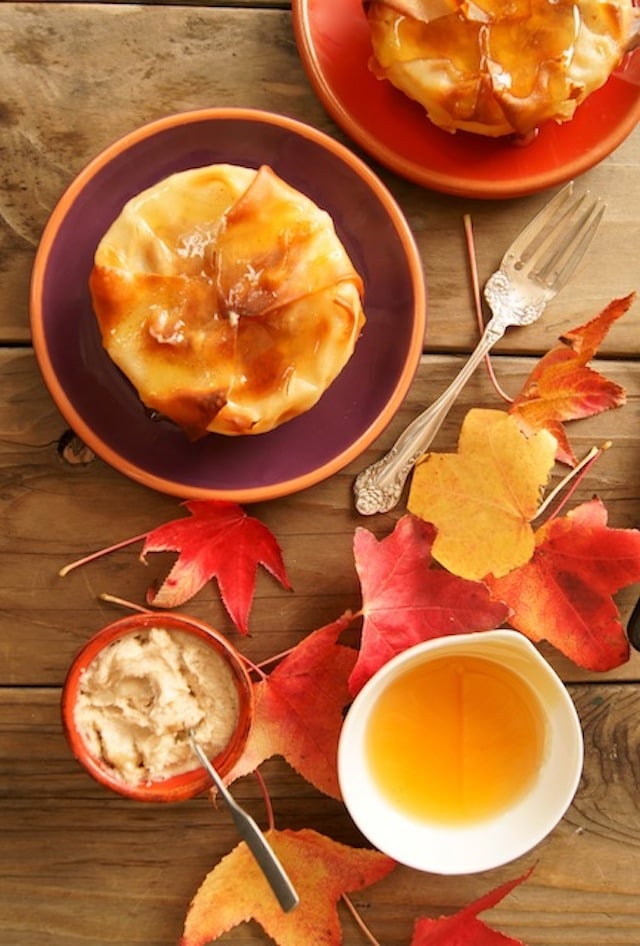 This fall dessert is the finale in a week of cooking with Korean pears from Melissa's Produce.
This is a simple recipe with just a few ingredients, and it's perfect for a cool fall evening with friends, and can be a lovely Thanksgiving dessert, too.
Off we go . . .
Choose a spectacular Korean pear, cut, peel, and remove the seeds.
Take a moment though — before you remove the seeds — to admire the beauty of this fruit.
Sprinkle with cinnamon, drizzle with honey, and wrap it up.
It's like a special gift, don't you think?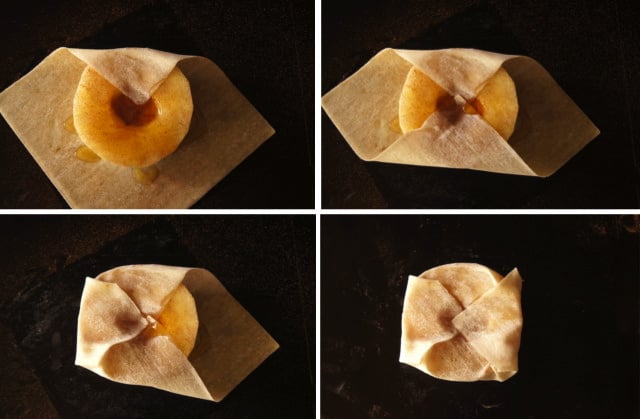 There are detailed instructions in the recipe below.
You got this!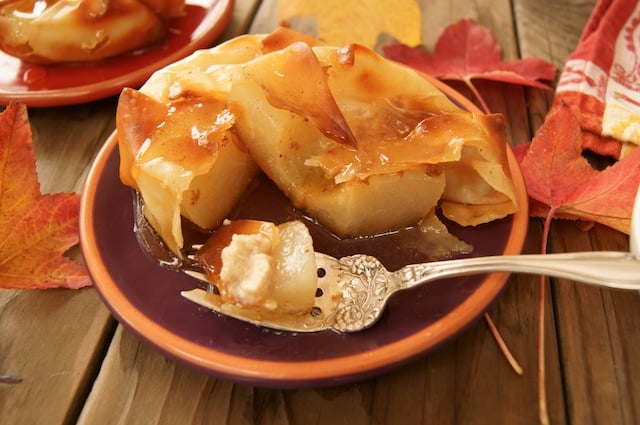 Hoping this gets you in the mood to start thinking about your Thanksgiving menu.
Enjoy!
Baked Korean Pears in Wonton Crisps & Honey-Cinnamon Mascarpone
Ingredients
2

Korean pears

4

6 X 6 wonton wrappers

1/2

teaspoon

ground cinnamon

divided

1/2

cup plus 1 tablespoon

honey

divided

1-1/2

tablespoons

unsalted butter

melted

1/4

cup

Mascarpone
Instructions
Preheat the oven to 375 degrees F, and cover a baking sheet with parchment paper.

Cut about 1/2-inch off of the top and bottom of each pear, to create two flat surfaces.

Peel the pears, cut them in half horizontally, and remove the seeds with a melon baller.

Lay the 4 wonton wrappers on a clean, dry surface and place a pear half, flat side down, on top each one.

Sprinkle each half with a pinch of cinnamon and then drizzle each one with about 1 tablespoon of the honey.

Fold each corner of the wrapper over the top of each pear half, using the honey as "glue." They should be completely sealed.

Place the 4 wrapped pears on the parchment-covered baking sheet. Use a pastry brush to coat them with the melted butter, and then bake in the preheated 375 degree F oven until golden brown, about 45 minutes. (If any portion of the wonton wrappers seem like they are becoming too dark before the pears are done baking, cover just those areas with small pieces of foil.)

While the pears are baking, mix the remaining cinnamon and remaining honey with the Mascarpone. Stir until it's a smooth mixture.

Use a firm, metal spatula to gently remove each pear from the baking sheet.

Serve the pears warm with the Honey-Cinnamon Mascarpone.
Recipe Notes
Please don't worry if some of the honey seeps out of the wonton wrapper during the baking process. It's very likely to happen and your dessert will still be perfect.
While I'm featuring Korean pears, you could also use Bosc or another firm pear.
This is not a sponsored post. All opinions are my own.
Save
Save
Save