Pecan Crusted Caramel Pumpkin Pie is a gluten-free, rustic and over-the-top delicious Thanksgiving and holiday dessert. The crust is a treat in and of itself and the caramel notes in the filling will make you swoon!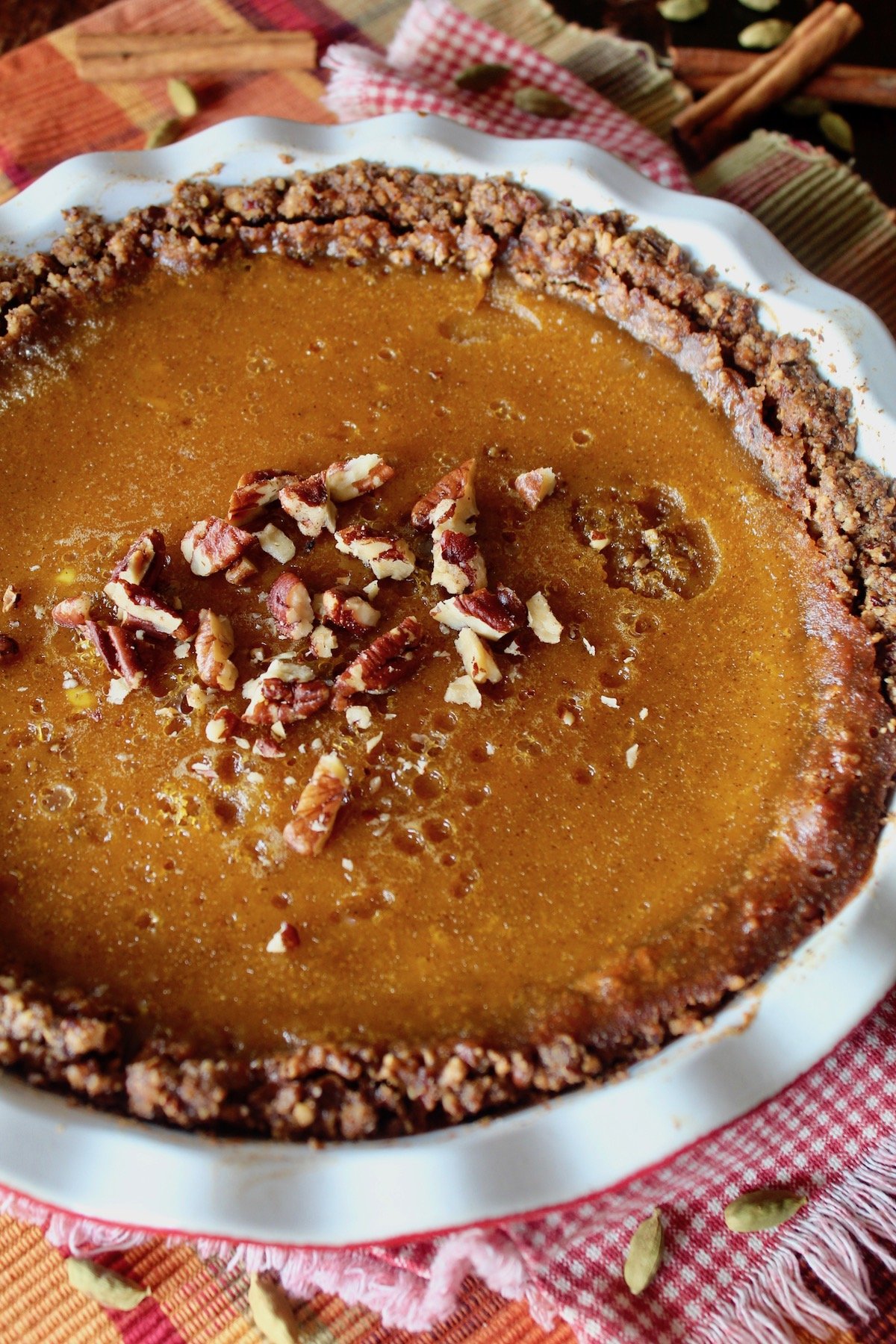 This is no an ordinary pumpkin pie.
With a warmly spiced caramel mixed into the filling, and a (gluten-free) crust made almost entirely of pecans, this pumpkin pie has an edge to it.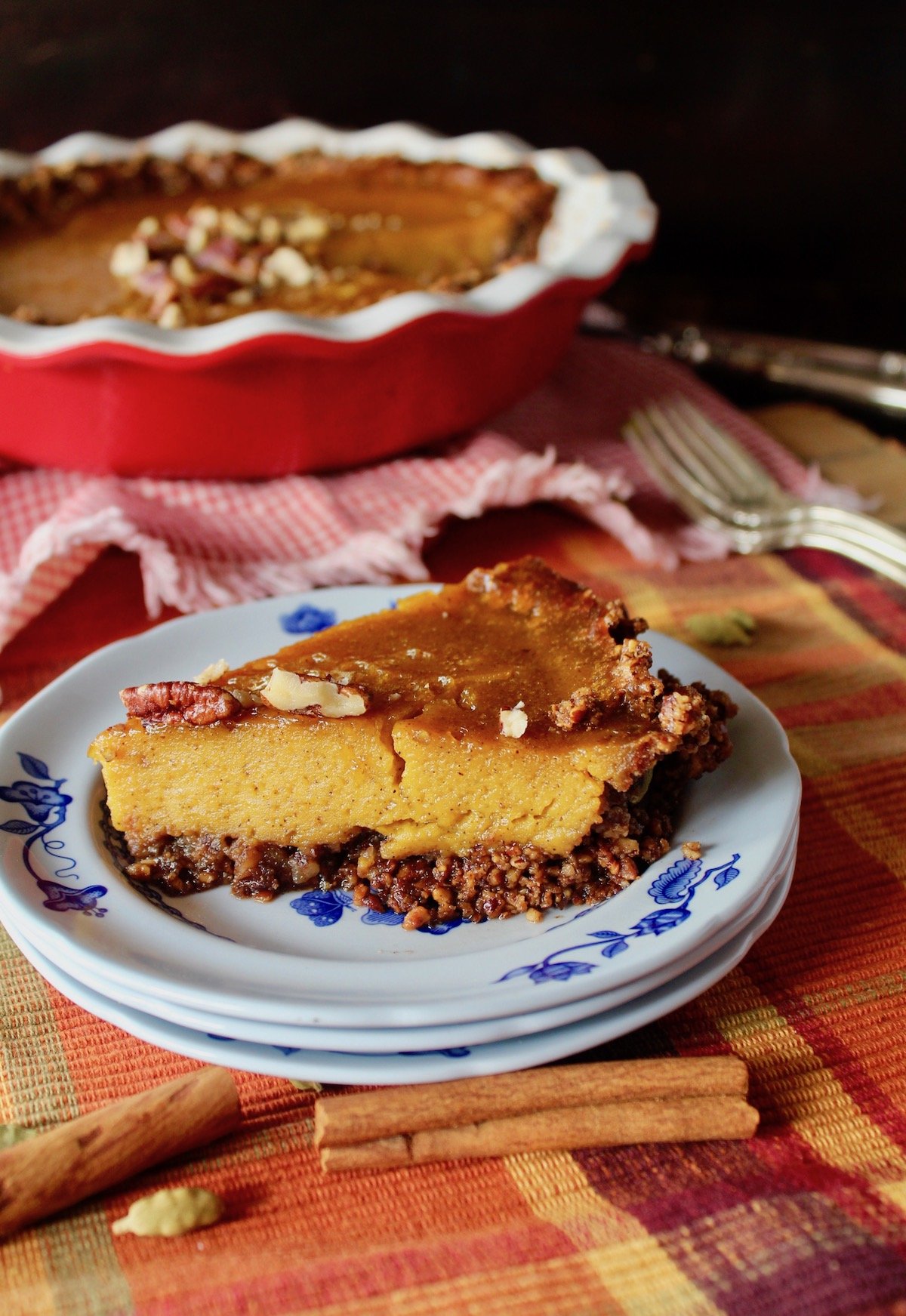 The crust is reminiscent of a pecan pie, in and of itself, and the pumpkin mixture is so silky smooth and rich -- you and your guests won't be able to get enough.
Of course we all love pumpkin pies during the holiday season, but who's to say we can't eat them year round?
How to Make a Nut Pie Crust
You won't believe how easy this is!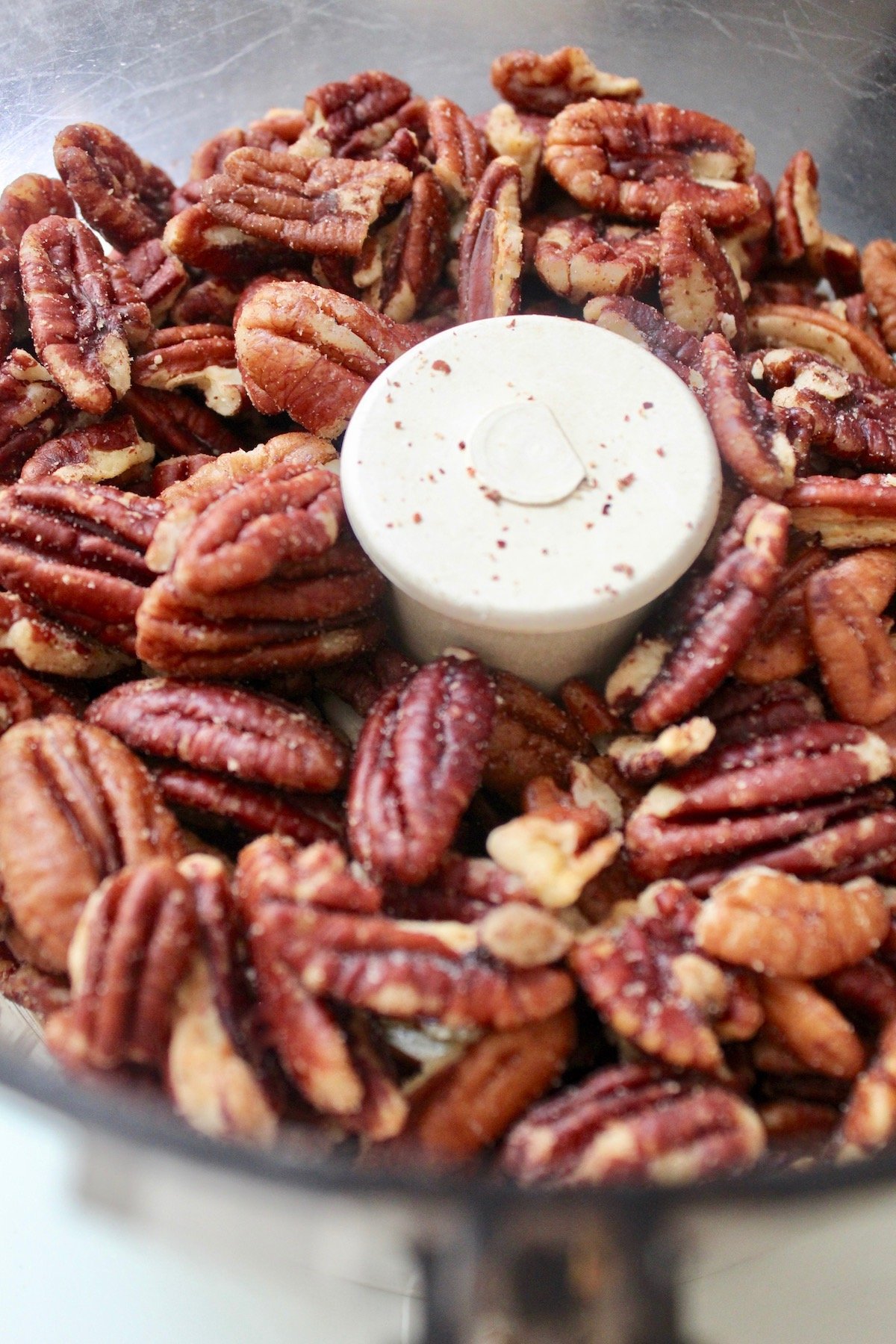 - Blend the nuts in a food processor until they're a small crumb.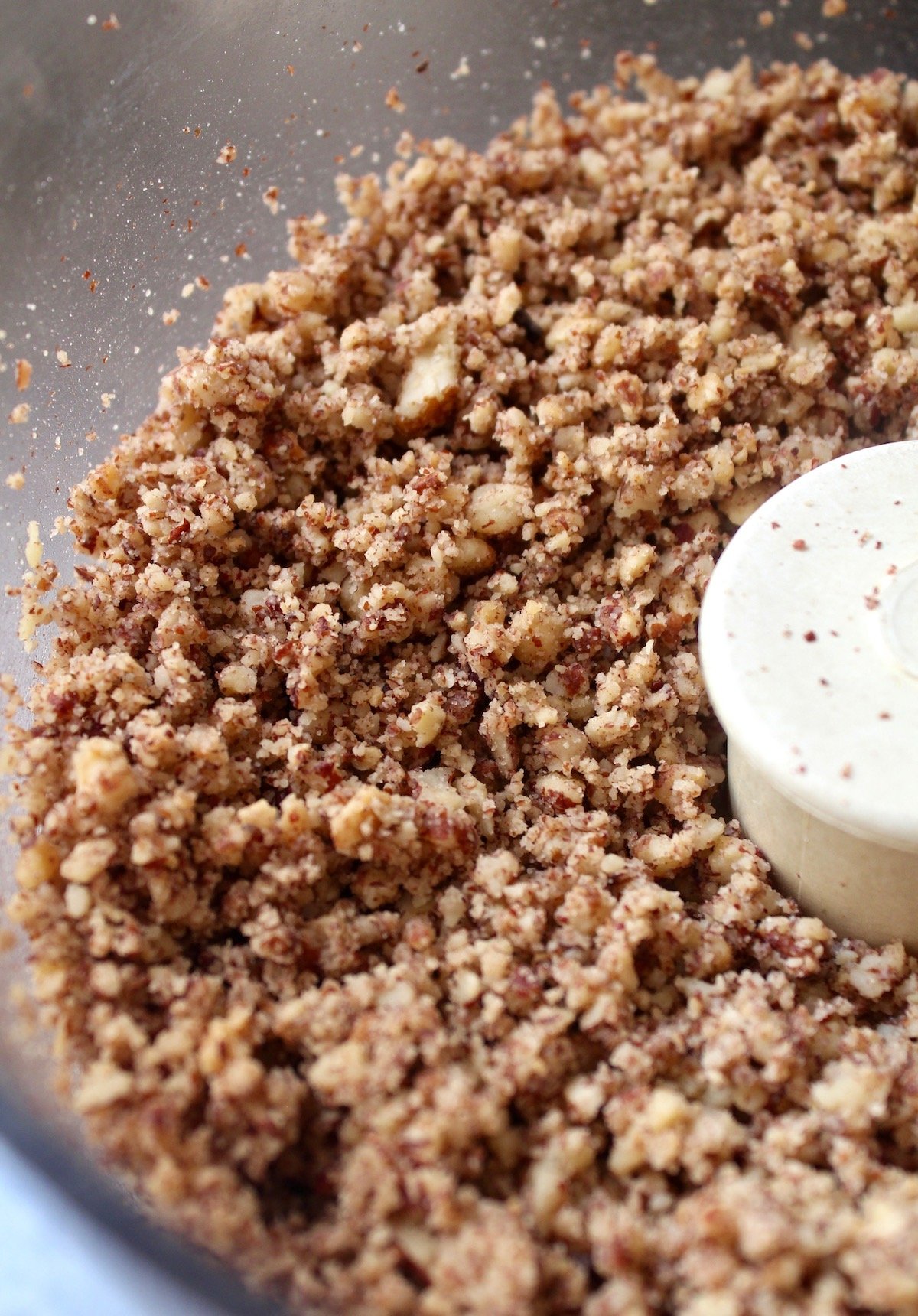 - Add melted butter and a small amount of sugar and mix.
- Press the mixture into a pie plate and bake.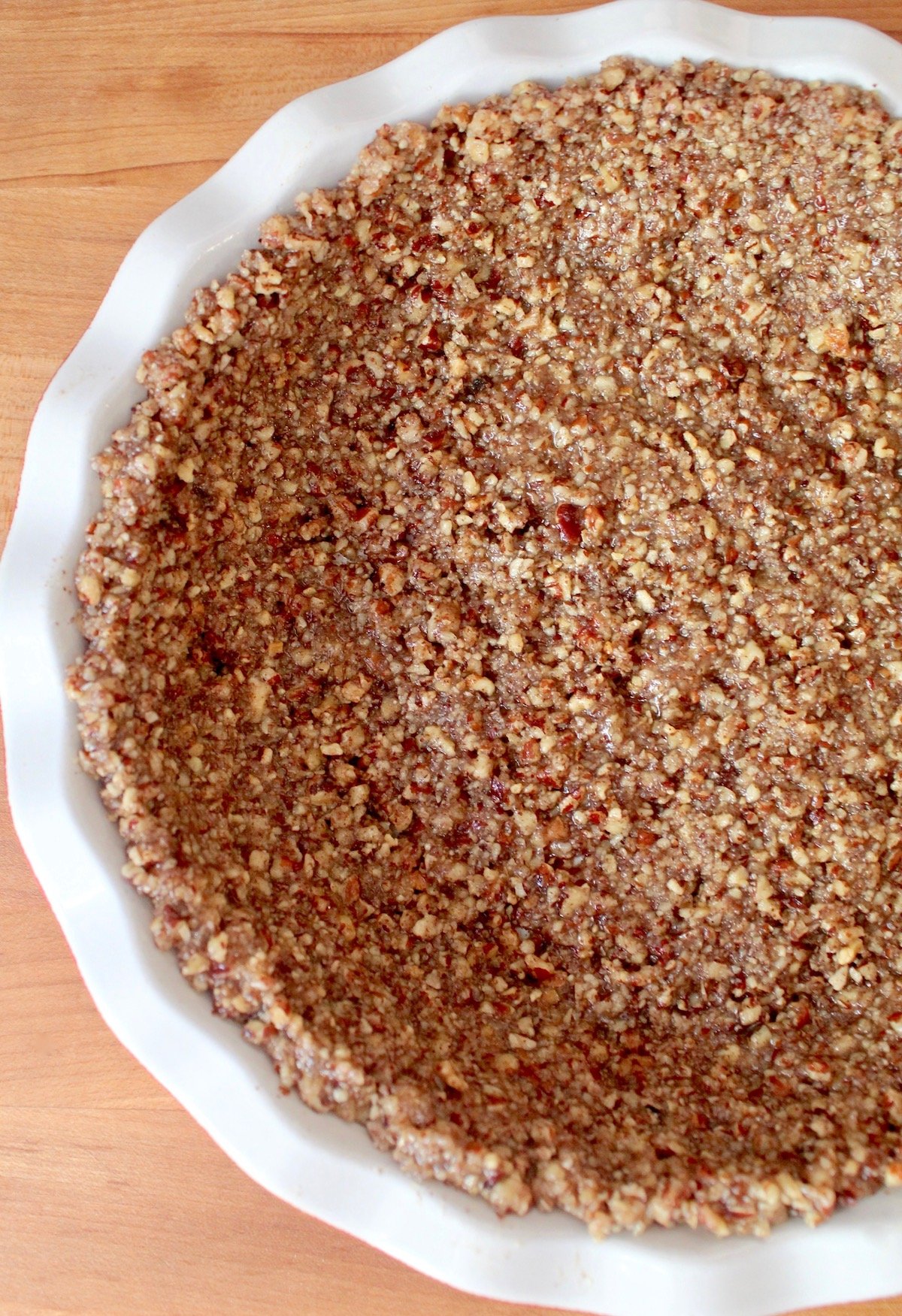 (More detailed instructions are below.)
This is my favorite way to make a delicious gluten-free pie crust.
Can you make this pie ahead?
This Caramel Pumpkin Pie can be made up to four days ahead. How great is that during the holidays!?
It should be kept refrigerated, ideally in a pie container, like this one -- or, wrapped in foil carefully so as not to have it come in contact with the top of the pie (simply for aesthetics). 😉
If you do make it ahead, set it out at room temperature several hours before serving, and if desired, you can warm it up a bit.
This crust will be at its best the day or day after it's baked. It'll still be delicious the following days, just just maybe not as crunchy.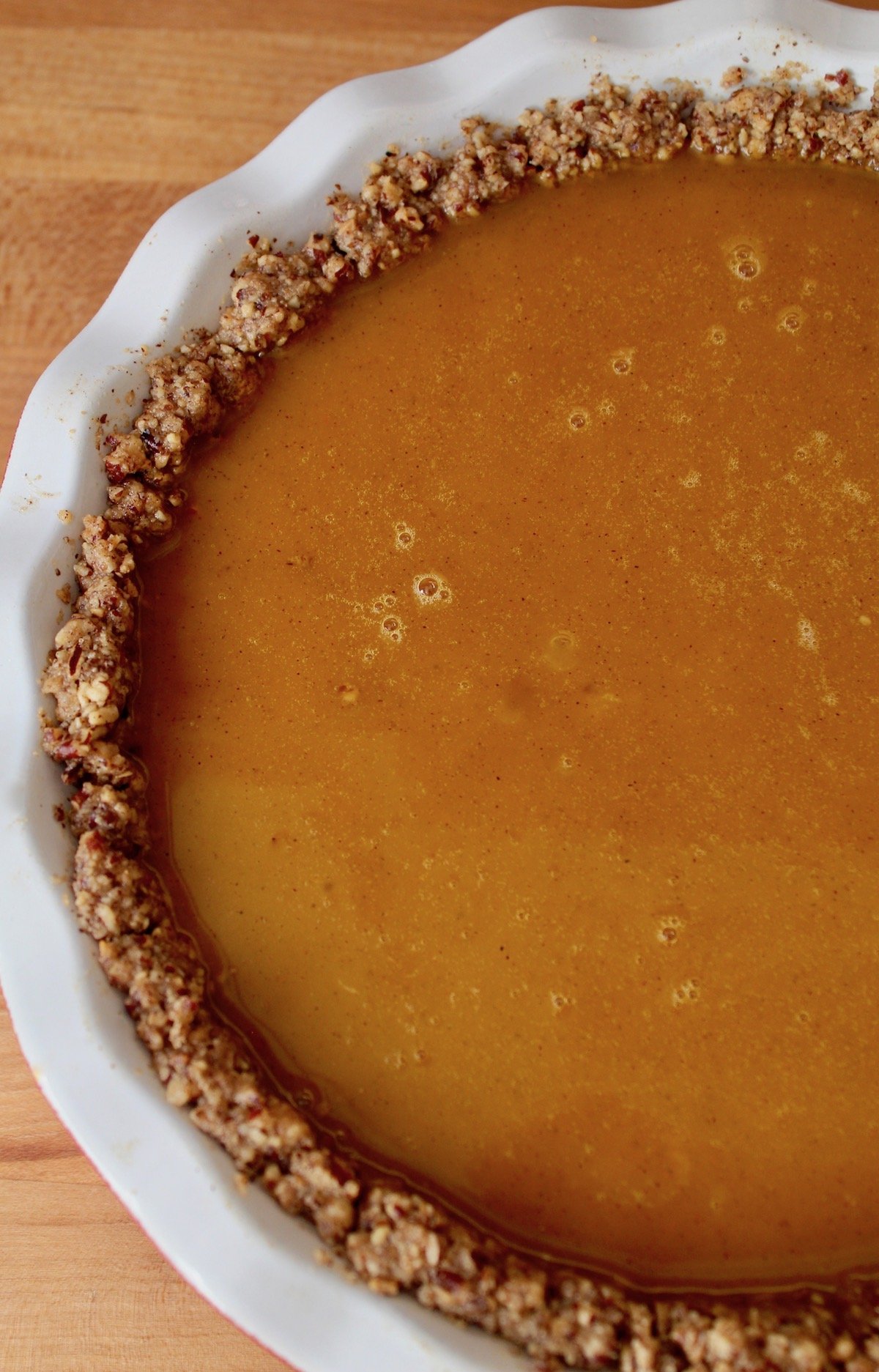 Recipe Tips and Substitutions
When you're blending the pecans, be sure not to over do it. If you process them too long, they'll turn into a paste. Blend just until the nuts are tiny crumbs.
Feel free to mix up the spices, or use more or less, depending on your taste.
If pecans aren't your thing, you can also use walnuts or a combination of nuts, like I've done in this

Butternut Squash Pie

.
Though part of what makes this Caramel Pumpkin Pie so interesting is the nut crust, you can also use a store bought pie crust, or really any other homemade crust you like. It will still be tasty!
Don't want a crust at all? Go for it -- you can either fill a pie plate or individual ramekins with the filling ans serve pumpkin caramel custard.
Be sure to let the pie cool for at least two hours before serving. It will be easier to slice and the pieces will be neater.
Do you have to use the spiced caramel recipe?
While I highly recommend it because of its unique flavor profile, you can use any caramel you like. There are a couple of things to keep in mind if you do:
First, most store bought caramels don't have all (or any) of the spices that my recipe has, so you should add those directly to the filling (about

½

tea. cinnamon,

¼

tea. cardamom,

⅛

tea. nutmeg).
Second, not all caramels will be exactly the same consistency and/or have the same ingredients, so baking times and the texture of the filling might vary.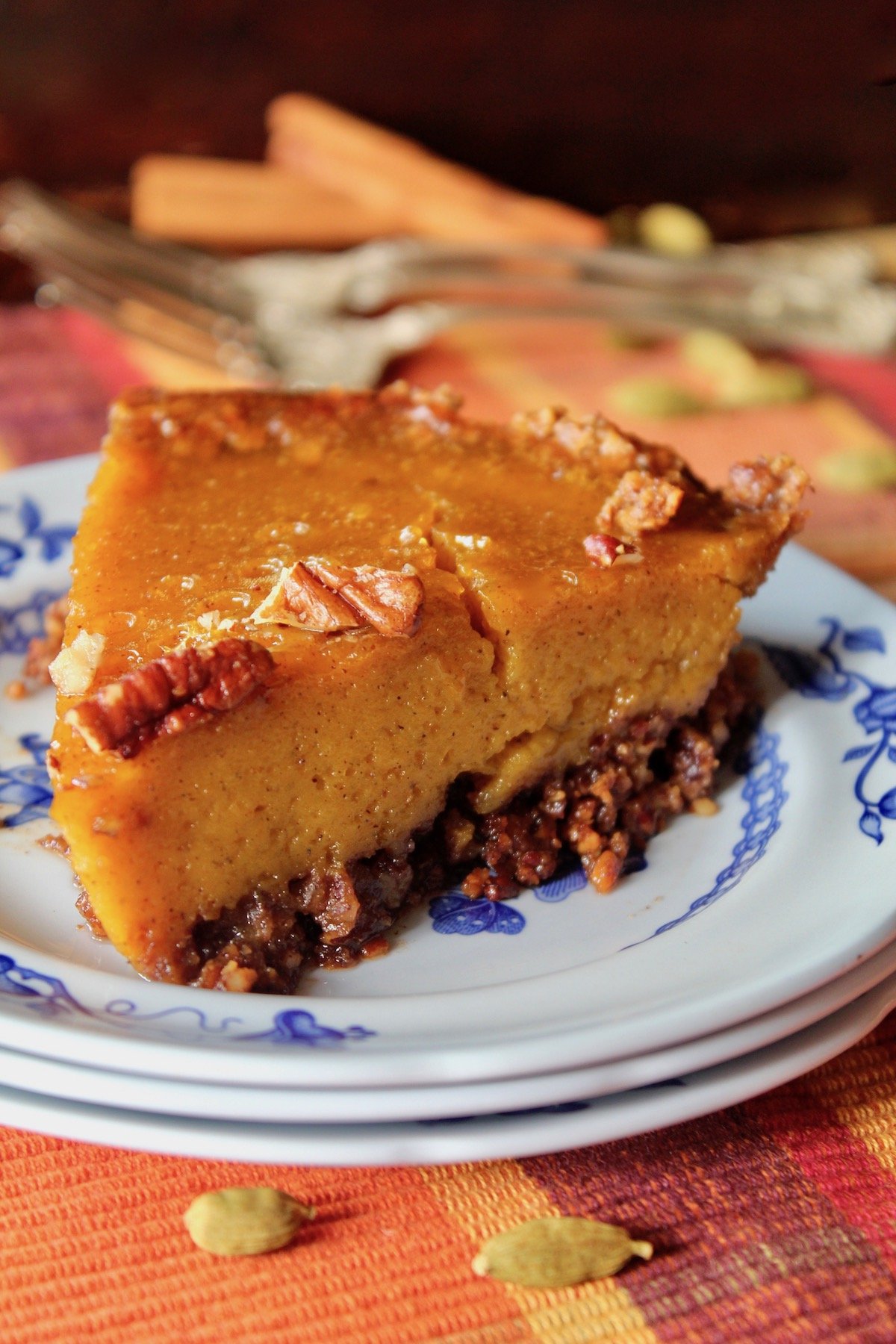 I hope you love this Pecan Crusted Caramel Pumpkin Pie as much as my family and I do.
More dessert recipes with pumpkin: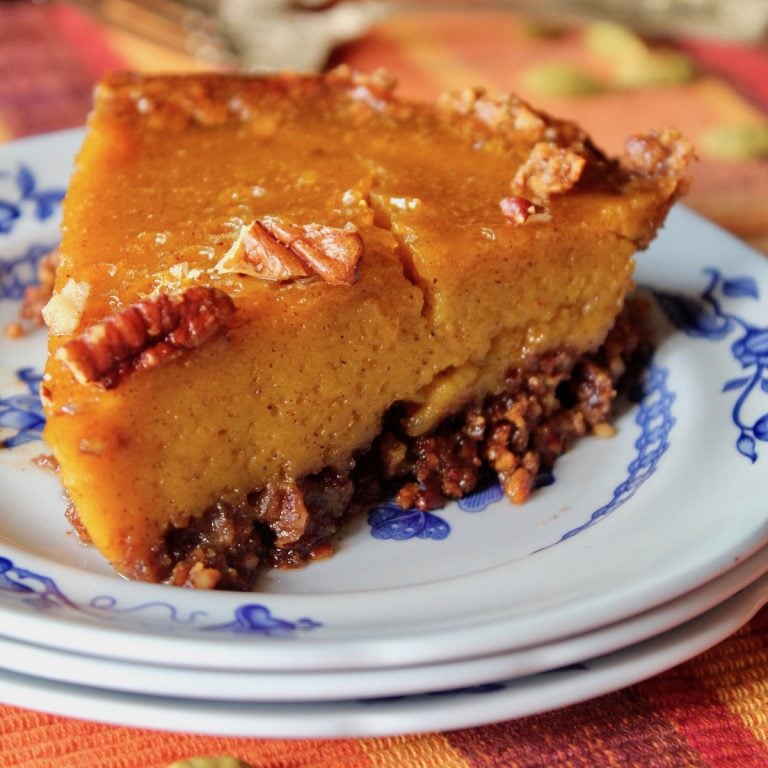 Pecan Crusted Caramel Pumpkin Pie
Pecan Crusted Caramel Pumpkin Pie is a gluten-free, rustic and over-the-top delicious Thanksgiving dessert.
*Please note that the Spiced Caramel Sauce is not included in the prep time. It takes about 30 minutes and can be made a few days ahead.
Ingredients
For the crust
2½

cups

whole roasted

salted pecans (about 12-ounces)

¼

cup

unsalted butter

¼

cup

granulated sugar
For the filling
1½

cups, this is equal to 1(15 ounce can)

pure pumpkin purée

¾

cups

granulated sugar

2

teaspoons

pure vanilla extract

½

teaspoon

cinnamon

½

teaspoon

ginger

2

teaspoons

cornstarch

2

tablespoons

low-fat milk

3

large

eggs
Instructions
For the crust
Preheat the oven to 350°F.

Make the crust. Grind the pecans in a food processor with the blade attachment -- do not over mix or it will become pecan butter. You can also use a knife to finely chop the nuts. Add the ground pecans to a medium-sized mixing bowl and stir in the sugar and melted butter. Pour the pecan mixture into a 10-inch pie plate. Gently use your hands to press it evenly onto the bottom and sides.

Bake crust. Bake the crust in the preheated 350°F oven for about 20 minutes. It will have "fallen" a bit. Use the back of a large metal spoon to gently press on the crust so the side rise back up a bit. (You may have to do this a couple of times as it cools.) Do not turn the oven off. Set aside to cool to room temperature.
For the filling
Make sure the oven is still set to 350°F.

Combine remaining ingredients. In a small to medium-sized mixing bowl, combine the pumpkin, sugar, vanilla and spices. Then in a tiny bowl, combine the milk and cornstarch, and stir until it's smooth. Add this, along with the eggs to the pumpkin mixture. Mix until all of the ingredients are incorporated and it's a very smooth consistency.

Add warmed caramel. Now mix the caramel with the pumpkin mixture until it's smooth. Then, pour this into the prepared pecan crust.

Bake pie. Place the pie plate on a baking sheet and bake in the preheated 350°F oven until the filling is set, about 55 minutes. (During the cooking process, if the edges of the crust are becoming too dark, loosely lay a sheet of foil over it.)

Cool and serve. Let the pie cool for at least 2 hours before serving. Serve at room temperature.
NOTES
Calorie count is only an estimate.
NUTRITION
Have you tried this recipe?
I'd love to see it on Instagram! Tag me at @cookingontheweekends or leave a comment & rating below.
Cooking On The Weekends is a participant in the Amazon Services LLC Associates Program, an affiliate advertising program designed to provide a means for sites to earn advertising fees by advertising and linking to Amazon.com.