This Ahi Tuna Tartare Recipe with Ginger is super fresh and flavorful and it only has four ingredients! It's a delightful hors d'oeuvre or first course for a dinner party. 
My husband and I honeymooned on the island of Huahini in French Polynesia. It was an incredibly amazing vacation -- from the soft sand and clear ocean, to our hut on stilts and the amazing food!
Inspiration
We ate a ton of fresh fish and tropical fruits, all delicious. However, the most memorable dish we ate was an Ahi Tuna Tartare at a small, charming restaurant in the village. (We had to take a boat to get to the village, by the way.)
During the week, we went to this restaurant several times, just for the tartare -- and it's the inspiration behind this  Ahi Tuna Tartare recipe.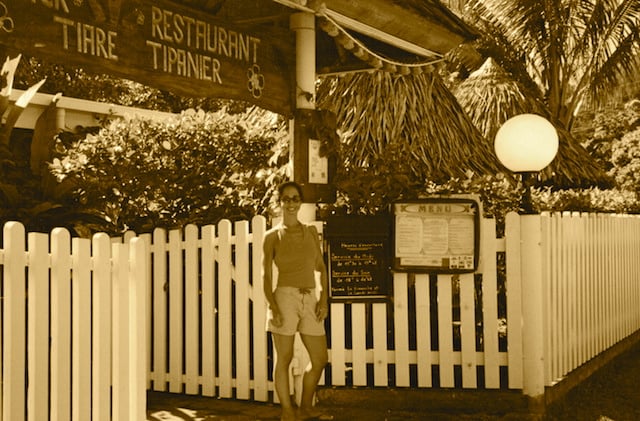 I've kept the recipe stored away in my mind -- which was easy because I remembered two important things: one, not including the salt there were four ingredients, and two, the size of the cuts.
What made this Tuna Tartare so special?
It was the size of the cuts of ginger and onion that made for a wonderful final texture, which ultimately enhanced how good it tasted!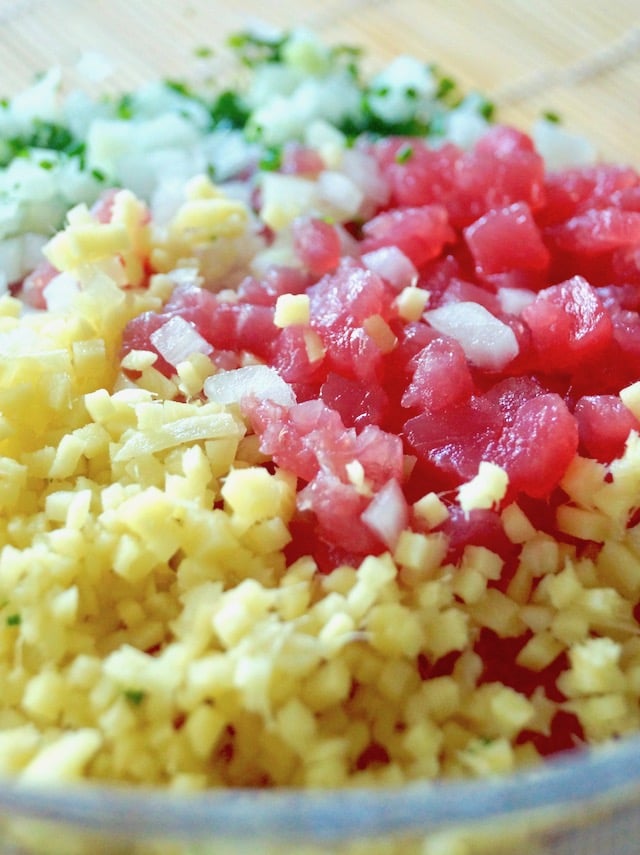 What is Tuna Tartare?
Taretare has a few different culinary meanings.
In French cuisine, Sauce Tartare (Tartare Sauce) is a white sauce made with mayonnaise and hard boiled egg yolks. The sauce is garnished with onions, chives and capers, and is usually served with seafood.
Also in French cuisine, Boeuf à la Tartare (Beef Tartare) is a dish composed of chopped, raw, lean beef served with capers, onions, paresly and raw egg.

Typically when you hear "tartare" it's referring to beef.  Tuna Tartare and others have become quite popular. The idea of the dish is very similar to that of the Beef Tartare, only with a different protein.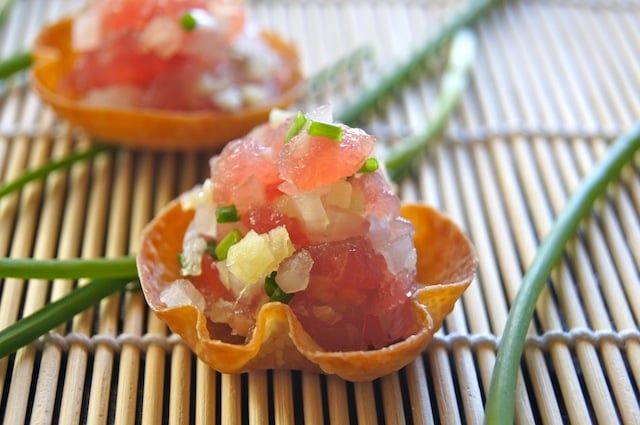 This Ginger Ahi Tuna Tartare is my favorite one I've ever had. I love the simplicity of it. An incredible amount of flavor is packed into just a few ingredients.
This is a fantastic recipe for weekend dinner parties!  And if you ask me, preparing it is a lovely way to spend a weekend afternoon.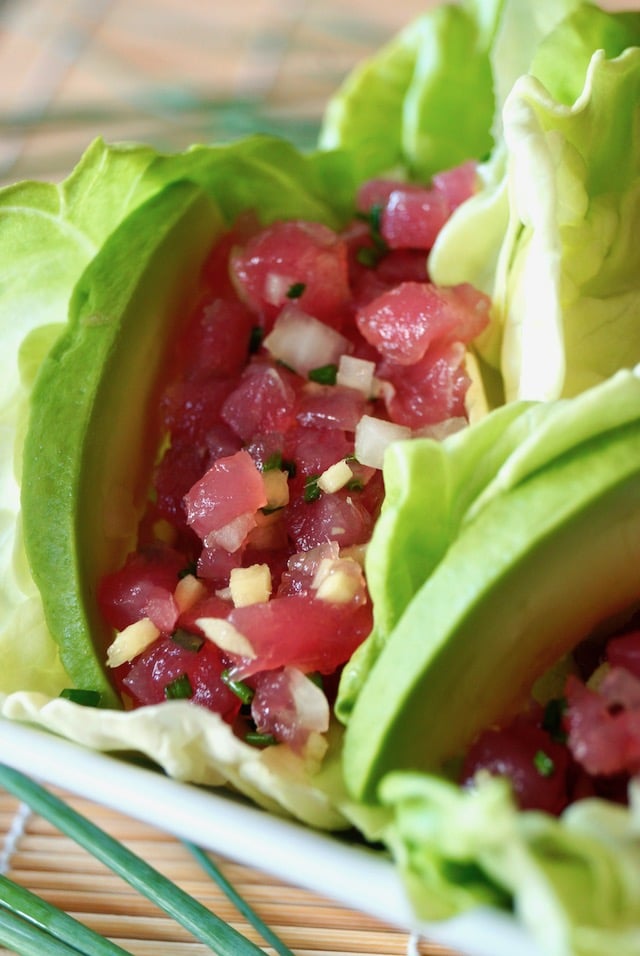 What to Serve with it

Chips.
Rice.
A fork.
Wonton crisps
Butter lettuce cups with avocado (pictured above).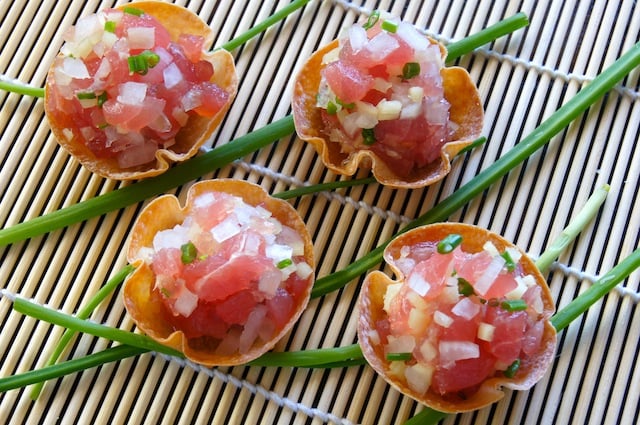 I hope you love this recipe as much and I do.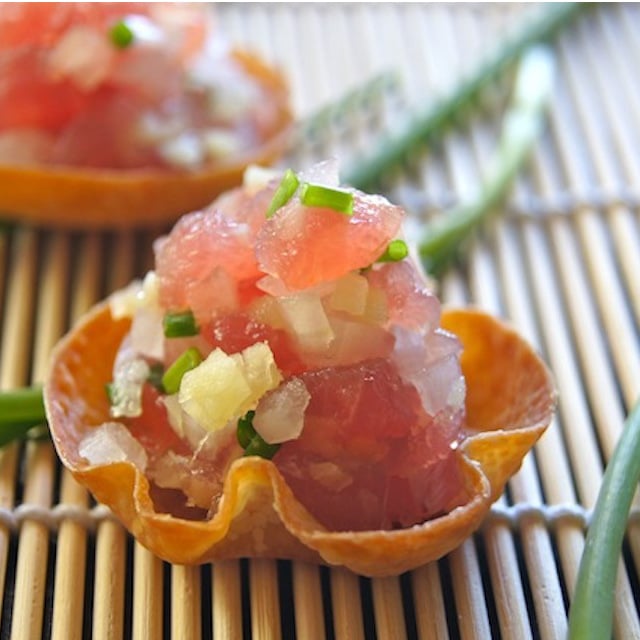 Ginger Ahi Tuna Tartare Recipe
This Ahi Tuna Tartare recipe is super fresh, super flavorful and only has four ingredients. It's a delightful hors d'oeuvre or first course for a dinner party.Serves about 2 dozen as an hors d'oeuvre and about 1 dozen as a 1st course
Ingredients
1

pound

sushi grade Ahi tuna,

cut into ¼ inch (or smaller) dice

½

cup

finely chopped white onion

(about ⅛-inch dice)

¼

cup

super finely chopped fresh ginger,

peeled

¼

cup

super finely chopped chives,

washed and dried

salt to taste
Instructions
Combine all of the ingredients except for the salt. Cover with plastic and let the flavors come together in the refrigerator for at least 20 minutes and up to 2 hours. (Two hours is ideal.)

NOTES
Calorie count is only an estimate.
NUTRITION
Have you tried this recipe?
I'd love to see it on Instagram! Tag me at @cookingontheweekends or leave a comment & rating below.